UC trains two generations of pharmacists
Klaserner siblings following in parents' footsteps
When the Klaserner family sits down to dinner, it's a good bet the conversation will eventually drift to what's become the family business.
"In our house, it is really difficult not to have some sort of discussion about pharmacy. HIPAA compliant, of course," said Lorrie Klaserner. 
Lorrie and her husband John met during pharmacy school at the University of Cincinnati, and now their children Ally and Adam are current students pursuing doctor of pharmacy degrees at UC's James L. Winkle College of Pharmacy.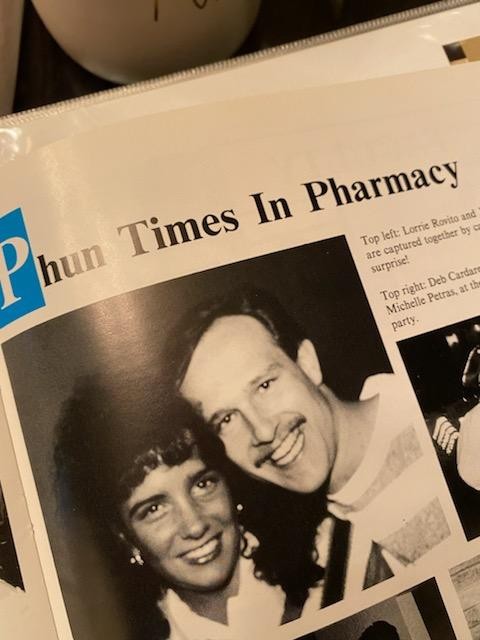 After time spent in the Air Force and Air National Guard out of high school, John said UC was his first choice of colleges, and he chose to pursue pharmacy after the encouragement of a neighbor.
A high school counselor recommended pharmacy to Lorrie, and it appealed to her since she wanted to be involved in the health care field and was interested in how different ingredients combined to make products, whether they be drugs or chemicals. She narrowed her college search to schools within Ohio and chose UC after deciding Ohio State was too big of a school for her.

John and Lorrie met while working at a pharmacy at Cincinnati's Christ Hospital, where John was working as an intern a year ahead of Lorrie and checking her work as a pharmacy tech.

"We didn't know each other and we didn't know that we were both in pharmacy school," John recalled. "But going through the rigors of that curriculum all together at that same time, you're bound together as a group studying together, solving the problems, celebrating the highs and commiserating the lows at the end of the quarter."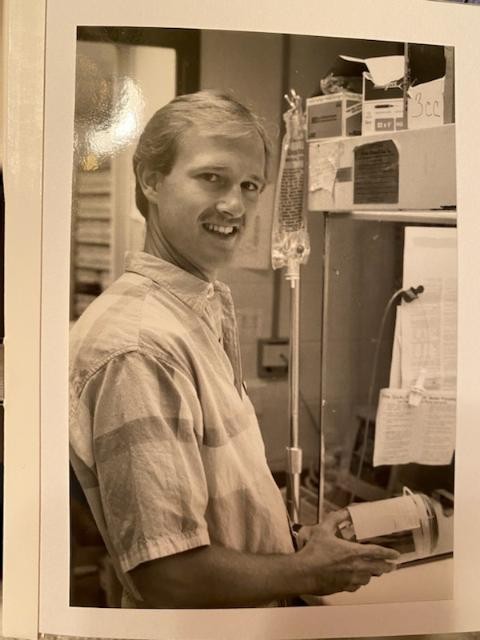 At the time, the pharmacy track was a five-year program resulting in a bachelor's degree in pharmacy. Lorrie said pharmacy school was hard work, and there were no remote learning options, meaning you had to show up for each class or you'd miss something.
"There was no emailing the professor, you had to go to their office and ask the questions," she said.

Outside of the classroom, Lorrie, John and their classmates became good friends, with the group staying close to this day.

"We went on ski trips, midyear meetings and brought speakers into our respective groups," she said. "We were in school with the same 75 folks for the length of the program. We had no choice but to be the best of comrades."

John graduated in 1990, with Lorrie graduating in 1991. She currently works as a clinical pharmacist at Days Miami Heights Pharmacy, and John works as the pharmacy district manager for Meijer pharmacies in Cincinnati, Dayton and Northern Kentucky. 
While the industry has changed over the years, John said he still appreciates the variety of career paths pharmacy offers, including specialty, retail or hospital pharmacy, academia and manufacturing.
"You have many avenues you can pursue with a degree in pharmacy, and probably even more so today with them being doctors of pharmacy and the residency programs that are offered," he said. "I would think for all of these college students coming through it's a great profession with a multitude of areas that you can pursue as you find what motivates you and what you're interested in in life."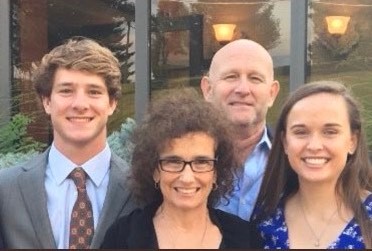 Growing up on Cincinnati's west side, there was never much of a doubt for son Adam that he would be a Bearcat one day, and daughter Ally said UC was always her top choice. But their journeys to choosing pharmacy differed.
"I kind of had a one-track mindset where pharmacy was my top consideration since both of our parents are pharmacists," Ally said. "When I was little, sometimes when I was sick I had to go to work with my mom. I got to see a lot of what she did day in and day out, and I think that early exposure was very powerful in influencing my choice personally."
Adam initially applied to UC's Carl H. Lindner School of Business, but he said his parents and older sister being in the pharmacy industry helped guide his decision. 
Parents John and Lorrie said they aimed not to influence their kids' decisions of colleges and majors, though they offered their guidance on the current pros and cons of the pharmacy industry. Their third child, Drew, is studying sports management and plays baseball for a different UC, the University of Charleston in West Virginia.
"I wanted it to become their decision," Lorrie said. "I think it is really important to enjoy what you do in your career. Then it doesn't feel like a job." 
"UC for us has been a great school and a great city and a great experience," John added. "So I'm very happy they chose UC, but I wanted to leave their options open." 
UC provides a strong network of people who care about you and will support you and a lot of resources as well. So whatever you want to do, you have opportunities.
Adam Klaserner, pharmacy student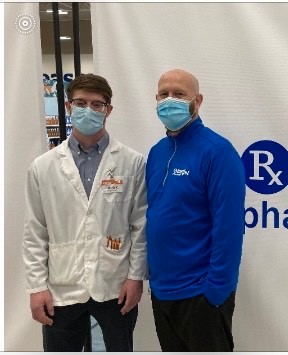 Ally said having her younger brother in the program has pushed her to assume more of a mentorship role for students, while being able to carpool when the siblings schedules align has also been a nice perk.
"I'm pretty naturally introverted, but knowing people in his class and in the class under him and knowing I can be a resource for them has pushed me to grow a lot personally," she said. 
Adam said Ally has been an "invaluable resource" for him being one year ahead of him in the program.
"I think it's nice to know that you have somebody you can rely on," Adam said. "If I ever have any questions or if I'm ever struggling in a class, she's always there. She can always help me. I think I rely on her a lot more than I used to in the past." 
Entering her fourth year of the program this fall, Ally has interned at the University of Cincinnati Medical Center and Walgreens, had a seasonal position with Meijer administering flu and COVID-19 vaccinations and has also been a member of UC's rowing team. This July, Ally and a fellow fourth-year classmate are participating in a rotation program at Blackfeet Community Hospital located in the Blackfeet Indian Reservation in Montana.
"The initial decision was I'm going to UC, it's close to home, but once I got into the program and got involved, I really realized how much we have to offer as a program just being where we're located," Ally said. "When I finish classes, I just walk across the street and clock in. That is so convenient for me, and it makes things so easy with balancing and managing schoolwork and work activities."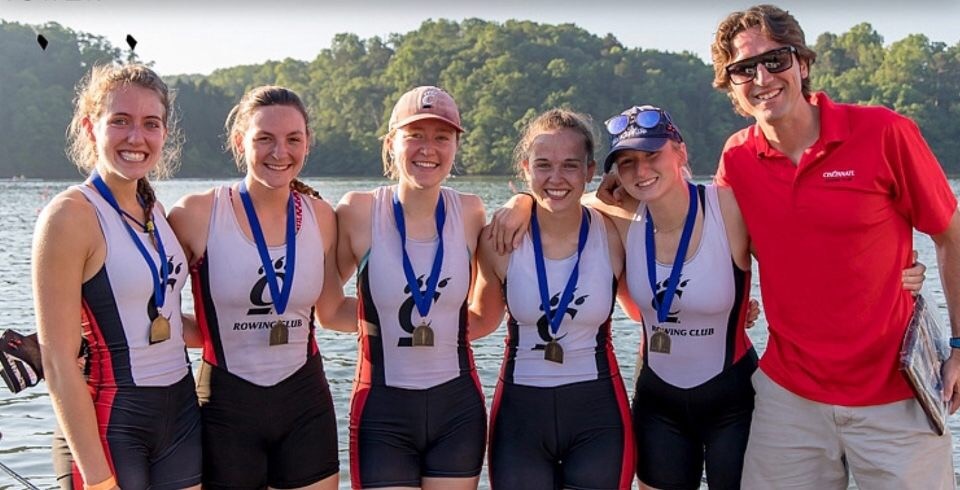 Starting his third year this fall, Adam has interned at Christ Hospital and Meijer Pharmacy. 
"I'm really happy with the program so far," he said. "UC provides a strong network of people who care about you and will support you and a lot of resources as well. So whatever you want to do, you have opportunities."
Both Klaserner siblings are members of the Student Society of Health-System Pharmacists, American Society of Health-System Pharmacists and the American College of Clinical Pharmacy. 
"We're in those three organizations specifically because they hit all the aspects of pharmacy. You have your leadership, your advocacy and then your clinical skills, which I think are kind of the three big groups of things that you need to prepare for a residency or a job," Ally said.
Amidst the rigor and challenges of pharmacy school, the siblings said they are competitive with each other and push each other to do their best. Particularly during the COVID-19 pandemic, they said it has been rewarding to serve their community through their internships and jobs.
"Your positive patient interactions are what keeps you going day to day, because there's a slew of things that can go wrong or that are going wrong with staffing shortages and what everyone is going through," Ally said. "But holding on to those few really rewarding patient experiences are what encourages you to keep going."
After graduation, Ally plans to work in hospital pharmacy and may pursue a residency in a more specialized area such as transplant or hematology oncology. With two more years in the program, Adam said he is undecided exactly what he wants to do but is considering ambulatory care or hospital pharmacy.
John said he enjoys having conversations where "four geeky pharmacists" can discuss the minutiae of the pharmacy industry and is excited to see where their careers take Adam and Ally.

"As long as all three kids can support themselves and a family and help someone along the way, I think we have been successful as parents," Lorrie added. 
Featured photo at top of Lorrie, Ally and John Klaserner provided by Klaserner family.
Become a Bearcat
Whether you're a first-generation student or from a family of Bearcats, UC is proud to support you at every step along your journey. We want to make sure you succeed — and feel right at home.
2
College Matters. Alma Matters: UC grad and UC faculty featured...
September 29, 2023
College Matters. Alma Matters. podcast features molecular geneticist Dr. Anil Menon, associate dean of undergraduate education and director of the undergraduate program in biomedical sciences in the UC College of Medicine and Pateek Raj, graduate of SPIA.
3
Everything you need to know about UC alum Travis Kelce
September 29, 2023
Cincinnati went wild for Taylor Swift when she brought her Eras Tour to the Queen City this summer. Now her ties to Cincinnati grow as she's been linked to University of Cincinnati alum and NFL star Travis Kelce. Swifties everywhere are asking: Who is Travis Kelce? Here's everything you need to know about Taylor's latest rumored romance.
Debug
Query for this