Nick Nguyen's sneaker reselling business finds more-than-solid footing
From The Sidewalk's ascent continues with new storefront space
"We didn't have any other option. We were so poor. We had to do something to change our lives. That's why we came here, to start a new life."  
Struggling to make ends meet, Nick Nguyen and his family emigrated from Vietnam in September 2019. Less than three years later, Nguyen opened a retail space for From The Sidewalk, his shoe reselling business, in downtown Cincinnati, all the while closing in on a finance degree from the Carl H. Lindner College of Business.  
Nguyen, BBA '23, recently held a soft opening for friends and cherished guests to catch a first look at Sidewalk's new storefront. Two days later, the general public walked through the Sidewalk's doors.
"It was the best weekend in my 22 years of life. Although I'm just scratching the surface, it showed me that hard work truly pays off after seven years being an entrepreneur and facing many hardships of being in three different industries," Nguyen said. "Also, it allowed me to see my growth and maturity as a businessman. I'm really looking forward to what's to come." 
Before starting Sidewalk, Nguyen operated a pair of clothing stores in Vietnam. In Cincinnati, he has managed a storage service and worked as a cashier at Meijer. After starting Sidewalk as an online shop in November 2020, Nguyen moved to New York City in early 2021 to do freelance photography and graphic design. He maintained Sidewalk from New York City before moving back to Cincinnati in early 2022 to commence work on Sidewalk's physical retail space.
When he was designing the storefront, Nguyen derived inspiration from hip-hop and basketball culture, as well as the Lower East Side of New York City. The storefront features a wall of Nguyen's curated for-sale shoe collection, a corner lounge, a basketball hoop, framed basketball jerseys and a PlayStation 5 for customer use.
"I want people to come in, learn, appreciate the culture and get something out of it," he said.
Nguyen's passion for sneakers began eight years ago when he started playing basketball at a local park.
"I saw all the cool shoes. I learned about Michael Jordan, Kobe Bryant, Derrick Rose, all the legends of the game," he said. "It just happened that sneakers are a part of basketball culture."
From The Sidewalk taps into a highly lucrative field, as the sneaker and streetwear resale industry are reportedly valued at north of $2 billion in North America. The global market is expected to hit $30 billion by 2030.
"I realized that they had a higher value on the secondary market. I steadily scaled the business to what it is today," Nguyen said. "I have a good foundation on what to buy and what to sell." 
After a chance run-in before class at Lindner Hall with Jaden Walton, the Center for Entrepreneurship's Student Entrepreneur-in-Residence, Nguyen started receiving assistance and advice from Walton and Kate Harmon, the center's executive director and El and Elaine Bourgraf Director of Entrepreneurship. The UC College of Law's Entrepreneurship and Community Development Clinic provided Nguyen with legal guidance, among other resources, too.
"We are excited to see Nick open his physical storefront after working with the UC Center for Entrepreneurship for the last several months," Harmon said. "From The Sidewalk offers a dedicated marketplace and community for Tri-State sneakerheads to get their hands on the best and most unique brands."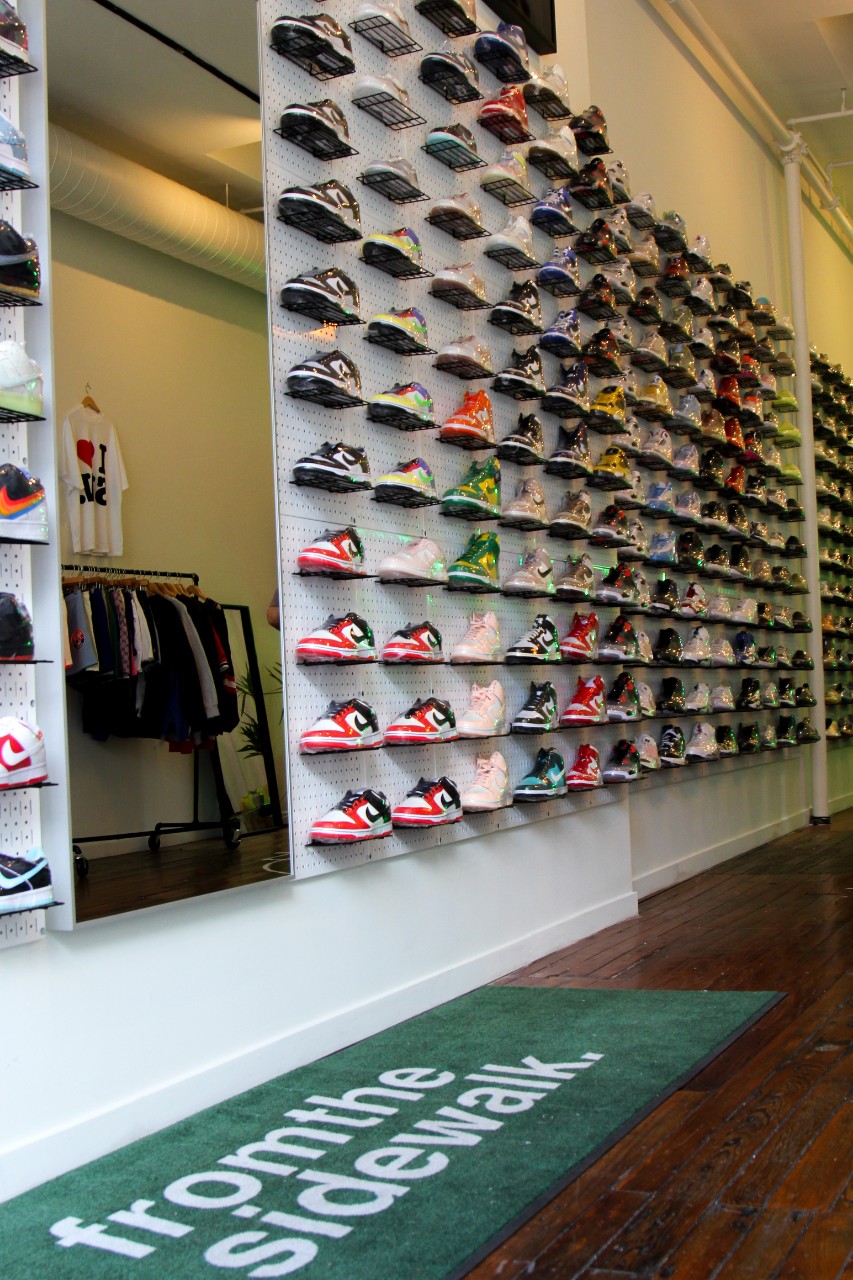 Given From The Sidewalk's upward trend, Nguyen has had thoughts of leaving college behind.
"To be honest, I wanted to drop out a long time ago. I had the mentality of, 'I have my own money now. I don't have time for this,' Nguyen said. "Then again, what if all of this fails? What if I'm back to the bottom and back to square one? At least I will have my degree to fall back on.
"It's long-term thinking. I have to have a backup plan for the future in case this goes south."
As he settles into the day-to-day responsibilities of running From The Sidewalk's online and storefront vehicles, Nguyen feels a "heavy sense of responsibility." 
"Not only to my partners and employees — who rely on me to make the best and smartest decisions for the company — but also to the community of Cincinnati," Nguyen said. "However, I'm improving myself every day and hopefully I'll be able to fulfill my role as a leader."
Featured image: Nick Nguyen stands inside From The Sidewalk's storefront. Photos by Gavin Vargas.
Explore Entrepreneurship at Lindner and UC
All UC students interested in entrepreneurship are in luck. The Center for Entrepreneurship promotes entrepreneurship to students in any program and the Cincinnati-area startup community through curriculum, research and programming. The entrepreneurship major at the Lindner College of Business emphasizes practical issues and interactions with individuals who work with or advise firms across individual, social and corporate entrepreneurship.