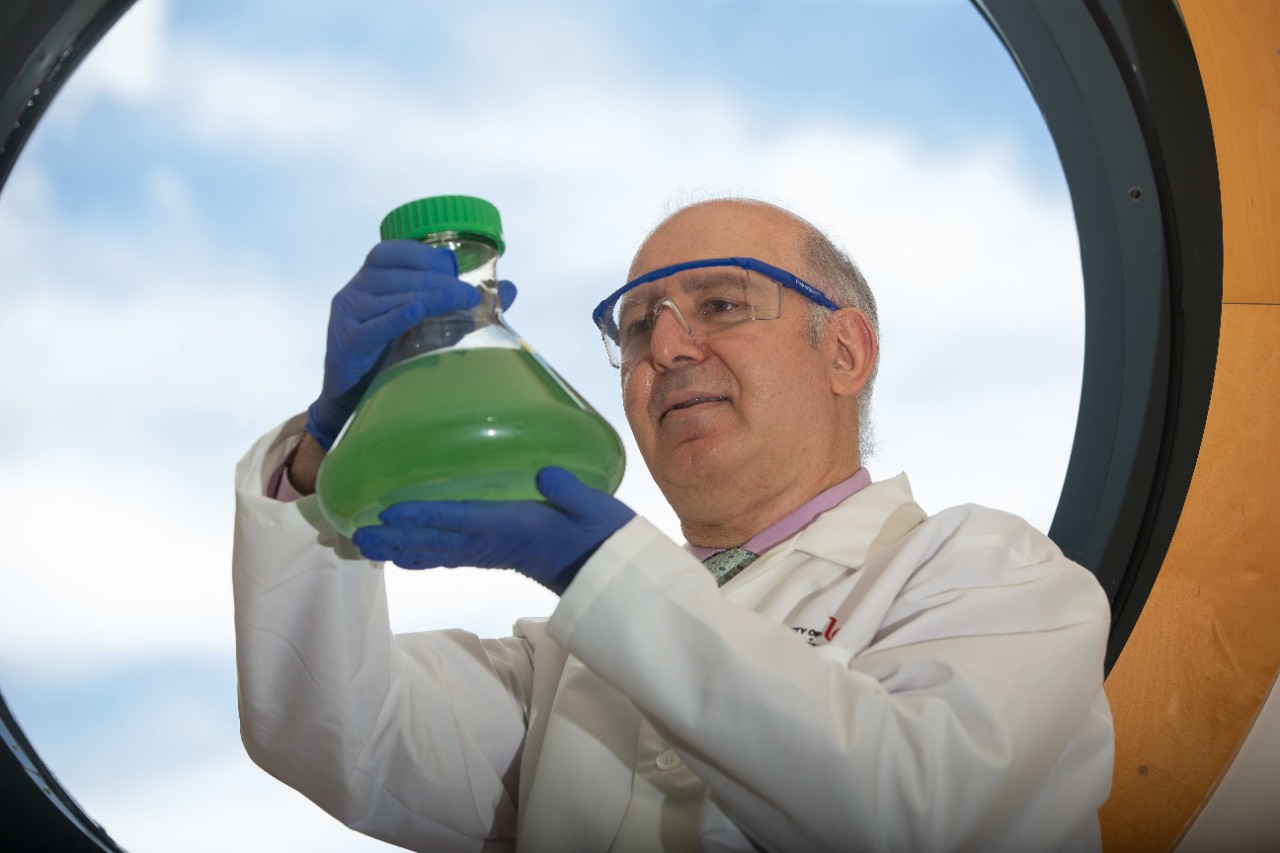 UC faculty, grads win prestigious international research prize
Saudi Arabia will recognize UC engineering professor and students for water research
A University of Cincinnati engineering professor and five of his students will receive a prestigious international award for their work studying ways to address water pollution.
The Prince Sultan Bin Abdulaziz International Prize for Water will be awarded to UC College of Engineering and Applied Science distinguished research professor Dionysios Dionysiou and his student research team.
UC researchers will receive the Creativity Prize for their work developing advanced oxidation technologies and nanotechnologies to monitor and treat emerging toxins and other contaminants of emerging concern in water. The biannual award recognizes cutting-edge innovation in water research. Five prizes in different categories are bestowed every two years.
"It's nice to be recognized and for the work of my students to be recognized," Dionysiou said.
Dionysiou's research team in the Department of Chemical and Environmental Engineering includes UC graduates Ying Huang, Wael H.M. Abdelraheem, Abdulaziz Al Anazi, Jiong Gao and Vasileia Vogiazi.
Researchers from Yale, Brown and the University of California, Berkeley, were among the 2022 award recipients.
Dionysiou has studied diverse topics such as water treatment, reuse and purification, detection of contaminants and water sustainability. His research has been supported by more than $8 million in grant funding.
"I am from Cyprus. Water is a big issue for us. Our climate is like San Diego and many years we have droughts," Dionysiou said. "Sometimes water wouldn't be available.
"When I started my academic career, I was interested in water quality and how to remove pollutants," he said. "Some of our more recent work deals with sensing contaminants in water."
Maintaining water quality is an important issue to protect human health.
Dionysios Dionysiou, UC professor of environmental engineering
Among the projects Dionysiou's lab has tackled is detecting and treating cyanobacteria toxins in water. Also known as blue-green algae, cyanobacteria can reproduce quickly in water inundated with fertilizer runoff. And its resulting decomposition can deplete the oxygen from the water, creating massive die-offs of fish and other aquatic life.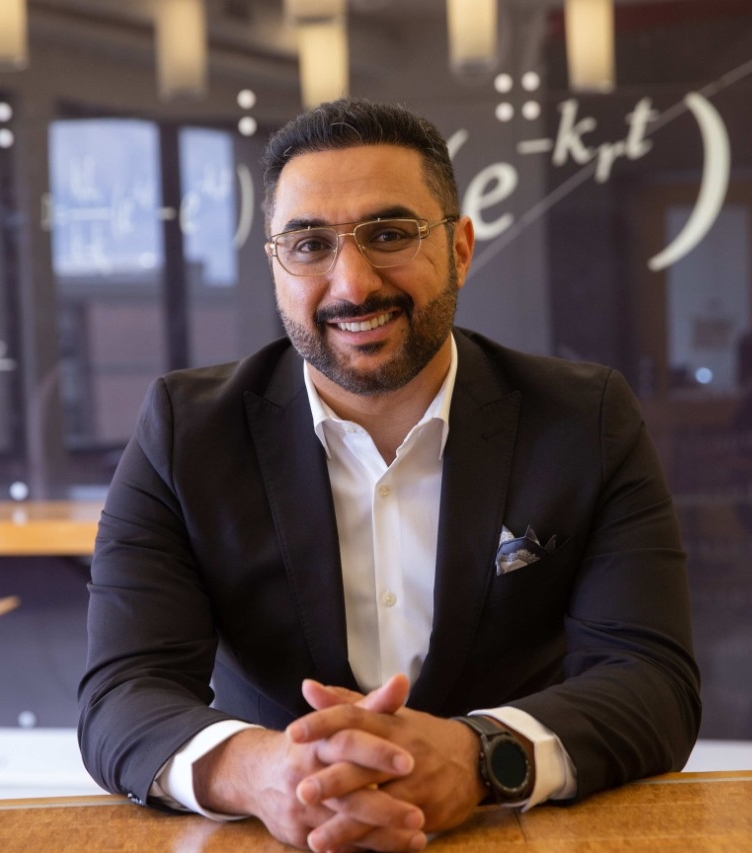 Cyanobacteria is highly toxic, causing rashes, nausea, stomach cramps and even liver damage if ingested. Algae blooms on Lake Erie in 2014 created a water crisis in Toledo, Ohio, which warned residents not to drink tap water. Boiling water tainted with cyanobacteria does not remove the toxins that can make people sick.
"Maintaining water quality is an important issue to protect human health," Dionysiou said.
More recently, Dionysiou and his students have been tackling the problem of emerging contaminants such as per- and polyfluoroalkyl substances commonly known as PFAS. It's a class of long-lasting chemicals that have been used for years in products ranging from stain-resistant clothing to non-stick cookware and flame-retardant fabrics.
The widespread use of PFAS in everything from couches to camping tents to firefighter gear has led to its being found in drinking water as well as in the blood of almost everyone living in the United States.
"They make it into aquatic systems where they bioaccumulate in the food chain, so we must remove them to protect human health," Dionysiou said.
PFAS contamination is a global concern like microplastics, harmful algal blooms and other water pollution.
Other projects include removal of pesticides, herbicides and pharmaceutical residues, among other contaminants, using technologies powered by ultraviolet light as well as nanotechnologies powered by solar light.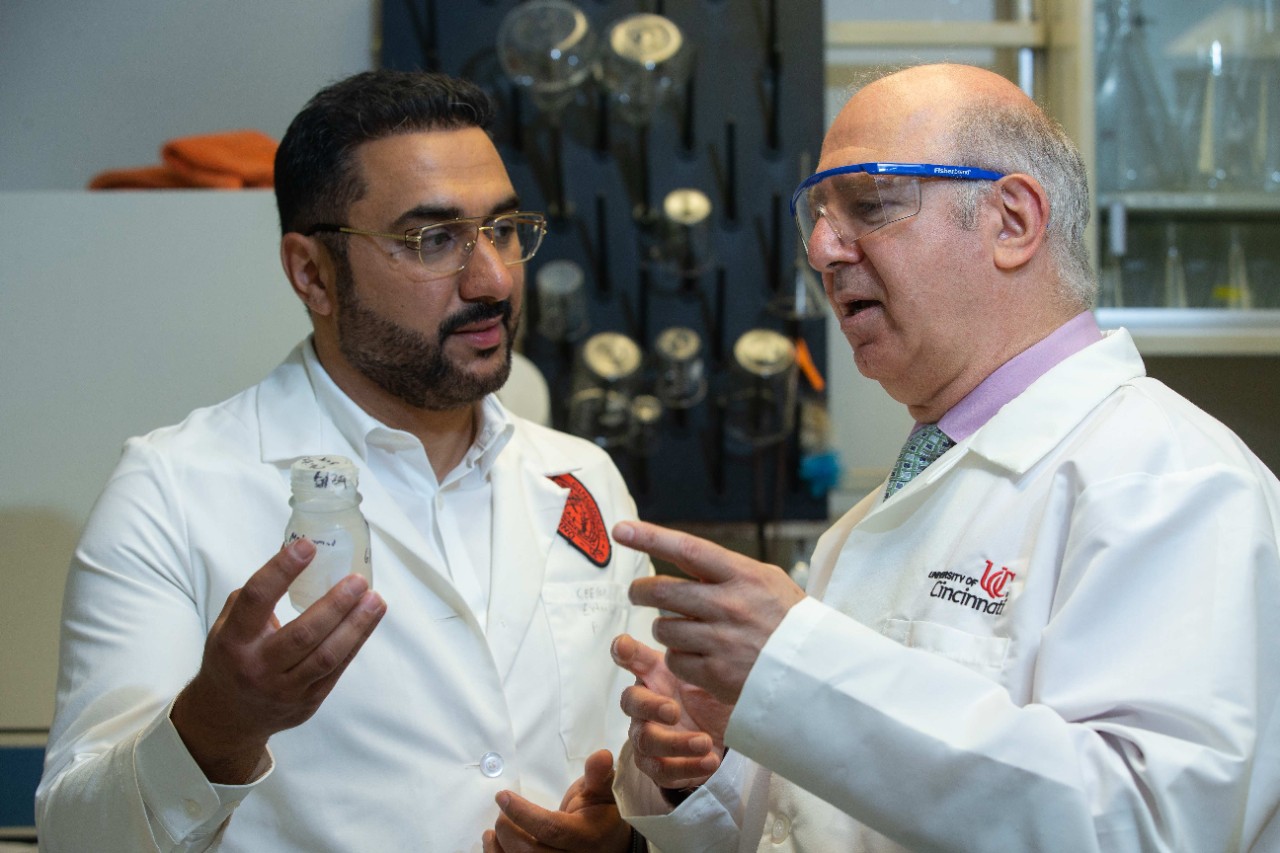 UC graduate and awardee Al Anazi was ecstatic about the award.
"The prize means a lot to me personally," he said. "I want to thank Saudi Arabia's environment minister for pushing the scientific approach to solving problems globally."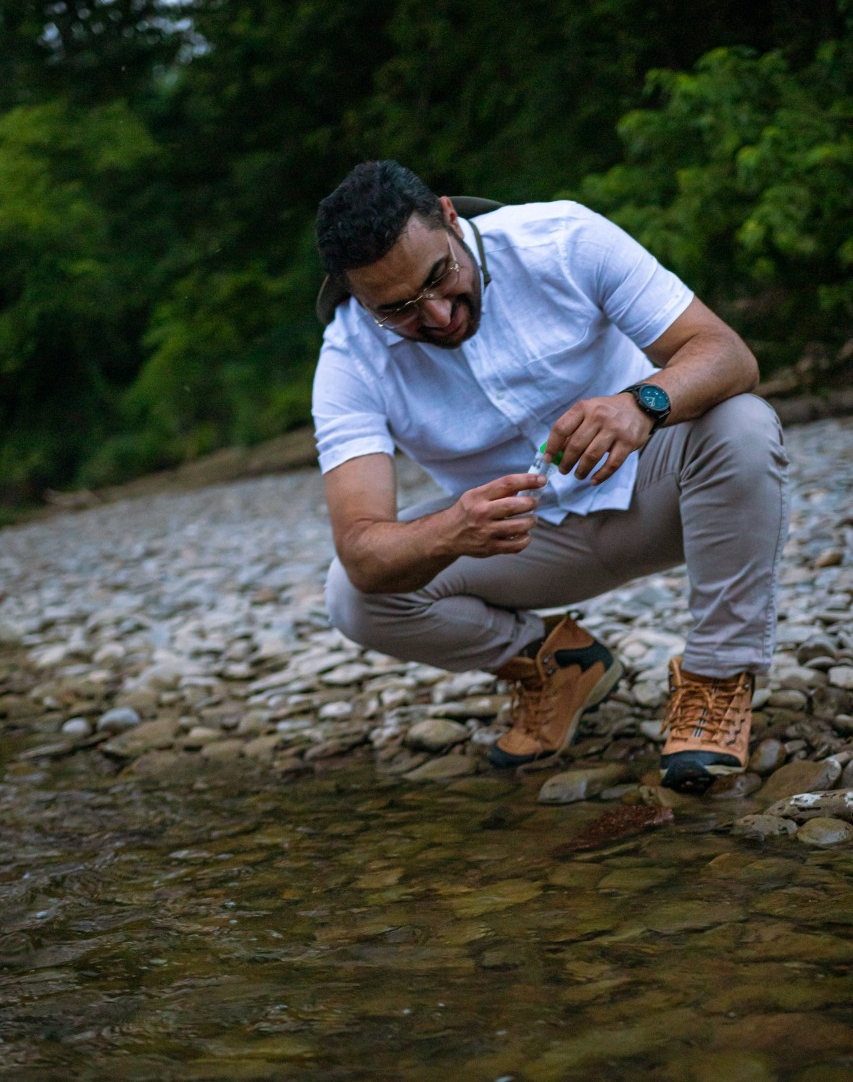 The award demonstrates how UC's research is held in high esteem among peers in the field, he said.
"At UC we excel in this field," he said. "This shows the global extent of our work."
While at UC, Al Anazi worked with the U.S. Environmental Protection Agency to develop nanotechnology material-based processes to remove sunscreen residue and other organic pollutants of emerging concern from water.
Al Anazi said ensuring clean drinking water is a fundamental human rights issue, made more difficult by emerging contaminants. Besides PFAS, he and other engineers are studying pharmaceuticals that get into water treatment plants and microplastics that have become ubiquitous in waterways around the world.
"Water is so fundamental — it's as important as the air we breathe," Al Anazi said. "Creating the right sensors to detect contaminants and the right treatment technologies to remove them from water will be increasingly important."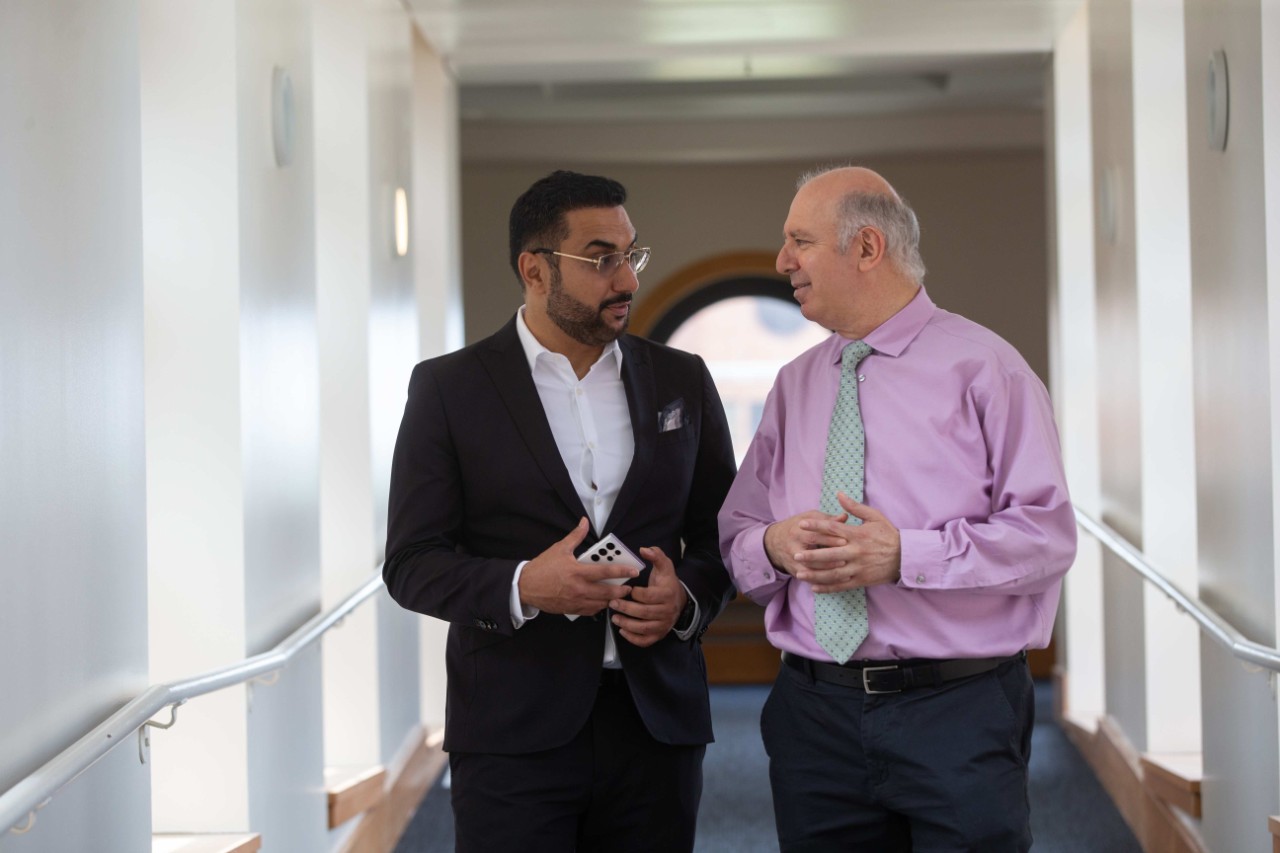 Dionysiou said UC is a national leader in water quality and sensing research.
"Our work on emerging pollutants and advanced sensing technology are cutting-edge areas," Dionysiou said.
This year Dionysiou will use his expertise to examine another critical threat to humanity — climate change. He is collaborating with UC assistant professors Xi Chen (geography) and Dongmei Feng (environmental engineering) on a study of arctic nutrient cycles.
As big a challenge as water quality and conservation are for the United States, the problem is equally dire elsewhere. One in three people globally do not have access to clean water, according to the World Health Organization.
But Dionysiou said he is confident in the abilities of his students and their peers to "science" their way out of the coming crises.
"The younger generation is trained in new technologies and possesses new skills. They will find solutions to many of our current problems," he said. "Hopefully, they will stay away from conflicts and wars and will work in a more collaborative way at the global level. To destroy is very easy. To build is much harder, but this is the way to develop a sustainable future for everyone."
Featured image at top: UC College of Engineering and Applied Science professor Dionysios Dionysiou and his students will be recognized by Saudi Arabia for their work developing effective ways to protect sources of drinking water. Photo/Andrew Higley/UC Marketing + Brand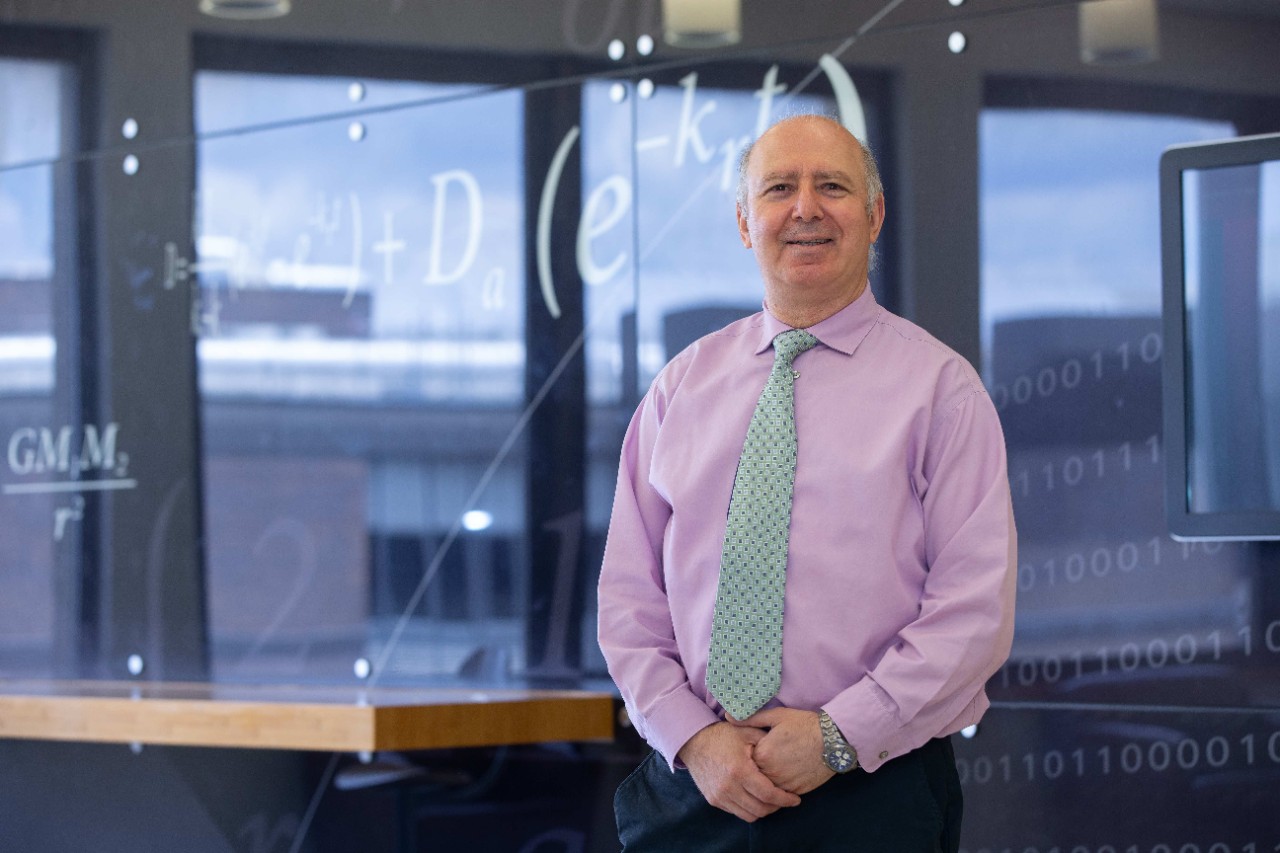 Next Lives Here
The University of Cincinnati is classified as a Research 1 institution by the Carnegie Commission and is ranked in the National Science Foundation's Top-35 public research universities. UC's graduate students and faculty investigate problems and innovate solutions with real-world impact. Next Lives Here.
1
Engineering students showcase capstone projects at CEAS Expo
May 6, 2022
Graduating engineering undergraduates from the University of Cincinnati's College of Engineering and Applied Science gathered for the inaugural CEAS Expo in April to showcase their senior capstone projects to more than 500 attendees, including faculty, staff, alumni and industry representatives. The event, organized by the college and CEAS Tribunal student government, was held in downtown Cincinnati at the Duke Energy Convention Center.
Debug
Query for this