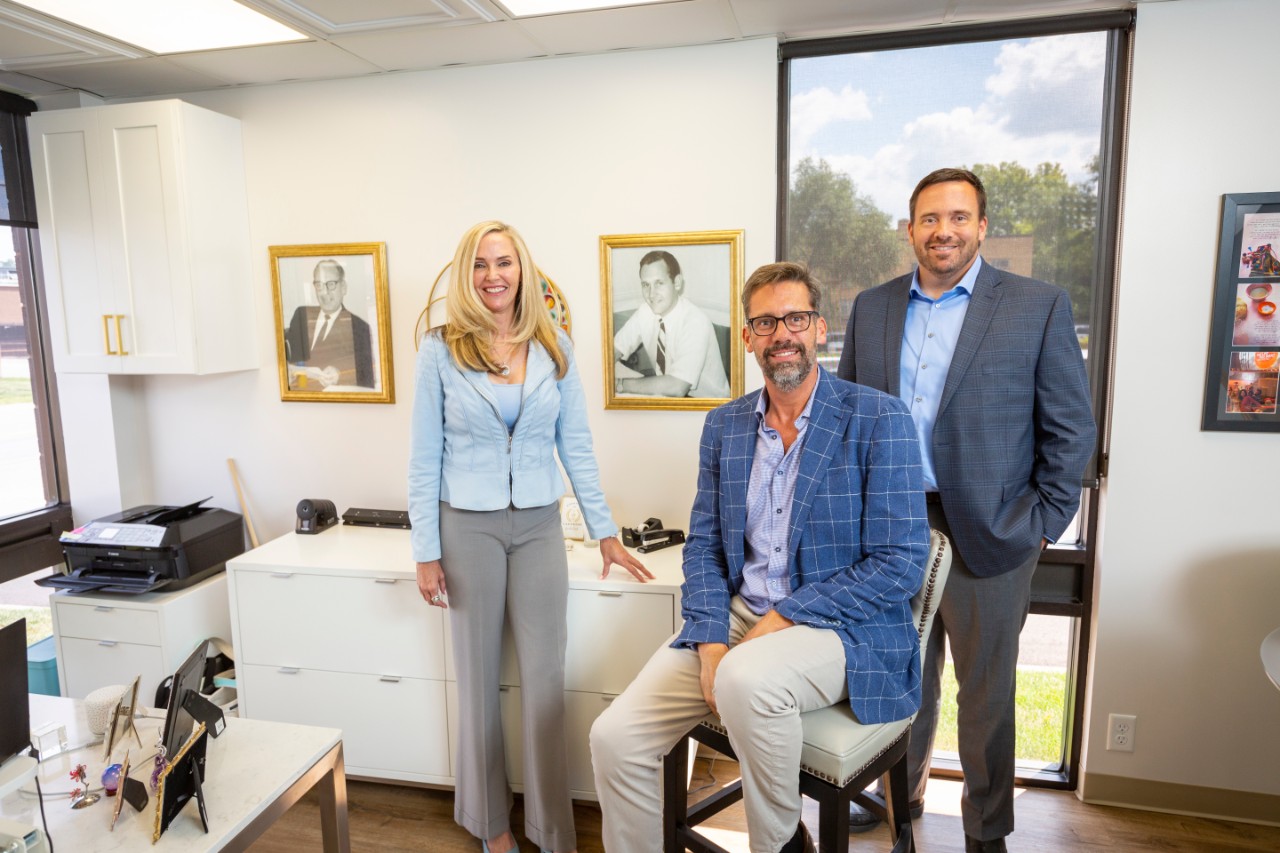 In difficult times, Baxter Burial Vault embodies the Great Reliance
Since 1924, Baxter Burial Vault Service provides an important piece of the final care for those who have lost loved ones, including during times of war, terrorism, natural disasters, and pandemics. The organization cares deeply for their customers and ultimately the families they serve. Positivity is essential – the leadership team brings humor and camaraderie into the workplace, encouraging employees to find light in the difficult times. The nature of their business is to handle last-minute needs and changes on a daily basis. In the 1980s, Baxter Burial Vault put in a crematory to provide this service to funeral homes and cemeteries, as many were in neighborhoods that were not zoned for the service. Through industry association and meetings with lawmakers, the company participated in the creation of the Ohio Cremation Law in 1998.
An investment in graphic technology allows Baxter Burial Vault to create customized vault covers, transforming them into integral parts of the graveside ceremony. This customization was significant during the pandemic, as many people lost their loved ones in isolation. Though Baxter Burial Vault is in the manufacturing industry, the company provides a tender service. Ingenuity is vital to figure out new ways to display a vault cover, be in multiple places simultaneously with limited trucks and employees, source materials, diversify services to meet new laws, stay up to date on customers' licensing requirements and offer continuing education.
Classified as "essential workers," Baxter Burial Vault created their own "Great": The Great Reliance. Through the pandemic, team members relied on each other, and their customers relied on them. Their leadership team is authentic: working alongside their employees, rewarding them financially, recognizing their efforts, being vulnerable with their own fears, and reassuring them that they can and will overcome incredible obstacles.
Baxter's employees come from a 60-mile radius to complete a six-day work week. During the pandemic, they doubled in production and service. Employees stay, thrive, and deeply care about their work. Many families work together at the company: fathers and sons, brothers, cousins, in-laws. Their clients are funeral homes and cemeteries who call daily with immediate or next-day service. Giving is paramount; the organization makes donations to local schools, community events, and other charities and fundraisers. When people are in grief, it is not the time to make mistakes. Baxter Burial Vault is reliable, respectful, and responsible. Their funeral home and cemetery customers trust them, coming back to the company for decades and beyond.
Featured image from left: Holly Baxter Bridgers, Darren D. Baxter, and Trevor D. Baxter (Co-Owners) of Baxter Burial Vault Service
The Goering Center is sharing this content as part of its 2022 Family and Private Business Awards celebration.
About Baxter Burial Vault Service
Started by Don E. Baxter in 1924, Baxter Burial Vault Company sold grave liners and concrete air domes to area funeral homes. His two sons, Don Jr. and Doug, entered the business, and the precast and burial vault business grew to such an extent that the brothers eventually separated into two businesses. Today, Baxter Burial Vault Service is run by Doug's three children, who have expanded the business into the Dayton, Ohio area with the purchase of Bell Vault & Monument Company.
About the Goering Center for Family & Private Business
Established in 1989, the Goering Center serves more than 400 member companies, making it North America's largest university-based educational non-profit center for family and private businesses. The Center's mission is to nurture and educate family and private businesses to drive a vibrant economy. Affiliation with the Carl H. Lindner College of Business at the University of Cincinnati provides access to a vast resource of business programming and expertise. Goering Center members receive real-world insights that enlighten, strengthen and prolong family and private business success. For more information on the Center, participation and membership visit goering.uc.edu.
3
How to help employees manage their financial wellness
January 14, 2021
While a company-supported 401K plan is a good start, there is so much more that companies can provide to help their workers get on good financial footing. This article provides guidance to business owners on how they might help their employees improve their financial wellness.
Debug
Query for this