UC Family Weekend draws more than 5,000 participants to the Uptown campus
A photo gallery offers a peek for those who missed the fun
Cameron Evans wandered through Schneider Quad Saturday checking out the morning's activities. 
There were stations allowing visitors to be creative with inspiration boards and rock painting or a chance to get a caricature or face painting if desired. Lots of games for younger siblings and college students alike along with lots of chances to win prizes.
Evans, a first-year chemical engineering student, stopped for photos: a family portrait with his mom, grandmother and aunt in front of a giant UC display decorated with red and black balloons along with one of him solo and the display. It was a popular choice for many students and their families.
It was UC Family Weekend and the activities were part of nearly 50 events spread over three days, Sept. 16-18, and designed to introduce families to university life. A Friday pep rally on UC Main Street, a movie night in Nippert Stadium and a Bearcat family barbecue on Sheakley Lawn were among the major attractions.  On Sunday, families also got the chance to enjoy a riverboat cruise on the Banks as part of Family Weekend.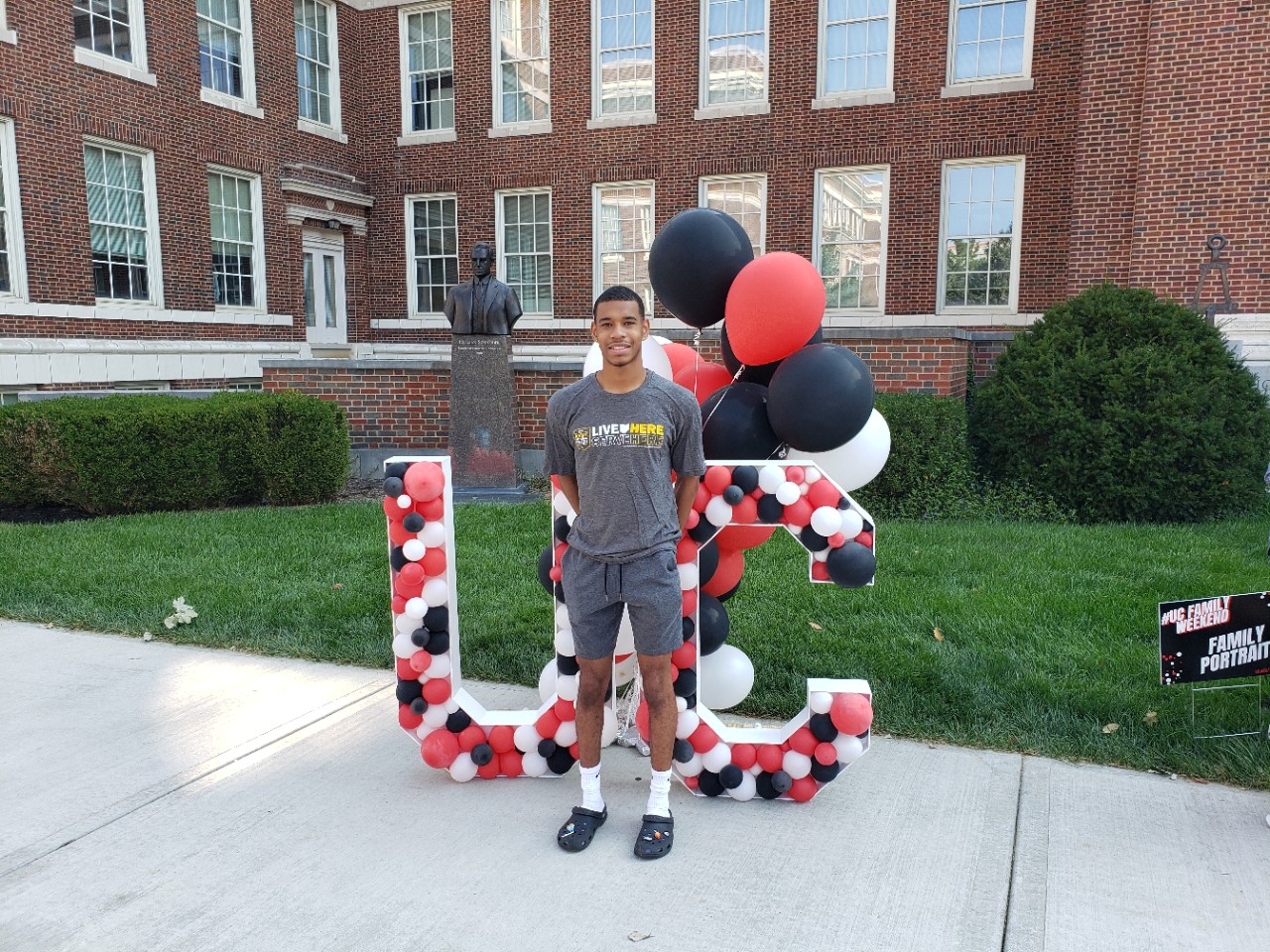 First-year student Anna Schlosser was planning to take her mom, father and two younger siblings on a photo scavenger hunt for a chance to win prizes such as a free T-shirt. Schlosser is a student in the College of Allied Health Sciences.
"I am loving it at UC," says Schlosser, a graduate of Walnut Hills High School, a Cincinnati Public School. "I am loving getting into my nutrition classes and starting off with my learning community is especially super cool. It is a great chance to get involved and I am having a really good time."
More than 5,000 people participated in the weekend activities, a new record for event organizers. The UC versus Miami University football game Saturday was also part of the mix and the Bearcats kept the trophy, Victory Bell, defeating their rivals 38-17 at Cincinnati's Paycor Stadium, home of the Bengals.
"When I came to UC, I kind of just fell in love with the campus," explains Evans, who is from Columbus, Ohio. "I like the people here. The first month of school is going pretty well. The classes aren't too bad and the people here are really easy to deal with. I am kind of loving it here."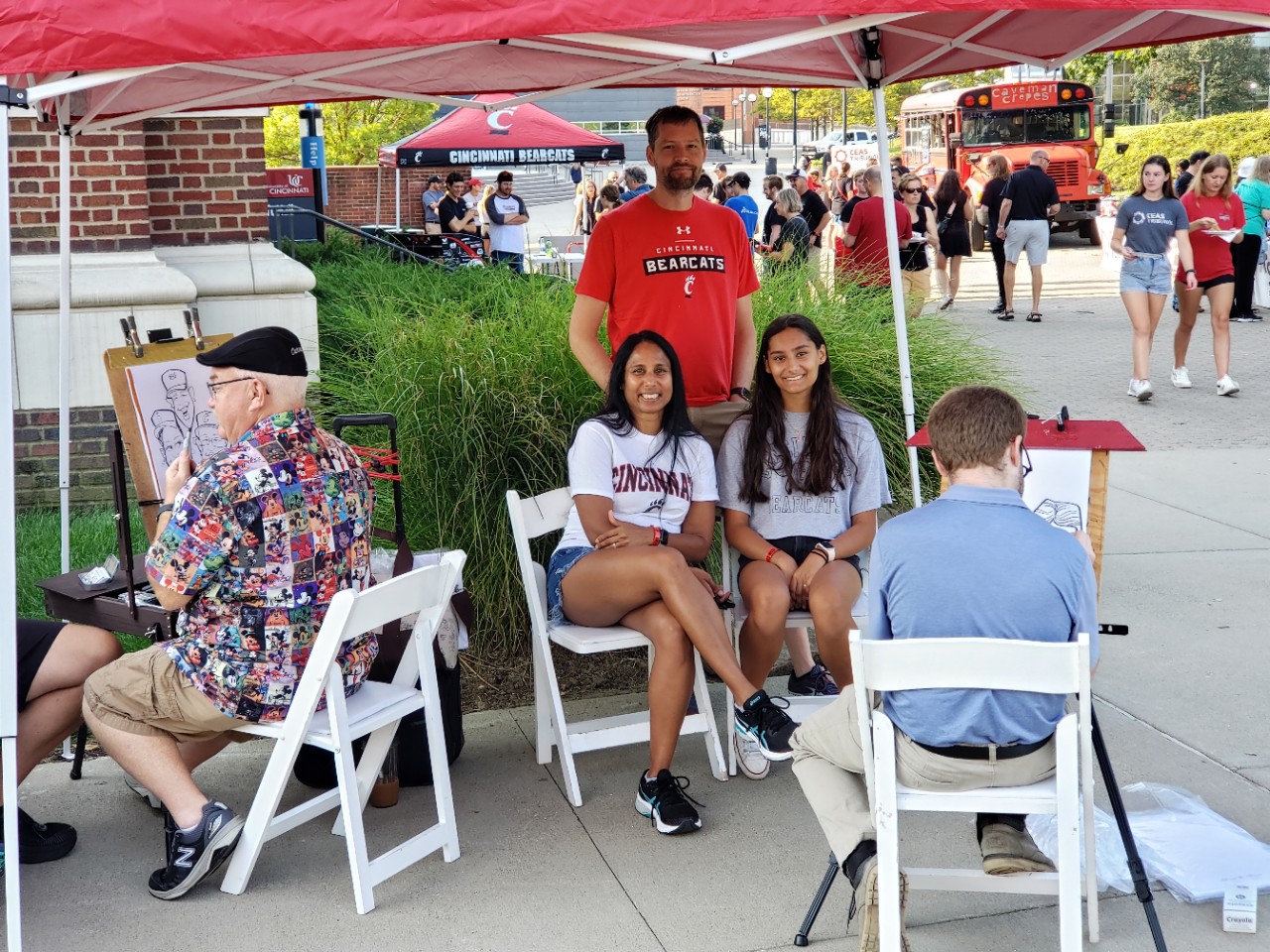 Evans' mom, Damika Withers, says her son was successful at connecting with campus organizations and programs such as the UC chapter of the National Society of Black Engineers and the African American Resource & Cultural Center, which offered the Transitions program for incoming students. She says the support put her at ease.
"I was comfortable with UC because he was comfortable, and I was happy because he was happy," explains Withers. "Overall, I am excited about his journey in higher education."
Whitney White, director of Parent & Family Programs at UC, says UC Family Weekend's popularity has really grown in recent years.
"About 75% of guests are typically families of first-year students, but our families love this special weekend at UC so much that they return year after year," says White. "We were excited to give them all the chance to spend time on campus and celebrate being a Bearcat."
Featured image of a family at UC Family Weekend taken by UC student photographer Hayley Jarman.
All photos below in the gallery below of UC Family Weekend events were taken by UC student photographers in the class of UC Professor Sean Hughes.