Beyond clinical: my UC nursing co-op and DEU experience
UC offers unique opportunities that open doors and prepare you for your career in nursing
By: Alicia Shepard, Bachelor of Science in Nursing '23, Nursing Student Ambassador

Although nobody in my family comes from a health care background, I've always known that was the path I wanted to follow. Nursing became the obvious choice in high school, when a few people I knew started nursing school and I learned more about the flexibility the profession offers — you can work in inpatient or outpatient settings, be an educator, a researcher or a nurse practitioner.
When I started researching nursing schools, I had two priorities: schools that had hospitals nearby and those that offered a direct-admit nursing program, since a lot of colleges require students to apply for the Bachelor of Nursing in their sophomore year and you're not guaranteed a spot. Being from Ohio, I had already heard great things about the UC College of Nursing and the school met those two main requirements.
Sure, every nursing school offers clinicals, but what I have been able to experience is far beyond that.
Alicia Shepard
What I wasn't fully aware of when I chose UC were the opportunities I would be given to develop as a nurse through unique hands-on programs. Sure, every nursing school offers clinicals, but what I have been able to experience is far beyond that.
During the spring term of my sophomore year, in 2021, I got accepted into the college's Dedicated Education Units (DEU). UC is one of the few colleges in the country to offer this program, where students are paired 1:1 with a registered nurse on a designated hospital floor where this nurse works – the med surg at University of Cincinnati Medical Center, in my case. Although I had already worked at a hospital as a PCA before joining the DEU, I got to do much more and learn from a nurse preceptor who answered my questions right on the spot. I enjoyed caring for all my preceptor's patients for entire shifts, learned about patient hand-off, EPIC, time management and how to fully utilize resources available.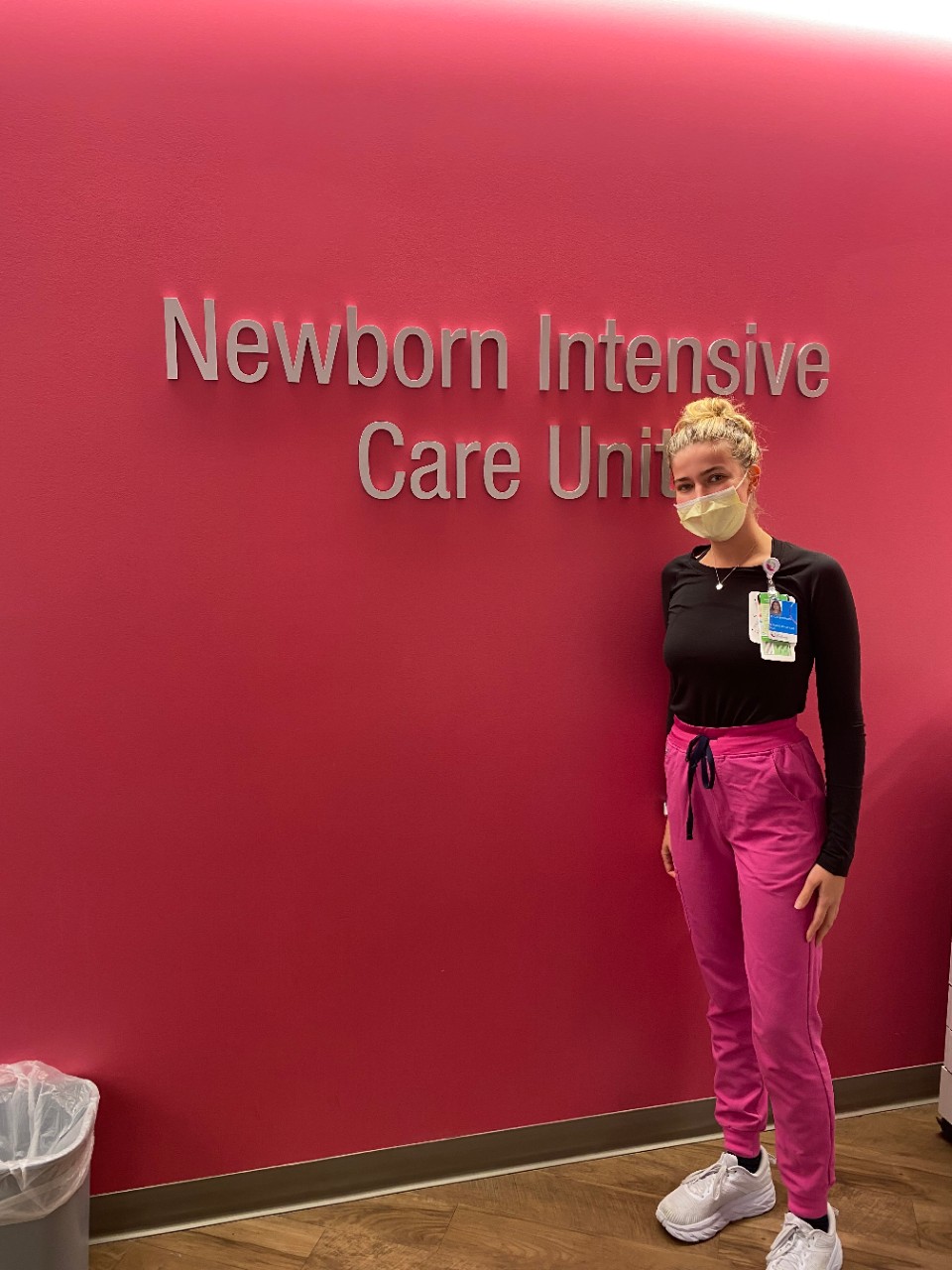 During my junior year, my advisor and Dr. Debbie Schwytzer, the co-op program director, encouraged me to apply for the program. I got an offer from the NICU at Cincinnati Children's, which I gladly accepted since I know I want to work with pediatrics and critical care. In a nutshell, this is a paid program where you are paired with a registered nurse to work three 12-hour shifts a week during the summer before your senior year, then between 32-26 hours a month through the school year and back to the full-time schedule during the winter break.
During the co-op experience, you can do everything with the assigned nurse preceptor. This includes hand-off reports for patients, medication administration, nursing bedside procedures, education with family regarding the plan of care, etc. One of my favorite opportunities the program offers is shadowing various units. I had the privilege of shadowing a nurse at the CICU, PICU, neuro unit and operating room.
Although I am not graduating until the spring of 2023, I know I want to work at Cincinnati Children's in a critical care setting. Participating in the co-op program helps students make connections with managers and educators, which leads to high chances of being offered a job. When people ask me if I am worried about working as a registered nurse after graduation, I let them know how excited I am to begin this next journey. The DEU and co-op experiences have helped me have a better understanding of the roles and responsibilities of nurses. I am excited to do it on my own after graduation!