One student found a second home at UC
Kevin I. Kinebrew II felt like a Bearcat long before he submitted his application. 
He grew up in Cincinnati, and several of his relatives attended UC before him. When his older brothers were UC undergraduates, Kevin was frequently with them.
"Throughout their years at UC, I felt like I was always here, even if I was just visiting or helping them move," Kevin says. "I was already familiar with the campus before I came here. My aunt worked at the African American Cultural & Resource Center "AACRC", and she would invite me to their events. UC felt like a second home before I enrolled." 
At UC, scholarships change lives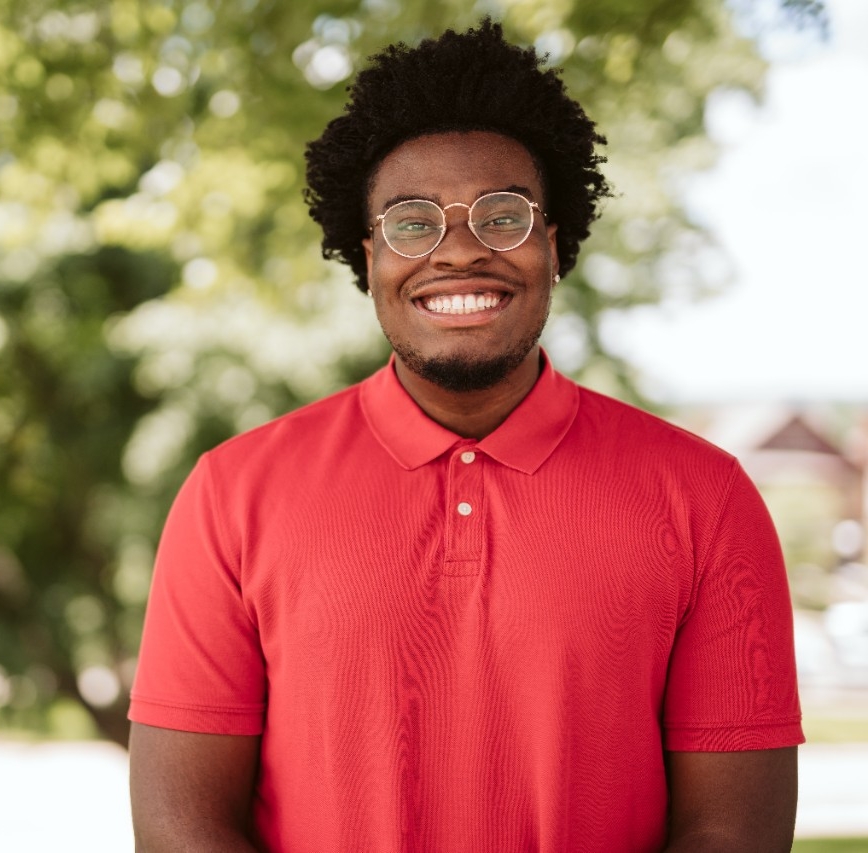 Kevin is deeply appreciative of the financial support that has helped fund his education. His scholarship has also given him the opportunity to meet donors.
"It can't be put into words the service UC donors are doing for students who are trying to further their education and potentially break barriers for their families," Kevin says. "Pursuing higher education means paying for housing, even books. Without financial support, many people wouldn't be able to continue. 'Thank you' is the least you can say to someone who has helped you." 
Preparing students for excellence
As a communication major with a minor in organizational leadership, Kevin has embraced a wide-ranging curriculum that has helped him develop technological skills and a facility for human interaction. His education has included real-world experience as an intern at the Uptown Consortium, where he assisted with programming, social media, videography, and newsletter production. "I was putting out newsletters and editing the websites and just kind of listening in on what was going on around town," he says. "It set a good foundation."
Outside of class, Kevin has been a frequent presence at the AACRC where he participates in community projects and leadership programming. He took part in the center's transition program during his first year, and since 2020 has encouraged and counseled first-year students as a Brothers and Sisters Excelling (BASE) mentor. "I had such a good experience with my mentor, I wanted to give back," Kevin says.
I had such a good experience with my mentor, I wanted to give back,
Kevin I. Kinebrew II '23
Kevin is president of the Alpha Phi Alpha fraternity, a peer leader in UC's Emerging Ethnic Leaders Program, and a campus DJ. As a resident advisor in his dorm, he serves as a role model and works "to ensure a safe living environment for all residents by enforcing University policies and resolving high-stress issues as quickly and as safely as possible." Away from campus, he tutors children at South Avondale School, a public elementary school in the heart of Cincinnati.
Kevin isn't sure where he'll land after graduation, but his affinity for leadership and mentoring roles does provide a hint. "I'm not positive in terms of a career, but I know I want to provide the same kind of help that people have given me," he says. "What that will look like, only time will tell. But I know I want to help people."
Combined, Kevin's leadership and mentoring activities have helped him make connections while also teaching him, through practice, to remain confident and collected in high-stress situations. "I feel prepared for whatever is next for me," he says.
Featured image at top: Kevin I. Kinebrew II, A&S '23. Photo/provided
1
UC offers new social justice, Latin American studies degrees
October 7, 2020
University of Cincinnati students can now enroll to earn a Bachelor's degree in two new humanities programs: Social Justice, and Latin American, Caribbean and Latinx Studies, offered through UC's College of Arts and Sciences.
2
UC to host symposium on socially just community research
Event: March 5, 2021 9:30 AM
On Friday, March 5, The Cincinnati Project (TCP) will host its seventh-annual symposium titled "The Art and Science of Socially Just Community Partnered Research," sponsored by UC's College of Arts and Sciences and The Taft Research Center. Director of the Center for Culture-Centered Approach to Research and Evaluation (CARE) Mohan Dutta will deliver the keynote speech. Based in New Zealand, CARE is a global organization dedicated to developing community-based solutions for social change, advocacy and activism, inspired by the conviction that health is a human right. Founded in 2016, TCP unites researchers from UC's College of Arts and Sciences with community partners to benefit marginalized communities in Cincinnati, tackling economic, race, gender and health issues. Past TCP research has focused on high eviction rates in Hamilton County, resulting in city legislation to protect the rights of renters through an eviction prevention plan. In addition to the keynote speaker, the symposium will include discussion panels from area organizations such as Housing Opportunities Made Equal (HOME), the Urban League of Greater Southwestern Ohio, the Center for Closing the Health Gap, and UC faculty researchers. Topics will include ways in which community-based research can be conducted in socially just ways, in order to benefit the communities it is designed to serve. The symposium will be held virtually via Zoom from 9:30 a.m. to 1:30 p.m., and is free and open to the public. For more information or to register, please visit The Cincinnati Project.
3
UC student body leaders use platform to empower others
October 28, 2021
University of Cincinnati student body leaders have taken on a full slate of undergraduate activities, including classes, studies, Bearcats games and leading student government for UC. Elected as president and vice president earlier this semester, the students set to work delivering on their platform of diversity and inclusion, sustainability, campus spirit, mental health and accessibility.  Initiatives so far include a Mental Health Advocacy Week, a career-ready clothing drive and civil discourse training.
Debug
Query for this