UC Classics professor competes on Jeopardy!
Expert in Greek and Latin prose literature makes her national TV debut
A University of Cincinnati Classics professor competed this week in the quiz show Jeopardy!

Kelly Shannon-Henderson, an associate professor of Classics in UC's College of Arts and Sciences, made her TV debut in the long-running network show.
At UC, Shannon-Henderson studies Greek and Latin prose literature, among other research topics. She received the 2020 Goodwin Award of Merit from the Society for Classical Studies.
"My biggest nightmare would be getting a Classics question wrong on national television," she says.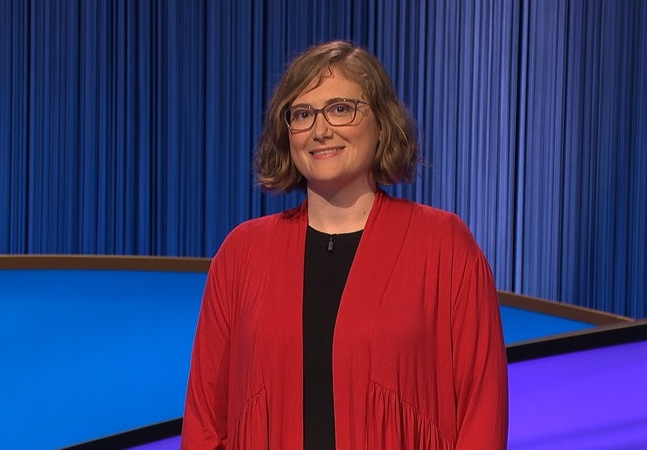 Shannon-Henderson says her worst subjects are sports and pop culture, but she does better in science and history.
"A lot of science questions are secretly Greek and Latin questions because the vocabulary is derived from classical languages," she says.
After winning a Daily Double, she had a comfortable lead in the the first two rounds but answered incorrectly in Final Jeopardy in the category of American government.
The question: Delivered on Jan. 8, 1790, the first of these was also the shortest, at 1,089 words.
The answer? The State of the Union Address.
UC's Classics Department hosted a watch party on Tuesday. Likewise, family in her hometown of Charlottesville, Virginia, and her husband and toddler in Cincinnati were watching.

She is a longtime fan of the show.
"My mom would have it on when she was making dinner. I always loved it," she says.
She credits the late host Alex Trebek for much of the show's enduring appeal. Trebek died in 2020.

"He had a lot of gravitas as host but also was clearly kind and humane as a person," she says.
"There's always excitement watching and wondering if one of the new contestants is going to dethrone the champion from last night's game."
Fox19 featured a preview of Shannon-Henderson's appearance on the show as did the Augusta Free Press, which covers her hometown in Charlottesville.
Some news outlets like the tabloid The Sun had fun with the category of current slang where Shannon-Henderson nearly ran the table, correctly answering with "thirsty," "snatched" and "yeet."
Several previous contestants have ties to UC, including 2016 contestant and UC College of Law senior librarian emeritus Kenneth Hirsh. In 2013, John Anneken, a graduate of UC's James L. Winkle College of Pharmacy, won three games.

Featured image at top: Co-host Ken Jennings poses with contestant and UC associate professor of Classics Kelly Shannon-Henderson on the set of Jeopardy! Photo/Provided
Become a Bearcat
Whether you're a first-generation student or from a family of Bearcats, UC is proud to support you at every step along your journey. We want to make sure you succeed — and feel right at home.
 
Apply today.