International students from ITESM in Mexico perform research through UHP Discover
For the first time, students from an international university—Instituto Tecnológico y de Estudios Superiores de Monterrey (ITESM) in Mexico—participated in the UHP Discover summer research program at the University of Cincinnati.
Having just completed its seventh year, UHP Discover is an opportunity for University Honors Program (UHP) students to participate in full-time research opportunities with faculty in non-STEM disciplines. UHP Discover aligns strongly with UC's Next Lives Here vision by allowing students and faculty to collaborate on innovative research that inclusively engages and positively impacts communities.
"The program was first founded in response to the common student misconception that research primarily happened in STEM environments," said Marcell Crawford, the assistant director and honors advisor in UHP who runs the UHP Discover program. "As the program has evolved, we have placed an increased emphasis on quality faculty mentorship and professional development opportunities; as an experiential learning opportunity, we want our students to know that their contributions to these research settings is valuable."
By including ITESM students this summer, the program expanded its impact on participants as well, offering a global perspective on their work.
"I believe that students benefit from hearing from diverse perspectives and experiences," said Crawford. "The ITESM students collaborated alongside our UHP students in research settings as well as across the professional development sessions this summer and this gave all involved a deeper understanding of the wide-reaching impacts of these research projects and how academic communities expand beyond a single campus."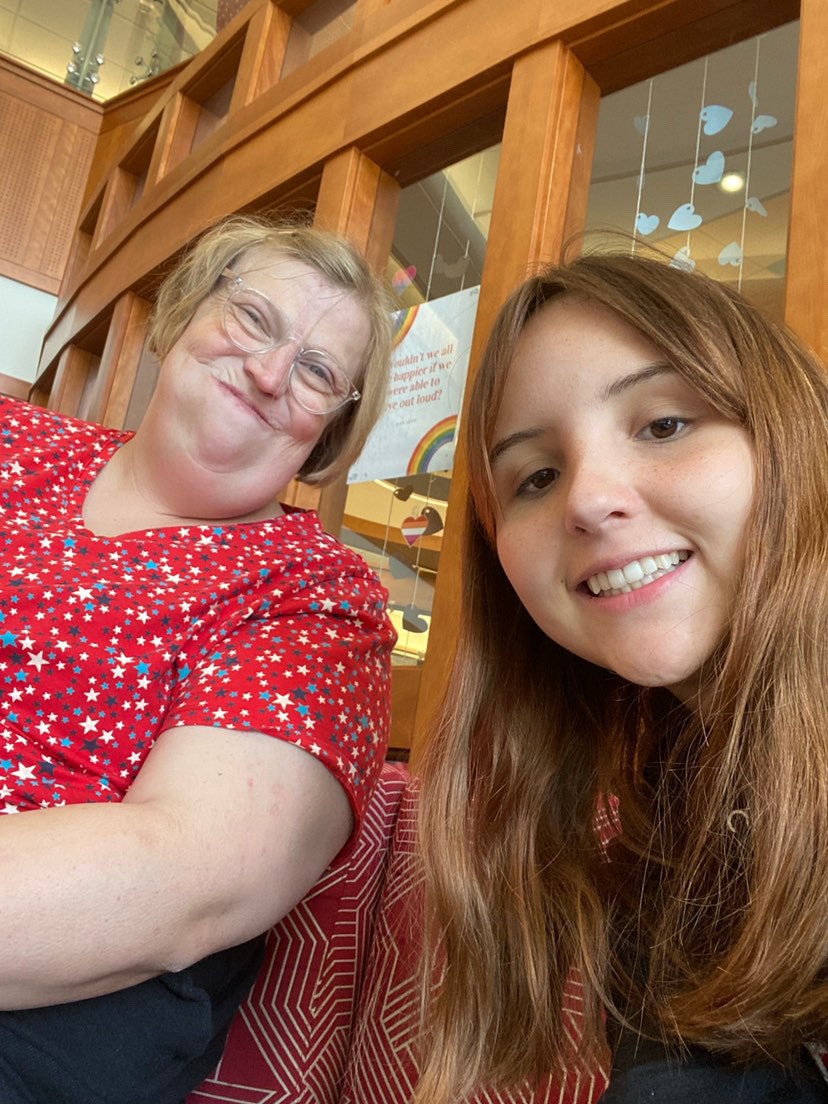 ITESM students Aura Marquez and Mariela Luna Delgado were two of three that came to Cincinnati from Mexico. They both worked on projects for Dr. Christina Carnahan, an associate professor of special education and director of Advancement and Transition Services (ATS) within the College of Education, Criminal Justice and Human Services (CECH) at UC.
Prior to their arrival, both women took six weeks of virtual training to learn more about autism and the research being performed in ATS. This included an introduction to the IMPACT Innovation program (IMPACT), which provides adults significantly affected by autism an opportunity to live, learn and work in an inclusive setting, and the Collaboration for Employment and Education Synergy (CEES), a high school transition program designed for students with intellectual and developmental disabilities.
Delgado and Marquez came to Cincinnati to perform research with Carnahan; Delgado spent most of the summer working with CEES, Marquez with IMPACT.
Carnahan's research at IMPACT focused on texting to support communication for individuals with autism, identifying opportunities for them to make and maintain meaningful relationships, or to provide self-help in a moment of crisis.
Marquez first collected baseline data with a group of students, performing trials that asked them to text someone.

"They were so confused. It was so hard, because if they asked for help, you had to say no and collect that data for Dr. Carnahan to later analyze," explained Marquez.
After that initial data collection, Marquez worked on creating a protocol for trial participants. She developed the instructions and visual aid explaining how to send a text, noting that seeing her efforts in action was the best part of the job: "It's great that I was able to experience it all happen. I am over the moon!"
At CEES, Delgado focused on implementing coursework about texting and social media, preparing students for common conversations with family, friends, and community members.
"We taught the students how to send a text, the purpose of texting, and that you can't text your friend or your mom the same way that you text your doctor," explained Delgado. "For social media, we had a GroupMe chat and [the students] had to send a picture. We taught them the structure of the message – who are you talking about, what are you doing, and where are you. So: I am working at CenterCourt."
Outside of the lab, Delgado and Marquez made friends with other UHP Discover students. They also explored the city extensively, attending a Cincinnati Reds game, visiting the Cincinnati Art Museum, and taking a stroll through area parks.
But the research experience was why they came to Cincinnati, and both women could clearly see the impact it could have back home. Marquez immediately connected it to work she was doing back in Mexico.
"In Queretaro, I am working with another researcher. She has a son with autism and does research on storytelling for kids with autism," explained Marquez. "I connected Carnahan and my professor, because there's nothing like it. There's no reference, but now that I've seen IMPACT, we could implement something like that."
Outside of the research world, though, Marquez recognizes the need for increased visibility of people who have autism.
"I study film, and I see the importance of representation," says Marquez. "There's no one for this population to relate to in books and movies. They don't see anyone who resembles them. I think inclusion is a resistant form against ableism." 
I think inclusion is a resistant form against ableism.
Aura Marquez, UHP Discover participant
Delgado notes that she was inspired by the students in the CEES program and recognized the global impact that programs like this could have on the lives of individuals with autism and their families.
"I have a cousin with autism, and there's not a lot of support in Mexico," noted Delgado. "It's frustrating to see his family struggle with his school. I thought, maybe I can help my aunt."
The experience also had her thinking about inclusion from the lens of user experience and industrial design.
"I learned a lot about autism itself and the needs of people [with autism]. Technology nowadays is amazing! I'm very inspired and want to … design an autism-friendly app like Tinder."
Jenni Kim Sutmoller, director of international strategic partnerships for UC International, observed that these students' revelations were exactly the type of outcomes she had hoped for when connecting ITESM with the UHP Discover program. Broad and deep partnerships with international institutions require bringing together talented people of diverse backgrounds.
"This pilot collaboration with ITESM was absolutely successful and we received positive feedback from the students, faculty and partners who supported the initiative," says Sutmoller. "We at UC International are pleased to hear that the students had a great experience in Cincinnati, and hope that this partnership creates a stable foundation for further international research stays." 
Featured image at top: Natalie Ochmann/UC International
Next Lives Here
The University of Cincinnati is classified as a Research 1 institution by the Carnegie Commission and is ranked in the National Science Foundation's Top-35 public research universities. UC's medical, graduate and undergraduate students and faculty investigate problems and innovate solutions with real-world impact.
Learn more about UC's global initiatives.
1
UC team wins first place in international 'hackathon'
November 7, 2022
Combining their knowledge of economics and computer science, a University of Cincinnati professor and student won first place in an international hackathon competition with their solution to counter inflation's harmful effects.
2
UC student takes in Cannes Film Festival
June 27, 2022
UC student Tanmay Srivastava got a unique point of view on the film industry this year by attending the Cannes Film Festival, an international event held annually in Cannes, France.
Debug
Query for this