Alumna Asia Werner has spent her life in and out of the hospital. Now she's working in one.
When Asia Werner received her acceptance letter to UC College of Nursing, she says it felt like she was living in a fairy tale. It was fall of her senior year of high school and she had just finished playing the bass drum in the school's marching band at a Friday night football game when her mom showed her the acceptance email. Werner leapt into her mom's arms, shouting, "I'm going to be a nurse!" This was a big moment for Werner, who says becoming a nurse is the only thing she has ever wanted to do.
"It's the only thing that's made sense and one of the only things that has stayed constant in my life," she says. "All I've ever wanted to do is help people. The one thing that I know I'm good at is this, you know, the people part of nursing."
Werner graduated in April, passed her registered nurse licensure exam and will begin working as a nurse at UC West Chester Hospital later this year. She is still confident she chose the right career path, even with the added complication of COVID-19. For Werner, who received a heart transplant at 1 and has since lived with a suppressed immune system, illness is not something she can afford to take lightly.
An interest in nursing is born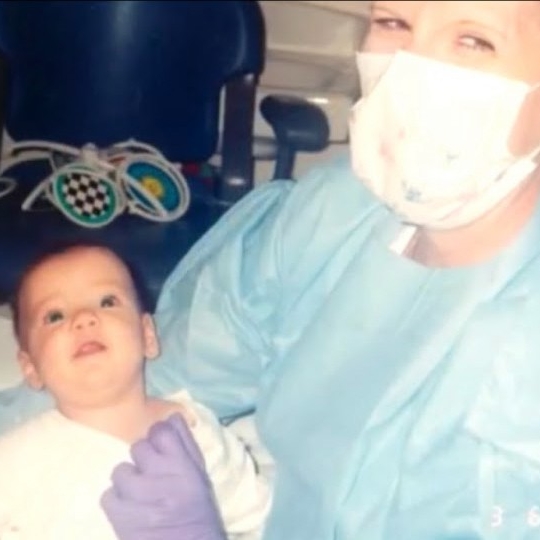 Werner has spent more time in a hospital than the average 21-year-old. In addition to arriving nine weeks early, she was born with three congenital heart defects, including multiple ventricular septal defects (holes in the wall between the heart's lower chambers), a coarctation of the aorta (a pinched aorta) and spongy myocardium (the cardiac muscle in the left ventricle is thick and spongy instead of smooth and firm, which affects its ability to pump blood). Werner spent the first six months of her life undergoing surgeries at Cincinnati Children's to repair her aorta and the holes in her heart, but the spongy myocardium could not be fixed and required a heart transplant, which Werner endured on her first birthday.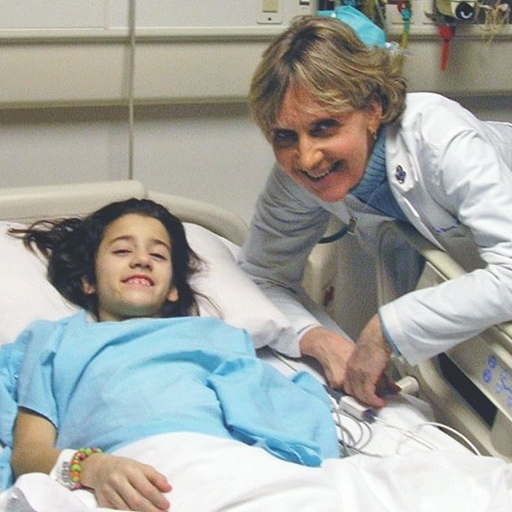 Werner continues to visit Cincinnati Children's on a regular basis to make sure her heart is functioning properly. She gets blood drawn every few months, echocardiograms a few times a year and a heart biopsy at least once a year. At this point in her life, she says she can't imagine not being embedded in the hospital setting.
"I've been familiar with hospitals since the very beginning and always loved the environment, so it made a lot of sense to choose a field where I would be in a hospital," she says. "I've been around nurses my whole life. I know what a good nurse can be like and I know what a not-so-great nurse can be like."
She learned the difference a "good nurse" can make at 15 years old when she had pneumonia, which, combined with her suppressed immune system, resulted in a two-week stay at Cincinnati Children's. Werner became depressed, recalling that she "didn't even want to wake up." It took a charge nurse with an unforgettable personality to make Werner excited to get out of bed again. Now Werner wants to be that same source of inspiration and support for her patients.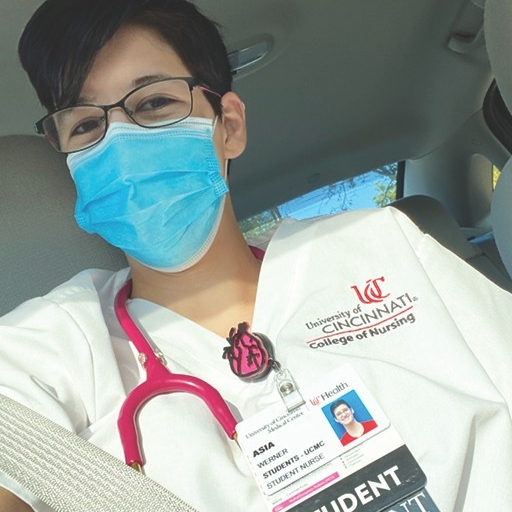 Experiences that prepared her
Werner's resilience has been further tested by the pandemic. Though she was familiar with wearing a mask, staying home for an extended time with little outside contact proved especially difficult.
"I had to spend a good year — maybe more — in my house alone. I couldn't see friends. I couldn't see my boyfriend who I've been with for three years now. When we did see each other, he had to stay six feet away outside. I'm a very social, extroverted person, so it was pretty awful."
Despite this, she remained dedicated to completing school and becoming a nurse, though she admits for a time she was not sure how she would move forward in the profession.
"I never thought for a second that I wouldn't become a nurse," she says. "But I did wonder how I was going to work. I wasn't allowed to go to a grocery store, so how was I going to work on a COVID unit?"
Werner says she diligently followed COVID protocols and did not contract the disease while working. Ultimately, the clinical and co-op experiences she received during her time at the college have played an important role in helping her develop the skills, competencies and the confidence needed to provide quality, safe and empathic care.
I've looked up to nurses my entire life and now I finally get to be one.
Asia Werner, '22
During a pediatrics clinical rotation on a cardiac floor of Cincinnati Children's — the same floor that displays Werner's picture on the wall — she helped care for kids with similar health experiences as hers, which was emotional and challenging but helped her grow.
"Asia has been one of the most dynamic students we have had the pleasure of working with in the Bachelor of Science in Nursing (BSN) program," says Julie McCullough, MEd, assistant director of BSN student advising. "While her passion for working with people was evident from the first time we met her at freshmen Bearcats Bound Orientation, she has utilized her experiences and opportunities in the BSN program to grow and develop into a compassionate and dedicated nurse leader who will never cease to advocate for her patients."
Deborah Schwytzer, DNP, an associate professor and director of the nursing co-op program, echoes McCullough's sentiments for Werner, describing her as an enthusiastic and goal-directed student who is highly motivated to meet patient and family needs.
"As a co-op student at UC Medical Center, Asia worked hard to develop expertise in collaborative and interprofessional practice in an area of acute and chronic nursing care concerns," Schwytzer says. "Her experiences and growth in the professional practice as a student will certainly enhance her ability to serve as a professional and competent RN."
Two days before Werner was scheduled to start orientation at UC West Chester Hospital, she was involved in a car crash that left her with a broken back and limited use of her legs. She spent another 25 days in the hospital and many more in physical therapy, but she regained her ability to walk and was able to start orientation at the end of October. Werner says this additional experience only deepened her empathy and understanding for patients.
In addition to interacting with patients face-to-face, Werner enjoys the nostalgia she feels at the hospital and the fast-paced, high-emotion, dramatic feel of working in health care. She is excited to finally live out her lifelong dream of being a nurse.
"I have this giant set of human body encyclopedias that I collected throughout my childhood. I've always been obsessed with how the body works and anatomy," Werner says. "I've looked up to nurses my entire life, and now I finally get to be one."
Featured image at top: Werner on campus before UC's Spring 2022 Commencement Ceremony. Photo/Rhonda Green

Learn More
UC was the first in the nation to offer a Bachelor of Science in Nursing (BSN) in 1916 and we continue to develop tomorrow's nurse leaders empowered to explore, generate and apply nursing knowledge in evolving health care settings.