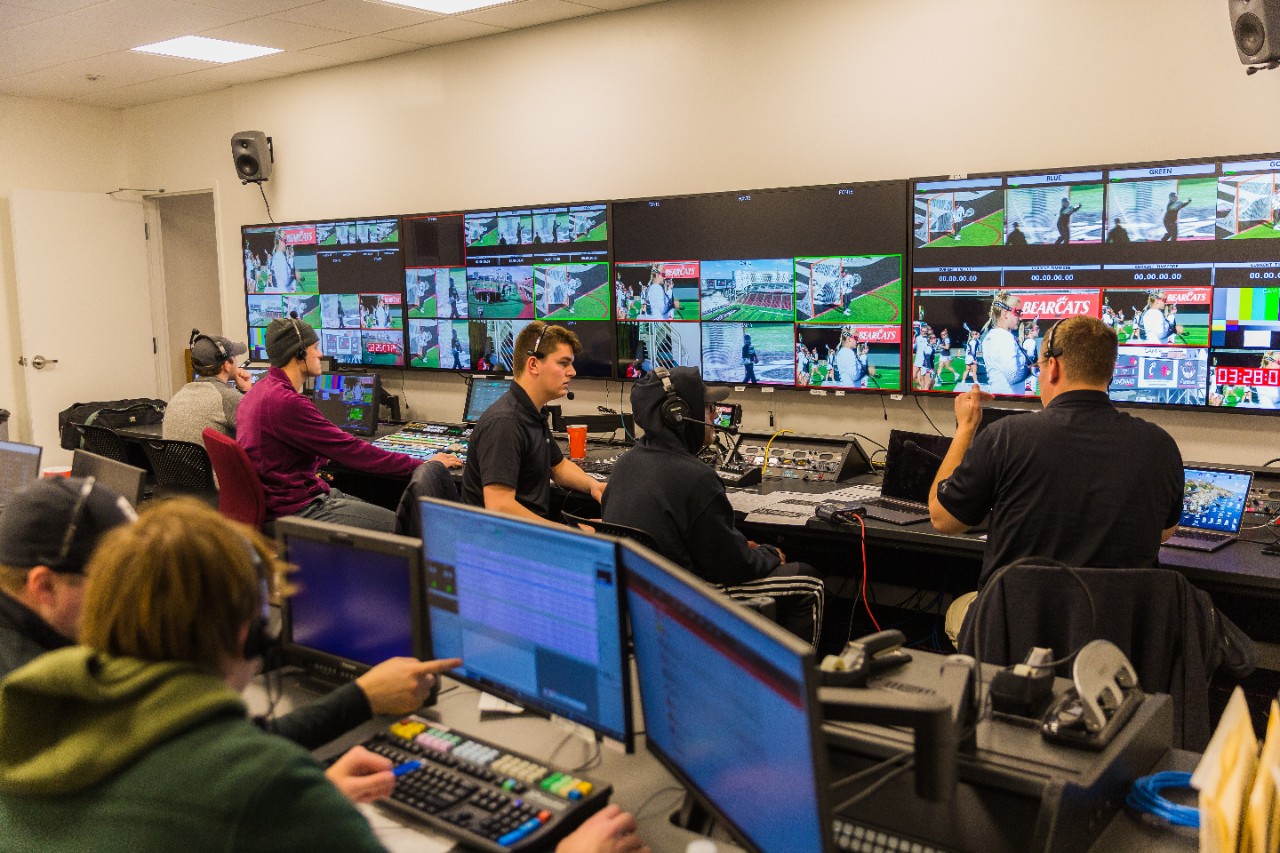 Sports media production program provides real-world experience for UC students
CityBeat takes a look at partnership between CCM, ESPN and UC Athletics
Tre Harris has long been a fan of college and professional football. Watching is a favorite pastime, but like many sports enthusiasts Harris admits he had no clue what happened behind the scenes of a sports broadcast.
That was the case until an adviser suggested Harris, then a first-year UC student, sign up for a new class known as Introduction to Sports Media Production. Harris, now in his third year of study at the University of Cincinnati College-Conservatory of Music (CCM), is part of a regular student production crew.
The students in sports media classes that are offered in the  CCM Media Production Division are part of an experience-based learning effort that allows them to work outside of the classroom to produce and direct television broadcasts that air live on ESPN+. It's the result of a partnership between CCM, ESPN+ and UC Athletics. The class is also part of UC's Co-op 2.0 program.
The class has attracted media coverage from CityBeat, along with campus attention for the student expertise it has helped cultivate.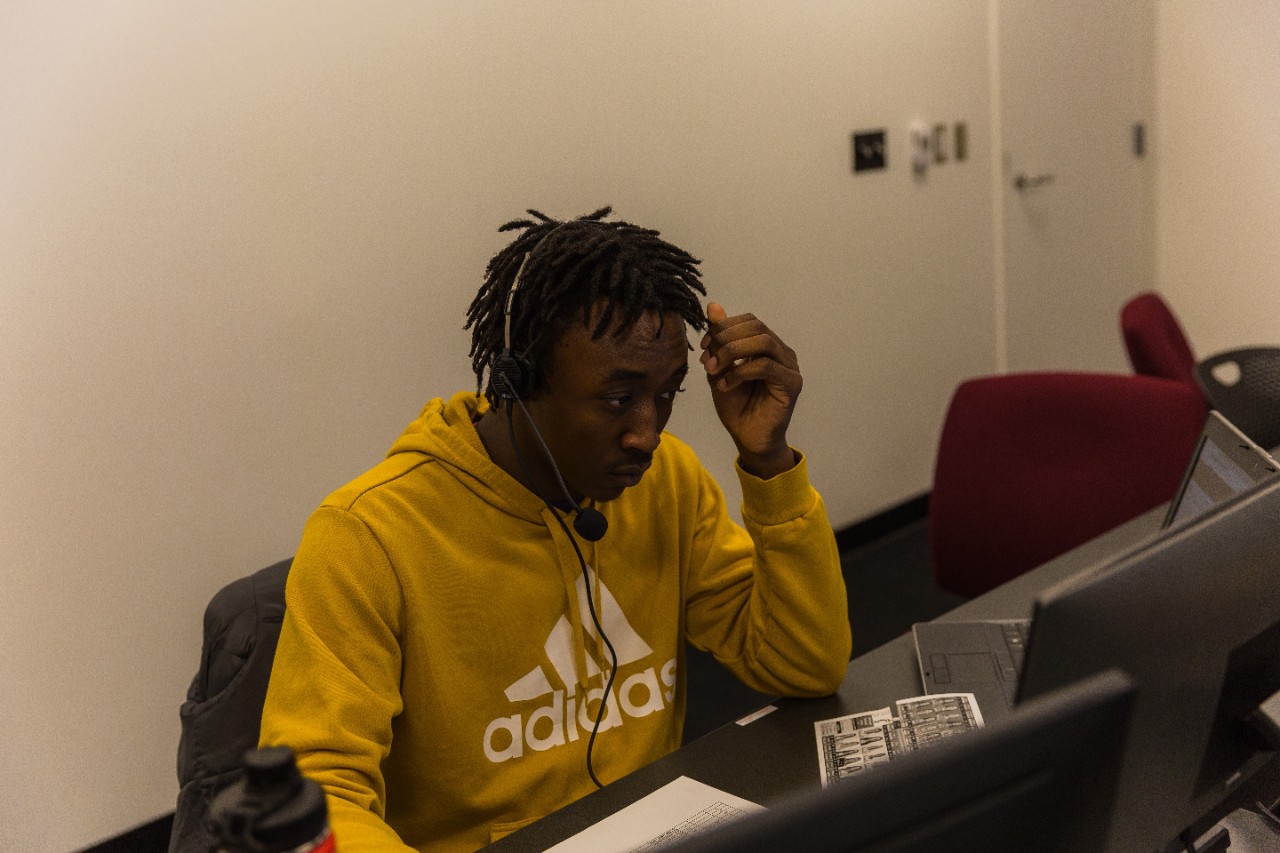 Harris says he quickly learned that multiple camera angles help tell the story of what's happening on any sports field, but that it is the director's vision that determines ultimately what a broadcast audience sees during a game. For example, cameras for a football game are trained at the 50-yard line, 25-yard line and from the end zone, allowing specific plays to be captured along with shots wide enough to see all players on the field.
"All these camera angles are available so we can have some variability in what we are showing the viewer," says Harris. "There might be two cameras that have coverage of the actual game itself and that means staying wide so we can capture all the action that is going on and that's usually the angle that is on television most of the time.
"There might be a high end zone camera to capture a kick going into the uprights or from behind the uprights. You can use that same camera to capture the kick on the other side of the field," says Harris. 
"We have things like a 'slash camera' and that might be used for 'isos' of the players — isos meaning isolation or a close-up of whoever just made a big play," explains Harris. "We might also have a hand-held camera out on the field to get close-ups of a player's celebration if they just scored a touchdown. Having versatility in what we do means it won't be a boring game for the viewers watching at home."
The sports production classes, including the introductory course and two higher-level courses, operate from a control room based in the press box on the fifth floor of UC's Nippert Stadium, which is linked to other UC athletic venues Gettler Stadium and the university baseball stadium. This allows students to play roles in broadcasting men's and women's sports events such as football, basketball, baseball, lacrosse, volleyball and soccer. 
Joe Brackman, an assistant professor of multimedia camera production, teaches the introduction to sports media production class with Josh Kramer, an adjunct professor at UC and content producer for ESPN.
"In a class like intro to sports media production we require students to work outside events for that experiential learning experience," says Brackman. "So in this case, the students have to work on eight ESPN+ productions with me and the athletics department eight times per semester. 
"That experiential learning component of the class is very important to us, and making sure students get hands-on learning opportunities with the equipment," says Brackman. "It's really hard to recreate a game or a control room environment without there being some sort of action to follow. That's where we got the idea of, 'Hey, let's tie these productions to a class and teach while we are doing.'"
Brackman says the class also consists of part traditional lecture along with hands-on skill training with production equipment.
"Just by the nature of the number of events there is some room for learning opportunities," says Brackman. "I don't want to say there is room for error, but there's room for people to make mistakes because mistakes happen in the real world. We obviously try to minimize any issues on air by placing students strategically. We have them shadow positions before they step into certain roles.
"We work with them one-on-one and in our classes to make sure that certain positions are covered and they know what to do before going live," says Brackman. "You know some of this just comes with knowing where to place people, assessing their skill and finding roles for them that allow us to help the students learn and get better."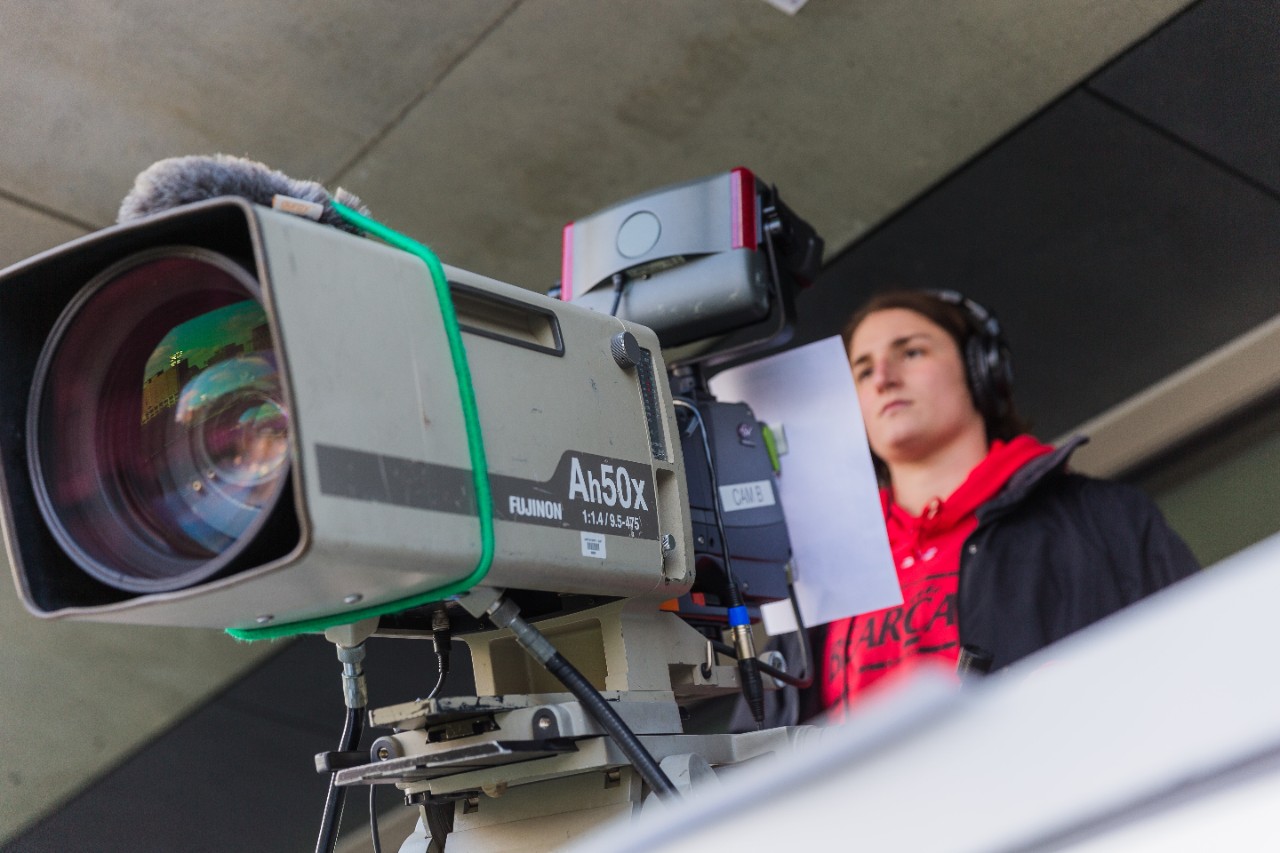 Brackman says that for football games the students handle production for Nippert Stadium's videoboard. Spectators are seeing the work of media production students while enjoying the game. For men's basketball games, students from these classes work on the ESPN+ productions, and sometimes are invited to work on ESPN's linear productions. Linear productions are games airing on a traditional cable channel like ESPN, ESPN2 or ESPNU.
Brackman says students who take the class often come back in later semesters to work as hourly workers. Several students who have gone through the sports production classes have graduated and found jobs in the broadcast industry. Four CCM media production graduates have been hired by ESPN since December 2021. Students have many options to consider for the future.
"Being here in the media production program has opened a lot of doors for me and my eyes to the media world in general, because I have dabbled in so many areas of production, like graphic design," says Harris. "I am an aspiring beat, maybe slash producer and that's where I want to take my career."
Learn more about CCM's Media Production Division at UC online.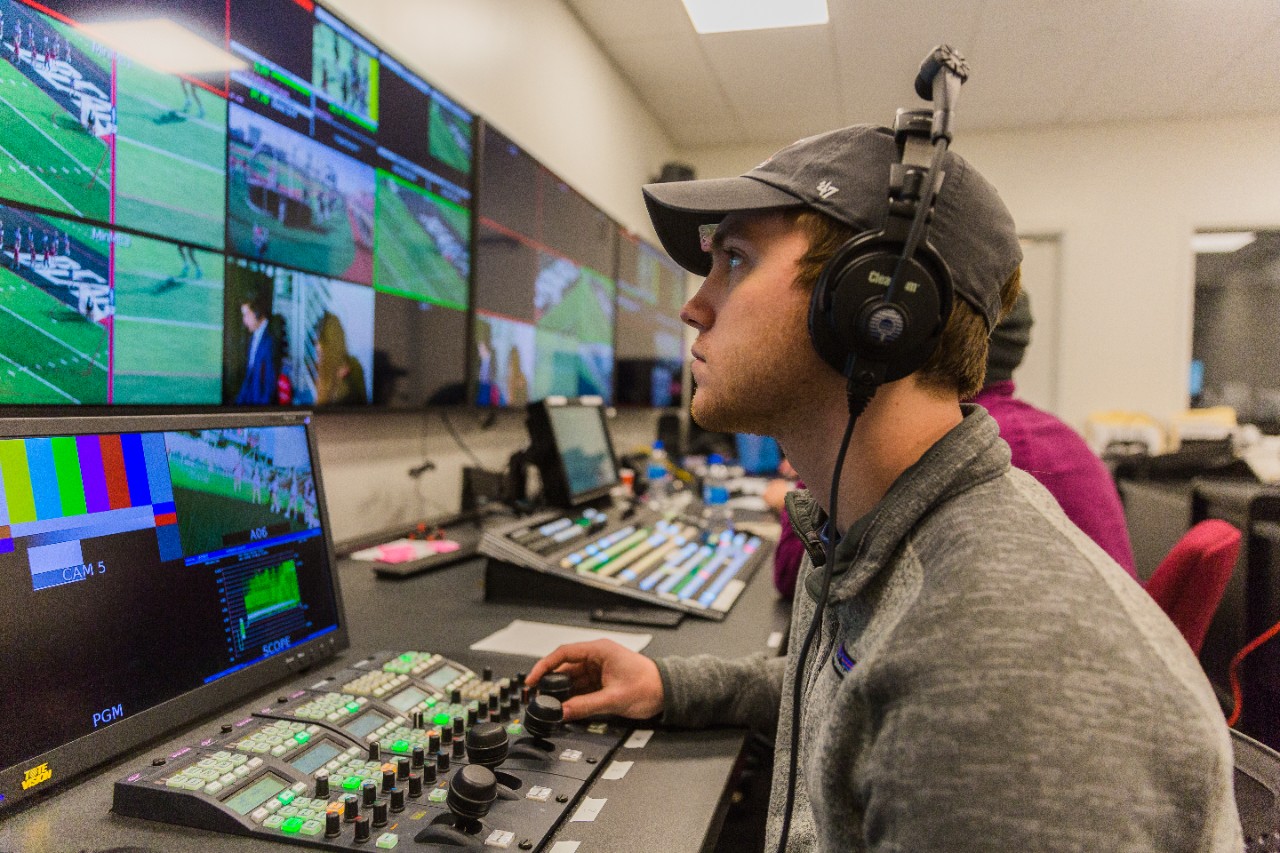 Become a Bearcat
Whether you're a first-generation student or from a family of Bearcats, UC is proud to support you at every step along your journey. We want to make sure you succeed — and feel right at home.
1
CCM shares fall 2022 schedule of performances and public events
August 12, 2022
Audiences are invited to return to the University of Cincinnati College-Conservatory of Music's (CCM) concert halls and theaters to experience world-class performances and presentations by the next generation of performing and media artists! The college's fall 2022 schedule of free and ticketed events is now available. Tickets go on sale beginning on Monday, Aug. 22, through the CCM Box Office website.
2
CCM shares spring 2023 schedule of major performances and events
November 22, 2022
Audiences are invited to return to the University of Cincinnati College-Conservatory of Music's (CCM) concert halls and theaters to experience world-class performances and presentations by the next generation of performing and media artists! The college's spring 2023 schedule of free and ticketed events is now available. Tickets go on sale to the general public beginning on Monday, Nov. 28, through the CCM Box Office.
3
CCM shares spring 2019 calendar of major events
January 1, 2019
CCM's spring lineup includes theatre and dance productions, orchestral, choral, piano, jazz and winds performances and much more! CCM's performance series runs Jan. 14 through May 12, 2019.
Debug
Query for this