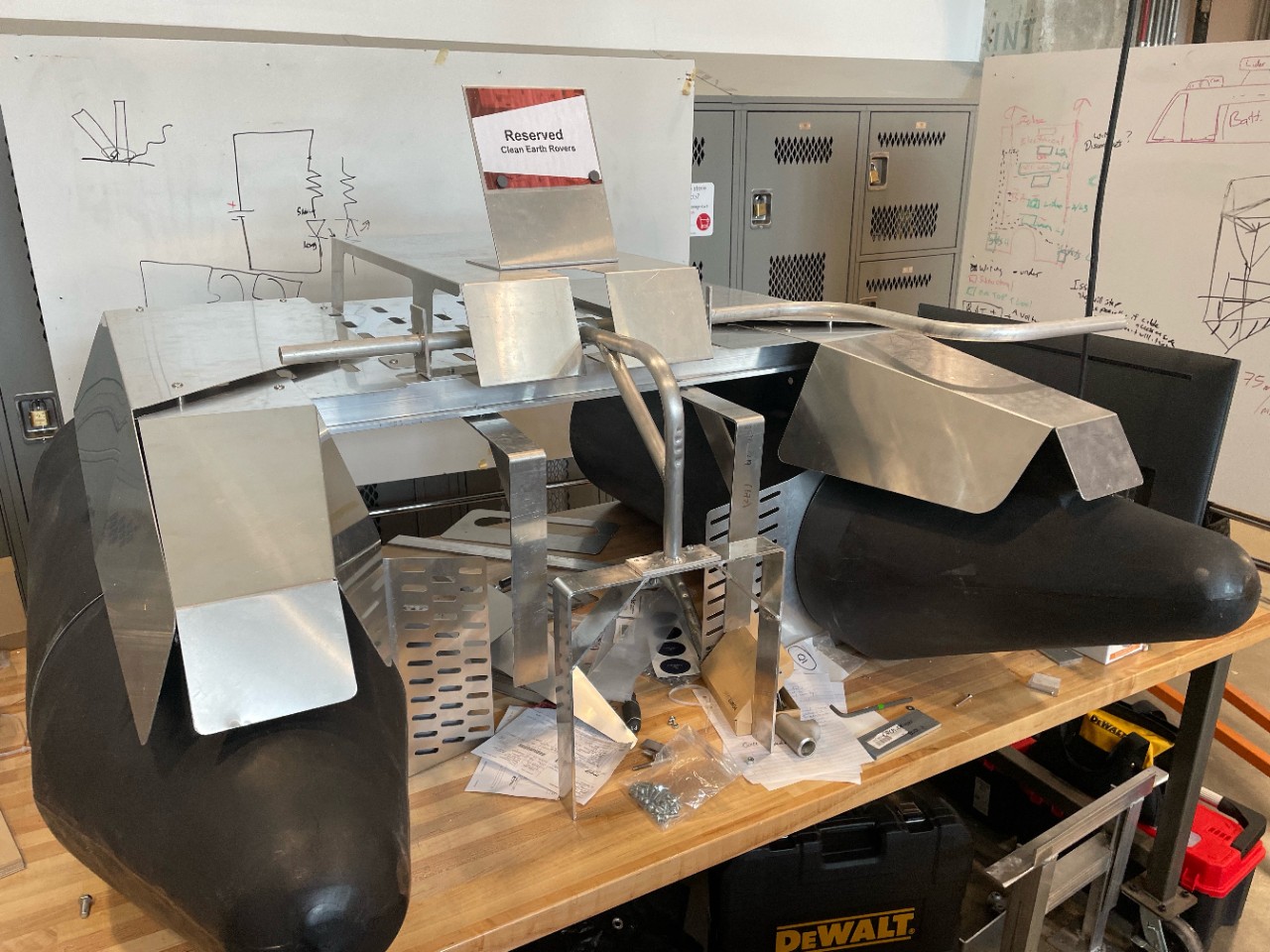 Venture Lab-backed startup begins cleaning waterways of plastic pollution
Media outlets report on Plastics Piranha's launch near San Francisco
A University of Cincinnati Venture Lab-backed startup has begun its efforts to rid waterways of plastic pollution by launching its first autonomous rover at Point San Pablo Harbor near San Francisco.
The startup, Clean Earth Rovers, developed an electric vessel that skims waterways and collects up to 100 pounds of plastic debris per trip. The Plastics Piranha rover, which Clean Earth Rovers CEO Michael Arens likens to a Roomba for coastal waterways, can operate autonomously or with a joystick.
"Our goal is to have [the robots] run continuously along as many harbors and marinas as possible," Arens told Axios.
More than 10 million tons of plastic rubbish enter the world's oceans every year, according to estimates from the United Nations Environment Programme and Pew Charitable Trusts.
The Great Pacific Garbage Patch, a zone in the Pacific Ocean between Hawaii and California that has a high concentration of plastic waste, is a result of the accumulation of that debris. It inspired Arens to develop a solution to the plastic pollution problem, which the startup has developed with help from the UC Ground Floor Makerspace at the 1819 Innovation Hub.

"I remember even at a very young age being passionate about pollution and climate change, but it wasn't until I was older that I learned about the ocean plastics issue," Arens said to KPIX, a CBS station in San Francisco.
By collecting plastic debris while it's near the coast, Clean Earth Rovers aims to prevent the trash from accumulating in the ocean.
"By catching it while it's still in the cycle of tides and coastal waters, we're able to prevent that from getting out there and then just degrading into the water and microplastics," Arens said to the San Francisco Chronicle. "It's better to catch it before it goes out than after it's gone."
See more:
Featured image at top: Clean Earth Rovers' Plastics Piranha, an autonomous rover that skims marina facilities and can collect 100-plus pounds of waste per trip. Photo/Clean Earth Rovers
Impact Lives Here
The University of Cincinnati is leading public urban universities into a new era of innovation and impact. Our faculty, staff and students are saving lives, changing outcomes and bending the future in our city's direction. Next Lives Here.