DAV builds on its commitment to support UC Blue Ash student Veterans
New $25,000 gift from Disabled American Veterans increases opportunities for student Veterans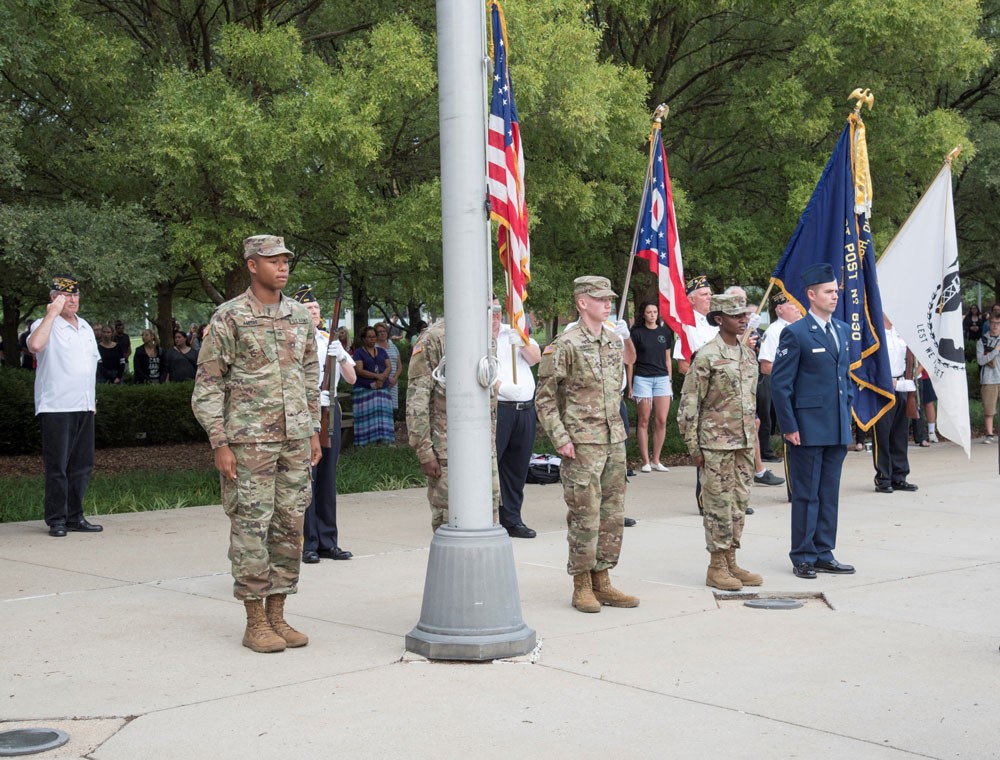 "This scholarship is a game changer," said Joel Osbourne, pre-health sciences student at UC Blue Ash College, an Army soldier of 13 years and a recipient of the Disabled American Veterans (DAV) Charitable Service Trust Grant.
DAV is once again generously supporting student Veterans at UC Blue Ash through a $25,000 gift dedicated to providing scholarships to deserving students like Osbourne. This recent gift notably marks six consecutive years of Charitable Service Trust Grants to UC Blue Ash, totaling $110,000 in support to the college.
"This level of funding can truly make an impact on a Veteran's journey of transitioning to college and ensuring their academic and professional success," says UC Blue Ash Veteran Affairs Manager Josh Monson. "The DAV has been a generous partner in this mission, and we greatly appreciate their ongoing support."
With hopes to begin clinicals soon in his pursuit to apply for medical school, Osbourne expressed his appreciation for receiving the support through DAV.
"Without this scholarship, I would have to work six to seven days a week to pay off my debt," Osbourne noted. "I was excited when I found out I was a recipient. It has helped me tremendously and takes a huge burden off my shoulders."
DAV is a nonprofit organization that provides a lifetime of support for Veterans of all generations and their families, helping more than 1 million Veterans in positive, life-changing ways each year. The organization has helped Veterans receive more than $25 billion in earned benefits to date.
The UC Blue Ash Veteran Student Affairs Office serves more than 150 students as a Yellow Ribbon school, providing guidance, advocacy, outreach and an Enlist and Enroll program, which offers professional advising opportunities for student Veterans on campus.
Featured Image: Student Veterans walking on the UC Blue Ash campus.
About UC Blue Ash College
UC Blue Ash College is a regional college within the University of Cincinnati. It offers one of the best values in higher education with access to a nationally recognized UC education in more than 50 degree and certificate programs, as well as tuition that is about half of most colleges and universities. The college is located on a scenic 135-acre wooded campus in the heart of Blue Ash, Ohio. To learn more, call 513-558-9495, visit us online, like us on Facebook or follow us on Twitter and Instagram.
2
Supporting those who served: new grant benefits military...
November 10, 2020
As the number of military veteran students at the University of Cincinnati Blue Ash College increases, so does the financial support from the Disabled American Veterans (DAV). The organization recently provided a $20,000 grant to support military veterans attending UC Blue Ash. Over the past four years the DAV has provided a total of $60,000 in grants to the college.
3
Supporting student veterans
November 10, 2021
Disabled American Veterans continues to grow its financial support for student veterans at UC Blue Ash College.
Debug
Query for this