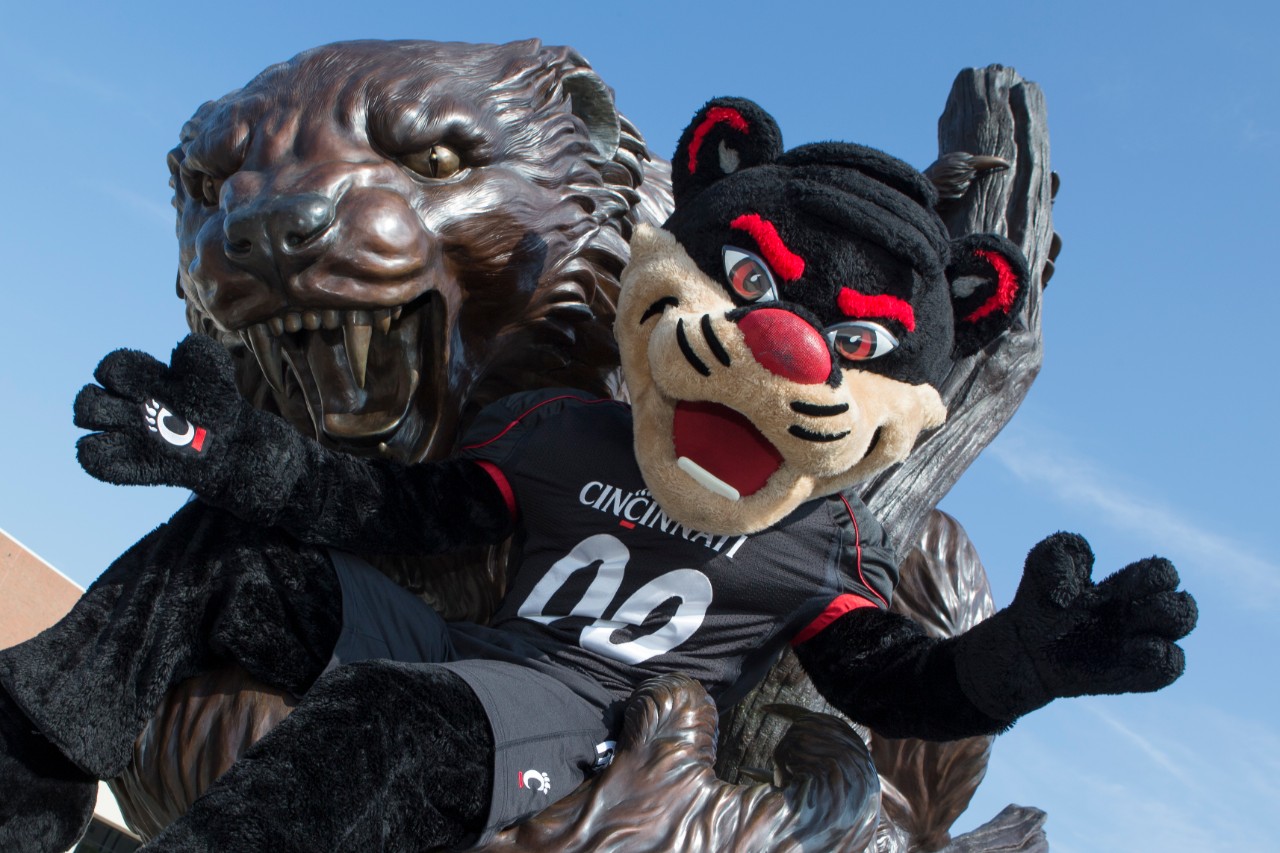 Update: Due to campus construction, Bearcat Statue to go into storage on May 1
Popular photo locale available until May 1, 2023, then placed in storage till summer 2025
Construction of an Indoor Practice Facility and an adjacent Athletic Performance Center is set to begin during spring 2023, necessitating the temporary storage of the Bearcat Statue that currently stands at the southeast corner of Fifth Third Arena.
Construction along Champions Way (the drive that leads to the statue) will necessitate the temporary removal and storage of the statue, which serves as a popular point on campus for photos by students, graduates, visitors, fans and friends of the university.
The statue will remain in its current location through Spring 2023 graduation ceremonies to take place Thursday, April 27 thru Saturday, April 29.    
The Commencement web page also lists additional popular photo locales on campus, including Nippert Stadium, university entrance signs, campus fountain at University Pavilion, or outside a graduate's college building.
The statue will enter storage on May 1 as construction gets underway. Current planning calls for the statue to remain in storage through summer 2025, when it will be restored to a new location in the same vicinity. Currently, the new indoor practice facility, to be located at the site of the Sheakley Athletic Complex on Champion Way, is scheduled for completion by August 2024 and the adjacent Athletic Performance Center is scheduled for completion in Spring 2025.
The project will include a permanent indoor football practice facility to allow year-round protection from adverse weather conditions. It will end the need for the temporary protection that the current bubble temporarily provides. The project also includes an athlete performance center that will house football operations offices and meeting rooms, weight room and locker room, and recovery, nutrition, and support services.  
Featured image at top: Bearcat mascot at the Bearcat statue. Photo: Lisa Ventre/UC Marketing + Brand
1
Who is that behind the Bearcat?
December 13, 2021
The term 'Bearcat' has been part of the University of Cincinnati tradition for more than a century. The Bearcat mascot has been the face of UC to students, community members, sports fans and others. The mascot's persona and antics entertain and inspire excellence at the university on and off of the sports field.
3
A UC first: Enrollment tops 48,000
August 18, 2022
The University of Cincinnati anticipates record enrollment as classes begin Monday, Aug. 22, with a projected 48,300 students — a 3% increase over last year. It will mark nearly a decade of continuous growth of a student body that increasingly reflects the university's core values.