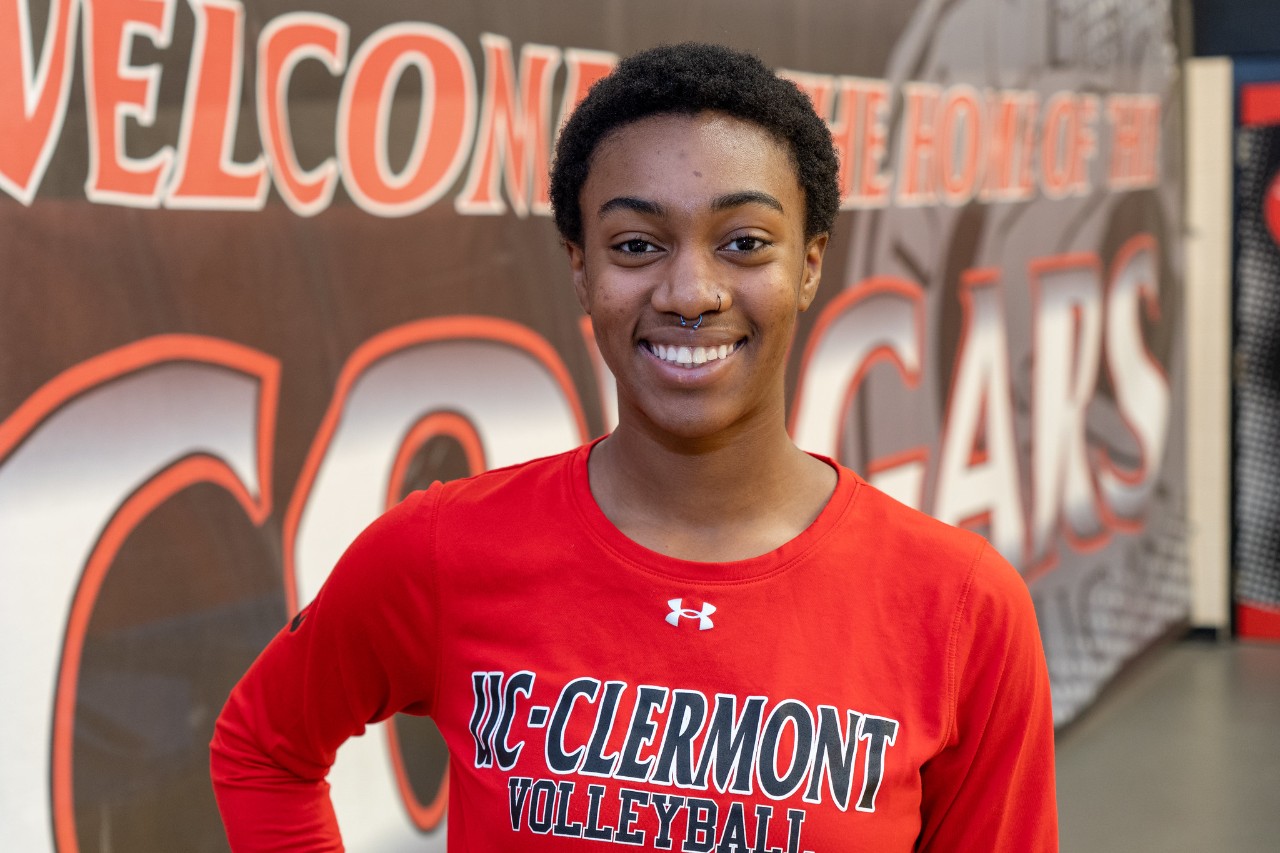 UC Clermont student makes moves on court — and toward career
Volleyball player takes full advantage of Bearcat life
UC Clermont student Kayla Williams first spiked a volleyball in third grade — and was immediately hooked.
"It made me feel powerful," said Williams.
She now plays opposite hitter for the UC Clermont Cougars, a program that won its first United States Collegiate Athletic Association Division II national championship in 2021. The team returned to the playoffs this past fall. Although they didn't repeat their previous run, Williams said, the tournament experience, like her first year on the squad and as a college student, was invaluable.
"I was most proud of finishing the season and learning to balance being an athlete and student," said Williams, who described dinners out and sand volleyball competitions with teammates. "This team was special because of our connection with each other. It was a good culture, felt like a family."
The youngest child of seven, and the only girl, competition and family have been constant themes in Williams's life. She was named volleyball player of the year for Cincinnati Public Schools in 2020; she ran track and placed sixth in javelin in the National Junior Olympics.
I wanted smaller classrooms, where I could work my way up to being independent. I wanted to be able to ask questions of my professors during class.
Kayla Williams UC Clermont student, volleyball player
Then Williams, who still lives in Avondale, graduated from Hughes High School in 2021 — just across the street from the University of Cincinnati in Clifton. But when it came time to choose a college, the large size of UC's Uptown campus intimidated her.
"I wanted smaller classrooms, where I could work my way up to being independent," Williams said. "I wanted to be able to ask questions of my professors during class."
Williams immediately found the intimate experience and connections she was seeking at UC Clermont. Since enrolling in spring 2022, Williams joined a study group led by her biology professor, making fast friends with her classmates; started a Sister Circle group with a friend for female students of color; and majored in exploratory studies, which led to an internship in the college's Career Services Center.
While that role led to coffee chats with professionals — and another internship with the Cincinnati Museum Center — Williams still wasn't sure of her career path. Her exploratory class professor, Gregory Sojka, facilitated a conversation with Carolyn Shisler, director of the physical therapist assistant program. Shisler thought Williams's natural people skills made her a good fit for the PTA associate degree.
"But hearing Professor Shisler's stories about her own career in physical therapy made me think that I'd rather be the boss," Williams said. "I wanted the connection she'd had with her patients."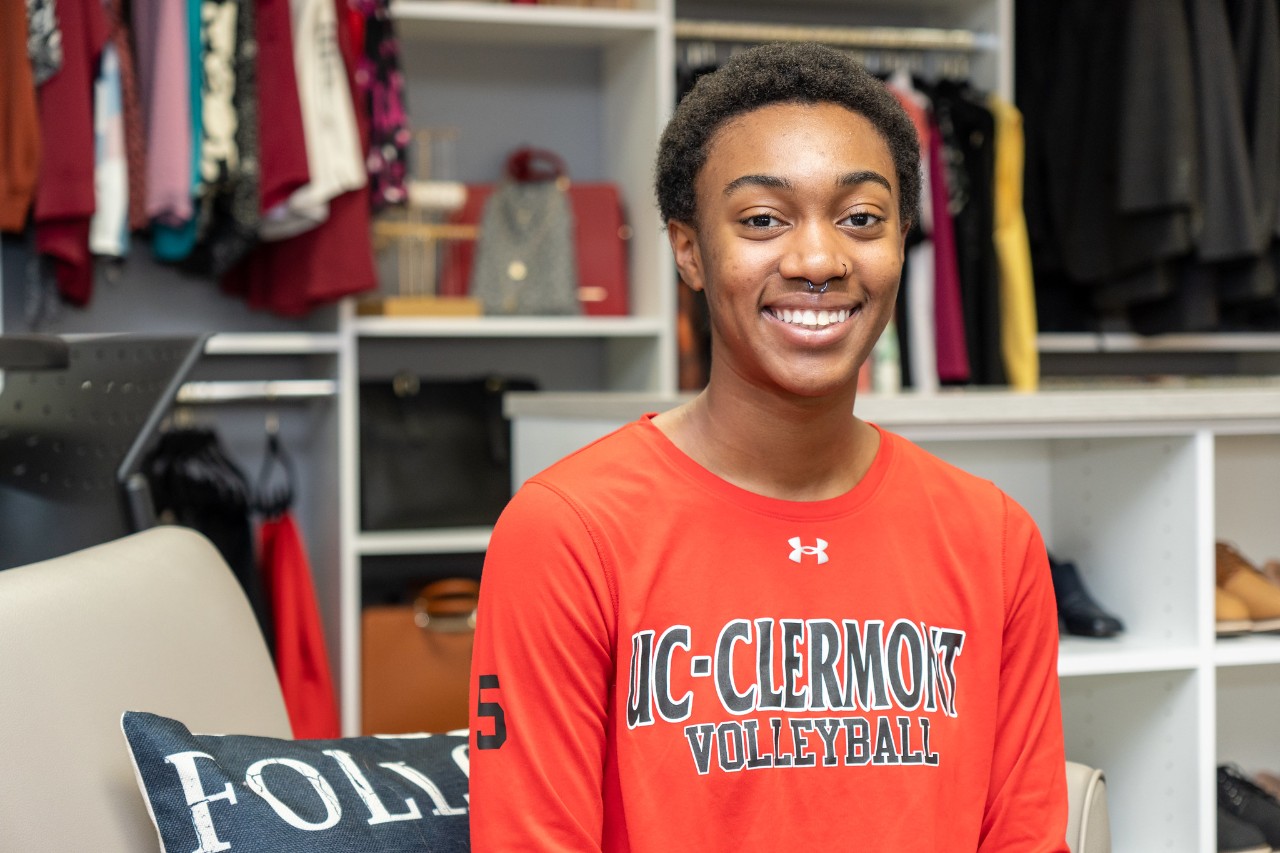 Today, Williams is a pre-health science major, with plans to transition to UC's College of Allied Health Sciences to earn her bachelor's degree in physical therapy. She then wants to earn her doctorate to become a physical therapist who works with professional athletes.
Again, Williams is using UC connections to work toward her goals — she started a position as a patient aide and escort at Cincinnati Children's Hospital in December, having learned about the opportunity at a UC Blue Ash Career Day.
The real-world gig is just the latest example of how Williams regularly takes advantage of the benefits of being a UC student. Her Career Services internship kept her informed about jobs and speakers while helping other students polish their resumes, take head shots for LinkedIn or find the perfect interview outfit from free offerings available in the Career Closet. Williams even shared a dorm with a Blue Ash student on the Uptown campus last spring, frequenting the dining halls and student events.
"Kayla has made connections quickly in our smaller, personal environment, and it's helped her actively explore a number of different pathways to find what suits her best," said Glenda Neff, director of UC Clermont Career Services.
Williams's number one piece of advice for other students? Get involved.
"I love UC Clermont," Williams said. "And I feel like a UC student. There's always someone who can help you or knows someone else who can. Clermont has a lot of resources — and you're surrounded by friends who are striving to get their degrees, too."
Featured photo: UC Clermont student and volleyball player Kayla Williams in the college's Student Activities Center. Photo/Danny Kidd
1
Bearcat dreams come true on Decision Day
January 23, 2023
The newest Bearcats learn they've been accepted into the University of Cincinnati on Decision Day, and UC officials surprised area students at their high schools with admission, scholarships and more.