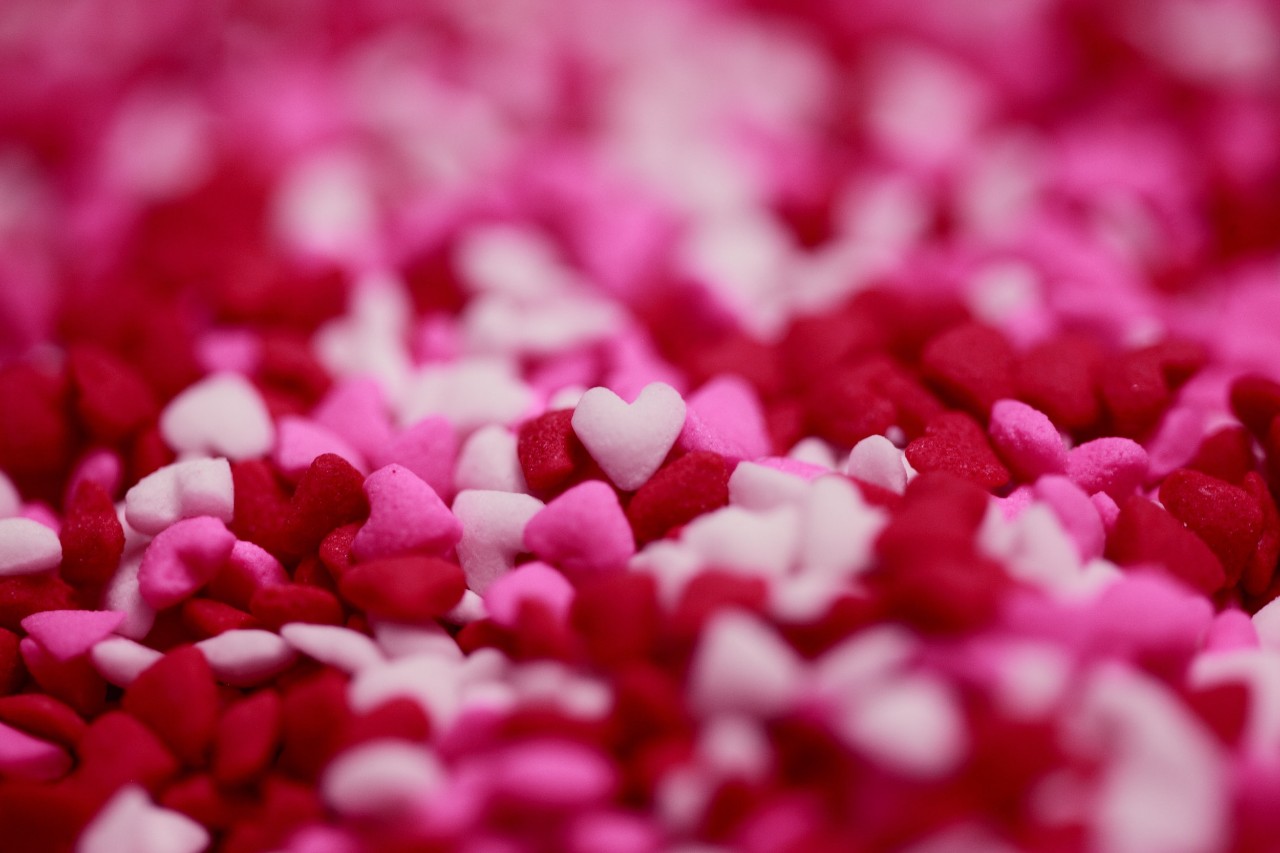 UC alumni find the loves of their lives at UC
Bearcat love that began in college continues today
Few high school graduates head off to college expecting to meet the love of their life. But when the college experience does include finding that "forever someone," nothing could be sweeter.

For four UC alumni couples, a love that began in college continues today, enriched and beribboned by Bearcat ties that lovingly bind. 
Walter Stewart, A&S '12, was hosting a get-to-know-you barbecue at his apartment for young members of the UC football team prior to training camp when a teammate spotted Rebecca Borukhovsky Stewart, A&S '16, and her roommate across the parking lot and invited them over. Rebecca, a member of UC's Dance Team, chatted with Walter, a star defensive end and team captain. The two athletes exchanged phone numbers, and the relationship evolved from there.

Shane Logan Rieder, A&S '95, CECH '96, and Jeff Rieder, Bus '98, were UC students waiting tables at TGI Friday's when they attended a fellow employee's wedding. Jeff came alone, while Shane arrived with a friend and former coworker. When the coworker departed early, Shane ended up dancing the night away with Jeff, and the relationship took off.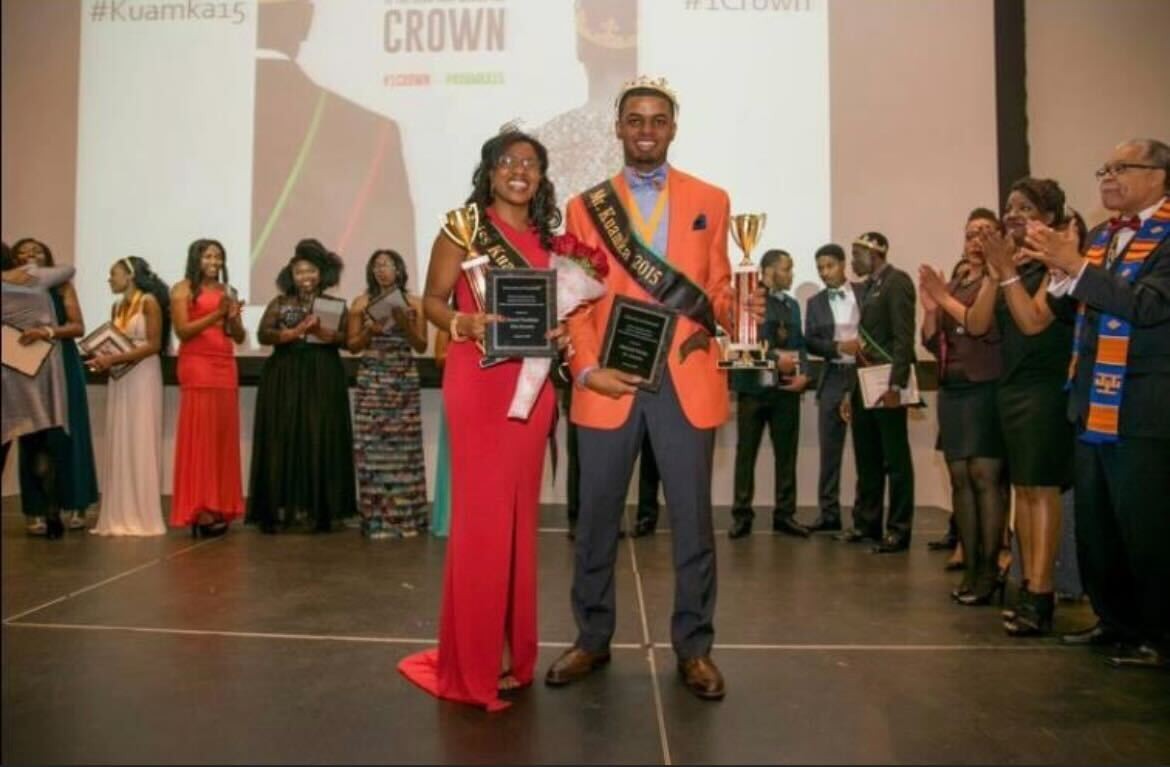 Chanel VanDyke Phelps, CECH '17, and Mitchell Phelps, Bus '18, were both involved with UC's African American Cultural and Resource Center (AACRC) when they were elected Miss and Mr. Kuamka. During the year that followed, they developed a close friendship while attending and organizing events as "the face of Black UC."
After their reign concluded and the baton was passed to their successors, Chanel sent Mitchell a text: "Are we going to still be friends after this?"
The answer was yes.
Levi Davidson, A&S '21, and Charlie Aloisi, Bus '22, came to UC from West Virginia and Fort Knox, Kentucky, respectively. As transgender students, they arrived on campus with some anxiety. While participating in roommate matching, Levi stated publicly that he was trans. Charlie responded that he was, too. They met and discovered they had many common interests — "nerdy things" including video games, fantasy novels and Dungeons & Dragons. They became roommates. Six months later, they were a pair.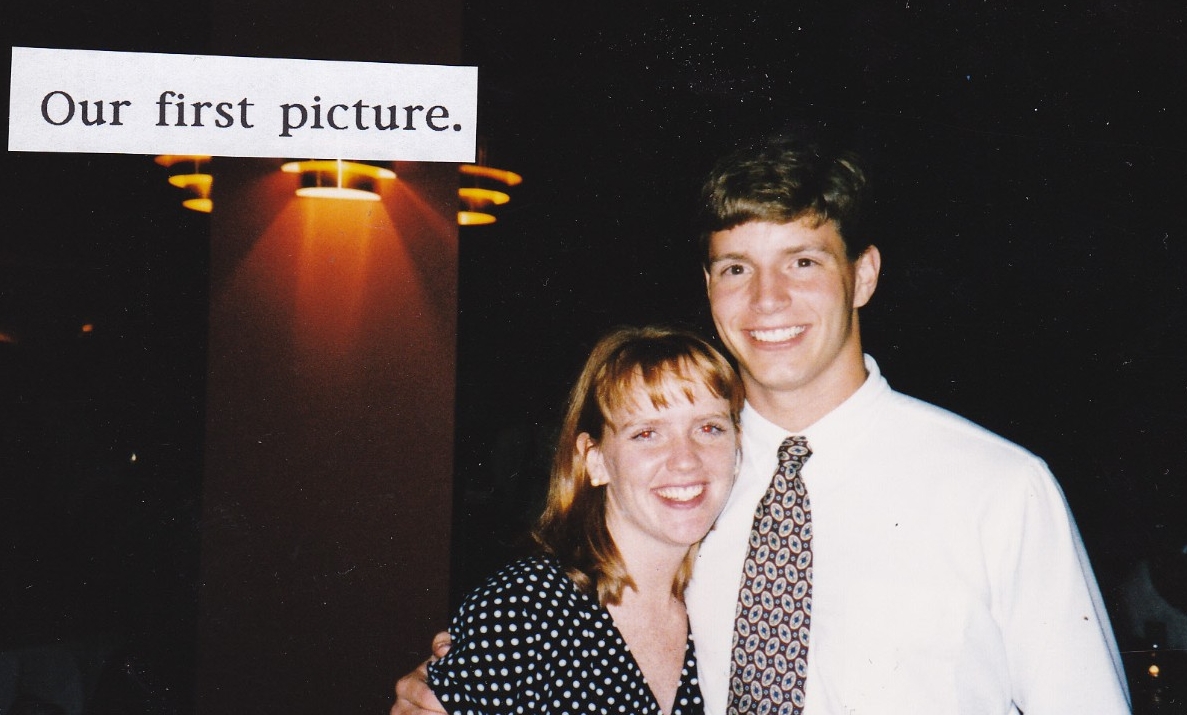 Shane and Jeff Rieder were both active in campus activities, Shane with her Kappa Alpha Theta sorority and Jeff with his Sigma Nu fraternity. They have fond memories of date nights, including the "Double-Take Date Night," in which they dressed up in coordinated costumes. Shane was a midfielder on UC's women's soccer team for two years, served on the Student Alumni Council and was elected senior class secretary.
Jeff worked his way through UC. "He was working a part-time job at Friday's, then working a full-time job at Great American Insurance, paying for his living, his school, his books, his car," Shane recalls. "I admired that. He's two years younger than I am, and I didn't think I had my life together as much as he did. I really appreciated that about him."
The AACRC was important to both Chanel and Mitchell Phelps, who came to UC from northern Ohio and began dating in 2016.
"The AACRC was a blessing in disguise," Mitchell recalls. "It was something I never thought I would need, but it turned out to be one of the most impactful programs of my collegiate experience." Through the AACRC as well as his fraternity, Kappa Alpha Psi, Mitchell met other Black students. He also became student body president in 2016.
Chanel graduated in 2017 with a degree in middle childhood education and then moved to North Carolina to work for Teach for America. Mitchell graduated a year later and headed to Chicago. In 2020, still living in separate states, Mitchell organized an extravagant scavenger hunt that sent Chanel from one venue in Columbus, Ohio, to another. The adventure ended in a park, where Mitchell proposed.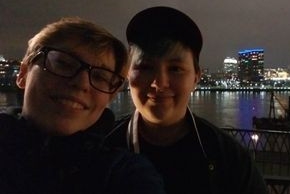 Levi Davidson was drawn to UC in part because of its LGBTQ Center. He became a student worker there and ran a support group called Kaleidoscope, a peer-led discussion group for students who identify as transgender, gender non-conforming, non-binary and no label. Charlie Aloisi learned about the center from Levi and ran Kaleidoscope after Levi graduated. The LGBTQ Center was central to their time at UC, and both served as mentors in the PRISM Mentorship Program.
Both Levi and Charlie needed time to adjust to college and find their optimal academic path. "I had one friend from high school who came to UC," Levi says. "Other than that, it was all new people, a whole new place. I ended up changing my major in about four days. Charlie and I had each other to talk to, figuring out this new place together."
For Charlie, a false start in engineering led to his work at the College-Conservatory of Music (CCM) and then a transfer to Cincinnati State, where he majored in pastry arts and pre-business. Charlie then returned to UC and graduated with a degree in accounting.
That was a sign for me. I really like this person.
Walter Stewart, A&S '12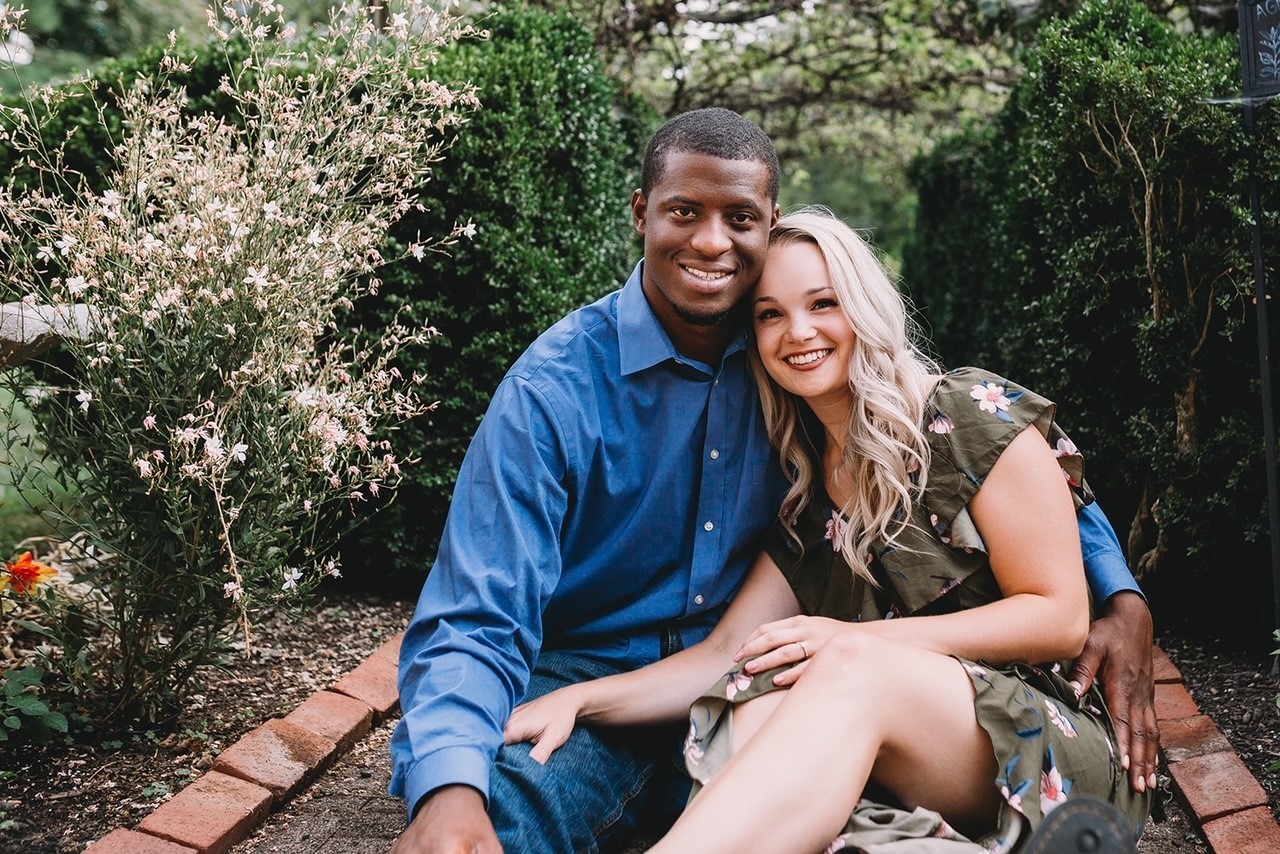 Walter Stewart and Rebecca Borukhovsky bonded over their love of sports and their Northeastern Ohio roots. In her Dance Team role, Rebecca cheered for Walter from the sidelines during UC's football games. "It was an awesome experience," she says. "I'll never forget his senior night." Walter finished his Bearcat career as one of the top defensive players during his era at UC.

After graduating, Walter maintained a long-distance relationship with Rebecca, even after he began his coaching career a graduate assistant at the University of Tennessee. "I was still talking to her, still going to visit her," Walter recalls. "That was a sign for me. I really like this person."
A bigger sign emerged during Rebecca's sophomore year, when she discovered she was pregnant. Rebecca credits the late Carol Wissman, a senior academic adviser and adjunct psychology professor, with shepherding her through the complex months and years that followed.
"She was one of the most impactful people for us both through UC," Rebecca says. "She was always an incredible support system for me personally, coming into school and then having my daughter so young. I remember going into her office and telling her that I was pregnant and trying to figure out what was next for me and how I was going to finish school. She had zero doubt in her mind, zero questions asked."
Wissman put together a plan that enabled Rebecca to join Walter in Knoxville and give birth to their daughter, all while continuing her coursework online for three semesters. Rebecca then returned to UC for her senior year and graduated on time. "Carol Wissman will always have a special place in our hearts," Rebecca says. 
In 2020, Rebecca and Walter were married. In 2022, UC hired Walter as its defensive line coach, and the couple — now the parents of two young children — moved back to Cincinnati. Rebecca is building a national financial planning practice affiliated with Northwestern Mutual.
Levi is UC's graduate program coordinator for the School of Public and International Affairs, as well as secretary-treasurer for UC's LGBTQ Faculty and Staff Association. Charlie is a tax accountant at Plante Moran, a downtown Cincinnati firm. Six years after Levi and Charlie met, they are buying their first home together.
Mitchell is working remotely for LinkedIn, and Chanel is working remotely for Klaviyo as they travel the United States on their self-described "Phelps World Tour." Despite living outside Cincinnati after graduation, they have never failed to return for Homecoming. Mitchell also maintains his connections through the Lindner Honors Program. Their "world tour" ends in April, and their connection to family and UC make coming "home" to Ohio a strong possibility.
Shane and Jeff have been married nearly 24 years and have five children. Shane earned her master's in education and taught in the Cincinnati Public Schools system for 10 years before leaving the workforce to focus on her growing family. Jeff leads an insurance consulting practice for Aon. He stays connected as a member of Sigma Sigma and by serving on the community advisory board of the Brain Tumor Center at the UC Gardner Neuroscience Institute, helping to raise some $25,000 annually for the Brain Tumor Center through the Eggstrong Foundation, which he founded in 2016 in honor of a close friend who also served on the board and who later succumbed to a rare cancer. Jeff, Shane and their extended family participate in the annual Walk Ahead for a Brain Tumor Cure, the center's signature fundraising event. 
Our Bearcat couples are thankful to have met their true love at UC where they began building a lifetime of memories.
UC is not only the place where we met and fell in love - it is also the place where we really found ourselves.
Chanel Phelps, CECH '17
"UC has always been a special place to us," Rebecca says. "When we moved away, it was always our vacation spot over the summer. In the football world, the month of July is the only time that coaches get time off. Any time we had a family vacation, we always came back to Cincinnati and ate at our favorite restaurants and visited our favorite people."

"Our foundation is beautiful to think about," Mitchell says. "I have immense gratitude to the University of Cincinnati and all the staff there that provide such an experience for the student body."
Says Chanel: "UC is not only the place where we met and fell in love — it is also the place where we really found ourselves. We were both able to step out of our comfort zones and create identities for ourselves. And now we are able to sit down on random nights and reminisce about so many memories that we have. It was a really sweet time in our lives, and we will always remember it. Finding love in college is not a path for everyone, but it is a sweet thing to have."
Shane and Jeff's UC ties were further strengthened because their children became big UC fans. Last fall Shane and Jeff attended Homecoming along with their oldest son, who is a freshman at UC. "He came to the game with us, not with his friends," Shane says. "That was a sweet moment."
Bearcat tips for keeping love alive
Chanel Phelps: You're not going to be your best self every day. Find someone who you not only love but who also challenges you on the days that you don't want to be challenged and who loves you on the days you don't want to be loved.

Mitchell Phelps: Infuse laughter into your daily relationship care routine.
Levi Davidson: Talk openly to each other. It's easy to hold grudges if you're not open. If something's bothering you, bring it up in the moment so that it doesn't become an issue down the road.

Charlie Aloisi: Be cognizant of the other person. Make sure everything is said. Emotional intelligence goes a long way.
Shane Rieder: Don't take things so seriously. Have fun. Learn to laugh at the little things. Let them go.

Jeff Rieder: Focus on what you have in common. Show respect where you're different.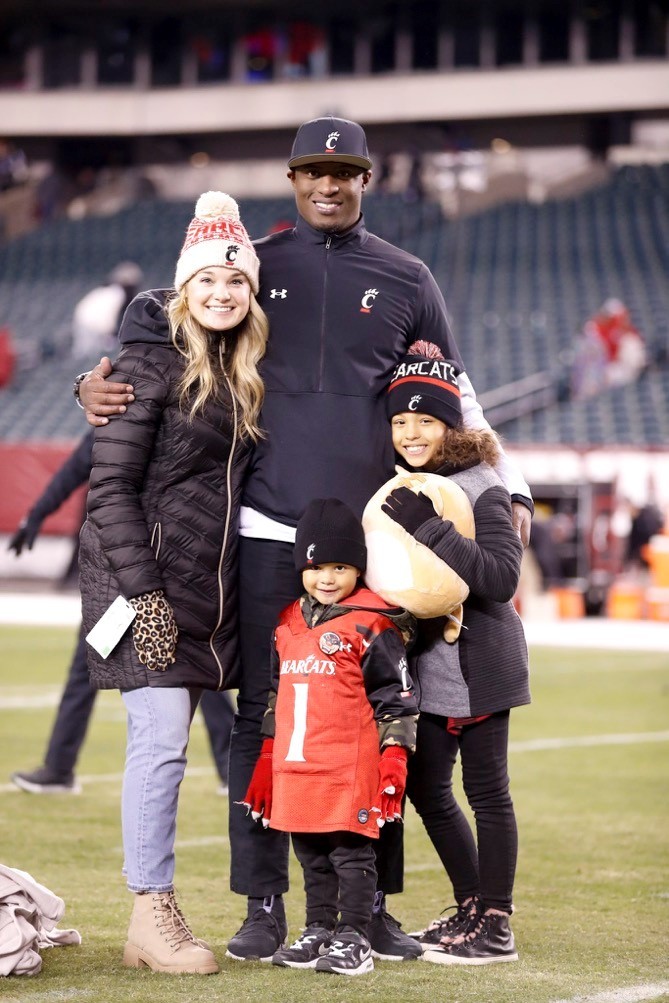 Walter Stewart: Relentless communication is required. We take for granted talking with one another because there are so many ways of reaching out to a person. The more communication you have with your significant other, right, wrong or indifferent, the more consistently you'll be on the same page.
Rebecca Stewart: Communication is the No. 1 thing to help with any relationship, but Walter and I have always solved our disagreements and decisions — like who's doing the dishes, changing diapers or getting up with the kids in the middle of the night — with rock-paper-scissors. That's our go-to. We're both athletes and very competitive, and we always want to win.
Featured image at top: Alexander Grey on Unsplash
Share your Bearcat love story
Did you meet your sweetheart at UC? We'd love to hear your story and may even share it with other UC alumni. Visit the Bearcat Love Story form to share more.
3
'Somos familia'
April 26, 2023
"Somos familia" means "we are family," and students from throughout the Latinx community are building family, finding success and continuing a legacy at UC.