P&G, UC celebrate partnership that accelerates innovation
Collaboration delivers technological advancements, prepares students for careers
A partnership between the University of Cincinnati and Procter & Gamble that was created 15 years ago has become a model for P&G research around the world.
Cincinnati-based consumer goods giant P&G and UC partnered in 2008 to launch the UC Simulation Center inside UC's 1819 Innovation Hub. In the ensuing years, the partnership has provided exceptional work experiences for almost 500 UC students and delivered technological advancements that enhance P&G's product portfolio.
Now, as UC and P&G build on their partnership, they have renamed the simulation center the P&G Digital Accelerator @ The University of Cincinnati. The two organizations celebrated at an opening reception March 22 at the 1819 Innovation Hub.
"Together through the 15 years of our efforts at the Sim Center, we have advanced simulation and now more broadly all forms of digital tools to accelerate and expand innovation across P&G's multidisciplinary R&D portfolio," said Victor Aguilar, chief research and development and innovation officer at Procter & Gamble. "The time is right to raise the bar and commit to all forms of digital innovation, and the new name is just the start."
Using a tailored approach, the newly named Digital Accelerator's business and financial model allows projects to begin quickly in response to P&G's needs. Together, P&G and UC are building and applying digital tools to accelerate and expand innovation across a multidisciplinary landscape.
"P&G has always been a pacesetter when it comes to innovation," said Ryan Hays, UC executive vice president and chief innovation and strategy officer. "Their ability to see around corners ranks second to none. We believe the Digital Accelerator will unlock a new frontier of possibilities for our partnership. We're humbled and beyond excited to define what's next with them."
An example of this multifaceted collaboration was on display at the grand opening, where the partners introduced the Digital Accelerator's new brand through an augmented reality experience. UC's Office of Research produced the AR demonstration.
"At P&G we are passionate about innovation, and we have found that the path to game-changing advancements most often is accelerated when we collaborate to bring the best minds and talent together," said Lee Ellen Drechsler, P&G senior vice president. "In fact, it is a priority of mine to drive strategic collaborations that help us raise the bar on innovation and constructively disrupt our path to better meet the needs of consumers. So today, it is fitting that we relaunch our 15-year partnership here at the 1819 Innovation Hub as the renewed P&G Digital Accelerator @ the University of Cincinnati."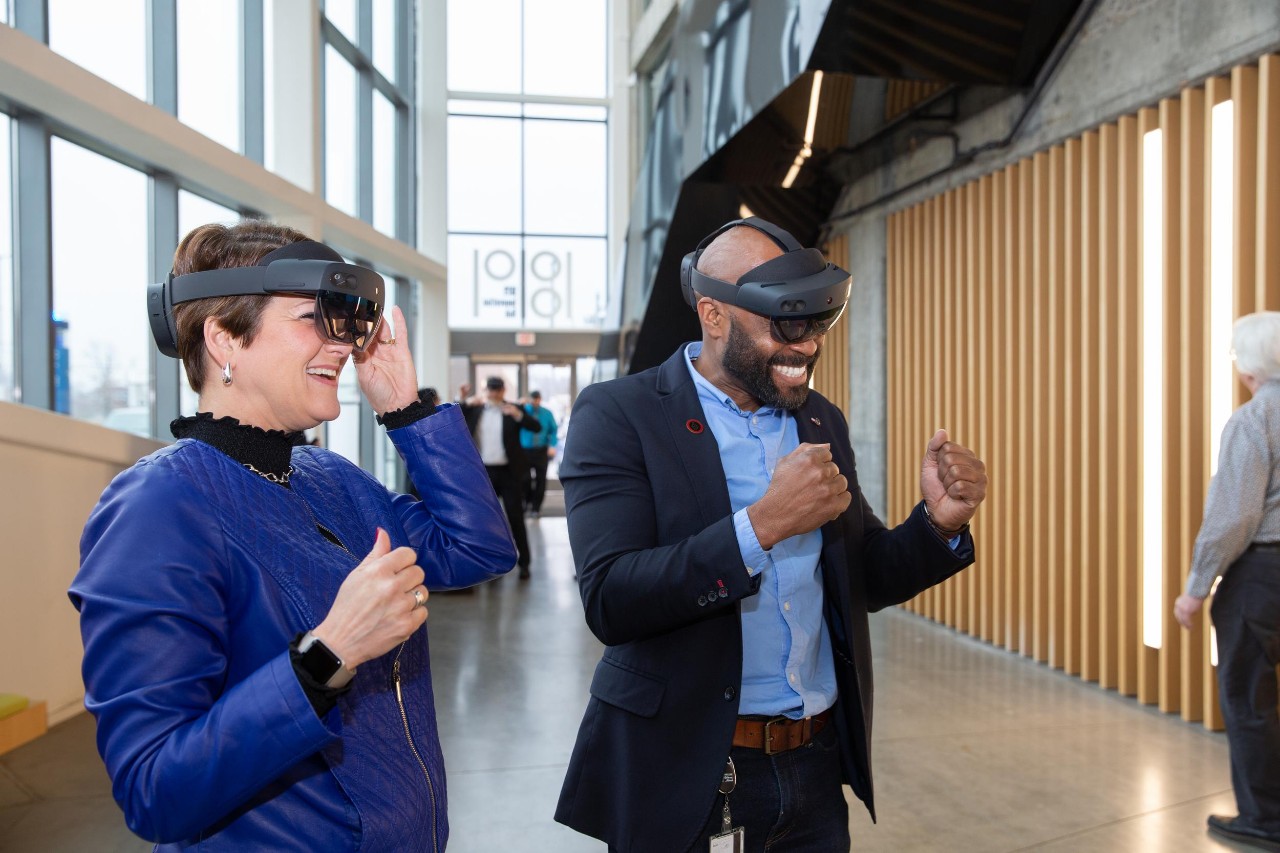 Faculty and student experiences
In the past 15 years, the partnership between UC and P&G has expanded beyond simulation work to include a wide variety of digital technologies that are applied to solving business challenges. Faculty and students from across many disciplines — including 16 currently working at the Digital Accelerator  —  contribute work in:
Computational chemistry
Chemical systems modeling
Finite element analysis
Computational fluid dynamics
Supply chain optimization
Reliability engineering
Discrete element simulation
Network modeling
Model automation
Digital design
Data analytics
Marketing
Because of the success working with UC, P&G has created similar centers in England, Germany and Singapore.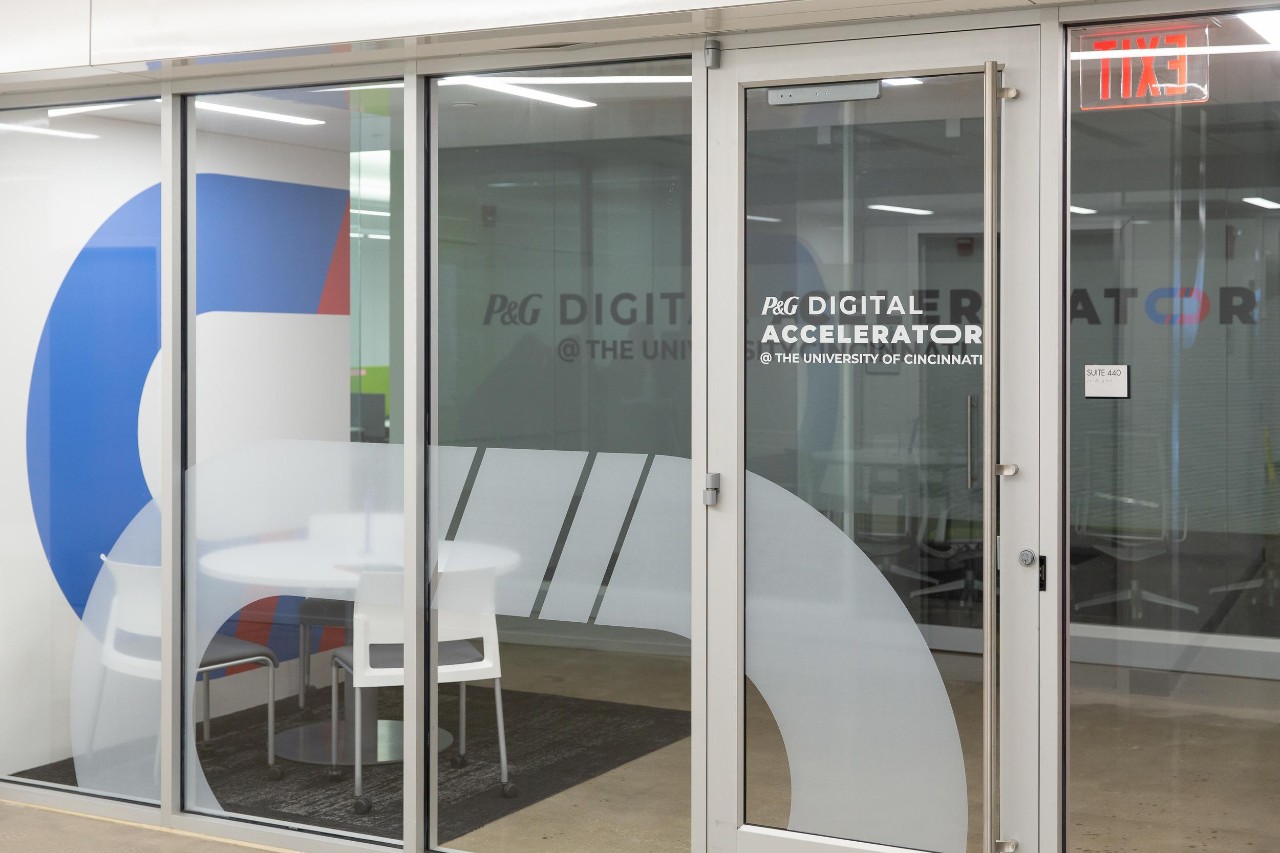 More than 25 students have gone on to full-time positions at P&G following their time at the Digital Accelerator. Other students have gone on to work at companies including Amazon, General Electric, Microsoft, Molex, Paycor, PayPal, Stress Engineering, Tesla and Tiger Analytics.
UC professors said their students' experiences with P&G have prepared them for a variety of careers.
"I had, and continue to have, several students supported through the UC Sim Center and P&G," said Anca Ralescu, PhD, UC professor of computer science. "Most of those students went on to successful careers." Ralescu highlighted two — Deeptha Girish and Vineeta Singh — who both obtained their master's and doctoral degrees under her supervision. "Their projects at P&G were in computer vision, which, I am sure, helped them when they joined a company dedicated to the safety of driverless vehicles."
Approximately 15 chemistry graduate students have participated in the center from the computational labs of professors Thomas Beck, PhD, Ruxandra Dima, PhD, and George Stan, PhD.
"Students have benefitted from excellent opportunities to contribute to research projects in collaboration with P&G researchers while they also continued their thesis research at UC," Stan and Dima wrote. "This experience has broadened their perspective and helped them as they pursued careers in industry, academia and government upon graduation."
All UC employees working at the Digital Accelerator are employed through UC's Department of Mechanical and Materials Engineering. Since 2008, 294 graduate students, 165 undergraduate and 20 postdoctoral or research associates have worked in the Digital Accelerator.
"Over many years, several of our PhD students in statistics have had the opportunity to work on projects under the supervision and training of mentors at the Sim Center," said Bledar Alex Konomi, PhD, UC associate professor of statistics. "This has greatly benefited our students by giving them valuable experience and expertise that expand their skill over and beyond what is typically covered in their regular curriculum. This partnership with the Sim Center has been extremely valuable to our PhD program, and we hope to strengthen and expand even further."
Featured image at top: From left, UC President Neville Pinto; Lee Ellen Drechsler, P&G senior vice president; and Ryan Hays, UC executive vice president and chief innovation and strategy officer. Photos/Andrew Higley/UC Marketing + Brand

Impact Lives Here
The University of Cincinnati is leading public urban universities into a new era of innovation and impact. Our faculty, staff and students are saving lives, changing outcomes and bending the future in our city's direction. Next Lives Here.
2
UC's $10.6 billion impact
May 9, 2023
The University of Cincinnati delivers a significant economic boost to the region and state of Ohio thanks to alumni impact, operations and research spending, student demand for goods and services, launch of startup companies and more.
3
UC, Lt. Gov. Husted celebrate success of Ohio IP Promise
November 16, 2022
University of Cincinnati President Neville Pinto, UC Executive Vice President Ryan Hays, Ohio Lt. Gov. Jon Husted and entrepreneurs within the Cincinnati Innovation District today celebrated the economic impacts of the Ohio IP Promise — a statewide commercialization initiative launched in 2019 that streamlines the patent and licensing process, enabling inventors to own their intellectual property.