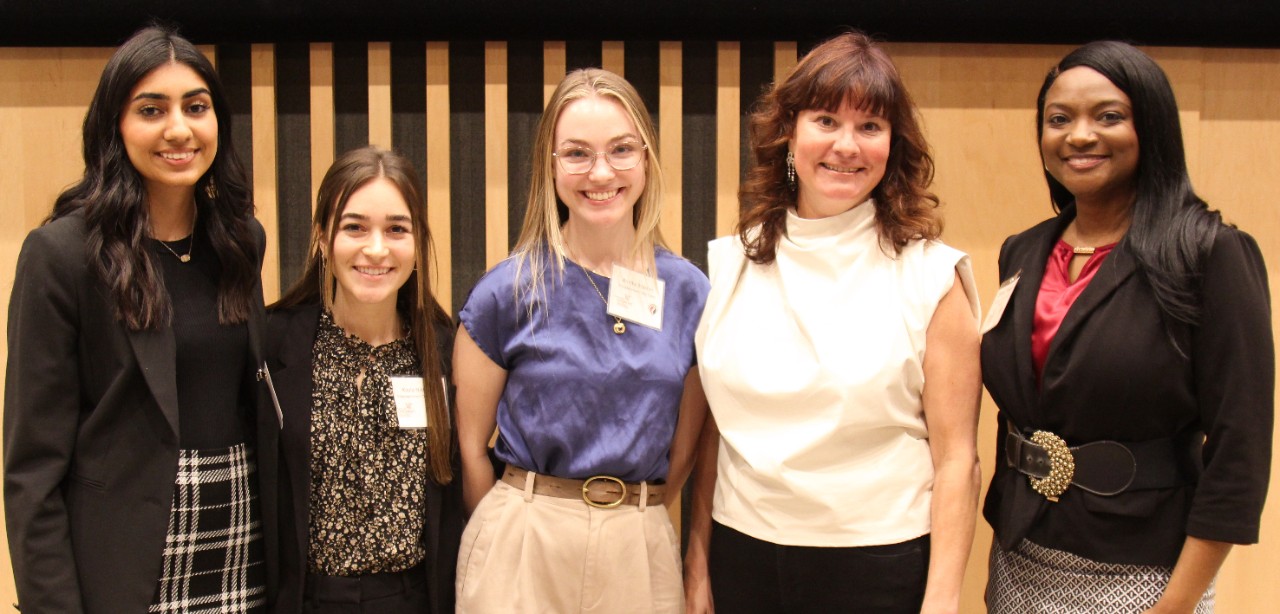 Students celebrate 10 years of Lindner Women in Business at Empowerment Day
Past, present and future Lindner students discuss overcoming barriers faced by women
Current and prospective students in the Carl H. Lindner College of Business packed Lindner Hall on March 4 for Lindner Women in Business' (LWiB) annual Empowerment Day. The event, now in its seventh year, brought together alumni and members of the Cincinnati business community to equip students with the tools they need to succeed in the workplace.
More than 250 students attended the event, sponsored by Fifth Third Bank and Johnson Investment Council, including over 30 prospective, admitted Lindner students. Lindner alumnae Lynne Laube, BBA '92, presented the keynote address. Laube is the former vice president and chief operating officer of Capital One and co-founder of Cardlytics, a business analytics company specializing in making consumer spending data actionable. Following Laube's presentation, attendees participated in a variety of breakout sessions covering topics from career planning and imposter syndrome to elevating others and personal branding.
"The energy is absolutely my favorite thing about the event. It's unlike anything else I've seen in college," said Annika Braaten, BBA '23, president of LWiB. "It's a whirlwind of insights and learning, and we have such valuable speakers come in, so I really enjoy talking with them and sharing their stories."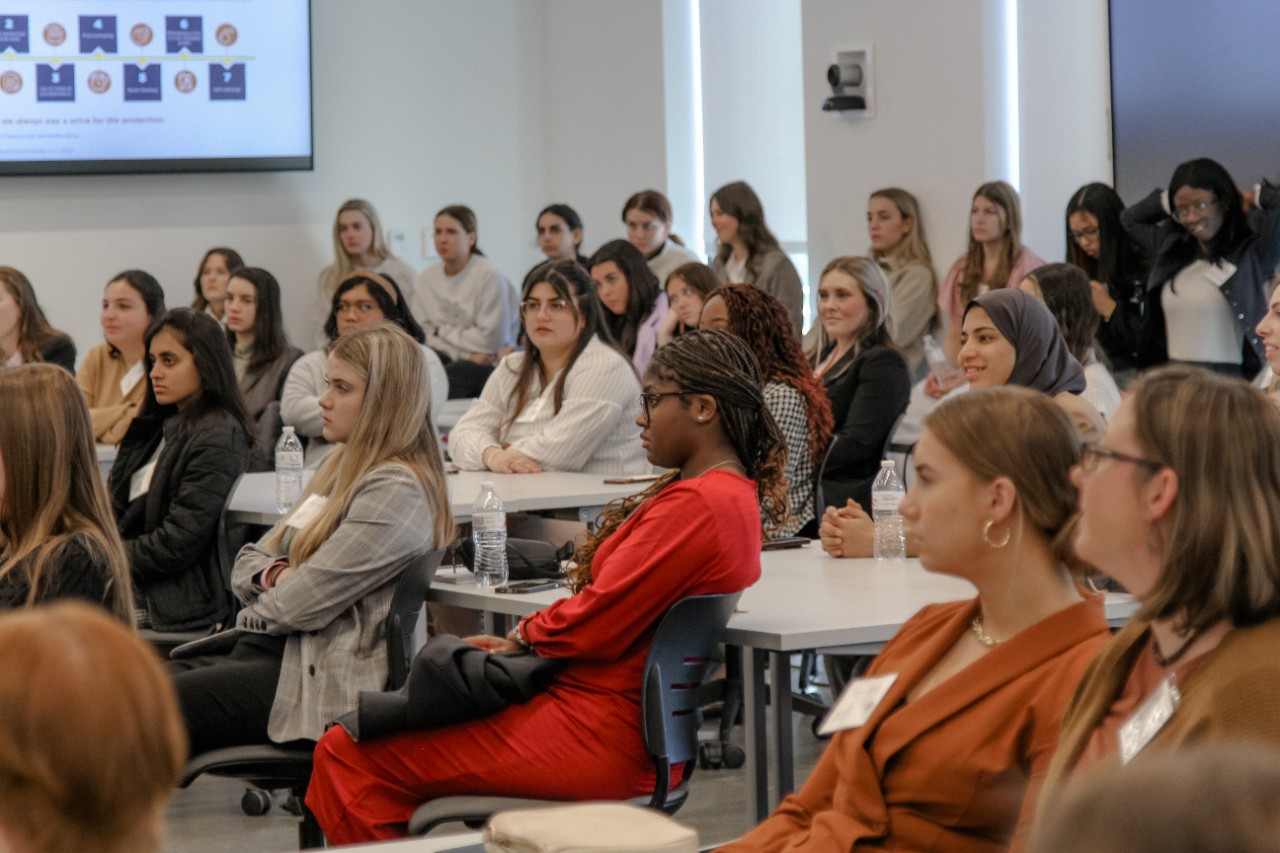 Laube spoke on many pertinent topics for students that also were reflected in the breakout sessions. With an unflinching realism, Laube leveled with students, warning them of the inevitability of encountering stereotypes and discrimination throughout their careers while also encouraging them to use these moments to guide them and determine how they will cope with adversity.
Laube brought this same tough-love approach when speaking to a group of student entrepreneurs at the "Lunch with Lynne" event prior to Empowerment Day.  
"You have to get a college degree to be a successful entrepreneur, and you have to get a real job to teach you how real companies work, so then, someday, you know how to build your own real company," instructed Laube. "You get real experience. You get real knowledge and add confidence onto that — and then you go and get started."
Empowerment Day was particularly special this year as LWiB celebrated its 10th anniversary. Founded in 2013 by then-associate dean and current professor of management and Lindner Dean Marianne Lewis, PhD, the organization empowers future women business leaders through community and professional development.
"We had a fervent belief that if we could help foster more of a community for women students at Lindner of mutual support, they'd be much more likely to come and to stay and to thrive. That was the goal," said Lewis, recalling the spark that would eventually become LWiB. "And, I am so proud of the tremendous movement and growth of the organization over the past 10 years. It is truly a testament to the hard work and dedication of our student leaders and alumni and the support of our sponsors."

For Camryn Ellis, BBA '23, an international business and entrepreneurship double major, the support she found through LWiB has made all the difference.
"Having that community, specifically of women, is huge. Also to have such a diverse group of women in terms of majors, ages, everything, is fantastic," said Ellis. "And I think that's one of the reasons why I am where I am. It's because I've been able to make those connections with people and call upon them in times of need and to just be able to share with them openly."

Lewis echoed Ellis' thoughts on the power of diversity and the amplification it can bring.
"The true power of diversity is building a Lindner community of incredibly diverse, talented students of all backgrounds, skills and perspectives and a strong sense of belonging so you feel fully able to bring your full, authentic self," Lewis said about LWiB's lasting impact. 
Empowerment, to me, is this ball of energy. It's this energizing sense of the ability to achieve anything, and it is this limitless power that you can use to grow yourself, but also that you can give and share with others.
Annika Braaten, BBA '23 LWiB president
"I've benefited from being in a women's group at Capital One. I started a women's group at Cardlytics. I believe very much in women's groups and empowering women and helping women," reflected Laube, thinking back to her time as a Lindner student. "So, of course, if we'd had something like [LWiB] at Lindner when I was younger, it would have had an impact on me. Being able to talk about challenges together, talk about some of the same obstacles we've all encountered and learn from each other and to pay it forward. I absolutely believe there's value in that."

That same uplifting energy of impact, empowerment and vulnerability runs through Empowerment Day and forms the heart of LWiB.
"Empowerment, to me, is this ball of energy. It's this energizing sense of the ability to achieve anything, and it is this limitless power that you can use to grow yourself, but also that you can give and share with others," Braaten said. "I feel it's incredibly contagious, and when you get women together in an event focused on empowerment, focused on growth, I think it's incredibly recharging and refreshing and inspirational for the future." 
Featured image: Left to right: Kayla Niklaus, Empowerment Day co-chief; Avneet Dharni, Empowerment Day co-chief; Annika Braaten, LWiB president; Lynne Laube, keynote speaker; Evette Maddox, Johnson Investment Council. Photos by Suzanne Buzek.
About Lindner Women in Business
Lindner Women in Business prepares emerging leaders for future endeavors by providing allies, perspective and resources. Founded in 2013 with 30 members, Lindner Women in Business became an inclusion partner within the Lindner Office of Inclusive Excellence in 2021. Learn more about Lindner's Office of Inclusive Excellence and ways to get involved.
2
Pride at Lindner begins fundraising drive for first-of-its-kind endowment at the Carl H. Lindner College of Business
September 29, 2021
It started with a mid-summer check-in between student leaders and faculty advisors. Pride at Lindner's (PaL) student executive board and its faculty/advisor leadership met to discuss strategic planning and goals for the upcoming school year and beyond. According to PaL advisor Nadia Ibrahim-Taney, those present overwhelmingly expressed the need for student financial aid, specifically an endowed scholarship. Such was the genesis of the Pride at Lindner Scholarship and Programming Fund, an endowed scholarship that would allow the current PaL team to leave a legacy for current and future LGBTQ+ students.