UC student study: PGA golfers versus LIV golfers — why they stay and why they go
SPIA course analyzes current events in American sports culture
Students in a University of Cincinnati sports and politics course studied the battle for talent between the Professional Golfers' Association of America (PGA) Tour and Saudi-backed LIV Golf and found commonalities and predictors pertaining to what type of golfer chooses to play for LIV.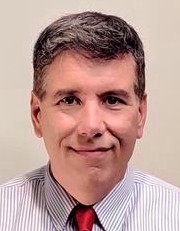 "Our data model shows the prototype LIV golfer is famous, successful, declining and lazy," says David Niven, course instructor and associate professor in UC's School of Public and International Affairs (SPIA) in the university's College of Arts and Sciences. 
"LIV is clearly the preferred golf tour for golfers who don't want to play a lot of golf," Niven says, noting that several LIV golfers have cited LIV's shorter schedule as a reason for joining. 
And many of the LIV golfers are making "far more money" than they might have otherwise while playing more golf with the PGA, says Ricco Hayward, a fourth-year political science major who worked on the project.
Scheduling, money, career decline, fame and political leanings were all variables studied surrounding who made, and might make, the leap from the storied PGA to the recently established LIV.
Sports and politics study
Hayward and classmate Paige Belbot were among 60 students in the sports and politics course who gathered data on the top 1,000 male golfers in the world to assess differences between those who joined the upstart LIV Golf and those who remain competing in the PGA Tour and established regional tours. The data came from professional statistics, public comments to media and views expressed on the player's social media.
"From someone who has minimal knowledge regarding golf, it was fascinating how interested I became in this project while conducting my research," says Belbot. "It was astonishing to see such a wide array of players globally, their individual performance based on winnings and how that translates into earnings as well as rankings. Those with the highest values in earnings and rankings aren't always the players with the most wins, which I found interesting."
Hayward, who played golf in high school, says that while he already understood the complexities of the game, he didn't expect the shift of some golfers from PGA to LIV until he looked at their golf stats and their income trajectory with LIV. 
According to the data, the odds of golfers joining LIV decline by about 3% for every event they play in per year. The class also found that golfers whose performance in PGA tournaments is on the decline were 32% more likely to join LIV; golfers who were unusually famous (measured by Google searches) were twice as likely to join LIV; and that golfers were fractionally more likely to join LIV with each advancing ranking spot from No. 1,000 to No. 1.
Golf stats aside, students also considered whether the politics of golfers influenced their choice. The class found that golfers who openly expressed support for Donald Trump were three times more likely to sign on with LIV, but that the influence of political beliefs was small when measured against the players' cumulative golf statistics. The students did find that after joining the tour, LIV golfers periodically spoke out on behalf of the Kingdom of Saudi Arabia, with one saying Saudi Arabia was the most welcoming place in the world. LIV Golf is a professional golf tour financed by the sovereign wealth fund of the country of Saudi Arabia. 
"It's not great golf and not great TV ratings, but never before has a group of publicists been assembled who were longer off the tee," Niven said. It's also possible, he says, that LIV is just a passing fancy for the Saudis and young careers might hang in the balance; and Hayward agrees. 
"Maybe Tiger Woods is the canary in the coal mine," Hayward says, referring to Woods publicly expressing loyalty to the PGA and concern that the entire fabric of professional golf is at stake.
The study's data can also be used to predict which golfers are most likely to join LIV Golf in the future.
"Based on their career trajectory, our model shows Jason Day and Justin Rose are the most likely to accept an LIV offer," says Niven. The model, he says, predicts that Rory McIlroy is the least likely to leave the PGA Tour.
UC's School of Public and International Affairs is widely known for having academic experts in all aspects of the political realm, and professor Niven is a trusted media source often cited for being well-versed on American politics.
Niven says he chose this topic for a class project because "the Saudis have spent a tremendous amount of money upending the world of professional golf, and we wanted to take a look at what they are buying."
In previous years, Niven's Sports and Politics class has looked at which NFL players protested during the anthem (primarily the best paid ones) and how much attention did China's human rights record receive during television coverage of the 2022 Beijing Winter Olympics (almost none).
Featured image at top: Golf ball on putting green. Photo/ Unsplash
Impact Lives Here
The University of Cincinnati is leading public urban universities into a new era of innovation and impact. Our faculty, staff and students are saving lives, changing outcomes and bending the future in our city's direction. Next Lives Here. 
1
What you post on social media matters to employers
February 15, 2023
What you post on social media can be in conflict with your employers standards, says UC social media expert Jeffrey Blevins. More and more often people are getting dinged, or worse, for posts that put their employers in a bad light. Blevins suggests a social media review/edit of content and more thought put into posts.