Daily statin reduces risk of cardiovascular disease in people living with HIV, UC study finds
Results could produce a change in practice guidelines
An international multicenter study that was conducted at the University of Cincinnati was stopped early after research demonstrated that a daily statin medication reduced the risk of cardiovascular disease among people living with HIV.
A planned interim analysis of data from the Randomized Trial to Prevent Vascular Events in HIV (REPRIEVE) study found that participants who took pitavastatin calcium lowered their risk of major adverse cardiovascular events by 35% compared with those receiving a placebo.

REPRIEVE is the first large-scale clinical study to test a primary cardiovascular prevention strategy for people living with HIV.
Adverse drug events observed in the study were comparable to those in the general population taking statin therapy. The interim analysis was sufficiently compelling that the study's independent Data Safety and Monitoring Board (DSMB) recommended it be stopped early given adequate evidence of efficacy. The National Institutes of Health accepted the DSMB recommendations.
Study participants are being notified of the findings and will continue to be monitored for several months. Study results from the DSMB review are expected to be published in the coming weeks.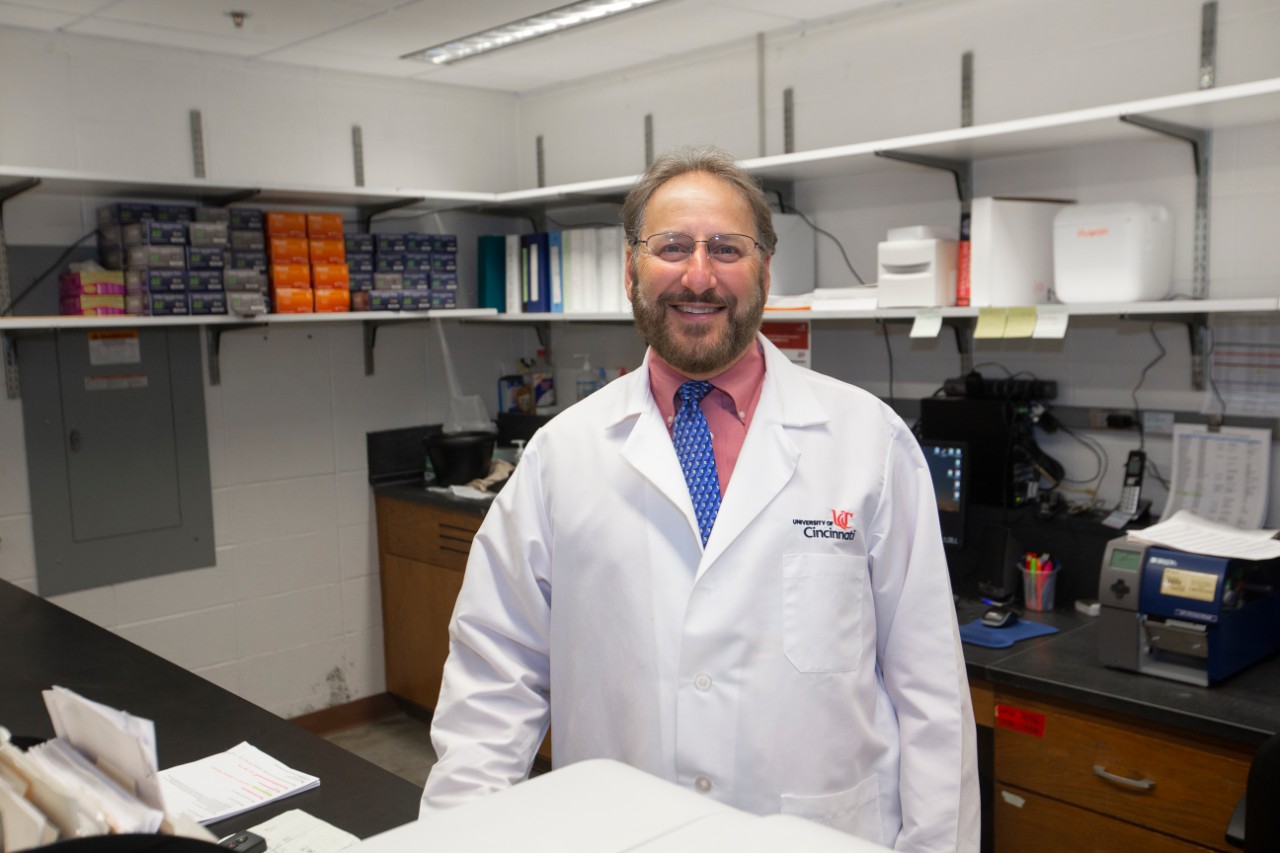 REPRIEVE, launched in 2015, enrolled 7,769 volunteers between 40 to 75 years of age, of whom more than 30% were women. All REPRIEVE volunteers took antiretroviral therapy and had low-to-moderate traditional cardiovascular disease risk that would not typically be considered for statin treatment.
The trial was conducted in 12 countries in Asia, Europe, North America, South America and Africa. UC enrolled 112 participants in the main study and 55 participants in the mechanistic substudy. Carl Fichtenbaum, MD, professor of Infectious Diseases at the UC College of Medicine, was the vice-chair of the REPRIEVE protocol serving on the core team that ran the study.
The REPRIEVE study is primarily supported by the National Institute of Allergy and Infectious Diseases and the National Heart, Lung and Blood Institute  with additional funding from the NIH Office of AIDS Research. The study was conducted by the AIDS Clinical Trials Group (ACTG).
"It is incredibly gratifying to see these results and to know that this study has the potential to change clinical practice and thus have a meaningful impact on the experiences and health of people living with HIV," said Fichtenbaum.
"This area of research has been a priority of the ACTG for 20 years and I want to congratulate the many individuals within the network and dedicated study participants who have contributed to making REPRIEVE such a success."
Statins are known to prevent cardiovascular disease among those at high risk in the general population and REPRIEVE sought to understand whether they would have the same effect among people living with HIV who may not traditionally be candidates for statins.
It was not clear if statins would have the same effect in people living with HIV and who have premature cardiovascular disease despite having low-to-moderate traditional risk. In the REPRIEVE trial, participants were randomly assigned to receive a daily dose of 4 mg of pitavastatin or placebo. They were monitored for major adverse cardiovascular events and adverse reactions to pitavastatin, which is considered safe for use with all prescribed antiretroviral therapy regimens.
Featured image at top of an HIV cell: National Institutes of Health 
Next Lives Here
The University of Cincinnati is classified as a Research 1 institution by the Carnegie Commission and is ranked in the National Science Foundation's Top-35 public research universities. UC's graduate students and faculty investigate problems and innovate solutions with real-world impact. Next Lives Here.
1
UC research could change vaccine practices
October 20, 2022
New research out of the University of Cincinnati shows that a course of a hepatitis B vaccine provides complete protection for people with HIV. The UC research shows that a three-dose course of the hepatitis B vaccine HEPLISAV-B provides complete protection for people living with HIV who have never been vaccinated against or exposed to the hepatitis B virus (HBV).
2
UC research examines barriers to treatment of COVID-19 in local Latinx families
August 18, 2022
New research from the University of Cincinnati,examines the barriers as well as those that are helpful in the prevention and treatment of COVID-19 in Latinx families in Cincinnati. Researchers identified primary barriers that include insecurities in food, jobs and housing and immigration. Key facilitators included having trusted messengers of health-related information.
3
UC research shows benefits from Jewish tradition
January 18, 2023
Research from the University of Cincinnati shows people who wear tefillin, leather bands used in a Jewish religious practice which involves the tight wrapping of an arm with the bands, may receive cardiovascular health benefits. The study suggests those benefits are the result of ischemic or reduced blood flow preconditioning which produces protection from the damage caused by heart attacks.