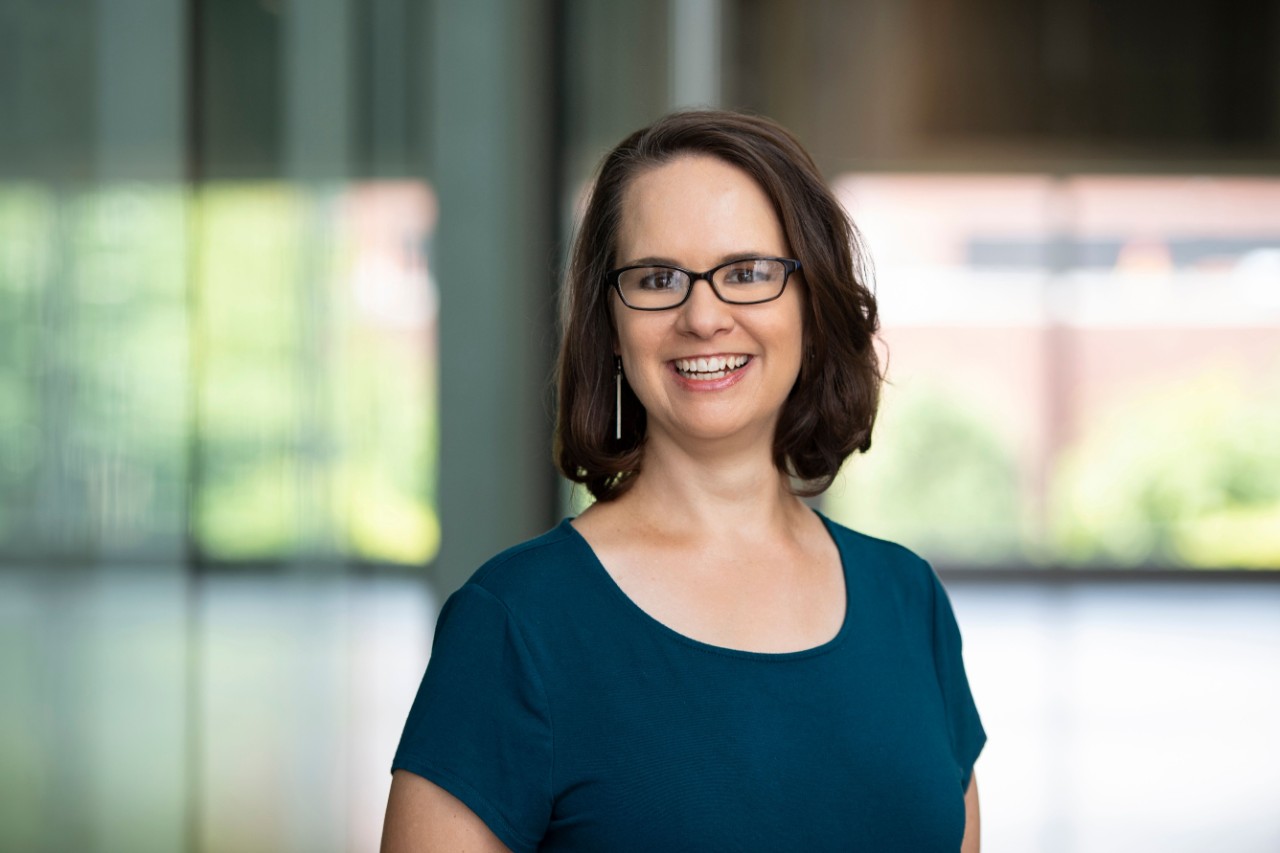 Supporting the holistic student
Embedded clinician, Christy Wolfram provides on-site mental health support to students.
It's no secret that pursuing a college degree can be stressful and that the COVID-19 pandemic exacerbated students' ability to manage the stress of college life. But research shows that even as concerns about the pandemic recede, students are still struggling to manage their emotional stress.

A recent study conducted by Gallup and the Lumina Foundation found that students enrolled in a bachelor's degree program were no less likely in 2022 than they were in 2021 to consider stopping their coursework prior to completion. In fact, 36% of the bachelor's students surveyed had considered withdrawing from their program for at least one term in the past six months. Of those bachelor's students, 69% cited emotional stress as a reason for considering stopping their coursework, and 59% cited personal mental health reasons.
It's important to have a safe place to go to talk about and explore the stressors that are affecting us. School is stressful and hard, but it's never just one thing that's leading a student to reach out.
Christy Wolfram, MA, CAPS clinician
"One of the things that came out of the pandemic is the realization that we all struggle with mental health in different ways," says Christy Wolfram, MA, a clinician within UC's Counseling and Psychological Services (CAPS). "It's important to have a safe place to go to talk about and explore the stressors that are affecting us. School is stressful and hard, but it's never just one thing that's leading a student to reach out."
Whether a student is experiencing stress compounded by challenges with family, friends, romantic relationships, or other life experiences, they can connect with CAPS clinicians like Wolfram to receive solution-focused counseling services and learn about additional resources available on campus and in the community that can support their unique needs.
Providing on-site mental health support
You won't find Wolfram, however, at the main CAPS office located on Calhoun Street near the south side of UC's uptown campus. Instead, she works out of two offices on UC's medical campus, one in the Health Sciences Building at the College of Allied Health Sciences and the other within Kowalewski Hall at the College of Pharmacy. Wolfram, who joined CAPS last April, is the first embedded clinician within those colleges. Her role bolsters the university's efforts to better support the holistic student. Currently, there are CAPS clinicians embedded within UC's College of Arts & Sciences; College of Engineering and Applied Science; College of Education, Criminal Justice, Human Services, and Information Technology; College of Design, Architecture, Art, and Planning; and College-Conservatory of Music; as well as on the UC Blue Ash and UC Clermont campuses.
As an embedded clinician, Wolfram is uniquely positioned to provide on-site services to undergraduate and graduate students within the two colleges. So, instead of making the one-mile trek from medical campus to the main CAPS office, students can stop in Wolfram's office between classes to receive counseling services.  
"[Being on site allows me] to learn more about the programs within the colleges and the specific stressors and challenges that the students are going through, so I can really understand what they're talking about [during our counseling sessions]," she says.
Wolfram alternates between offices, working at the Health Sciences Building on Monday and Thursday and at Kowalewski Hall on Tuesday and Friday. On Wednesdays, she provides virtual counseling services. After engaging in a free 45-minute Rapid Access Consultation appointment to discuss a concern and receive immediate help, students can meet with Wolfram for three additional free sessions. After that, counseling sessions continue to be free for students with a Medicare, Medicaid, or Student Health insurance plan, and cost a low out-of-pocket fee of $35 for students with private health insurance. However, no students are denied services due to financial barriers, and all fees are waived for students who are veterans or Pell or Cincinnati Pride Grant recipients, as well as students who have experienced identity-based violence, stress, or trauma.
During individual counseling sessions, Wolfram provides students with solution-focused tools and coping mechanisms. She can also connect students with therapists in the community who offer specialized, long-term care. All services Wolfram provides are confidential, offering students a safe place to privately talk about their situation. And while faculty and staff must leverage the university's employee assistance program to receive counseling services, they can consult with Wolfram about student concerns and request resources to support students.
"I have the opportunity to develop relationships with the faculty and staff within the colleges in a way that the main CAPS clinicians don't get because they work with students alone," Wolfram says.
In addition to providing counseling services to students, a large part of Wolfram's role is educating faculty, staff, and students about the mental health resources available at UC and to create a "community of care" where each student can "be their human self." In March, she hosted a training at the College of Allied Health Sciences on supporting bearcats in distress and how to create a supportive environment in the classroom and refer bearcats to resources on campus. She also regularly engages in tabling and speaks at events hosted by student groups within the two colleges to share information and help normalize talking about mental health. Sometimes, she even enlists Sammy, the CAPS service dog, to help students de-stress between classes.
As a suicide prevention coordinator—another aspect of her role as a CAPS clinician—Wolfram also facilitates training for faculty, staff, and students who want to learn about the signs and symptoms someone might express if they're having thoughts of suicide. Called QPR training, it teaches participants the questions to ask to determine if someone is suicidal, how to persuade that person to get help, and how to refer them to find help.
Relieving stress through artmaking
Armed with a dual master's degree in marriage and family therapy and clinical art therapy from Loyola Marymount University, Wolfram's diverse professional experiences have prepared her well for her current role. Prior to joining UC, she spent eight years working with college students from diverse backgrounds as a clinician at Northern Kentucky University's Health Counseling and Student Wellness Office. She also has experience providing individual and family therapy services to children, teens, and their families in school-based and outpatient settings through NorthKey Community Care and providing group counseling for adults with severe mental illness through Greater Cincinnati Behavioral Health.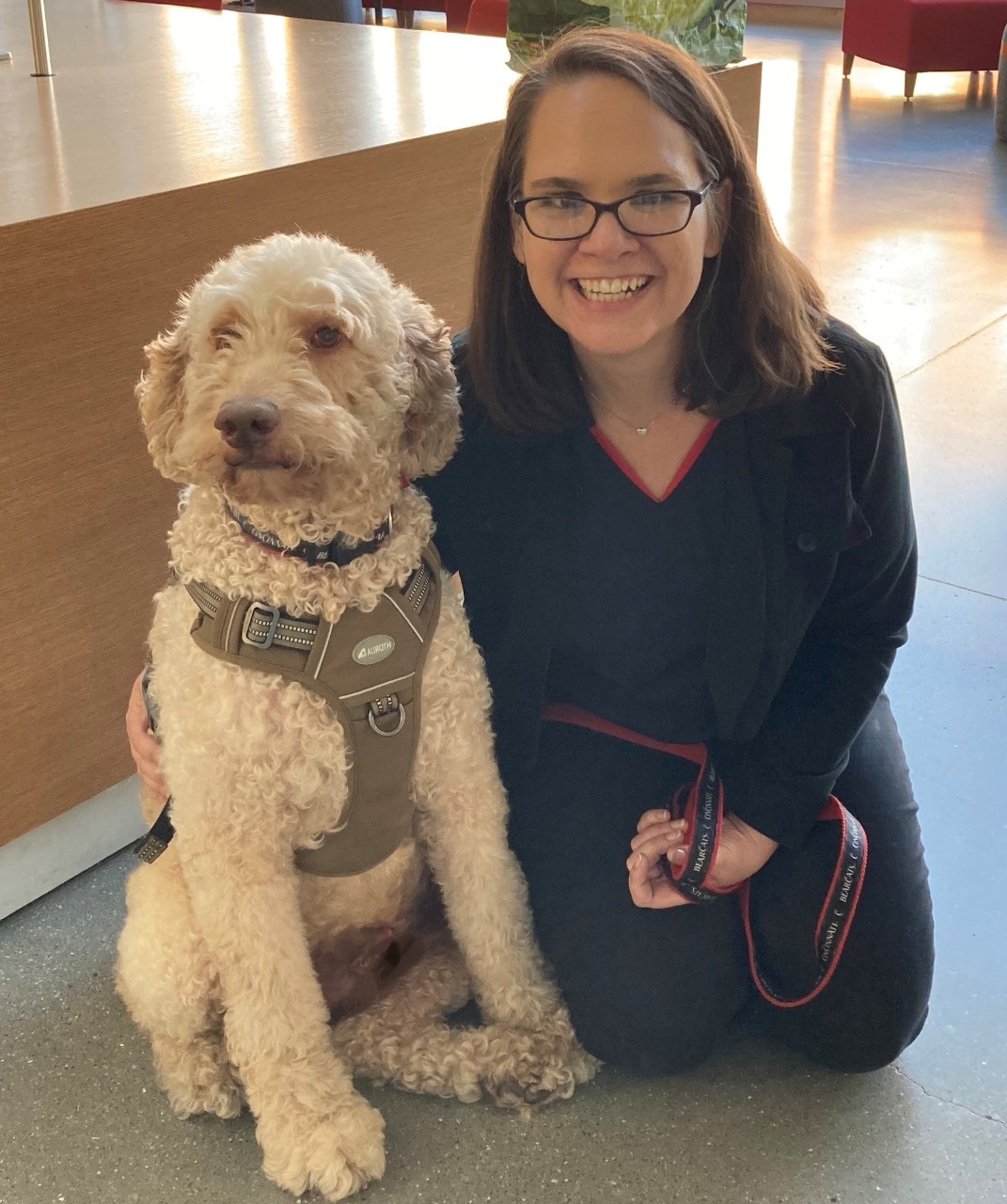 Wolfram also regularly leverages her love for art in her career, with past experiences providing group art therapy at the Epilepsy Foundation of Greater Cincinnati and Columbus (now called Epilepsy Alliance Ohio) and at a residential care facility in California for youth with severe behavioral issues. At UC, she offers a weekly art therapy group called The Art of Stress Management that's open to all students and takes place on medical campus inside Kowalewski Hall.
"For my own mental health care, I keep a daily art journal, so not only am I writing but I'm also making art about how I'm feeling," Wolfram says. "I like that combination of using art to express stressors, and that's something students can use with me in individual sessions in addition to the art therapy group I offer."
Wolfram's role and the services offered through CAPS are imperative in helping students manage their emotional stress and mental health issues, as a student's mental health directly impacts their ability to thrive in school.
"If we're struggling with our mental health, it's really hard to focus and get work done. If we have a place where we can go to learn about helpful coping skills, it makes it easier to manage how we're feeling and then easier to complete schoolwork," Wolfram says. "I'm excited to continue connecting to students and increasing their awareness of this service, because not all students know the CAPS office exists, let alone that we're here in their college."
Get Help
Students can call the CAPS office at (513) 556-0648 Monday through Friday from 8:30 am to 5 pm to schedule a free appointment with a counselor. Students in need of crisis support can call this number at any time to be connected to care. Students can also schedule a virtual Let's Talk appointment for a brief confidential conversation with a counselor. Learn more about CAPS at College of Allied Health Science' CAPS services.
1
Supporting the holistic student
April 28, 2023
Christy Wolfram, is the first embedded clinician within the College of Allied Health Sciences and the College of Pharmacy. She joins the University of Cincinnati's efforts to better support the holistic student. Wolfram aims to provide solution-focused counseling services to the students of CAHS.