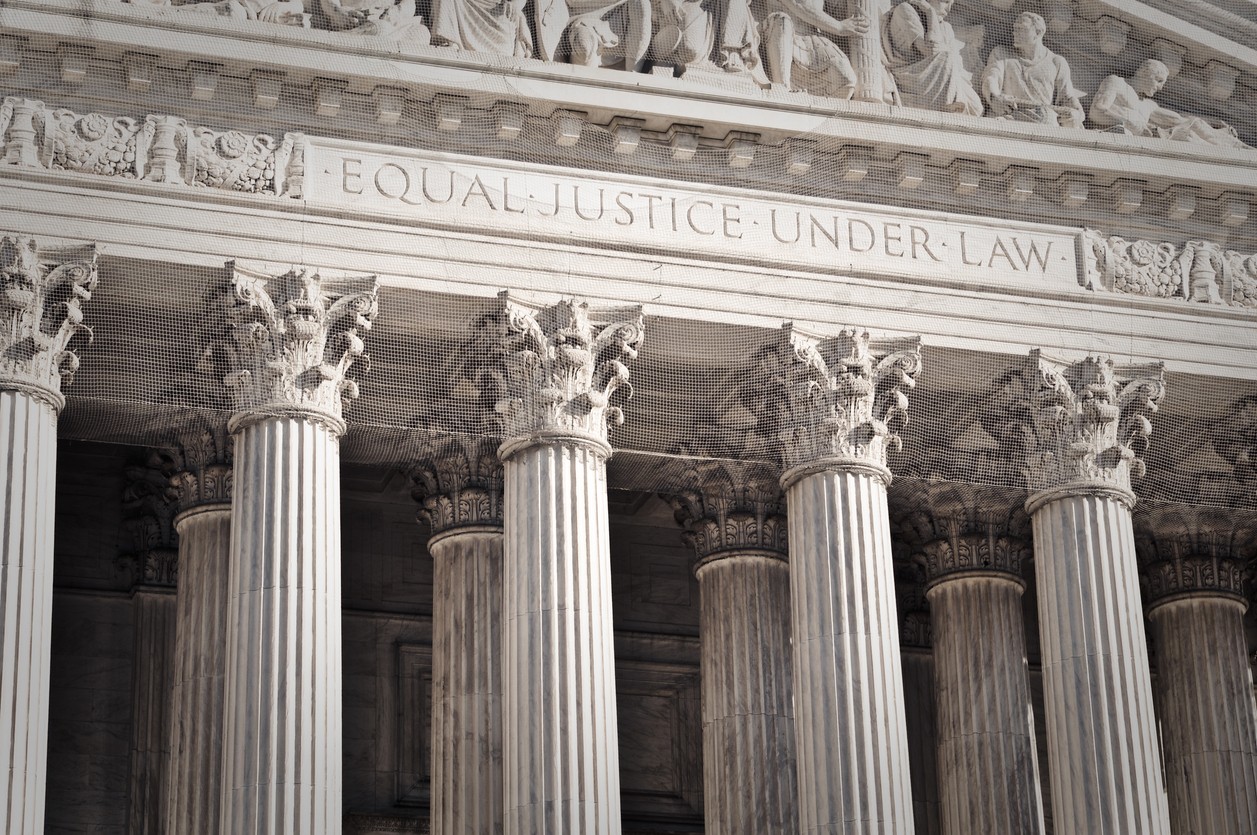 Law Fellow Kanisha Ervin finds fulfillment through work with the OIP
"My family knew I would be an attorney when I was 12. I stood in court reading my victim impact statement to a defense attorney who was representing my cousin's killer," said Kanisha Ervin (JD, '21). "My cousin, my doppelgänger, was killed in an auto accident by a woman whose blood alcohol content was three times the legal limit. The attorney tried to belittle me and undercut the messages I was relaying. He asked if someone had written the letter for me and if I was old enough to be in the courtroom. I knew I needed to remain steadfast.  I read my letter calmly and passionately, pausing for emphasis and looking directly at the attorney so he knew I was the author of the work and had memorized every line. It was then that I showcased my desire to be an orator and an advocate, but it would take years for me to accept that reality." 
Fast forward six years and a now 18-year-old Ervin is a student at Northern Arizona University (NAU) with dreams of being an attorney.  "[When] I was still a freshman in undergrad at NAU, one of my first classes was an Introduction to Criminal Law course with an attorney who worked at the Arizona Innocence Project. She inspired me to advocate for marginalized groups in a way that was centered around their needs—not my own. My life had given me a legal education that was practical and social, based on shared familial experiences. But I knew I wanted a legal background to affect change in the criminal legal system instead of being subject to it." 
Ervin would go on to graduate from NAU with bachelors' degrees in political science and Spanish, while minoring in Law, Rights and Justice. She quickly found her way to the University of Cincinnati College of Law, impressed by the programs available and the sense of community at the school. "Cincinnati was the only area I visited that I truly felt a part of. I knew people were concerned about my well-being as well as my academic achievements. With the low cost of living, scholarships, and big city career opportunities, it was an easy decision."
When Ervin started law school, she planned to be an international human rights lawyer or a defense attorney. Thus, she came to UC Law as a Fellow for the Urban Morgan Institute for Human Rights. Immigration, criminal law, and civil rights law were all areas of interest. This led her to take courses and engage in activities that would help her become an advocate for marginalized groups. She was involved with the National Lawyer's Guild, the Black Law Student Association, and the Public Interest Law Society. During the summer, however, she worked as a Fellow for the Ohio Innocence Project and as an intern for the Hamilton County Juvenile Defense Division, which prepared her for criminal defense and client-centered advocacy. 
I knew that if I positioned myself as someone who could relate to both attorneys and loved ones impacted by the system, I could create trusting relationships and repair the harm caused by the carceral state.
Kanisha Ervin '21, Dinsmore P&G OIP Fellow
The fellowship that opened doors
Upon graduation, Ervin had the opportunity to return to the College of Law, this time in a new role. The Elk Grove, California native became the inaugural Fellow for the Dinsmore and Procter & Gamble OIP Fellowship, a unique Fortune 500, Am Law 200 partnership for recent law grads to join one of the most successful Innocence Projects in the country. The partnership—the brainchild of Dinsmore & Shohl LLP, Procter & Gamble (P&G) and the Ohio Innocence Project (OIP)—is designed to give recent graduates the opportunity to hone lawyering skills and gain experience in civil rights litigation and policy making.
Unique to this fellowship program is that it takes the corporate/law firm fellowship model and applies it to Innocence Projects. In addition to opening doors for new attorneys, the program will help establish a pipeline to attract and train candidates on how to litigate and advocate in the context of a dynamic civil rights organization. 
"This fellowship felt like a perfect fit for my goals and needs," said Ervin. "I wanted to engage in a criminal defense environment that would take the time to nurture the skills I had gained in law school. I wanted to learn from some of the most successful innocence attorneys in the country and personally witness their determination and grit to the cause of wrongful conviction. Moreover, I wanted to give students insight on how I made it through law school and the Ohio Innocence Project as a 2L."  
As a Fellow, Ervin has been able to use her skills and training to effect meaningful change. "I've learned that I enjoy writing persuasive briefs, conferring with co-counsel and strategizing over best practices," she said. "I have been able to develop and further my client advocacy, counseling and legal writing skills. That's all I ever wanted from advocacy and my legal career."  
She continued, "Since I was already familiar with the organization, I knew that I would have the freedom to teach classes on issues that mattered to me, interact with exonerees, and focus on rewriting the narratives of incarcerated persons.  Bridging the gap between people who are oppressed by the criminal legal system and those who make and enforce the rules of the system was my main focus. I knew that if I positioned myself as someone who could relate to both attorneys and loved ones impacted by the system, I could create trusting relationships and repair the harm caused by the carceral state."
This fellowship has the potential to put a system impacted person in a seat at the table.
Kanisha Ervin '21, Dinsmore P&G OIP Fellow
"Dinsmore began supporting this pivotal program in 2021 as a way to offer a lifeline to those lost in the maze of a complicated and often uneven and isolating criminal justice system. This year, in addition to applauding all of the fantastic results OIP has achieved, we celebrate Kanisha Ervin, the first graduate of the Fellows' program," said Marty Dunn, Chair of the Diversity Committee at Dinsmore. "Ms. Ervin is now ready to carry the torch and has opened a pipeline to attract and train candidates in civil rights litigation and policy making. Dinsmore's participation pales in comparison to the efforts of Kanisha and UC Professor Mark Godsey, who co-founded the OIP and has made it one of the most recognized Innocence Projects in the U.S."
Using policy to impact change
One of the unique features of the OIP is its emphasis on using policy and legislation to impact change. At Cincinnati Law, Pierce Reed, director of Policy, Legislation and Engagement, leads the policy making arm of the OIP. Ervin worked alongside him, learning the nuances of his role and its impact. She spoke about the importance of this work.  
"[It is my hope that] the work that Pierce does will lead to less wrongfully convicted persons. If juries, who are derived from the general public, understand junk science then they will be less likely to convict an innocent person. If police officers know the impact of interrogations and the likelihood of false confessions, then it is possible they will conduct better investigations. And if prosecutors learn to understand and overcome their inherent biases, then appropriate charges and sentences may be disseminated." 
As Ervin completes the final year of the fellowship, she shares that what stood out for her was "getting to speak to donors who do not know the impact of their work. I get to share stories with them at lunches and meetings that always seem like a David and Goliath tale." 
The OIP will be filling the fellowship position with another graduate who wants to make this type of impact. "It was an easy choice to continue our partnership with Dinsmore and the Ohio Innocence Project to provide an essential resource to advocate for the wrongfully convicted," said Susan Whaley (JD, '99), Chief Legal Officer at Procter & Gamble. "Sponsoring Kanisha's work for the past two years proved to be a meaningful way to engage externally to impact diversity in our profession and in the Innocence Project, as well as address bias and racism in our justice system.  We're looking forward to seeing the impact that the next fellow brings to OIP and our local legal community."
Ervin shares there's so much more to the story and her experience as a Fellow. "This fellowship has the potential to put a system impacted person in a seat at the table.  People of color have more interactions with the criminal legal system and receive harsher punishments in comparison to white people. These are undisputed facts. Increasing the number of impacted persons in the innocence network will aid in the cross-cultural competency of all attorneys and lead to better outcomes for incarcerated persons."
Where does Kanisha go from here
Ervin is excited about taking the lessons and truths learned as a Fellow to the next role in her professional journey—a position as an Intelligence Fellow for the Southern Poverty Law Center. She begins her new role this summer. "Seeing the many life-changing impacts of incarceration I want to help returning citizens regain their rights and assume a respectable quality of life. I want to inform them of the processes they can go through to get an education, driver's license, or their records expunged."  
"After this experience I know that client stories do not end with incarceration. When someone is released, they are freed from one system and subjected to another. I want to be in a position to help them thrive."
Featured image top: U.S. Supreme Court building. Photo/Unsplash.
2
Architecture Alive:
November 30, 2018
The University of Cincinnati, in collaboration with Kent State University and Heidelberg University, will begin researching the best methods for integrating plants and living systems within buildings as designed ecologies.