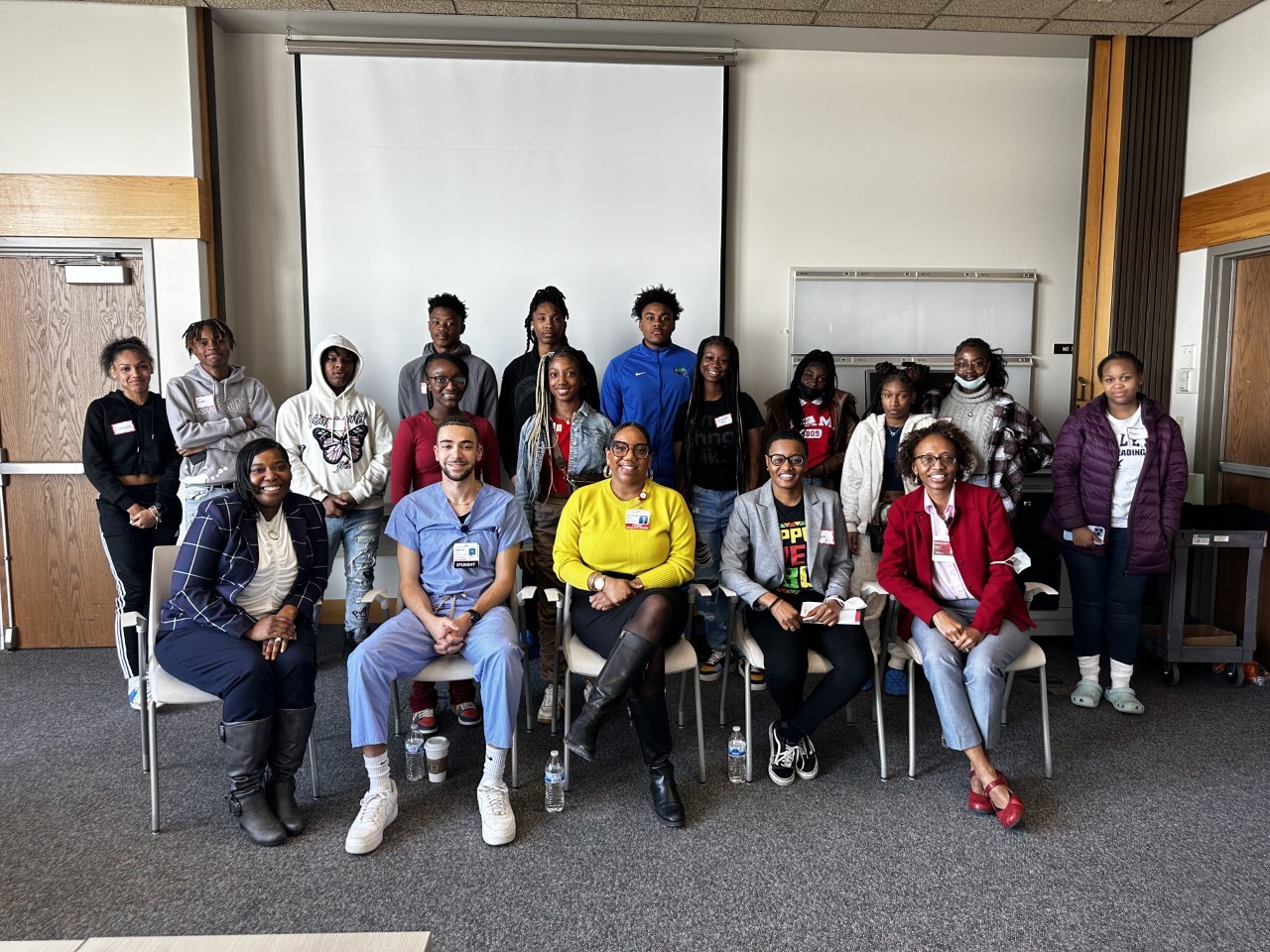 New nursing alumni council leaders seek to enrich student, alumni experience
Deasa Dorsey and Felicia Beckham bring a fresh perspective and new ideas to the group
Two University of Cincinnati alumni took on leadership positions on the College of Nursing's Alumni Council, and they are ready to make meaningful change.
Deasa Dorsey, '10, and Felicia Beckham, '08, '14, took over as president and co-vice president, respectively, in Fall 2022 and look forward to interacting with nursing students, alumni and leadership to make connections and offer new perspectives that enrich the student and alumni experience.
"I know in a positive sense I'm an effective catalyst for change," Dorsey says. "If something is the same-old, I'm generally the person who will look for opportunities to try something new." Dorsey replaced Kimmie Harrell, '10, '15, who resigned in August to focus on other commitments. Beckham and Francie Wolgen, '69, '83, longtime council member and champion of the college, are sharing the vice-president role.
The college's Alumni Council includes 17 members who meet quarterly to discuss relevant topics and plan alumni events. Members also read nominations and choose the recipients of the college's annual Torch of Excellence Nursing Awards (previously Nightingale Awards for Excellence in Nursing), which recognize Greater Cincinnati nurses.
Dorsey, who worked as a travel nurse across the country for several years, moved back to her hometown of Cincinnati in 2020 and founded iCan Health, which empowers individuals to reach their optimal state of health and currently focuses on those with prediabetes and type 2 diabetes. She also works as a clinical instructor in the college's bachelor's in nursing program and co-founded the Black Nurse Network, which fosters belonging and aims to ensure Black nursing students graduate and join the nursing profession. Dorsey has received multiple recognitions, including Cincinnati Herald's BRIGHT Award, UC's Onyx and Ruby Rising Star Award and the College of Nursing's 125th Alumni Legacy Award, and has been featured as an emerging leader in Who's Who in Black Cincinnati.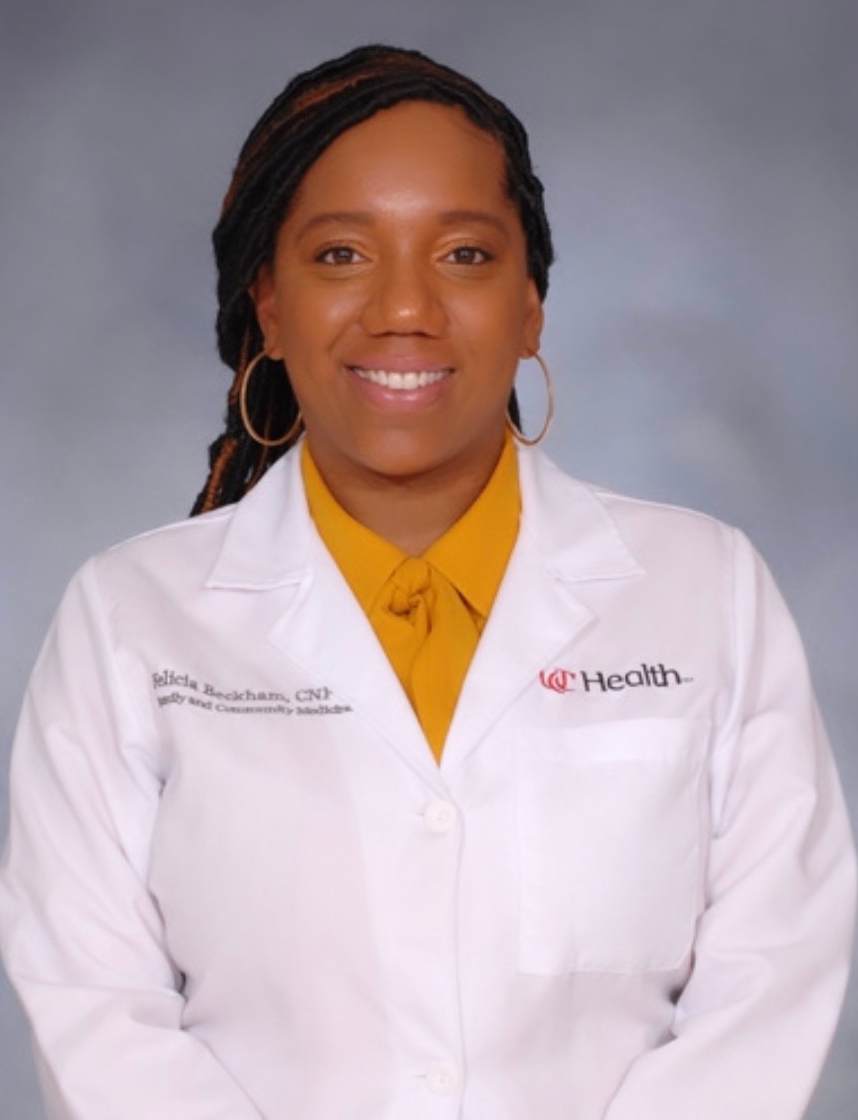 Beckham works as a nurse practitioner in the UC College of Medicine's Department of Family and Community Medicine, Division of Geriatrics. Like Dorsey, she's a Queen City native, having graduated from Cincinnati Public Schools before attending UC for her bachelor's and master's in nursing. She is the founder and president of Cincinnati's Black Nurse Practitioner Network and has received several awards, including the Cincinnati YWCA's Rising Star Award, STEMmys Health Care Professional of the Year Award and the College of Nursing's Florence Nightingale Award. In 2022, she was selected to present her co-authored work at Scientex Conferences' 2nd International Conference on Nursing and Women's Health Care in Paris, France.
With their varied and profound professional and personal backgrounds, Dorsey and Beckham aim to proselytize change within the college by sharing their experiences at UC and beyond, offering new ways for alumni to support students and create more opportunities for alumni to provide input on nursing education and diversity and inclusion.
"Our lived experiences, culture, ideologies and societal influences impact the care we provide to patients. As alumni, we have a different perspective on certain topics that could improve health care outcomes," Beckham says. "My goal is to empower other nursing and nurse practitioner students and our council to understand that if we look at anything through a different lens, what we perceive will be different."
In the months since Dorsey and Beckham took on their roles, they have planned two new events to connect students and alumni. For this year's Alumni Week, rather than offer the traditional BB Riverboat cruise, council members organized a trivia night at Rhinegeist Brewery in Over-the-Rhine where senior bachelor's in nursing students competed against alumni teams to test their nursing knowledge.
Dorsey and Beckham also have spearheaded the creation of roundtables to provide alumni an opportunity to gather and openly discuss topics relevant to the college and nursing profession. The first roundtable discussion is scheduled May 9 at 5:30 p.m. EDT at Woodburn Brewery in East Walnut Hills. The discussion will focus on diversity, equity and inclusion at the college. More details and registration will be sent via email to alumni.
"I think this will be a great way to start to be more solution-based," Beckham says of the roundtables.
Co-Vice President Wolgen, an alumni council member for nearly two decades, says with Dorsey and Beckham at the helm, she hopes to see more nursing alumni involvement.
"I believe it is important to have alumni of different ages and stages of their career involved. It is great to see Deasa and Felicia emerging as leaders. I hope to see a continuing growth in the council's numbers and increased interest in younger alumni joining the council," she says.
Featured image at top: Dorsey (first row, fourth from left) and Beckham (first row, third from left) at an event with Cincinnati Public Schools students interested in health professions. Photo/Submitted

Get Involved
UC College of Nursing alumni make up a diverse and active community of more than 15,500 nurses who share a common Bearcat bond and passion for the profession.  
Learn how you can get involved at alumni.uc.edu/nursing.

3
Uplifting stories help #UCtheGood
July 16, 2020
UC Marketing + Communications gathers recent uplifting stories to help the community focus on the good during coronavirus pandemic.