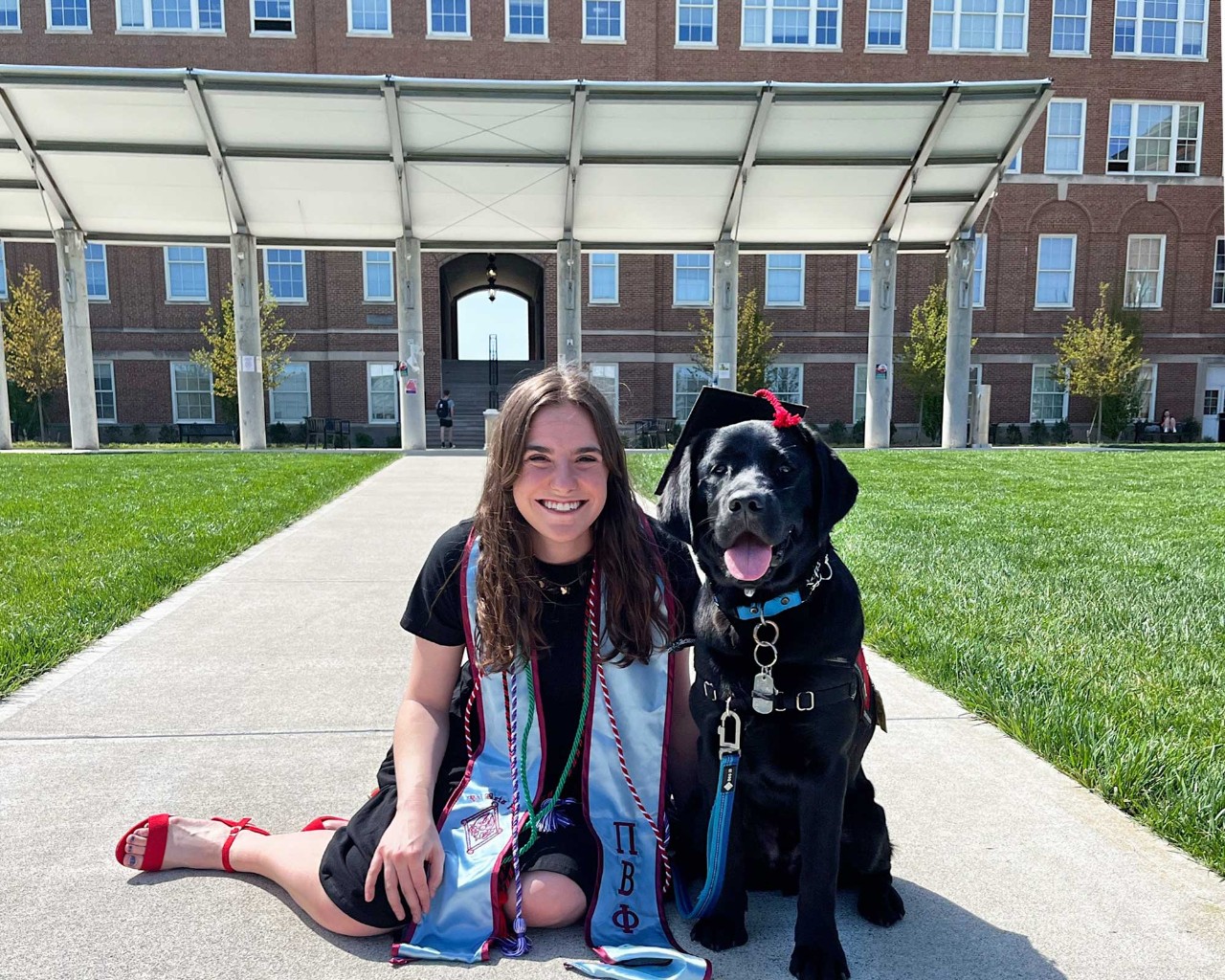 This dog is about to have his day walking at Commencement with a UC nursing graduate
Sara van de Sandt and Megan Peterson's work with UC 4 Paws for Ability enhanced their nursing skills
Catch Sara van de Sandt at the University of Cincinnati's upcoming Commencement Ceremony. She'll be the one with the black Labrador Retriever by her side.
Van de Sandt, a Bachelor of Science in Nursing (BSN) program graduate, has volunteered with UC's 4 Paws for Ability organization for two years, spending time with dogs who will become service animals for children and veterans with disabilities. For Lumen, the 9-month-old black lab, Commencement will offer exposure to a new situation as he trains to become comfortable in public settings.
Van de Sandt serves as a secondary trainer. When dogs' primary trainers are busy, van de Sandt is available to cover and take the dogs places.
"Even something as small as sitting on campus and watching people go by gets these dogs more comfortable in public so, when they're service dogs, they're not nervous in that situation," she says.
The experience has benefitted van de Sandt in numerous ways. Working with the dogs offered much-needed stress relief and improved her communication skills, key to successfully working with patients.
"Never did I think I could just walk up to a person and tell them all about what this dog is doing with me," she says. "As a nurse, you walk into a room of complete strangers and gaining trust with people can be hard; having good communication skills is a huge part of that."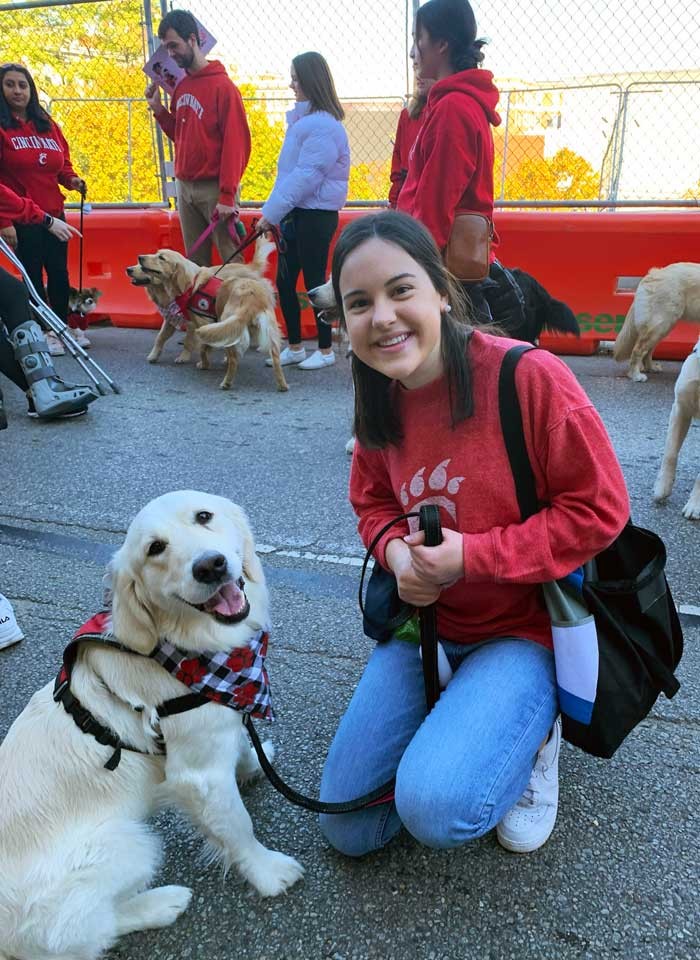 On the other side, nursing students complement the 4 Paws for Ability organization with their in-depth understanding of the health-related issues their dogs could support. The organization places dogs with children and veterans with autism, diabetes, hearing impairments, mobility challenges, seizures and more.
Taking it a step further, van de Sandt and fellow BSN Class of 2023 member and 4 Paws for Ability volunteer, Megan Peterson, worked with UC College of Nursing's simulation director, Robin Wagner, DNP, APRN-CNS, CHSE, to set up a time for three 4 Paws for Ability dogs, trainers and nursing students to interact in the college's sim lab. The exercise exposed the dogs to sights and sounds of a hospital environment.
"These dogs don't get a lot of opportunities to be around medical equipment before they're placed as a service dog, so it was a very good opportunity for them," says Peterson, who served as a primary trainer during her second year and on UC's 4 Paws for Ability board for the past two years.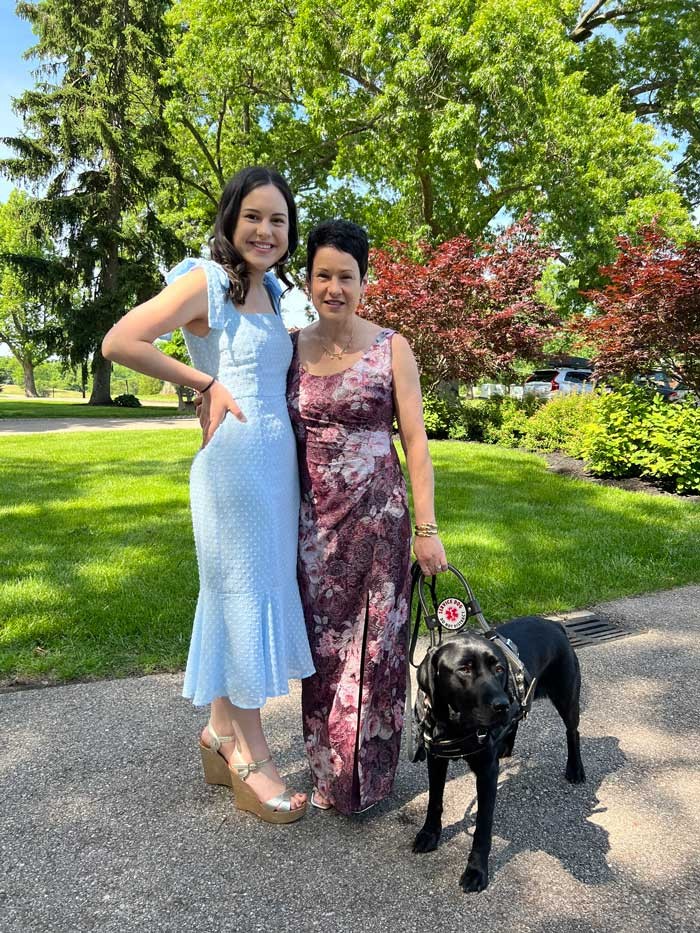 Along with her health care knowledge, Peterson's personal experiences also helped her appreciate the role of service animals. When Peterson was 10 years old, her mother suffered two strokes that left her with mobility issues, dizziness and vertigo. She was matched with a service dog, Scarlett, from a different organization a few years ago.
"It's insane how much of a difference (Scarlett) has made," Peterson says. "My mom is so much happier. She's so much more confident when she goes into public."
Watching nurses care for her mom, combined with an interest in science and helping others, inspired Peterson to become a nurse. She chose UC's BSN program because of its reputation and the clinical and co-op experiences it provides at nearby hospitals.
Following graduation Peterson and van de Sandt both will work at Cincinnati Children's Hospital Medical Center. Peterson will work in the pediatric intensive care unit (ICU) and van de Sandt in the neonatal ICU.
For now, van de Sandt and Lumen are preparing for Commencement. Both will don a cap — Lumen's fastened with an elastic band around his chin, which he has practiced wearing — and van de Sandt will stash ample treats in a pocket in her stole.
"As long as I have treats in my hand, he'll do anything I tell him to do."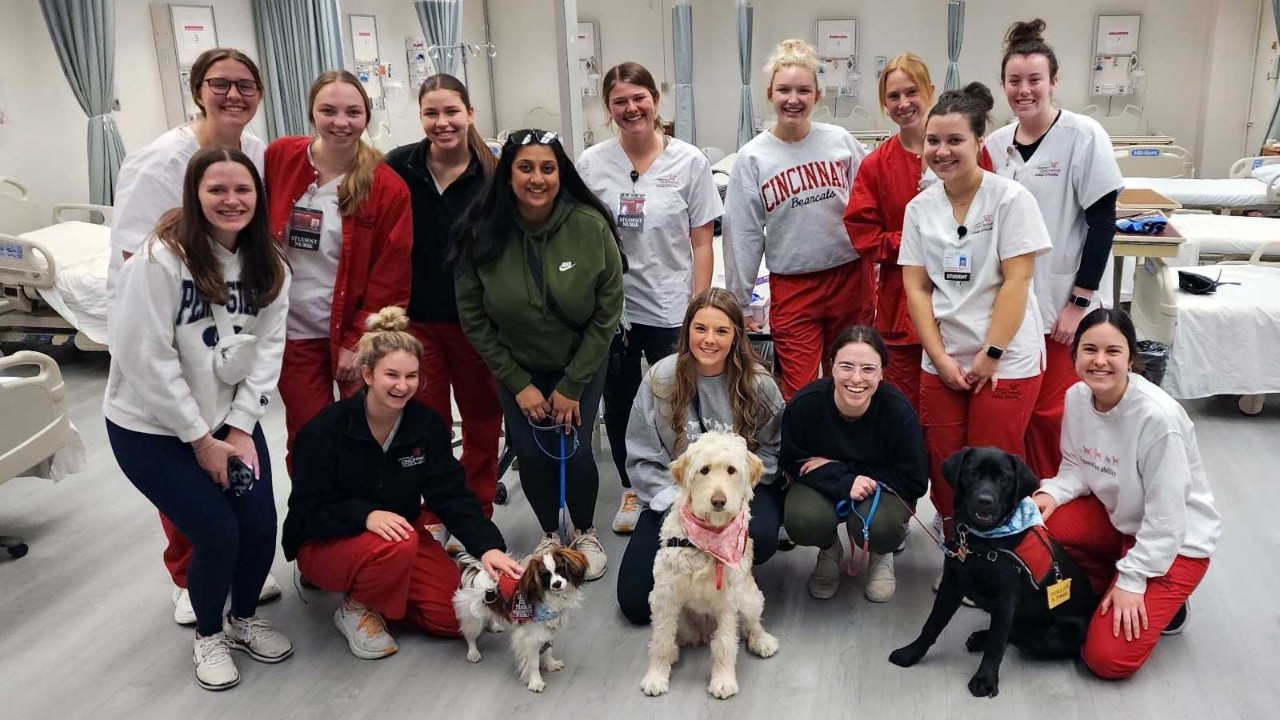 Featured image at top: van de Sandt and Lumen pose on campus in their Commencement regalia. Lumen, a UC 4 Paws for Ability service dog in training, will accompany van de Sandt, a BSN program graduate, at UC's Spring '23 Commencement Ceremony. Photo/Submitted

Learn about UC's Bachelor of Science in Nursing (BSN) Program
UC College of Nursing's direct-admit BSN program leverages technology and innovation; embraces diversity, equity and inclusion; promotes interprofessional collaboration; and enables experiential learning, so when students graduate, they're ready to lead in any setting.

1
'To make him proud was high on her list'
April 1, 2021
Alex Lewis lost her 82-year-old grandfather to Covid-19 just five weeks before her dream school showed up on the front steps of Roger Bacon High School to tell the senior that she has been admitted to the University of Cincinnati College of Nursing as part of a touching Decision Day surprise effort this year.
3
New UC program focuses on caring for the underserved
January 20, 2021
The UC College of Nursing and James L. Winkle College of Pharmacy are collaborating on a graduate certificate to train students to care for the underserved. There is a growing need in the community for health care workers with these skills.