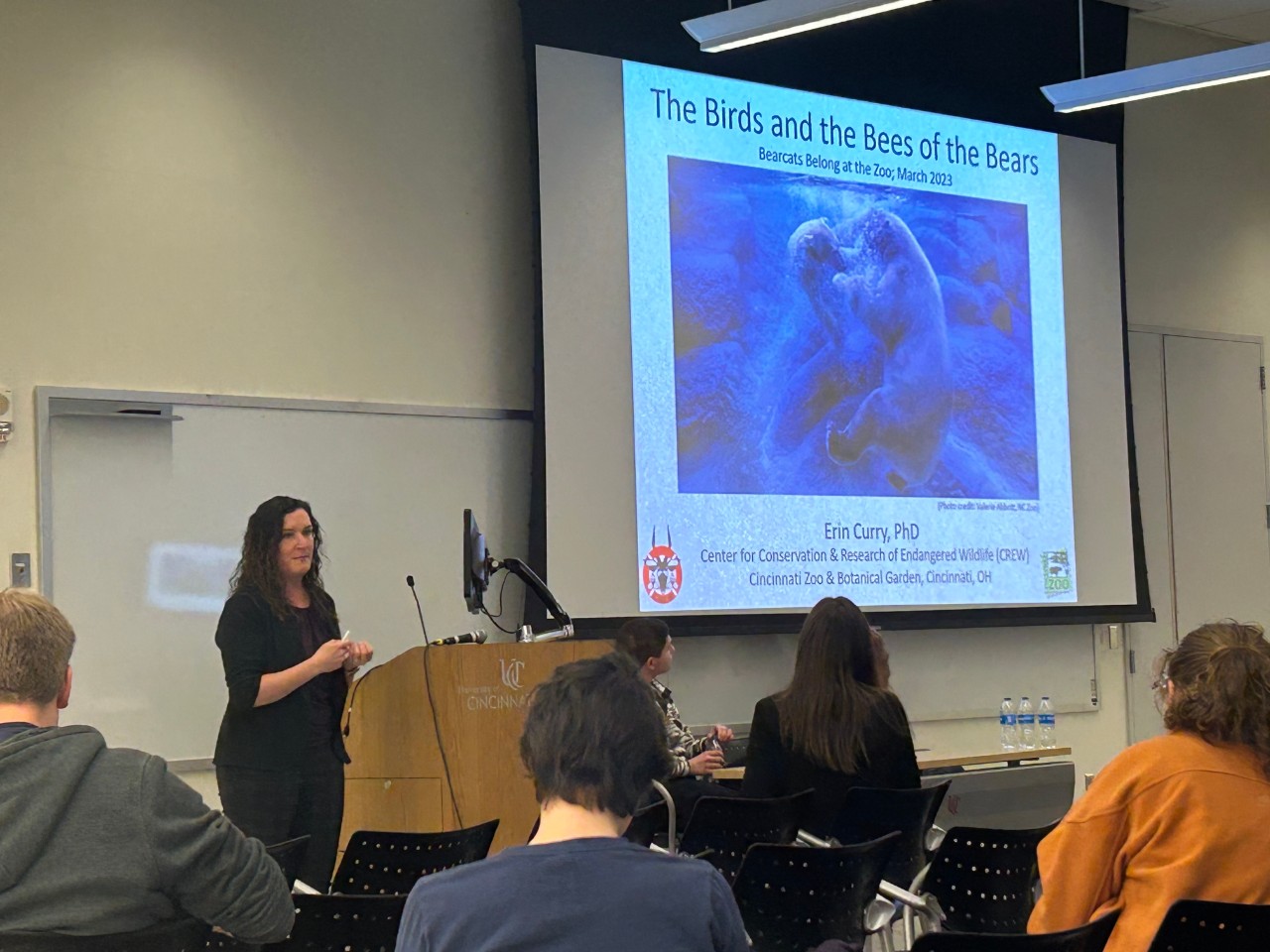 UC biology major organizes event to inspire wildlife conservation efforts
A&S student collaborates with Cincinnati Zoo, highlights zoological careers
Between 200 and 2,000 extinctions occur on Earth every year, according to The International Union for Conservation of Nature (ICUN), a global environmental association.
For Jacob Danner, a fourth-year biology major in UC's College of Arts and Sciences, this fact is alarming. He has a strong passion for wildlife conservation, and after hearing Lily Maynard, director of global conservation at The Cincinnati Zoo, present her research and speak of her community outreach efforts, Danner was inspired to act on that passion.

Internship inspires action
During his sophomore year, Danner landed an internship at the Cincinnati Zoo and became familiar with the zoo's important roles beyond animal caretaking. Armed with new knowledge in the realm of wildlife conservation, Danner collaborated with May
"The main goal of the event was to provide information to Bearcats on how their chosen discipline of study may apply to animal and botanical conservation efforts of zoos," Danner said. "I hoped this outreach program helped UC students better understand zoological facilities, field research and wildlife conservation."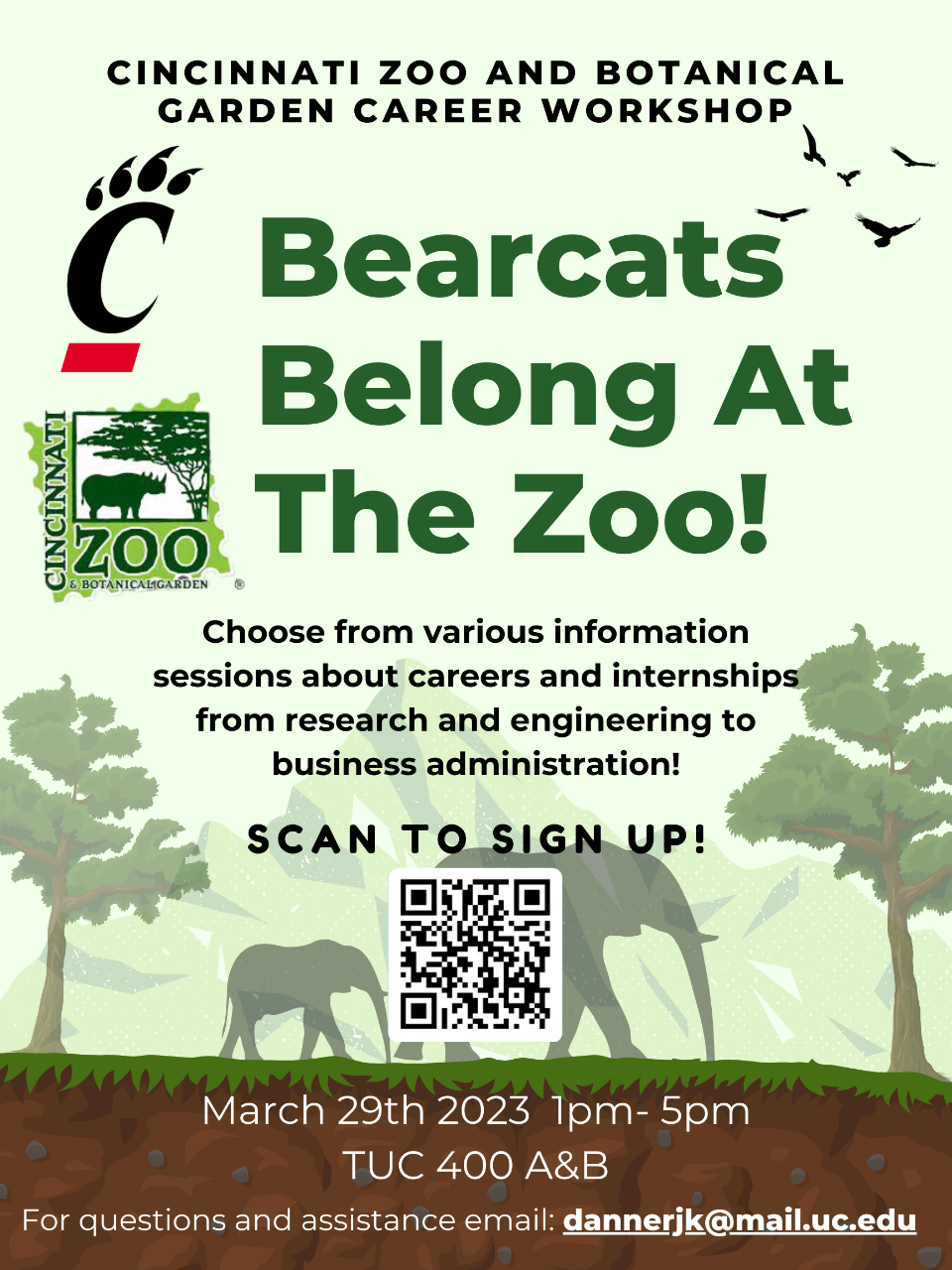 Last month, rooms 400 A&B of the Tangeman University Center were booked for Bearcats Belong at the Zoo, an event that showcased more than 10 guest speakers from the Cincinnati Zoo's research, engineering, landscaping and architecture, and business and administration departments. More than 130 UC students attended the event to learn how their areas of study could directly contribute to wildlife conservation efforts. 
To highlight the vast opportunities available to aid in wildlife conservation, Danner's event culminated with a career panel that featured Cincinnati Zoo experts including Sarah Elam, Mollie O'Neil, and Barbara Henry.

"At the end we had a career panel that highlighted other professions such as education, animal nutrition, and curation and it was such a positive turnout," Danner said. "Every student was engaged. It was amazing."

Although Danner is about to graduate, he aspires to transform "Bearcats Belong at the Zoo" into an annual event. He trusts that the individuals who share his passion for wildlife conservation will oversee the event successfully.
"I am currently talking with freshmen, sophomores, and juniors who are interested in taking over the project from me once I graduate. I already have a few third years in mind and I hope to keep continuing to meet people who are interested."

"I am so grateful to all the UC Bearcats for supporting this event. Having so many supportive students and professors makes me very grateful."

Danner plans to pursue a graduate degree in hopes of becoming a member of a field research team focused on threatened species survival programs.

"My dream is to be the leader of a dedicated people at a zoo whose research creates the opportunity for endangered species reintroduction programs."
Featured image at top: UC students attend Bearcats Belong at the Zoo career and conservation event. Credit/Ryan Smith
By Ryan Smith
Student Journalist, A&S Department of Marketing and Communication
artscinews@ucmail.uc.edu
1
'Somos familia'
April 26, 2023
"Somos familia" means "we are family," and students from throughout the Latinx community are building family, finding success and continuing a legacy at UC.