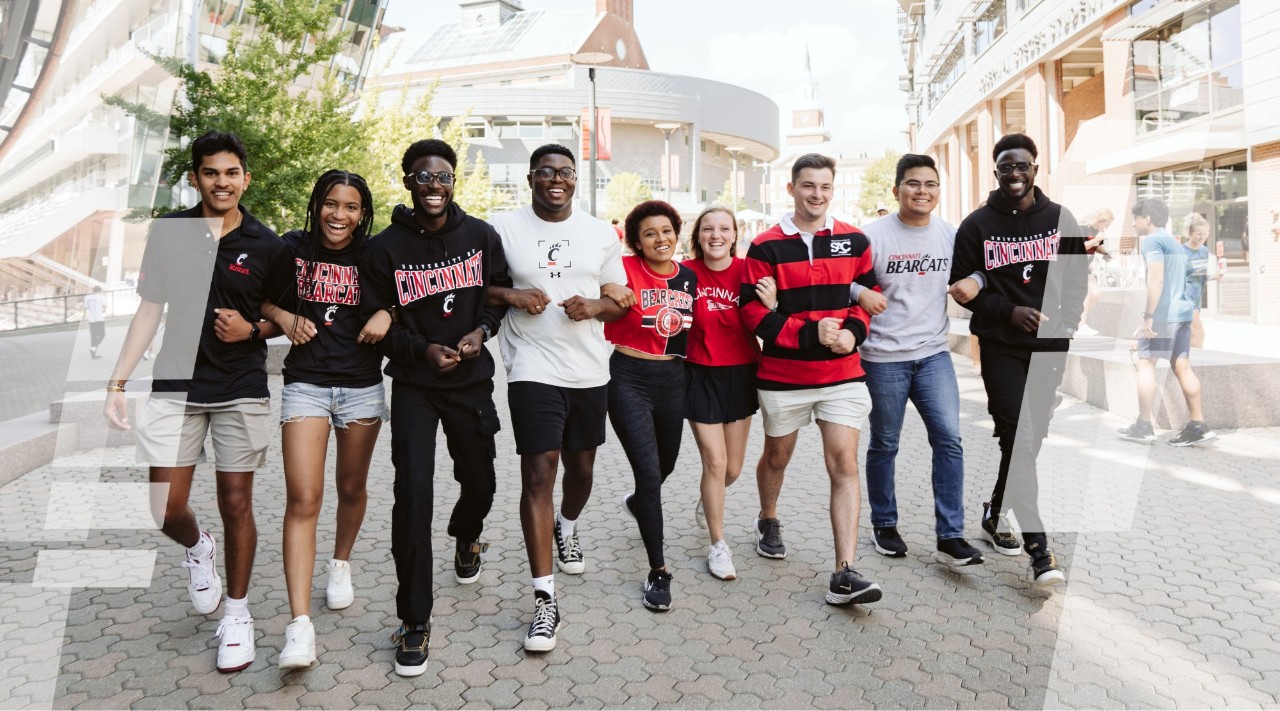 UC Day of Giving spotlights strength of Bearcat unity
A noon-to-noon celebration that shows the power of philanthropy in elevating UC and the community
UC Day of Giving, the University of Cincinnati's annual 24-hour celebration of community and philanthropy, is back and will run from noon on Tuesday, April 18, through noon on Wednesday April 19. Over the course of the day, members of the UC family from all around the world will come together to support the causes they love most at UC. Gifts – no matter the size – when combined with thousands of others, can help UC thrive in every way and demonstrate the change that's possible when #BearcatsGive. 
Coordinated by The UC Foundation and UC Alumni Association, the event provides a unified avenue for philanthropic engagement within the UC community. These 24 hours are also powered by dozens of Day of Giving volunteer ambassadors encouraging participation through their social media and personal networks. And the festivities continue all week long as the UC Alumni Association's Alumni Week is kicked off by this celebration.
"Bearcats are known for coming together and transforming ideas into impact," said Peter E. Landgren, president of the UC Foundation. "I look forward to seeing our community join forces and drive change during this 24-hour challenge."
Bearcats are known for coming together and transforming ideas into impact,
Peter E. Landgren UC Foundation President
More than $140,000 in dollar-for-dollar matching gifts have been provided by donors and organizations providing an excellent opportunity for community members to make their annual gift have an even greater impact. Additionally, 20+ challenges will be in effect during the 24-hour giving day. These generous commitments will encourage competition between donors from different colleges and geographic regions, allowing Bearcats across the country to make an impact. Prizes will be awarded in the form of additional donations to the winners' chosen funds or causes. These matches and challenges, together, will elevate the overall impact of UC Day of Giving.
"Each of us can point to something within the university community that we're passionate about because of our personal experience and interests," said Jennifer Heisey, Chief Alumni Officer. "UC Day of Giving is the ideal time to make a gift to support the part of UC that means the most to you. When alumni give, we collectively elevate the entire university. Let's see what kind of impact we can make together in just one day."
2
UC Serves 2023 underscores university's commitment to Cincinnati community
April 27, 2023
This year, the university is celebrating the return of UC Serves – a day for staff and faculty to share the experience of intentional, focused service to the communities surrounding the University of Cincinnati campuses and beyond. The day of service helps connect UC with community neighbors and build stronger connections among university employees. UC Serves brings staff and faculty to the front lines in supporting UC's institutional commitment to service and community impact in support of our local non-profit partners.