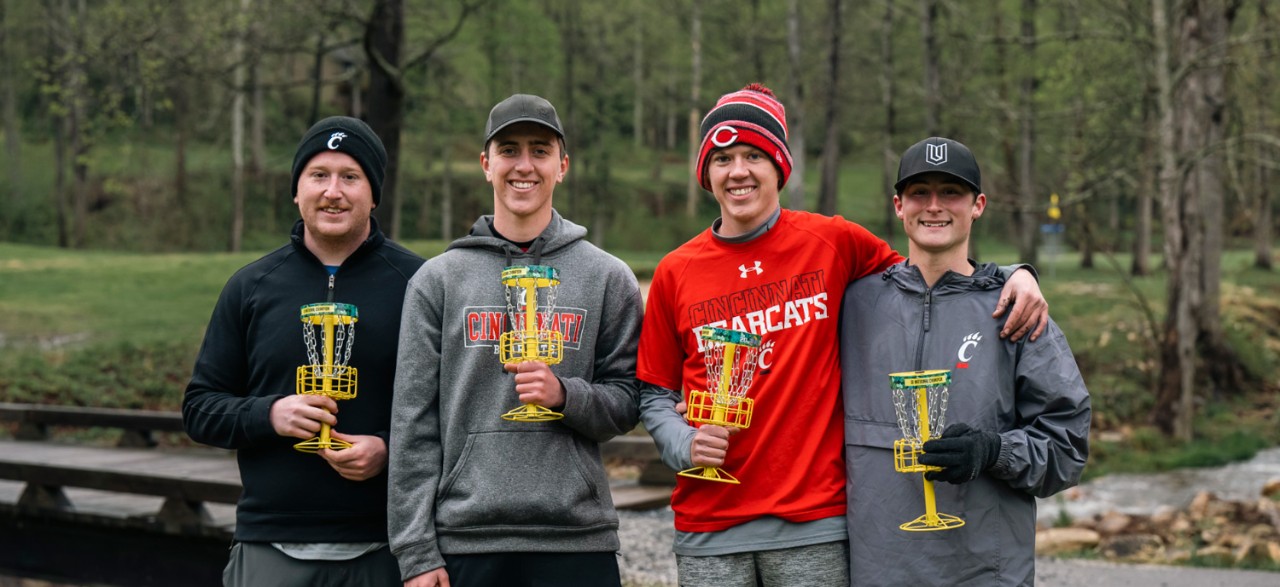 UC wins College Disc Golf national championship
'Discats' take home top honors in team and singles club competition
The University of Cincinnati won the national disc golf championship during a tournament in April in Marion, North Carolina.
The UC team consisting of students Calvin Caldwell, his brother Bradley Caldwell, Kyle Taylor and Tanner Young came from behind to beat Emporia State and 61 other teams from across the country in the College Disc Golf National Championship.
More than 700 players from 80 schools took part in the competition across three divisions.
Young, a first-year student in UC's Lindner College of Business, also took home the national singles trophy for Division I. Calvin Caldwell, a senior in UC's College of Engineering and Applied Science, finished second against a field of 251 other players.
Disc golf is a club sport at UC, but it's growing in popularity, faculty adviser Sam Antoline said. He is an adjunct professor in UC's College of Engineering and Applied Science and manager of UC's Digital Fabrication Lab.
"Disc golf really took off during the pandemic when it was a good option for people who were stuck inside," Antoline said.
Sometimes called Frisbee golf, disc golf is a game in which players try to toss a disc into a metal basket in the fewest number of throws on a course laid out much like a golf course with woods, open fairways and water hazards.
Team President Jacob Johnston, a marketing major in UC's Lindner College of Business, said Cincinnati is a fantastic place for disc golf with lots of public courses, including an 18-hole course adjacent to campus at Burnet Woods.
"After a long day or I've taken tests, I'll head over to Burnet and I'm more than happy to throw a couple discs and get my mind off everything for a couple hours," Johnston said.
"When I came to UC, having good disc golf courses nearby was high up there among my priorities," Johnston said. "Cincinnati is probably in the top 10 of disc golf cities in the country. I know some students who chose to come to Cincinnati because of the local disc golf courses on the scene."
Our mindset was we had to shoot fire and win every hole.
Calvin Caldwell, UC national disc golf champion
UC brought 12 players in three divisions to the tournament in North Carolina. They faced stiff competition, particularly from last year's champion, the University of Missouri, and Emporia State University in Kansas, home to national disc-maker Dynamic Discs.
"Emporia State's head coach is a former world champion," Johnston said. "It was definitely an underdog story for us."
UC's winning team appeared on a disc golf podcast where they discussed their come-from-behind team victory and singles win.
"Emporia State was looking really good. They had Missouri to deal with but they were handling them, no problem," podcast host Trevor Staub said. 
"Our mindset was we had to shoot fire and win every hole," UC's Calvin Caldwell told Staub.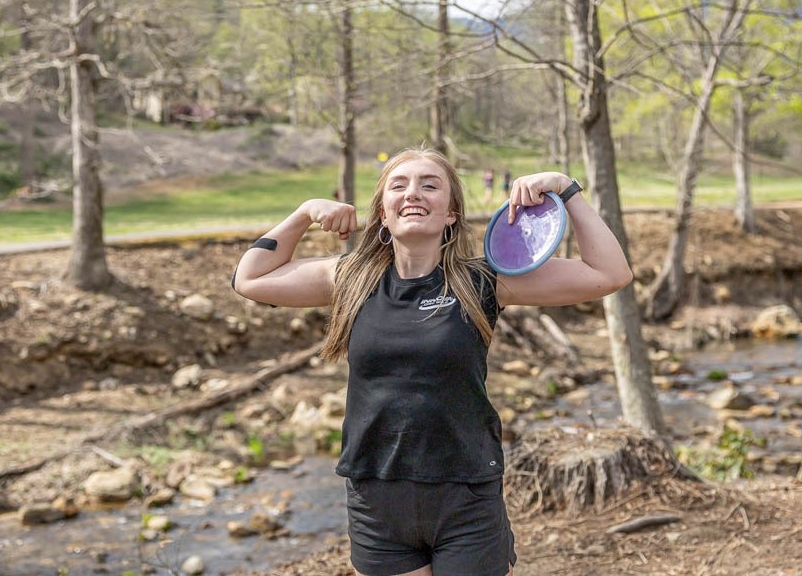 UC was behind Emporia State by five strokes in the final round of 18 holes, but UC played well and chipped away at the lead, Young said.
"We had great chemistry and stood by each other all week," Young said. "We really had to show resilience and mental fortitude."
Young said he was the only player on the team with cell reception on the course, so he kept his teammates informed about the other teams' standings. With just two holes to play, he realized they were just two shots shy of the lead.
UC finished strong while Emporia double-bogeyed both final baskets, giving UC the win.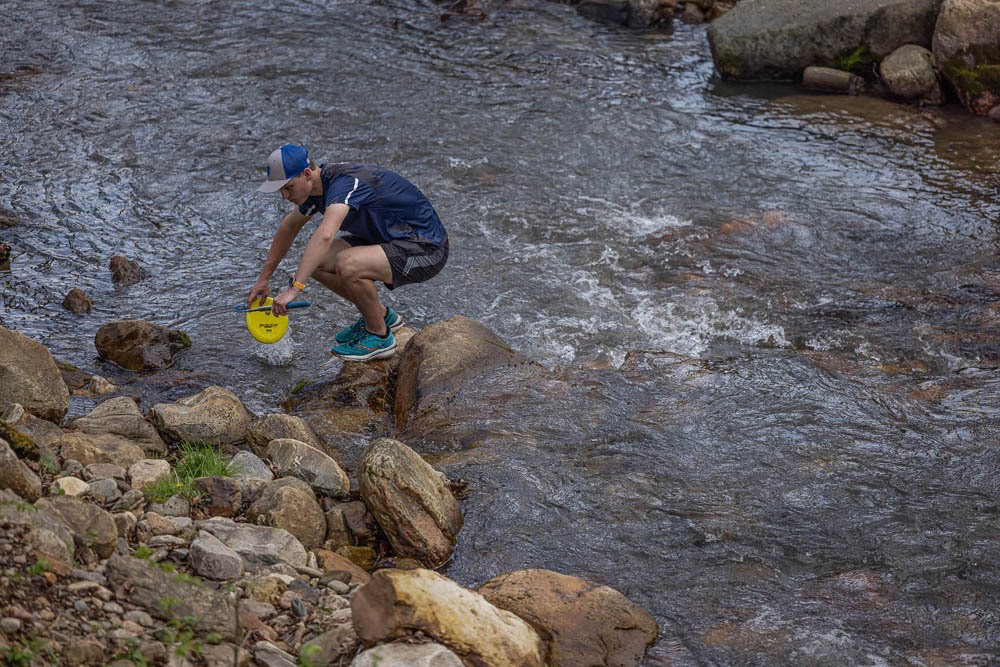 In singles competition, Tanner finished his last round in the lead and had to wait to see if it would stand. He described his victory during his first collegiate championship tournament as "incredibly surreal."
"Going into the final round, I found myself just two strokes off the lead," Young said. "I was extremely calm, despite the stressful conditions of competing for a national championship, and was just able to get into this zone where I feel I am at my best."
UC received a full-size basket trophy along with smaller individual trophies commemorating their win.
"We have a ton of seniors graduating this year, so if anyone would like to take the next steps and join the club, they are more than welcome to give it a shot," Young said. "They can play for the defending national champions!"
Featured image at top: The UC Discats celebrate after winning the College Disc Golf National Championship in Marion, North Carolina. The winning team included players Tanner Young, Calvin Caldwell, his brother Bradley Caldwell and Kyle Taylor. Photo/Jacob Johnston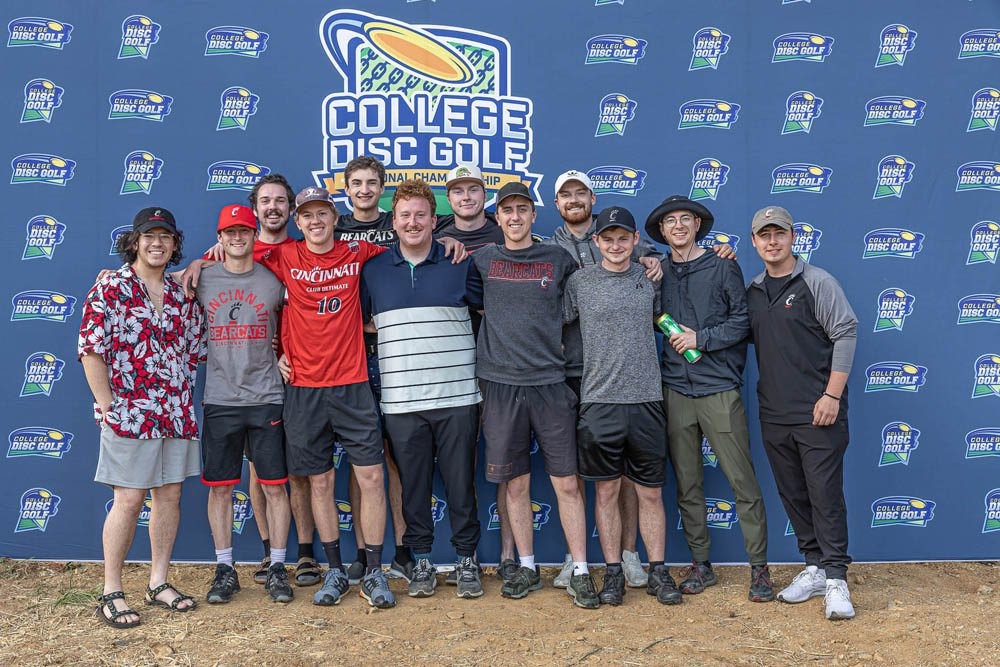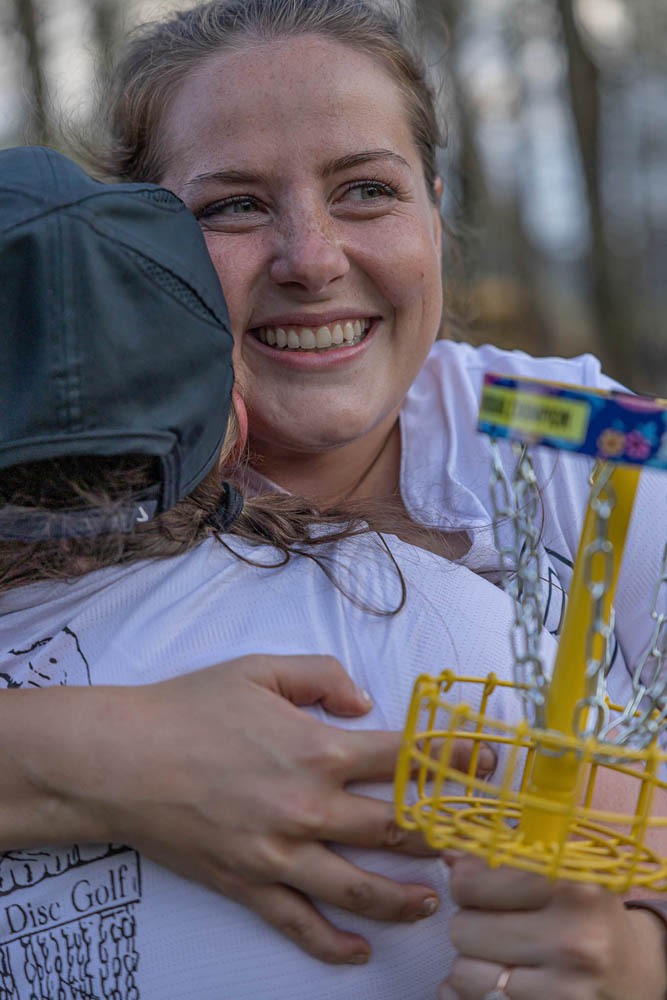 Greater Cincinnati has a wealth of good disc golf courses, but here are some recommended by UC Discats President Jacob Johnston:
Mount Airy Forest: (5083 Colerain Avenue, Cincinnati) Hilly course in a mature forest.
Woodland Mound Park: (8250 Old Kellogg Road, Cincinnati) Scenic course on a pair of ridges overlooking the Ohio River.
Johnson Hills Park: (7950 Bridle Road, Anderson Township) Wooded course with some steep hills.
Idlewild Park: (5550 Idlewild Road, Burlington, Kentucky.) Challenging pro-level course near Cincinnati/Northern Kentucky International Airport.
1
Bearcat dreams come true on Decision Day
January 23, 2023
The newest Bearcats learn they've been accepted into the University of Cincinnati on Decision Day, and UC officials surprised area students at their high schools with admission, scholarships and more.
3
Uplifting stories help #UCtheGood
July 16, 2020
UC Marketing + Communications gathers recent uplifting stories to help the community focus on the good during coronavirus pandemic.