UC's Live Well Collaborative celebrates 15 years of innovation
P&G-co-founded organization gives students experience with development of real-world products
Inclusive design is used to create products that are accessible to people of all backgrounds, regardless of age, ability or experience.
This empathetic, user-centered approach to design is central to the Live Well Collaborative, a research and design platform for students to learn and develop new products, founded in 2007 by the University of Cincinnati and Cincinnati-based consumer goods giant Procter & Gamble (P&G). Live Well marries the design expertise at the university with the deep consumer understanding at P&G to make better products and experiences for the masses.
Through Live Well, interdisciplinary teams of UC faculty and students use an inclusive design-thinking approach to translate consumer research into products and services for P&G and other partners like the Boeing Company, Cincinnati Children's Hospital Medical Center and the Council on Aging of Southwestern Ohio.
Live Well was founded with a mission to address the needs of older adults. Today the collaborative oversees projects for living well across the lifespan, not just for adults over the age of 50 — from innovating airplane cabins to designing CPR training.
The collaborative will host a 15-year anniversary celebration event, with studio tours, innovation recognition and more, 5-7 p.m., Thursday, April 27, at the 1819 Innovation Hub. 

"For the past 15 years, the success of Live Well's design-centered innovation lab has been its focus on human-centered, translational research, working across the lifespan from children to seniors," says Craig Vogel, UC professor and Live Well president and co-founder.
"We have demonstrated that students working in teams with guidance of faculty and industry experts can generate unique innovation that cannot be replicated in any other form of professional activities in companies or consultancies."
"This program is a great example of what's possible when we bring the design expertise of UC together with the innovation capability of P&G," adds Jerry Porter, Live Well board president and Chief R&D and Innovation Officer, Fabric & Home Care, Flavor & Fragrance, at Procter & Gamble. "We can really create more positive experiences in everyday living for more people."
Live Well's impact
100+ faculty advisers involved
1,000+ students involved
116 studio projects completed
16 corporate and institutional partners
Live Well success stories
Partner: Procter & Gamble
Goal: Assessing the ergonomics of Swiffer products
Live Well's role: Used principles of universal design to address needs of aging consumers: Store shelves were redesigned with a universal design focus to make shopping accessible for any consumer; new grip designs focus on the consumers' needs and how the products are intended to be used; graphic changes were applied to the packaging design with consideration to vision ailments and consumer's confusion with current packaging.
"The work of the Swiffer Ergonomic Design and Packaging team brought to light how our products can better serve more consumers by understanding different perspectives on the full product experience — from shopping, to opening, first use and even engaging with instructions," says Porter. "This program helped us deliver an irresistibly superior experience for more people."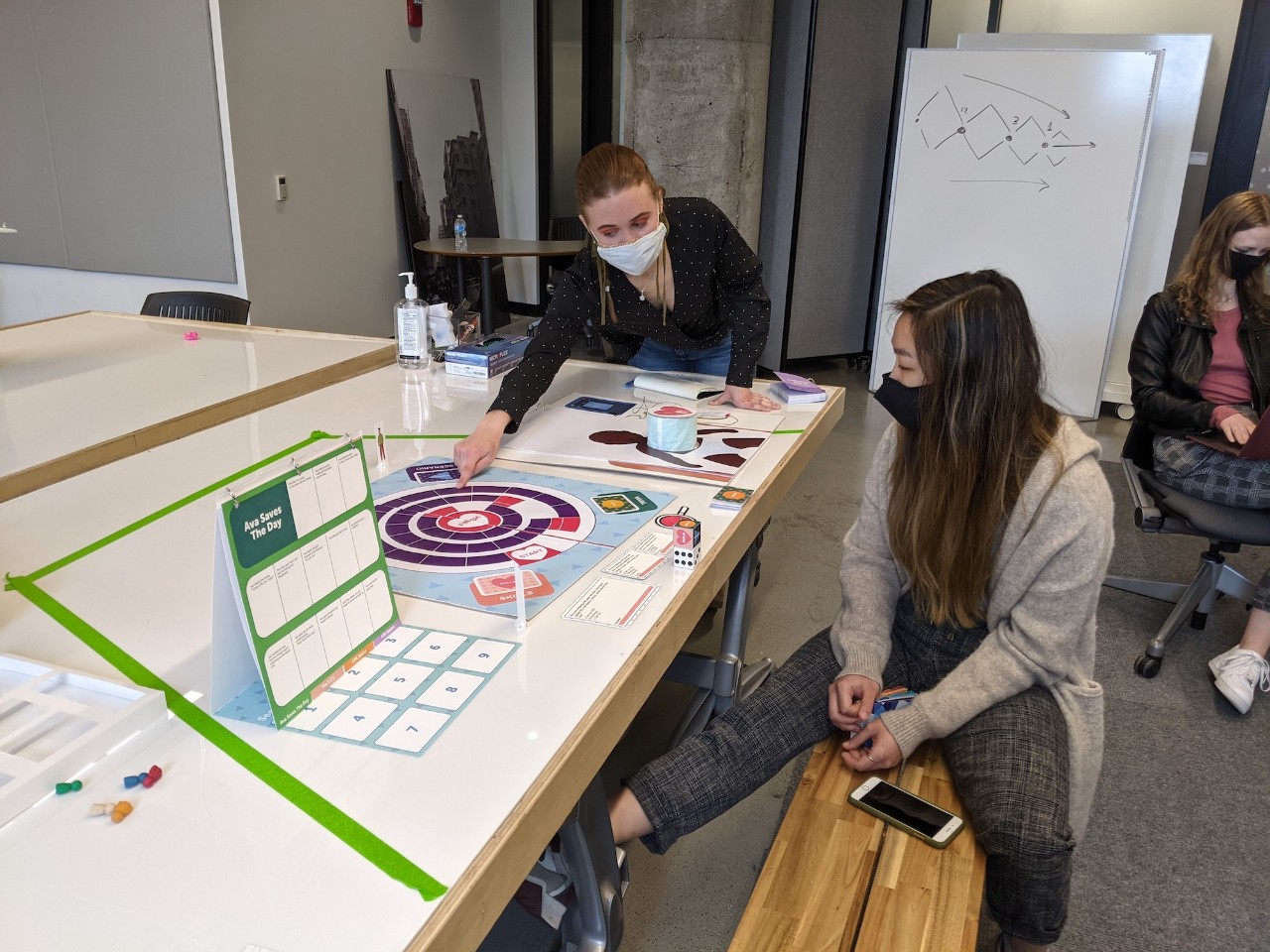 Partner: Cincinnati Children's Hospital Medical Center
Product: CPR toolkit in a game format to help people with intellectual or developmental disabilities master important lifesaving skills
Live Well's role: Tested and refined the design with the intent that it would be more inclusive for end users: Photos and graphics representing many races and abilities; cards in large print for those with visual impairments and sequenced game methodologies for improved understanding.
Performing CPR is a skill that almost anyone can learn, yet most CPR courses are not designed for people with different learning needs. To earn CPR certification, a student must sit through hours of classroom instruction, understand written concepts, demonstrate chest compressions and take a test. For those with special learning needs or for whom reading is difficult, passing this type of course can seem overwhelming and can get in the way of securing employment that requires CPR certification. 
Attainment Company, an independent, family-owned company serving people with disabilities and based in Verona, Wisconsin, secured the rights to bring it to market.
"Working with Cincinnati Children's Hospital on the CPR + AED kit game was an incredibly rewarding experience," says Anabel Graciela, a 2022 graduate of UC's College of Design, Architecture, Art, and Planning (DAAP) and a Live Well postgraduate fellow. "Throughout the project, we had the opportunity to collaborate closely with stakeholders from Cincinnati Children's and Project SEARCH. Their feedback informed the development of the project. This allowed the team to understand their needs and goals for the game, which allowed us to create a product that was tailored to their specific requirements. I feel very privileged to have played a part in the development of this game."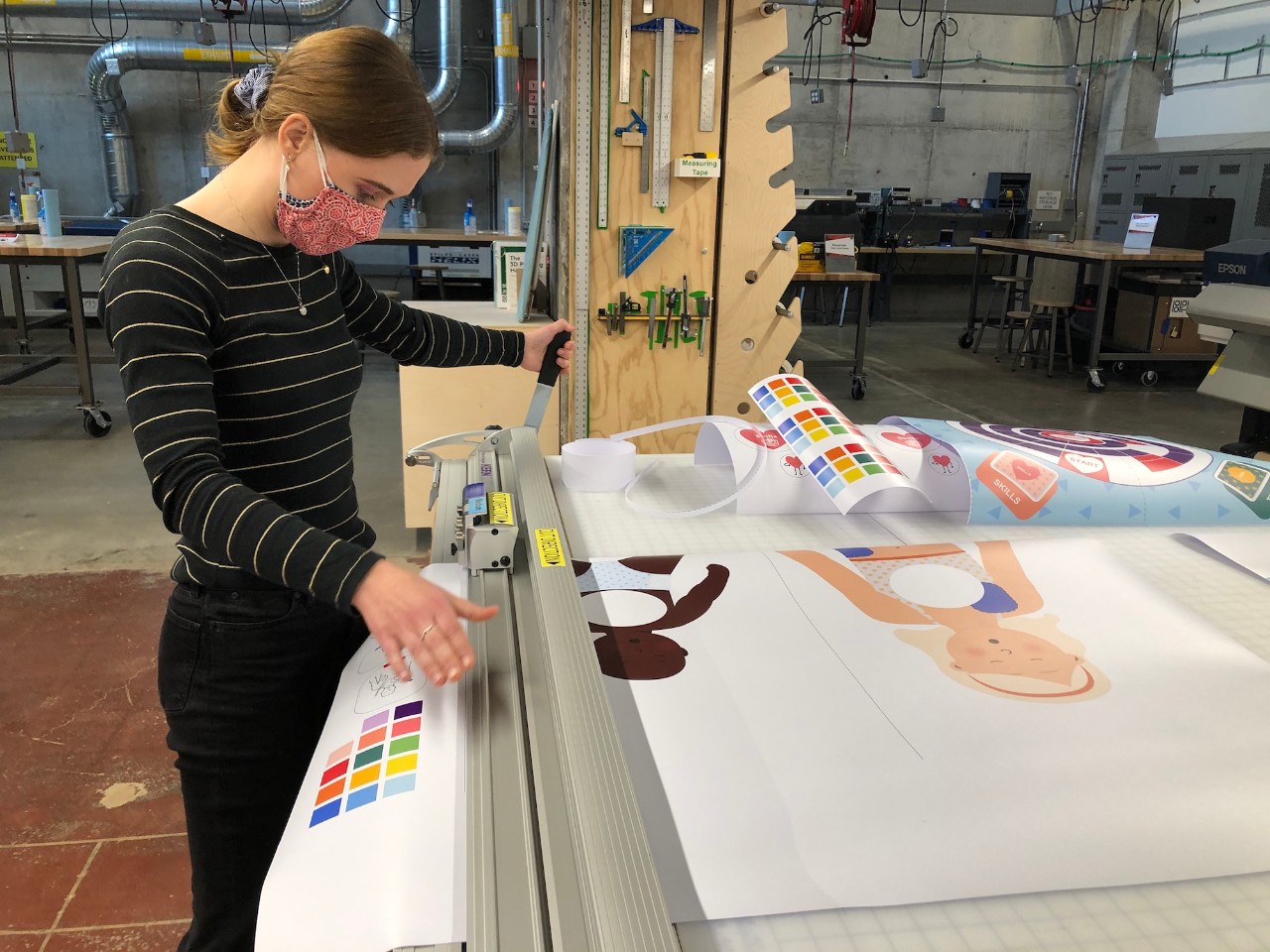 Partner: Cincinnati Children's Hospital Medical Center
Product: Breathing-controlled video game to help young kids relax when it's time to put on an anesthesia mask and fall asleep for surgery
Live Well's role: Developed the user interface for the game so it could be integrated into a fast-paced medical environment
The tablet-based gaming app, which features cartoon animals that children are able to move by breathing into a mask, helps reduce anxiety during the anesthesia-induction process. 
EZ Induction seamlessly transforms a scary anesthesia mask into a fun game controller. When the child puts on the mask and starts to breathe in and out, they win different challenges in the game. The child learns how to play the game in a preoperative area, and then is offered the opportunity to play the final level when they go back to the operating room to fall asleep for surgery.
LittleSeed, based in Powell, Ohio, has further refined the concept to ready it for commercialization.
"Having the opportunity to work on this project with Cincinnati Children's was an experience that I greatly value," says Brad Young, a 2018 DAAP graduate. "The project grew my empathy as a designer. Live Well and Cincinnati Children's gave me the opportunity to step out of the theoretical and into the painful problems of real-life innovation — the kind of innovation that could make a difference in someone's life. This was the first time that my desire to design a helpful product was driven by my heart for the consumer. I wish that every UC industrial design co-op had the opportunity to experience and learn what I did through this project. I am grateful to have been a small part of something that I know will be a blessing to many people."
Partner: Council on Aging of Southwestern Ohio
Product: App that offers a secure space where older adults who need in-home care can match up with care providers
Live Well's role: Identified solutions to alleviate the critical national shortage of home health aides and developed the user interface for the app

In AddnAide, older adults and direct care workers create personalized profiles to improve the matching process. Profiles highlight care needs, caregiving skills and schedule preferences, giving older adults and workers more control of the caregiving relationship. A professional care manager monitors care, and all payroll and time management functions are managed within the app, cutting down on paperwork for all parties. Communication about care needs and changes also happens within the app.
AddnAide aims to expand the pool of individuals available to serve older adults who need care. Based on successful gig-economy models used by companies like Uber, AddnAide is ideal for individuals who want flexibility in their work schedule, such as stay-at-home parents, retirees and students. It's also ideal for community-minded individuals who want to give back while supplementing their income.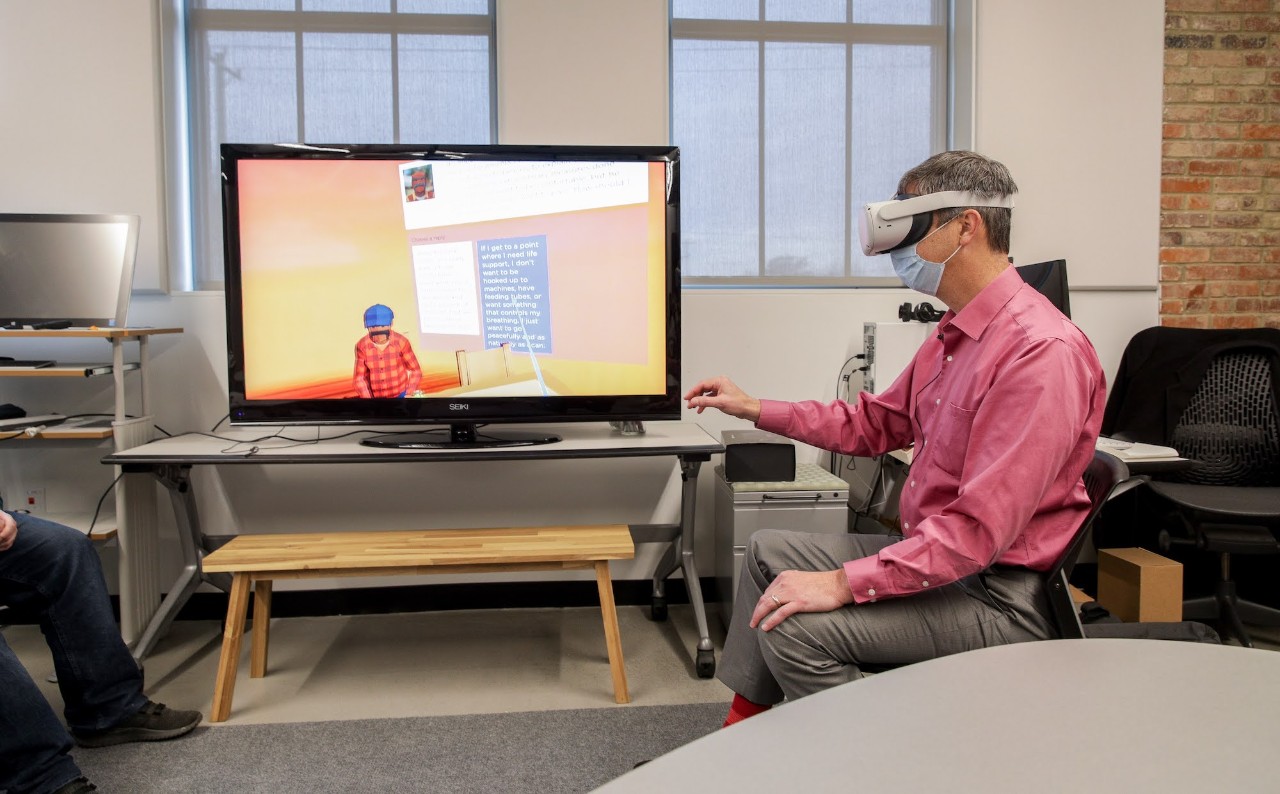 Partner: Council on Aging of Southwestern Ohio
Product: Virtual reality experience designed to help family caregivers feel more comfortable with their role and improve the caregiving experience
Live Well's role: Identified an efficient and effective way to support caregivers of older adults — many of whom are forced into the role because of the home health aide shortage or pandemic-related service disruptions; co-created scenario scripts with end users and translated them into VR experiences. 
EVRTalk presents caregiving situations from both the caregiver's and the care recipient's points of view, helping to encourage empathy and understanding of what older adults may experience when being cared for. Participants wear a headset and are immersed into a complete environment equipped with digital conversations and graphics.

EVRTalk is built on real-life scenarios, including medication management, conversations about incontinence, talking down a hallucination, caregiver burnout and discussing end-of-life wishes.
Featured image at top: Live Well's current class of students/provided
Innovation Lives Here
The University of Cincinnati is leading public urban universities into a new era of innovation and impact. Our faculty, staff and students are saving lives, changing outcomes and bending the future in our city's direction. Next Lives Here.
1
UC's $10.6 billion impact
May 9, 2023
The University of Cincinnati delivers a significant economic boost to the region and state of Ohio thanks to alumni impact, operations and research spending, student demand for goods and services, launch of startup companies and more.