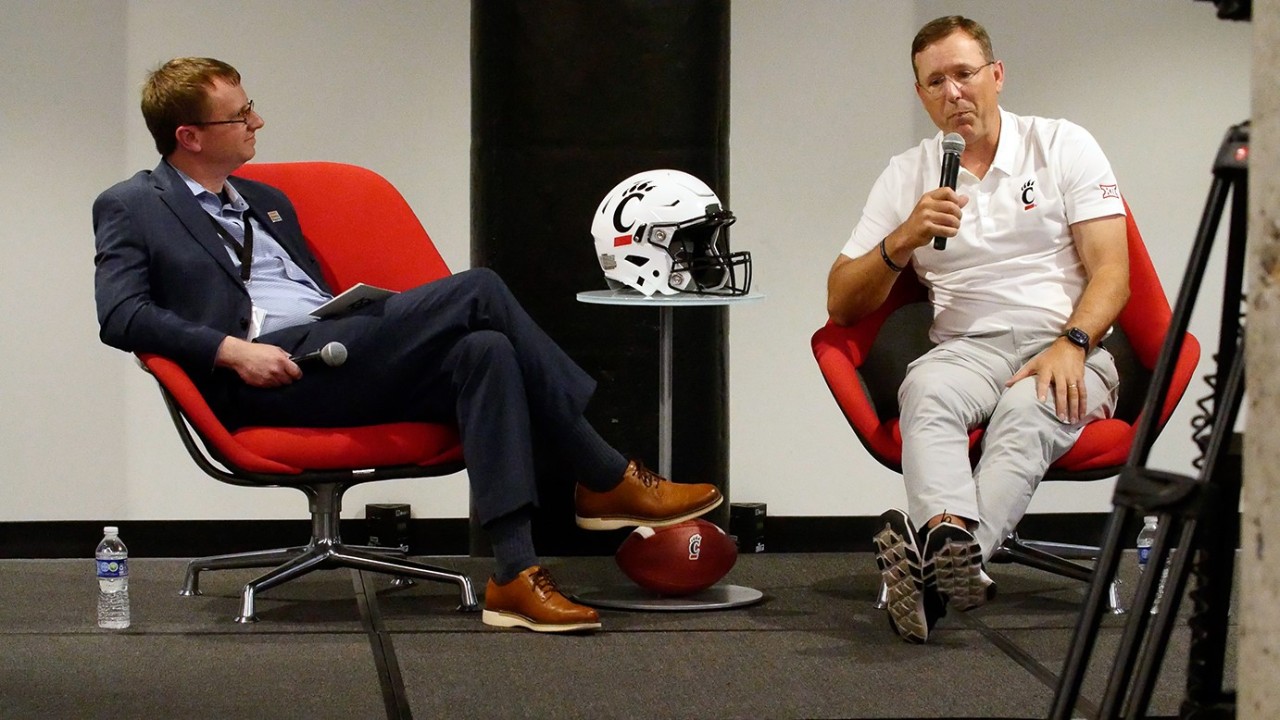 A conversation with UC football coach Scott Satterfield
New UC football coach discusses leadership and the culture he wants to create
When Scott Satterfield was introduced as the new head football coach at the University of Cincinnati in December 2022, UC athletic director John Cunningham spoke of how the players wanted a coach who was "authentic, tough, honest, competitive and straightforward."
Those qualities were on display during what was billed as a fireside chat at the university's 1819 Innovation Hub on May 24 where Satterfield discussed a variety of topics with Ryan Hays, executive vice president and chief innovation and strategy officer at UC, before an audience of leading CEOs in Cincinnati.
The 43rd head football coach at UC, Satterfield holds a winning record in his 10 years as head coach at both Louisville and Appalachian State, leading the Mountaineers to three straight conference titles and four bowl appearances from 2013-18 before taking over the Louisville Cardinals in 2019. A Durham, North Carolina native, Satterfield was named the 2018 Sun Belt Coach of the Year at Appalachian State before earning 2019 ACC Coach of the Year honors after his first year leading Louisville.
Acknowledging the business leaders in the room, Hays started by asking Satterfield about the growing trend of books on business addressing the importance of character and culture.
"I think culture is a word that gets thrown around a lot, whether it be sports teams or businesses," said Satterfield. "Every single day we're creating our culture by how we interact with people and what we allow to happen. We want it to be a culture of being positive. We are in a world of negativity; we see it every day. We want to surround ourselves with people trying to be positive and doing things the right way and treating people with respect. I think when you do that, more times than not, great things are going to happen."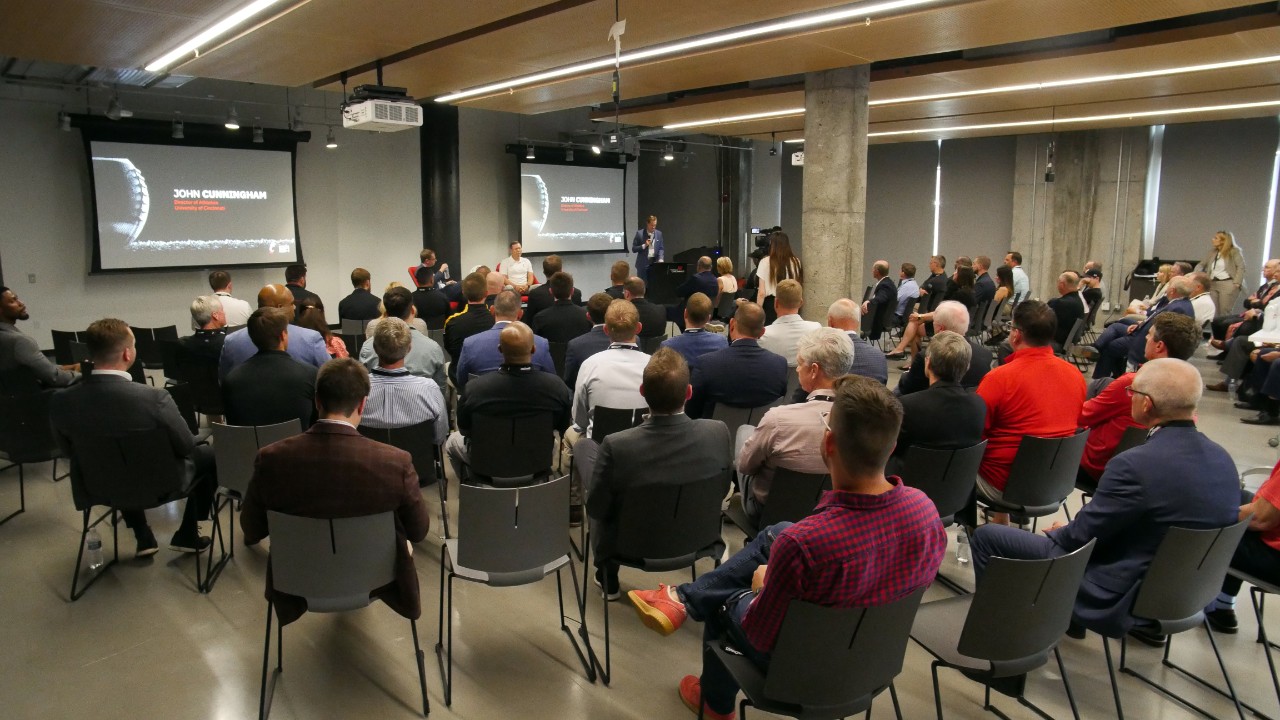 Coming to UC with a culture already in place was a major factor in his decision to move his wife, Beth, and his family north on I-71 from Louisville, Kentucky.
"Quite honestly, it's the reason why I came to Cincinnati," Satterfield said. "When I met with the president, when I met with John Cunningham — the leadership is why I wanted to be a part of UC. I want to surround myself with those types of people."
Hays noted the setting for the event was the 1819 Innovation Hub — a place where the university wants people to challenge the status quo and think differently. He asked Satterfield how he brings a perspective of innovation to his world as a football coach. Satterfield said he will navigate the challenge of recruiting with two new developments that are both dramatically changing the landscape of college sports. These two include name, image and likeness (NIL), a term that describes the means through which college athletes are allowed to receive financial compensation through marketing and promotional endeavors including autograph signings, product endorsements, social media posts, and more.The second challenge is the transfer portal, college football's answer to free agency.
"We're changing with that," said Satterfield. "We're trying to think ahead of what's going to happen down the road. These are the rules, so what can we do now? You have to embrace the new rules and new things that are happening. If you don't, you're going to get left behind. We've embraced it from day one and our guys are always thinking and brainstorming on ways to capitalize on that."
Satterfield says a key part of the culture he is establishing is not having a fear of failure whether it's in recruiting or calling plays on game day.
"I want my staff to be able to think that way — that 'Hey, this isn't good. Let's look at it a different way and try it out,'" Satterfield said. "If you can do that, that's when innovation happens, that's when you may be on the cutting edge of something to help you be successful in any industry that you're in."
What's great about my job is I get to surround myself with like-minded individuals that think the same way, that all pull in the same direction. When things are not going well, they're going to say, 'Let's just keep working,' because it's all going to pay off.
Scott Satterfield
Satterfield says his own personal journey — as a non-scholarship player who walked on as a quarterback at Appalachian State and wound up being the starting quarterback on an undefeated team his senior year — shaped his philosophy of how he coaches and evaluates players. He says his first game as a starter his sophomore season was the worst game of his career, throwing three interceptions and fumbling twice. That performance resulted in him being dropped back to the bottom of the quarterback depth chart.
"I learned a valuable lesson there, that we're all going to have failures, but keep working, just keep working," he said. He wound up starting the final three games of that season and says that success was also a learning moment. "What I learned during that time was not to quit, not to give in. You can have disappointment, you can have a little bit of doubt creep in. But no matter how dire it looks or if things are not going your way, keep working."
Those lessons learned as a player proved invaluable when, after nine seasons as an assistant coach at Appalachian State, he took over as head coach, replacing Jerry Moore, who had a successful 24-year run with just one losing season. In Satterfield's first season at the helm, the team only won four games which had some questioning whether he was the right man for the job.
Those questions got louder the following season when his team started out 1-5, giving him a 5-12 start to his head coaching career. Things turned around with a win on the road and Appalachian State went undefeated the rest of the season to finish 7-5.
"Having gone through that time as a player taught me to just keep working," Satterfield said. "We're all going to face adversity, we're all wondering 'Is this really worth it?' It is.
"What's great about my job is I get to surround myself with like-minded individuals that think the same way, that all pull in the same direction. When things are not going well, they're going to say, 'Let's just keep working,' because it's all going to pay off."
The audience had the opportunity to ask questions and one of the business leaders asked Satterfield what type of support he looks for from the local business community, other than writing a check. Satterfield immediately responded by pointing to the co-op program at UC.
"We use that in recruiting," he said. "We talk about helping them get a job. We're going to do some great internship things here because a lot of these parents and student-athletes think about that. At some point, we're going to hang the helmet up, we're going to hang the cleats up. What are you going to be able to do? You're going to want to surround yourself with a community that's going to be able to help you further your career — whatever that may be — outside of football. I think that's huge and very valuable because those types of experiences are lifelong."
Lead photo of Ryan Hays and Scott Satterfield/Greg Glevicky
Next Lives Here
The University of Cincinnati is leading public urban universities into a new era of innovation and impact. Our faculty, staff and students are saving lives, changing outcomes and bending the future in our city's direction. Next Lives Here.
2
A conversation with UC football coach Scott Satterfield
May 30, 2023
UC football coach Scott Satterfield was the centerpiece of a fireside chat hosted by Ryan Hays, the Executive Vice President & Chief Innovation and Strategy Officer at the University of Cincinnati at the 1819 Innovation Hub.
3
UC, CID create innovative buzz with Great American Insurance partnership
April 20, 2021
The University of Cincinnati announces its new partnership with the Great American Insurance Group (GAIG). Establishing a workspace within UC's 1819 Innovation Hub will provide GAIG with frictionless access to UC's diverse talent and successful opportunity to connect with other corporate CID partners to advance its innovation initiatives.