Fox19: Students mix biology, engineering to build robots
Biology Meets Engineering demonstrates how science is collaborative
Fox19 highlighted a novel University of Cincinnati summer program that introduces high school students to engineering and biology.
Students from Cincinnati-area high schools took part in the three-week Biology Meets Engineering program in which students learn about animal senses to design robots equipped with a combination of sensors to accomplish tasks.
Walnut Hills High School sophomore Trinity Charles shared how she designed a robot that uses sensors to identify a spectrum of colored LED lights that it can recognize and match with its own colored lights.

Colerain High School sophomore Jericho Williams designed a robot with visual sensors that can recognize and follow a "trail" made of tape.
"This is my first real engineering camp," Jericho said. "I'm feeling pretty confident in my robot."
The program was created with a grant from the National Science Foundation to develop a curriculum drawing from both fields in UC's College of Arts and Sciences and its College of Engineering and Applied Science.
Organizers will offer a similar program for UC students in the spring.
The course offers unique cross-training to help prepare students to pursue careers in STEM fields — science, technology, engineering or math.
"What we think is exciting is bringing fields together and allowing students to see the collaborative nature of science and engineering," said Stephanie Rollmann, a professor of biology and the principal investigator for the program.
After spending three weeks incorporating what they learned about animal senses into their robots, the students gave a public demonstration to family members and faculty. 
Featured image at top: Students in UC's Biology Meets Engineering program wear colored goggles to learn more about vision during an exercise. Photo/Andrew Higley/UC Marketing + Brand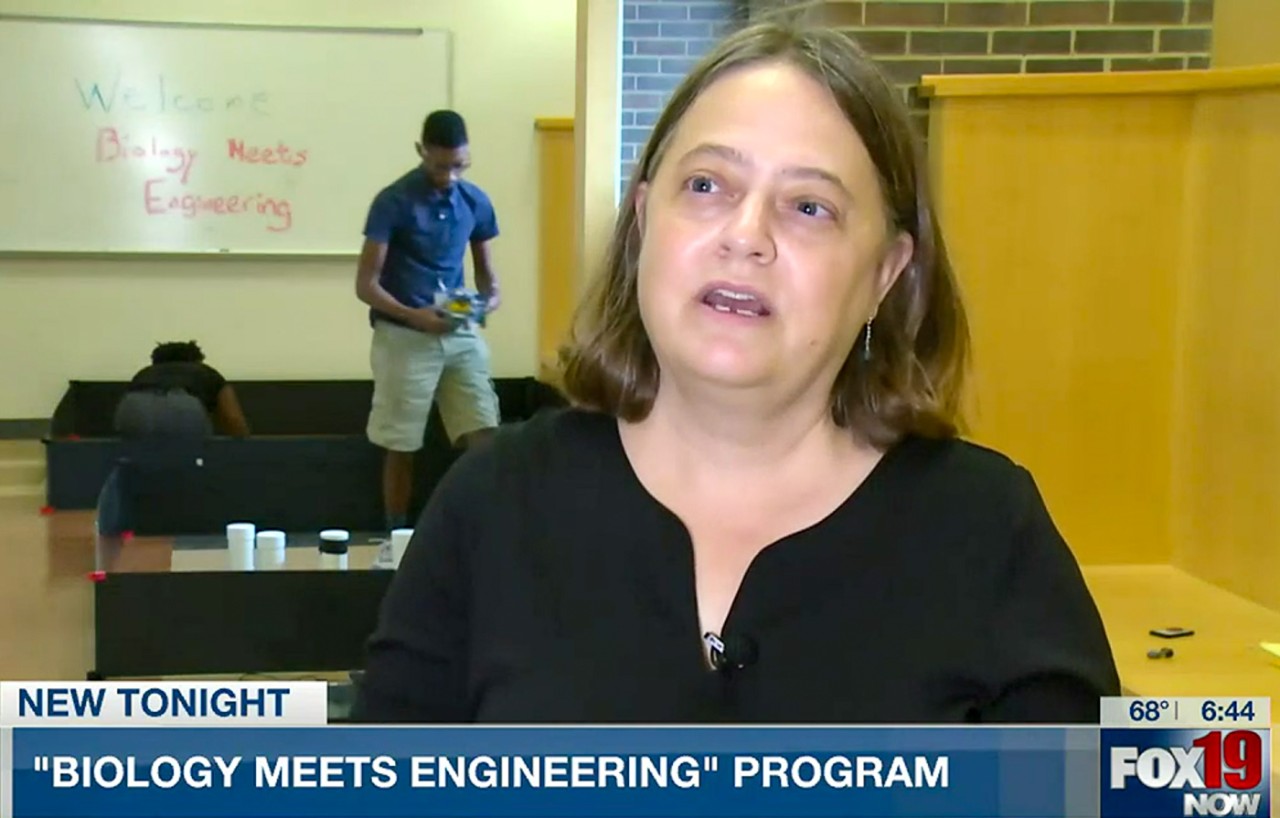 2
UC offers summer course on animal-inspired robotics
May 23, 2022
The UC creators of Biology Meets Engineering are wrapping up a three-year National Science Foundation grant to develop and demonstrate a new curriculum drawing from both fields in UC's College of Arts and Sciences and its College of Engineering and Applied Science. UC students take the class for course credit while faculty will offer a three-week course in June to introduce the concept to high school students.
3
UC breaks summer enrollment record two years running
June 24, 2021
UC welcomes its largest summer class in university history by nearly 500 students. Preliminary summer 2021 enrollment is at 20,618 students, up 2.4% from 2020, when UC previously surpassed the university's summer enrollment record. The upward trajectory represents a longtime trend in summer enrollment.