Tech experts discuss AI breakthroughs at UC 1819 Innovation Hub
Strategic partners unite, educating leaders from across the region
At the University of Cincinnati's 1819 Innovation Hub, strategic partners Microsoft, BTS and Cintrifuse joined forces in early June to showcase advancements in artificial intelligence (AI).
The event was an 1819 Learning Lab Discover Session designed to help Cincinnati Innovation District partner companies understand emerging technologies and how they can create new opportunities and advantages for their business.

In what was described by attendees as "information-packed," "compelling" and "engaging," the event brought together innovation leaders from the greater Cincinnati region to discuss the pros and cons of AI. Presenters and panelists included:

Peter Mulford, global partner and chief innovation officer with BTS



Melissa Lacefield, principal Azure cloud solution architect, Microsoft
Madiha Khan, category lead, banking and capital markets, Azure Marketplace, Cloud and AI, Microsoft
Pete Blackshaw, CEO of Centrifuse
Kirsten Moorefield, co-founder and COO of Cloverleaf
AI is the simulation of any cognitive task using math by training algorithms to use predictive insights from data.
Peter Mulford Global partner and chief innovation officer, BTS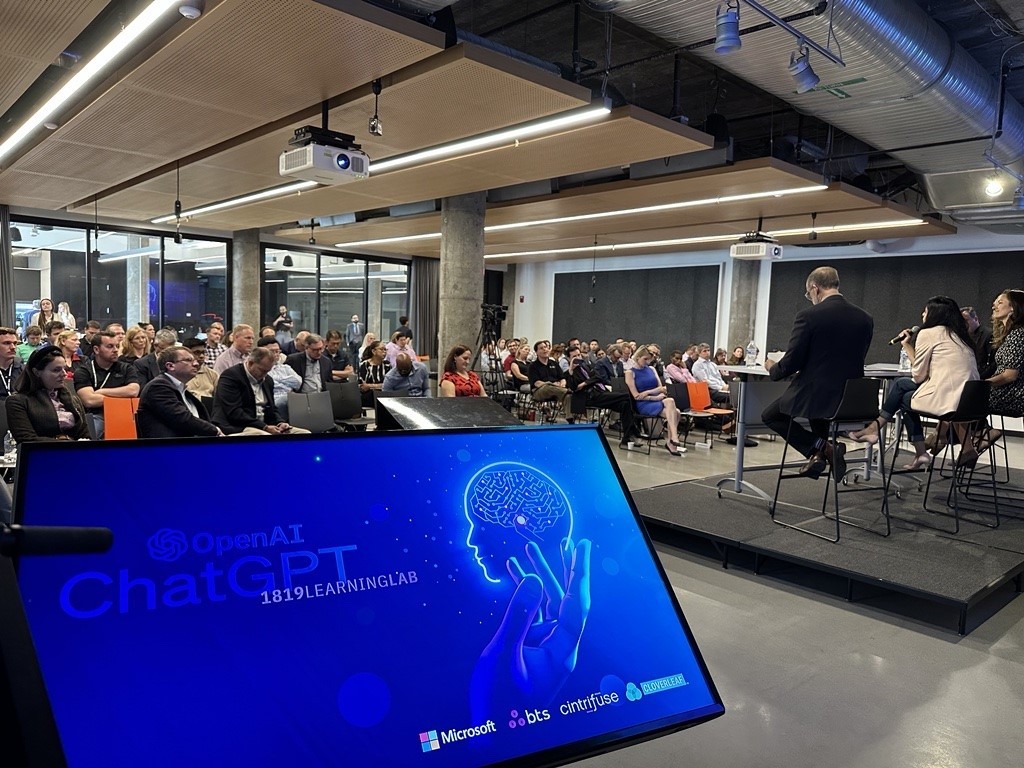 Mulford gave a presentation on AI's capabilities. He broke it down for attendees stating, "AI is the simulation of any cognitive task using math by training algorithms to use predictive insights from data." 
During his presentation, Mulford addressed how deeply integrated digital technology is in our lives and how people have been adjusting their social behaviors as a result. He left the audience three points to ponder:

If we rely on AI in the future the way we rely on our smartphones today, what outcomes could we expect?

What new skills or mindsets will we need for AI?
What assumptions or beliefs do we need to let go of?
Lacefield gave a live demonstration of Azure Open AI, Microsoft's cloud-based platform for developers and data scientists. Guests witnessed in real time how Azure OpenAI is equipped with responsible AI built-ins and how it works with generative text models such as ChatGPT and specialized generative coding models like Codex. 
Much of the panel discussion focused on ChatGPT, which stands for "generative pre-trained transformer." The software is an AI-driven natural language processing tool developed by OpenAI.
Mulford, who moderated the discussion, explained that since the inception of the World Wide Web, advanced technology has been tracking data. Mulford also shared his thoughts on AI tools including ChatGPT.
"I think there's tremendous opportunity to unlock value so we can all become better business leaders," he said. "We just need to think creatively about how these incredible tools can open new opportunities, and at the same time, we've got really difficult issues, tensions and ethical questions to consider."

Expanding on his statement, Mulford invited panelists to share their thoughts on what excited them about AI and what concerned them as they segued into the Q&A.  

During the Q&A session, some attendees were enthusiastic about the technologies presented and curious to learn more about the ethical considerations and responsible development of AI to safeguard their businesses from misuse or misinformation.
Moorefield addressed concerns related to how students can use AI to do their homework for them or use AI systems that prompt them to think and help them learn.
"We worry that AI could take over, and that starts on the individual level in how we use it. Will we let it do the thinking for us or will we hold ourselves accountable to use it to make us better critical thinkers?" she said. "And a big part of that is in how we hold AI companies accountable to the data inputs they're using and how transparent they are about those inputs. AI can be used to make humanity stronger, and we get to choose — based on how we use it — if it makes us stronger or weaker."
The presenters cautioned that AI is not intended to replace jobs. Instead, it aims to enhance the impact of employees using human skills like empathy, creativity and engagement. When combined with AI, the panelists noted, these vital human skills can empower employees, entrepreneurs and the nation for the greater good. 
Featured image at top: Peter Mulford, global partner and chief innovation officer with BTS. Photo/Olivia Bransford
Innovation Lives Here
The University of Cincinnati is leading public urban universities into a new era of innovation and impact. Our faculty, staff and students are saving lives, changing outcomes and bending the future in our city's direction. Next Lives Here.
1
UC students recognized as top innovators
October 27, 2023
University of Cincinnati students and UC alumni have been recognized for their entrepreneurial spirit by Cincy Inno and Dayton Inno as part of lists that honor innovators age 25 and younger.
2
UC, Lt. Gov. Husted celebrate success of Ohio IP Promise
November 16, 2022
University of Cincinnati President Neville Pinto, UC Executive Vice President Ryan Hays, Ohio Lt. Gov. Jon Husted and entrepreneurs within the Cincinnati Innovation District today celebrated the economic impacts of the Ohio IP Promise — a statewide commercialization initiative launched in 2019 that streamlines the patent and licensing process, enabling inventors to own their intellectual property.