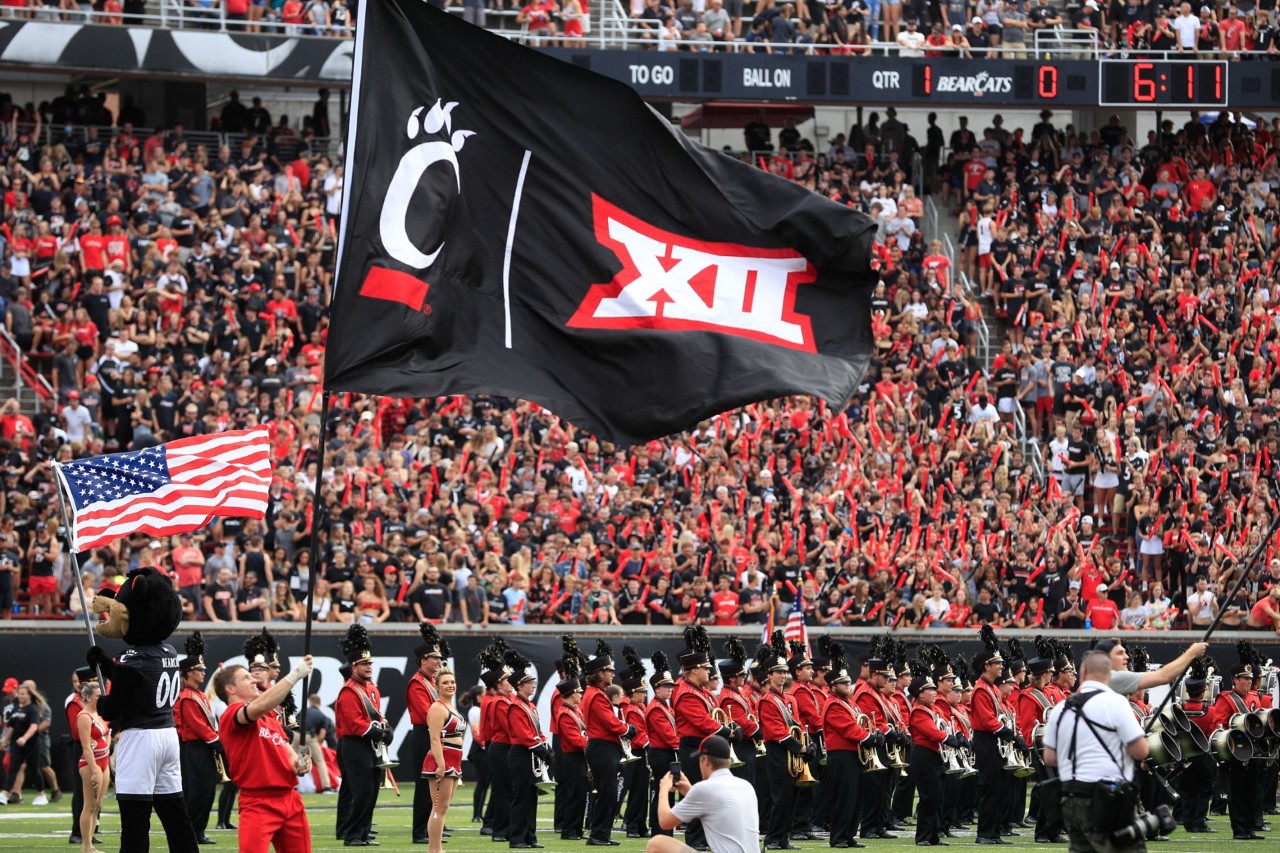 Big 12 era begins for Bearcats
Bearcats look to flourish in a Power 5 conference
The University of Cincinnati officially entered the Big 12 as a conference member on July 1, 2023.
Cincinnati Athletics hosted a Big 12 Bash at Rhinegeist Brewery to celebrate the university's entry into the Power Five conference with festivities beginning at noon Friday. Local radio personality Mo Egger began the formal program at 7 p.m.
 
The Big 12 announced on Sept. 10, 2021, that UC, along with Houston, UCF and BYU, would join the conference, kicking off an exciting fall that saw the Bearcats' football team become the first Group of Five program to reach the College Football Playoff.
 
The Big 12 boasts one of the biggest, most loyal fan bases in all of sports. Since their teams travel well in terms of fan support, the city, state and region will also benefit from the growing economic impact of Big 12 fans coming to Cincinnati each year. UC officials say the Power 5 membership will enable the university to re-energize its alumni and co-op connections in Big 12 states, too.
Become a Bearcat
Whether you're a first-generation student or from a family of Bearcats, UC is proud to support you at every step along your journey. We want to make sure you succeed — and feel right at home.
1
Growth at UC brings largest first-year class ever
September 23, 2022
The University of Cincinnati recorded its largest enrollment ever this week as the official head count landed at 47,914 students for the fall semester. The figure represents nearly a 2.6% increase over last year's enrollment or an additional 1,204 students.
3
Big 12 era begins for Bearcats
July 1, 2023
The University of Cincinnati officially entered the Big 12 as a conference member on July 1, 2023. The move has elevated UC's reputation and exposure both athletically and academically on a national level. One of the premier athletic conferences, the Big 12 is now comprised of 14 institutions after welcoming BYU, UCF, Cincinnati and Houston. The Bearcats will look to reach even greater heights as a member of the Power 5 conference that has seen its teams win 81 team national championships since its inception in 1994.