David Kelley: The driving force behind UC's Sport Administration program
Beyond the books and curriculum, what really matters is the educators behind it all
In the realm of higher education, dedicated professors play a pivotal role in shaping our academic journey. Beyond the books and the curriculum, what really matters is the educators behind it all. Their passion, expertise, and personal commitment inspire us to reach our fullest potential — equipping us with the knowledge and skills to thrive in the world beyond the classroom.
Looking down from a bird's-eye-view, University of Cincinnati's School of Human Services stands out for its commitment to making a real-world impact through applied disciplines. With a wide range of undergraduate and graduate programs — including public health, exercise science, counseling and sport administration, the school is dedicated to empowering students with the skills and knowledge they need to make a difference in their communities.
Having dedicated and innovative faculty is the key toward upholding any academic program — which has led to success within one of the School of Human Services' leading programs, sport administration, better known as SPAD.
One standout faculty member who embodies this ethos is David Kelley, PhD, who is passionate about helping students bridge the gap between theory and practice. By providing hands-on opportunities for his students, Kelley inspires them to explore their passions and pursue their goals.
About sport administration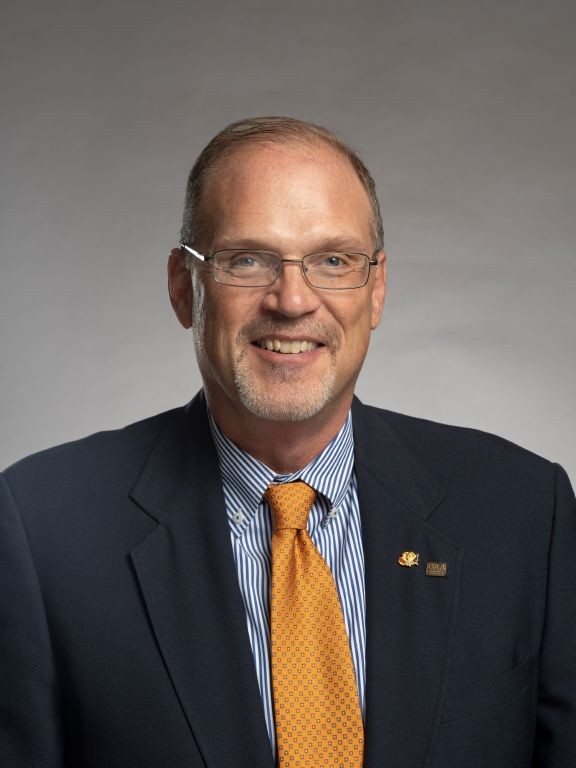 Founded in 2009, UC's sport administration program is housed within the College of Education, Criminal Justice, and Human Services. Kelley, one of the program's founding members, has played an instrumental role in shaping it into what it is today — a program that now consists of more than 400 undergraduate and 100 graduate sport administration students. 
The program now offers a variety of pathways for students — with options of doctorate, master's, bachelor's, certificate and minor programs. Kelley serves as one of the program's associate professors and the program coordinator for the Online Master's in Sport Administration. 
As a professor, Kelley is responsible for teaching finance-based courses such as economics in sport, sport finance and development, and sport facilities and event management. His courses are designed to provide students with the real-world applications of revenue generation in the sports industry, making them extremely hands-on.
The cornerstone of what our program is all about is the real-life application blended with theory. That's what separates us from other sport administration programs across the country. We're here in an urban area and a sports-crazy town.
David Kelley, PhD
Kelley's emphasis on real-world applications has paid off in many ways. Many of his students have interned or worked for local high schools and professional sports teams like the Cincinnati Bengals, the Cincinnati Reds and FC Cincinnati — providing them with valuable experience before entering the professional world.
Other students have achieved great lengths in the sporting world during their time at UC, like sport administration graduate Josh McDaniel, who facilitated a $250,000 grant from the National Football League (NFL) during one of Kelley's courses.
The grant that McDaniel secured, the NFL Grassroots Grant, is part of an ongoing project to create and renovate community football fields across the nation. The grant matches any school's independent fundraising up to $250,000 to aid sports field construction.
The grant proposal was started in 2022 during a senior year project for McDaniel, who was assigned to apply for a grant that would benefit a local community. Between McDaniel's project group and Kelley, they completed the grant application and submitted it to the NFL with the hopes of funding a new sports field for Milford High School.
McDaniel, who first became familiar with Milford as one of their strength and conditioning coaches, chose to apply for a grant that aided the construction of a new athletics field. The grant was first approved at Milford in early 2022, starting the construction of the Charity J. Lucas Memorial Field — a secondary turf field made exclusively for Milford student-athletes.
The process of creating a new field spanned from the dawn of the COVID-19 pandemic in March 2020. In the case of Milford High School, the school's athletic department matched a $250,000 donation given by the Grassroots Foundation. Following shutdowns in 2020 within Milford's athletic department and the application opportunity itself, the project proposal was delayed for more than two years.
"It just made sense because I knew that they needed some updates to their facilities," said McDaniel. "[The turf field] was something they needed for a long time."
Within the period between starting and submitting the proposal, McDaniel and Kelley reviewed various reiterations of the final proposal, which were altered as time progressed during the pandemic.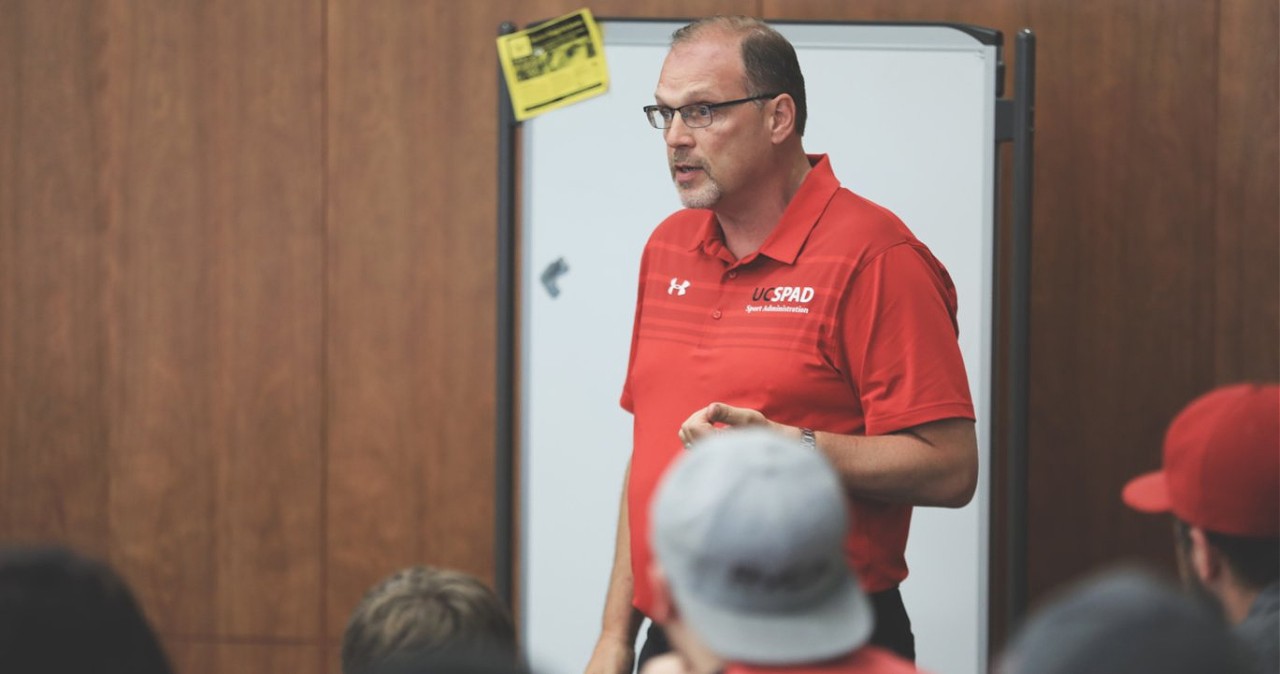 "One of the hardest things was figuring out how to piece information together [in the proposal]," said McDaniel. "Figuring out how to put the whole grant together was kind of like a puzzle."
Throughout the process, Kelley's expertise and guidance provided valuable insights in shaping the proposal, which underwent various iterations as the pandemic unfolded.
"The excitement from students [about the field] is overdue because they've been waiting years for this field," says McDaniel. [The construction] just kept getting put off, especially during COVID."
Beyond UC: Cincinnati Public Schools All-Star Game
Kelley has long been recognized for his exceptional support and mentorship within the athletic community — at UC and within Greater Cincinnati. With a focus on carving a future for aspiring athletes and sport industry professionals, he's played a vital role in facilitating connections and fostering opportunities for many of his students and colleagues. 
An instance of this occurred when Ricky Miller, former CPS assistant athletics director and senior manager of athletics for Activities Beyond the Classroom (ABC), collaborated closely with Kelley and a team of athletic coordinators and educators for the second annual Cincinnati Public Schools (CPS) All-Star Game, which took place on March 26, 2023. Through their collaboration, the event has become a symbol of unity — bringing together students from various CPS high schools to showcase their talents on a grand stage.
The showcase represented UC's CPS Strong initiative, aimed at engaging and empowering Cincinnati Public School students. Kelley's involvement in coordinating the All-Star Showcase stemmed from his dedication to the CPS Strong initiative and his commitment to creating new opportunities through collaboration.

"Having my UC sport administration students involved with the All-Star event, in addition to the education and career fair, was a win-win for everyone involved," said Kelley.
The All-Star Showcase featured two CPS all-star basketball games, as well as individual competitions among CPS basketball players from various Cincinnati high schools like the three-point contest, slam dunk contest, and skills competition. Additionally, an education and career fair took place within the arena, providing valuable resources and opportunities to CPS students and their families.
The Cincinnati Public Schools All-Star Game — now an annual event — stands as a testament to Kelley's commitment, to the CPS Strong initiative and his positive impact on the lives of countless individuals. Through the coordination of UC, CPS and ABC, the event not only brought the city's athletes together but also raised funds to support CPS Project Connect, helping Cincinnati's students experiencing homelessness gain access to vital resources and opportunities. 
Kelley has seen the program grow from its modest beginnings to become one of the largest baccalaureate programs on UC's campus. "We started off in 2009 with roughly 48 transfer students into the bachelor's program, to now we're just roughly under 400 majors," Kelley said.
When you're looking at the hundreds of sport administration or sport management programs across the country, a large amount of them are in smaller college towns and smaller cities that don't have this wide breadth of opportunities for students to get experience right there.
Jason Simmons, Program Coordinator
Jason Simmons, also an associate professor of sport administration, believes that Kelley's work has been instrumental in the program's success.
"Doc Kelley's been here since the beginning, and his priority since day one has been the students investing in their career success, investing in their professional development," Simmons said. "He is the foundation of this program, and everything that this program will become moving forward is a credit to the work he's put in to make it what it is today."
Kelley's dedication to his students is evident in his willingness to go the extra mile to mentor and clarify concepts for them. "I can't tell you how many times I've been sitting in my office and he pops in," Simmons said. "And it's always with a story about a student that got a job or an opportunity he helped facilitate for a student."
Impact: Student experience
Ricky Miller is one of Kelley's former students who has benefited from this hands-on approach.
Miller explains, "I got into the sport administration program, met Dr. Kelley and it was history from there." He completed internships and on-the-job training at Walnut Hills High School and Cincinnati Public Schools' athletics department, where he learned about team building, communication and relationship building.
Miller is also passionate about creating opportunities for students in his post-graduate position with ABC, particularly in tandem with Cincinnati Public Schools. "One of our biggest partners is Cincinnati Public Schools," Miller said. "My job is to help the athletics department in Cincinnati Public Schools with resources."
His time in the sport administration program at UC prepared him for success in the industry, Miller explained. "Beyond just the [general information] of sport administration, you learn a lot about team building and proper communication and relationship building."
Kelley was instrumental in his career journey, according to Miller.
Dr. Kelley, more so than everybody else, has a specialization in high school athletics. It was really cool when I understood that [high school athletics] is the route that I want to go, and there was a professor I could really depend on and learn a lot from.
Ricky Miller Senior manager of athletics for Activities Beyond the Classroom
Kelley's influence extends beyond the classroom, according to Miller, "He has a really great ability to not only relate with students that are taking his courses, but also to reach out to people that have graduated and moved on from the program as well."
"[Kelley] is so plugged in across the city and the state that he can help you get where you want to be and where you need to be," said Shay Steele, Walnut Hills High School athletic director. Steele was another key member in the high school athletics realm that helped keep the idea alive through delays and impacts from Covid-19.
According to Steele, Kelley's wisdom has empowered many of CPS' aspiring professionals and enriched the lives of students within the athletic community.
Describing Dr. Kelley's personality, Steele said, "He's that one person you can always call him for advice, and he's willing to help you. And he'll joke with you, and he'll just be supportive of everything that you do."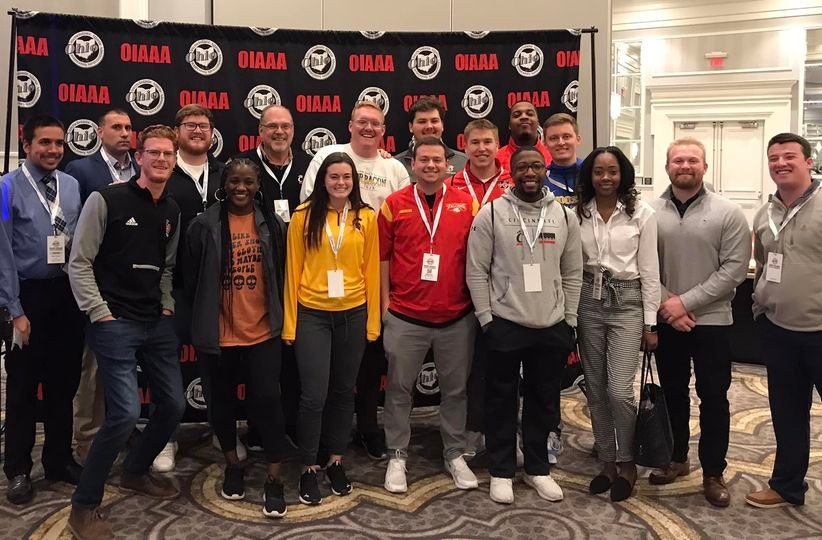 Under the guidance of Kelley, SPAD has been making waves in the industry since its inception in 2009. With a focus on real-life application blended with theory, the program has seen tremendous growth and has become a standout option for CECH students.
The program also provides students with a wide variety of internship opportunities both in Cincinnati and across the country.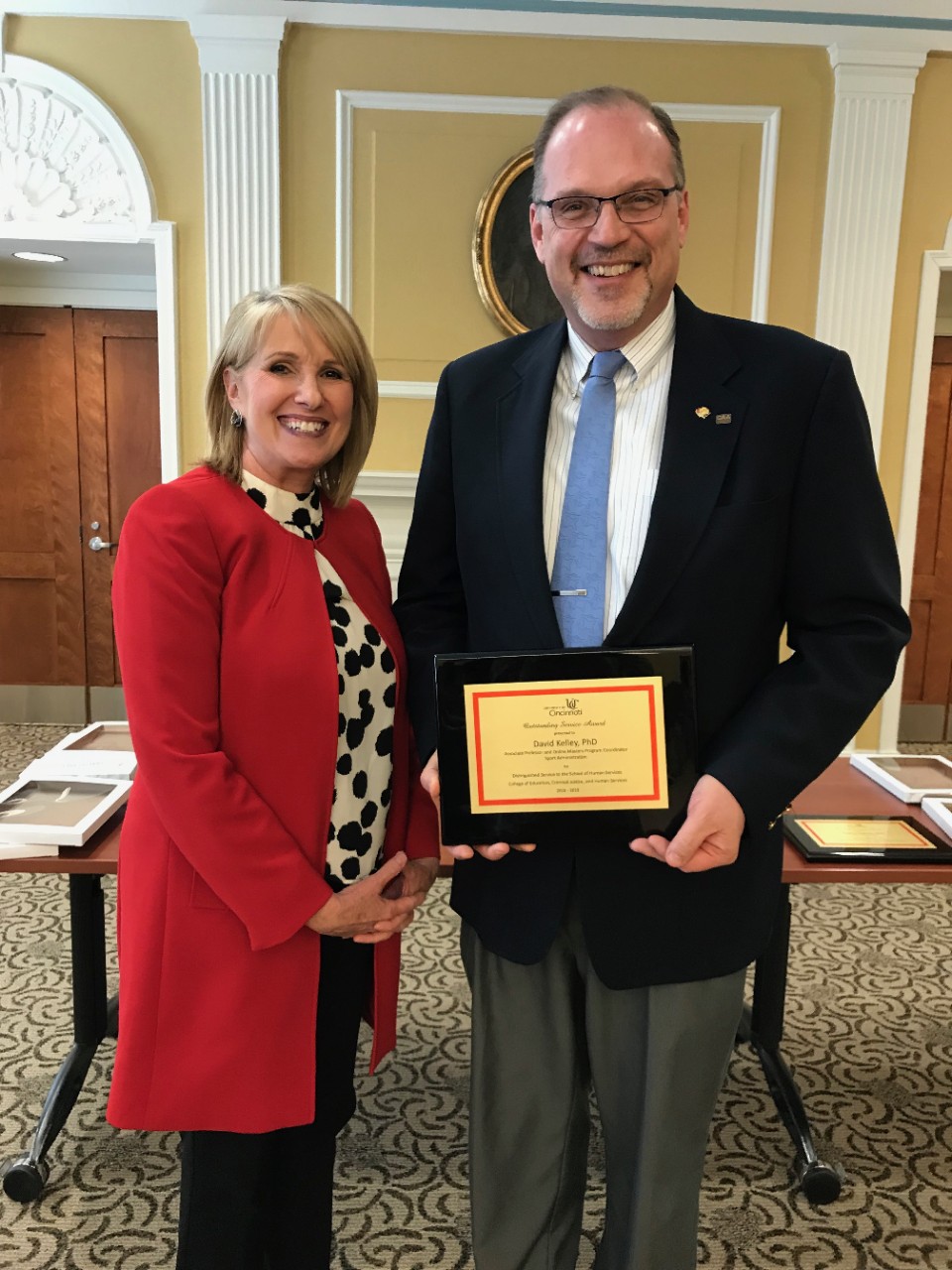 "Students are required to do an internship in their last year of study, and there are a wide variety of internship opportunities available both in Cincinnati and across the country," said Simmons.
With Kelley being instrumental in the program's growth, he sometimes looks back on its modest beginnings.
"I remember, back when I was in a small room doing lesson plans on top of a microwave oven to now where I am in this office here," Kelley reminisced.
Overall, the University of Cincinnati's sport administration program, led at the helm by Kelley, has proven to be a top-notch program that provides students with practical, hands-on experience and a strong foundation in revenue generation in the sport industry.
CECH School of Human Services
The University of Cincinnati's School of Human Services is dedicated to providing undergraduate and graduate programs that have a real-world impact on the community. According to Renee Hawkins, the director of the School of Human Services, "We are really all unified in our focus on applied disciplines that have an impact on the community and the people we work with."
The school's undergraduate programs include substance abuse counseling, exercise science and sport administration, while their graduate programs include behavior analysis, sport administration, school psychology, counseling, public health, community health and prevention science, health and wellness management, and health education.
In all of the training in our programs, students get applied hands-on experiences throughout their studies. This approach allows students to learn about the real-life applications of their major and better understand how their skills can make a difference in the world.
Renee Hawkins School of Human Services director
The sport administration program is designed for students aiming for a career in the sport industry. Located in a thriving sports metropolis near downtown Cincinnati, the university offers an ideal opportunity for students to gain invaluable experience through classroom integration of theory and real-world application, local industry partnerships, guest speakers, hands-on projects, internships, volunteer experiences and research collaborations.
Visit the School of Human Services today and learn more about starting your career in Sport Administration. To learn more about planning your future in SPAD, schedule an appointment with a CECH admissions counselor today.
Next Lives Here
The School of Human Services, located in the College of Education, Criminal Justice, Human Services, and Information Technology, is a dynamic and innovative program committed to excellence in raising the next generation of industry professionals. The School of Human Services offers a range of certificates, undergraduate, masters and doctoral programs to prepare students for their futures in the field of Sport Administration. 
1
David Kelley: The driving force behind UC's Sport Administration program
August 8, 2023
Having dedicated and innovative faculty is the key toward upholding any academic program. David Kelley, PhD, is passionate about helping students bridge the gap between theory and practice and provides hands-on opportunities for his students, inspiring them to explore their passions and pursue their goals.
2
Just in: UC tops 50,000 students
August 21, 2023
The University of Cincinnati is anticipating a record fall enrollment with a projected 50,500 students. The growth represents a 5.39% increase and reflects the university's core values around academic excellence, access and inclusion, and affordability.
3
Bearcat dreams come true on Decision Day
January 23, 2023
The newest Bearcats learn they've been accepted into the University of Cincinnati on Decision Day, and UC officials surprised area students at their high schools with admission, scholarships and more.