Cincinnati Media: UC welcomes Bearcats living on campus for move-in day
Largest number of students in university housing ever
Rebecca Moore and her husband were able to park and load items into Calhoun Hall within 20 minutes. She was moving her youngest of three children into his residence hall this week at the University of Cincinnati
The day for the Moores went seamlessly as it did for many families visiting campus this week. UC's first day of class is Monday, Aug. 21. Move-ins occurred at residential communities across campus during the week of Aug. 14. Parents took lots of pictures while the Bearcat sometimes joined in the fun.
"It's really becoming an event," says Jack Miner, vice provost for enrollment management. "It's not just a move-in, it's all the energy and excitement around it." 
Miner says university housing has found space for more than 8,000 students — the largest number of students ever.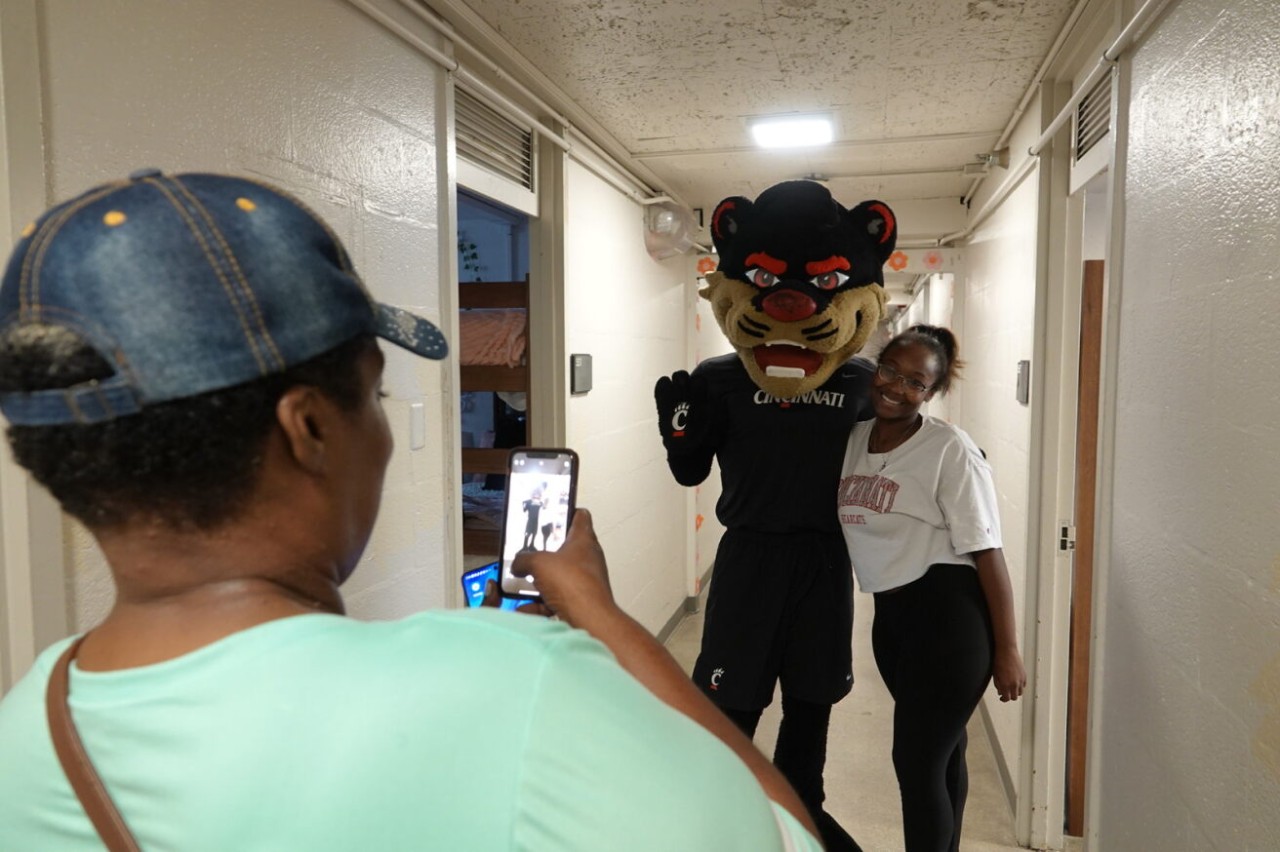 "Housing is always an opportunity to really think about how we are impacting the lives of the students," explains Miner. "It is phenomenal for us and is a chance to think about how those students are getting a full set of wrap-around services in addition to a really great place to live."
UC typically offers around 20 residential communities with varied amenities, price points and specialized living-learning opportunities designed to support students as they transition in and progress through their academic career.
Full-time staff are assigned in each residential community and 188 resident assistants are embedded across the communities on each floor.
For this academic year, UC has eight living-learning communities that provide students a dynamic educational experience in their residential environment with others who have similar academic interests.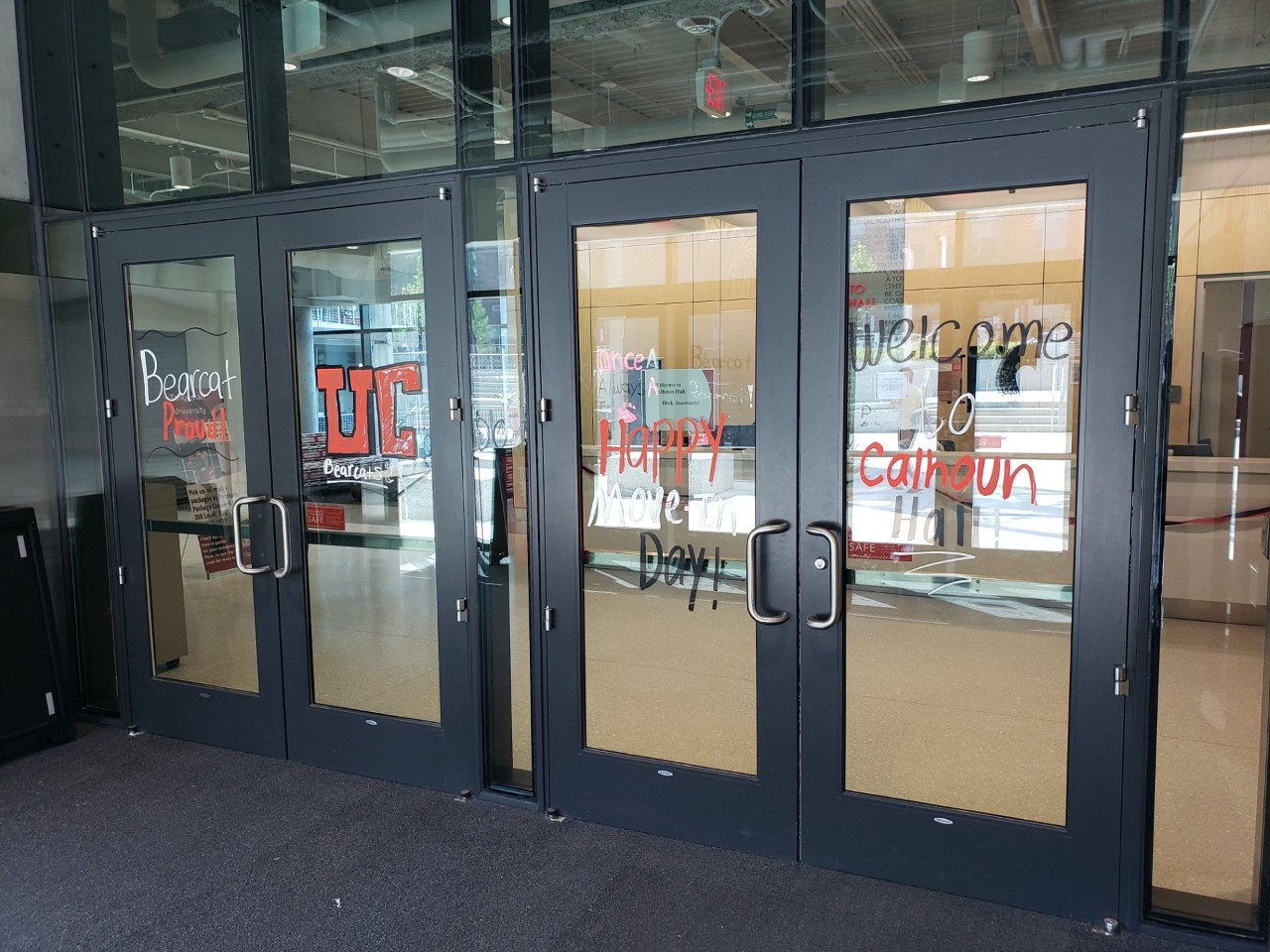 Students in residence communities  will have the opportunity to develop life skills including leadership, inclusion, community and learning. Students can become engaged citizens and experience-based learners.
"One of the things parents are often surprised by is this is a very different residence hall experience than what we had in college," says Miner.  "Students are moving into Calhoun Hall following an 18-month renovation and it is a chance to have Wi-Fi access, crucial support services, but this also has one of the most amazing views in the city."
Neighboring Siddall Hall is currently under renovation and it will have amenities similar to Calhoun Hall and will be complete in August 2024.
Listen to coverage of move-in day from Cincinnati media:
Featured image at top/provided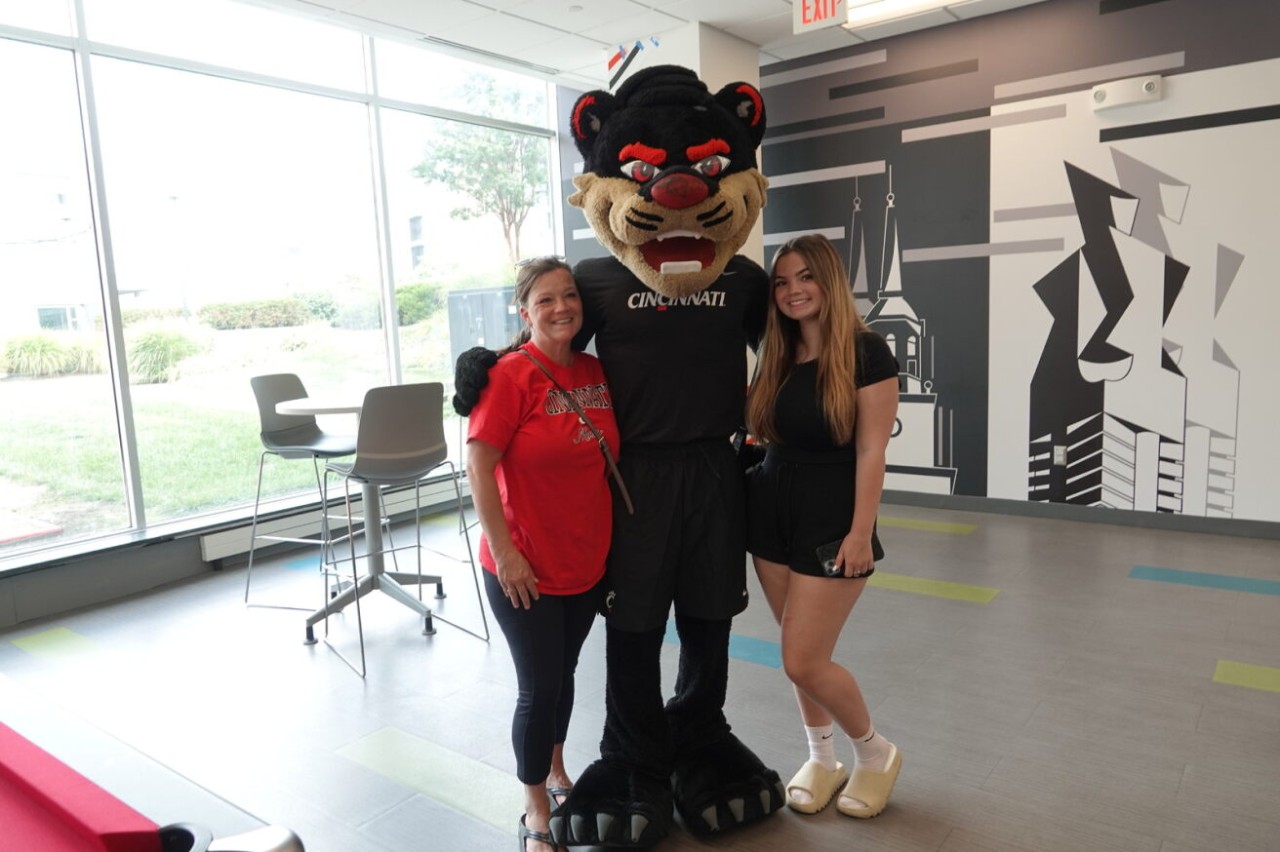 2
Local media cover the reopening of UC's Calhoun Hall
January 6, 2023
University of Cincinnati students, faculty and staff celebrated the reopening of Calhoun Hall Thursday with a ribbon-cutting ceremony marking the completion of an $80 million renovation project.