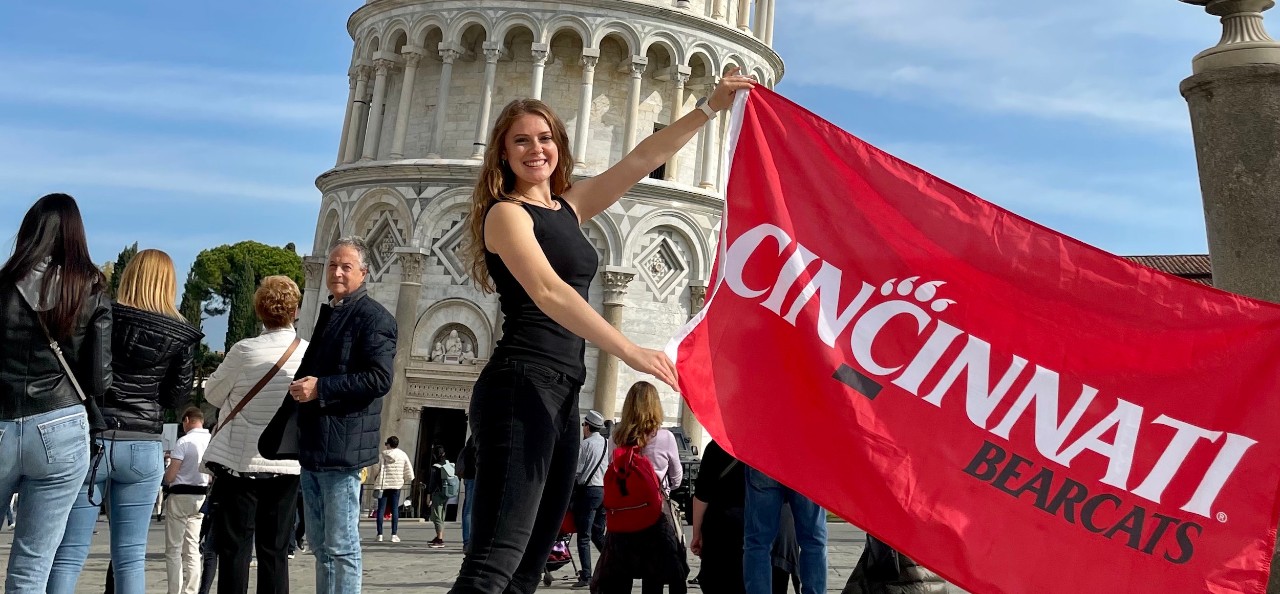 DAAP students gain creativity through global connection
Study abroad programs provide once-in-a-lifetime experiences
Picture a student in UC's College of Design, Architecture, Art and Planning (DAAP), and you might think of a lone thinker poring over a creative project in a studio.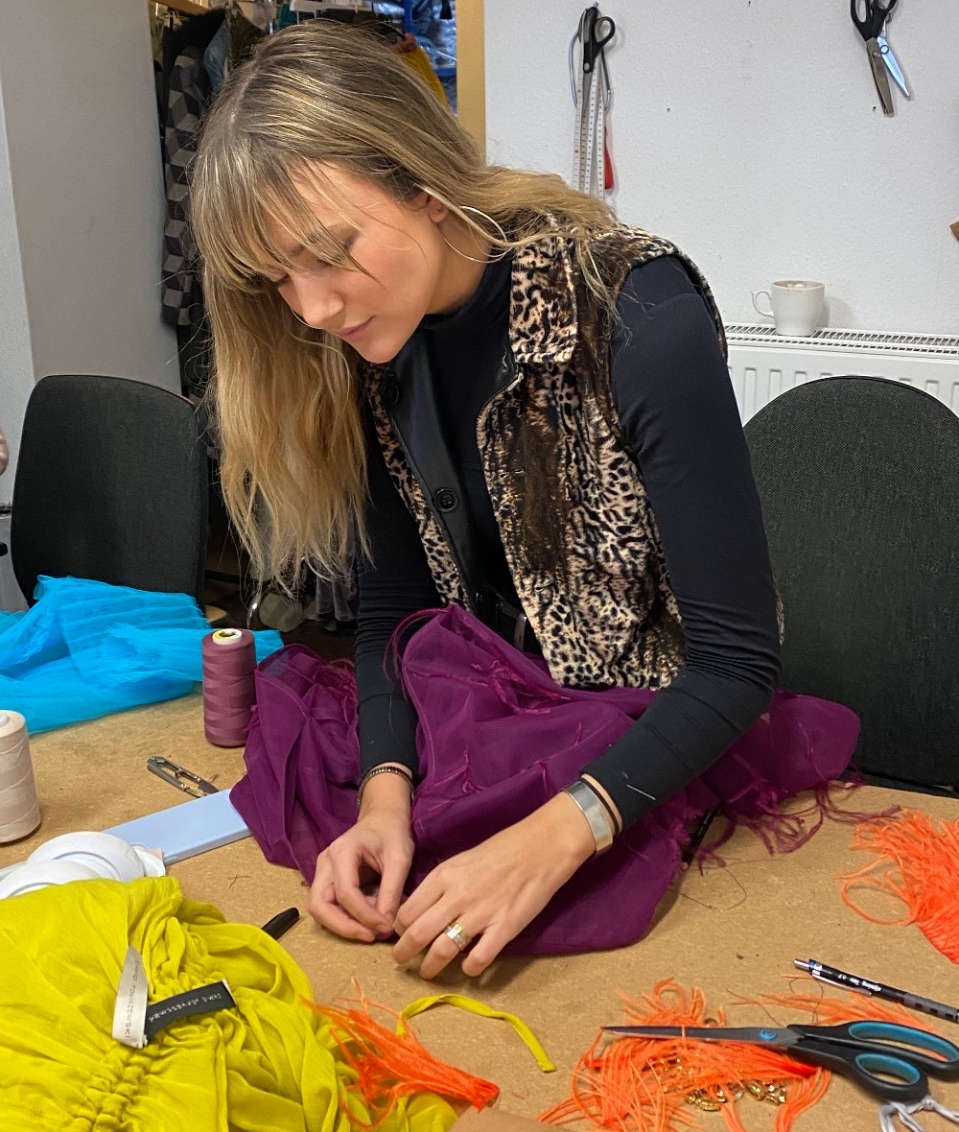 But what about a fashion designer sewing a garment in a couture fashion house in Germany? Or an artist highlighting architectural details of an Italian cathedral in brilliant watercolor? Or a craftsman practicing metalworking with a local artist in Thailand?
DAAP is the third largest college at the university to send students overseas, with most students choosing semester-long programs like exchange and co-op for full immersion. Through study abroad, DAAP students gain real-world experiences that influence their art and design practices upon return.
And for three recent participants, study abroad was a critical part of their overall college experience.
Before she even came to UC, fashion design student Kathryn Suddendorf knew she wanted to go abroad. During her junior year, she sent out her resume to as many international jobs as she could find until she received two offers: one in London, England and one in Berlin, Germany.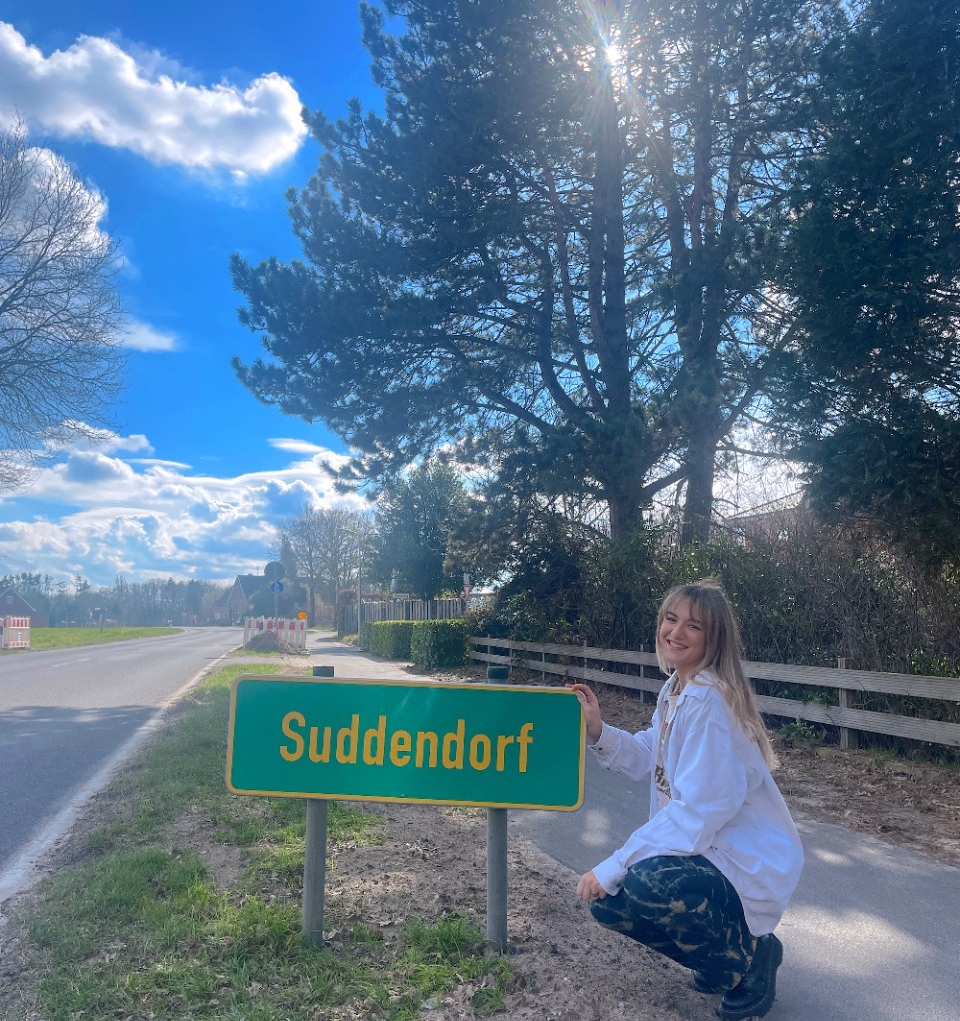 Suddendorf felt her best fit was an internship creating custom looks for couture designer Dawid Tomaszewski in Berlin, Germany.
"The more you push yourself out of your comfort zone, the more you can take away and then bring back into your design and into who you are," Suddendorf said. "Probably one of the key things to being a good designer is to constantly expose yourself to things that you are not familiar with."
During her stay, Suddendorf was tasked with completing a handmade design, individually sewing ostrich feathers onto a giant purple cape. After four weeks, the project tested her patience, but in the end, she was proud of her handiwork and felt even more respected in her work environment. 
Part of Suddendorf's choice to work in Germany was the ability to connect with her family's heritage, as her last name derives from an actual place in the country. Located near the Netherlands border, the tiny village of Suddendorf is where her great-great-grandparents immigrated from over a century ago.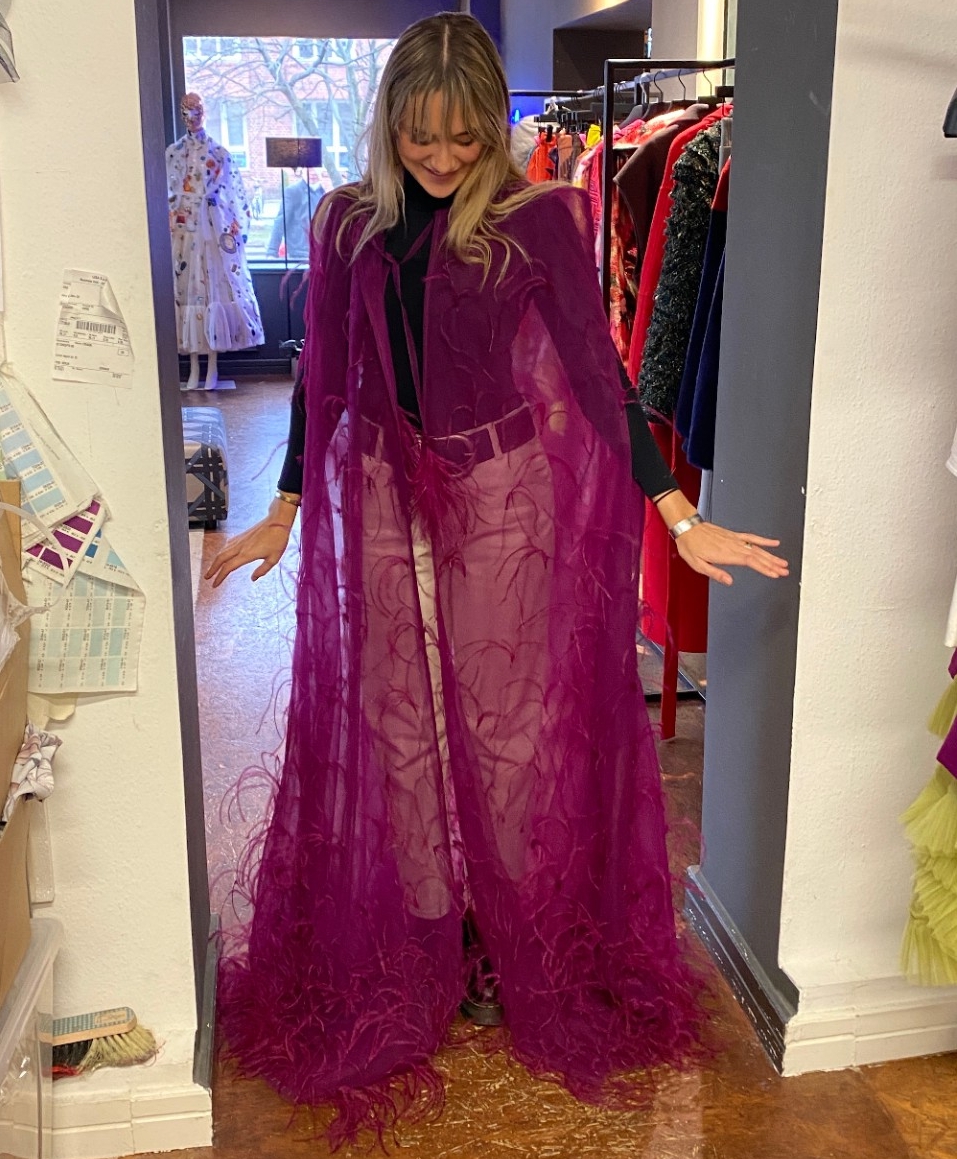 Shortly after her internship began, Suddendorf found out that a coworker's family lived close to the town and was invited to go for a weekend and explore the area. The stars had aligned.
Suddendorf took a five-hour train ride to the outskirts of Germany to learn more about her roots. She explains that the entire experience helped her appreciate the sacrifices of her ancestors.
"It's just interesting to me to see the progression of going from that type of life to seeing where I am now," Suddendorf said. "Doing all these crazy experiences and being able to travel—and taking a moment to show gratitude towards my family for being able to immigrate and give me this opportunity for my own life—was a key takeaway from my experience."
Because of that experience, Suddendorf was able to create a booklet of photos from the village for her 97-year-old grandfather and share in that special moment. Her semester working abroad became about more than making garments, but rather, making memories.
Recent communication design graduate Madalyn O'Dea started her study abroad journey in order to challenge herself.  She felt that the experience of living in a new country and immersing herself in language and culture would be crucial to her future career.
So, in the fall of 2021, she signed up for a semester abroad studying in Florence, Italy. In Florence, she gained a new appreciation for history, as her school, Accademia Italiana, was a stone's throw away from the Riccardi Medici Palace and world-famous artistic works.
"Being right in the heart of a history book and seeing it in 4D was awesome, and something that I don't think a lot of people get to do unless they actually go and experience living abroad," O'Dea said.
A full semester abroad provided her the opportunity to be a local and a tourist at the same time. While it was long enough to make friends and know the local grocery manager by name, the program was also temporary enough to encourage O'Dea make the absolute most out of every day. With newfound confidence, she realized that exploring the world was her passion.
"I thought that this would satisfy my curiosity for travel but in fact, it just lit a flame," O'Dea said. "I've been to 17 different countries."
I thought that [study abroad] would satisfy my curiosity for travel but in fact, it just lit a flame
Madalyn O'Dea UC DAAP student
After her study abroad experience, O'Dea went back to Italy three times, visiting her international classmates and even leading tour groups throughout the city. Traveling motivated O'Dea to focus her time and money towards experiences, which ultimately inspired her capstone project in DAAP: a tool to better prepare first time travelers for going abroad.
"Study abroad […] influenced my college career greatly," O'Dea said. "I learned how to be street smart and culturally aware and sensitive to the fact that somebody's home life back at home might be very different than mine. I think that everybody should have the opportunity to study abroad."
During one of her classes at Accademia Italiana, O'Dea had learned the fundamentals of 3D animation. Inspired by this course, she created a frame-by-frame video animation for her capstone designed to assist people with planning an international trip.
It asks: Have you considered the weather? Have you considered the time of year? Have you considered how long a trip is? O'Dea described these as "mom questions," little voices asking details that travelers might not think about. She recommends that future participants are mindful of what they pack and remember that less is more.
Now in her early career at global company Deloitte, O'Dea expects to travel domestically to work with national clients and looks forward to the potential to work internationally.
Sam Pogue, another recent communication design graduate, also studied abroad at the Accademia Italiana and then again in Thailand.
Pogue explained that his time in Italy completely changed his perspective by inspiring him to interact with new and different people every day. However, he had gone to Italy with classmates from UC and wanted to push himself even further outside his comfort zone.
After his experiences in Florence, Pogue decided to study abroad with USAC, an external provider that offers programs to a consortium of universities, including UC. USAC offers the ability to study with other American students in a diverse variety of locations. Specifically, the USAC program in Chiang Mai, Thailand spoke to Pogue's desire for something far opposite than his life in Cincinnati.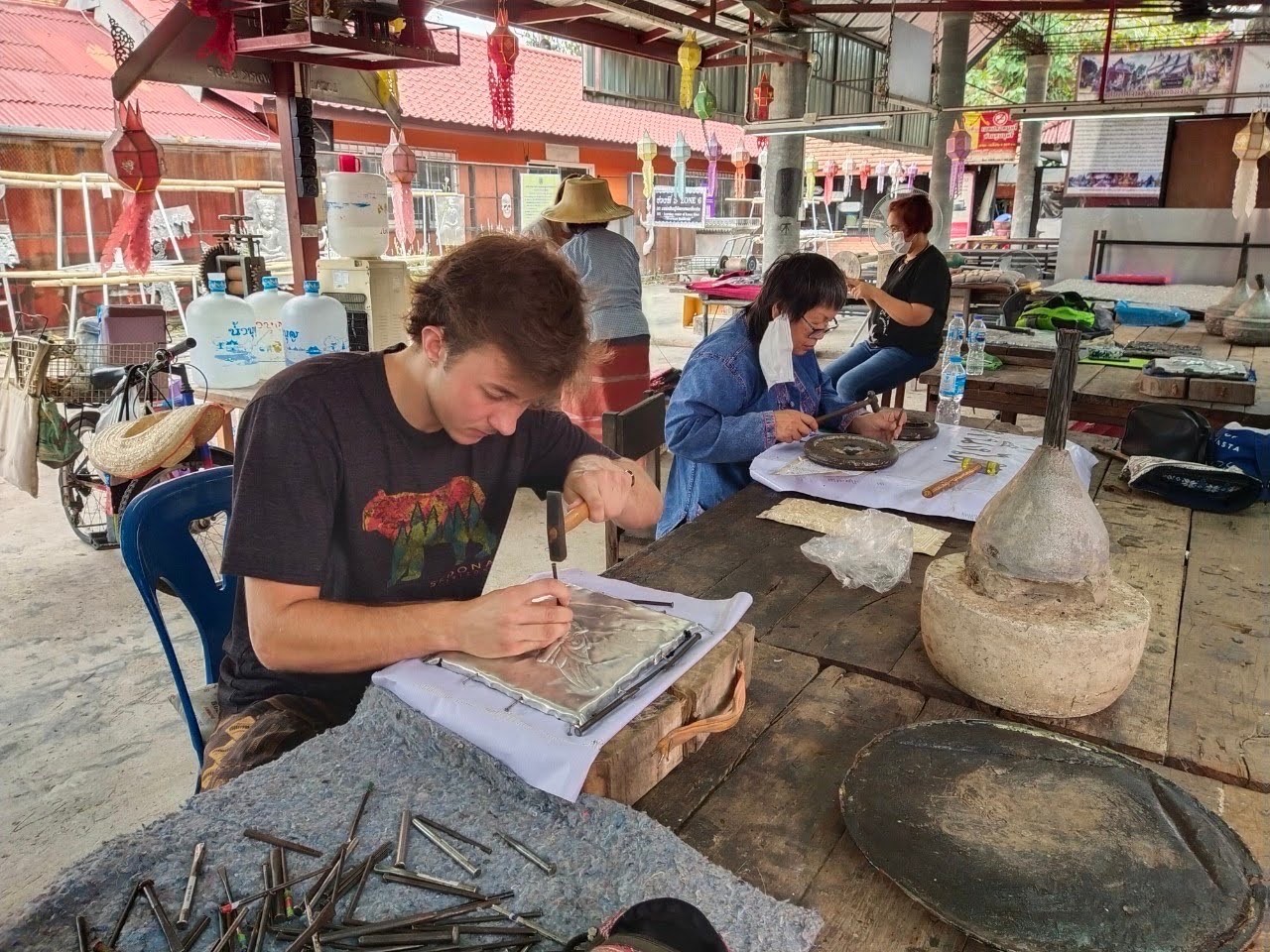 "I wanted to go to a country that didn't speak English. I wanted to go not knowing anybody," Pogue said. "I wanted to go to a place where I didn't know much about the culture, and I could get out of my comfort zone."
After 35 hours of travel, Pogue and his American classmates were picked up and taken to their local accommodations by a rod dang, a local form of transportation with benches in the bed of a converted red pickup truck. On the road, he was surprised by the infrastructure of this new world. There were motorcycles flying by, palm trees waving and smells wafting from food stalls. 
The school Pogue attended was not specifically a creative school, like the Accademia Italiana, so Pogue had to find his own creative outlet. One day, after visiting the Silver Temple in Chiang Mai, Pogue met with a woman, Master Thoo, who had spent 20 years hammering silver and aluminum to adorn the building.
For Pogue's final project in his Buddhist art class, he chose to study chasing and repoussé — techniques to create artistic embellishments in metal — under Master Thoo. Every day, he would ride to the temple on the back of a motorcycle and learn from the artisan, sitting on a wooden stool for hours and hammering away at an aluminum sheet. He felt lucky to be there, creating something so unique and spending time with an artisan.

"From a designer's perspective, it's invaluable to witness different ways of going about design and how different culture's infrastructure impact how their people interact with the world," Pogue said.

USAC also offered a few volunteer opportunities in the community. Pogue and a few of his classmates chose teach English to local Buddhist monks. It was a challenge, but the monks were full of surprises — including their own smart phones with Google Translate. Through games and YouTube videos, the American students and Thai monks traded pieces of their cultures back and forth.
Pogue's experiences in Thailand gave him freedom as an artist and expanded his creative limits in ways that a classroom never could.
"Study abroad allowed me to be more myself and stop caring so much about societal expectations," explained Pogue. "Seeing how other cultures experience and react to situations versus how we in America do allows me to challenge the things that I do and develop my own perspective."
Featured image: UC DAAP student Madalyn O'Dea in front of the Leaning Tower of Pisa in Italy | Photo/provided
UC the World
Prepare yourself for a global future. Whatever your program or passion, UC offers study abroad and international work experiences that will take you where you want to go. Explore the possibilites.
1
Around the world in eight experiences
May 7, 2020
Canada. Mexico. Canada again. Italy. Hong Kong. South Korea. India. Chile. And, if not for the cancellation of study abroad programs due to the COVID-19 outbreak, Ghana. Though her ninth study tour was cancelled, University of Cincinnati Lindner College of Business student Kalea Lucas still broke the known university record by going on eight unique experiences during her career.
2
UC projects 8th straight year of record enrollment 
August 24, 2020
Though in the midst of one of the most challenging periods in the history of higher education, the University of Cincinnati will start the new academic year with its eighth consecutive year of record-breaking enrollment.
3
UC takes center stage in Amazon Prime series
January 19, 2022
Filmed in July 2021, UC's episode is a crash-course in being a Bearcat, starring a few of the university's best and brightest students and alumni. Some are lifelong Cincinnatians; others are from across the globe. But they're all excited to show viewers why they've called UC home: From its beautiful spaces and state-of-the-art facilities to co-op and campus life.