University of Cincinnati and Kao unite continents in student innovation challenge
Students engage in cross-cultural marketing project
The University of Cincinnati and its corporate partner Kao joined forces in a transcontinental student collaboration with University Alliance Ruhr (UA Ruhr).
In a unique endeavor, Lindsay Stricker, new technology innovator and university partnerships lead at Kao USA Inc., partnered with the brand team at German haircare brand Guhl to support innovative ways for UC students to connect with foreign academic institutions. Stricker approached RJ Sargent, executive director of learning services at UC's 1819 Innovation Hub, with an idea to solve a business opportunity in Germany.
Through collaborative efforts with Jenni Sutmoller, director of strategic partnerships for UC International, Sargent established contact with Priya Nayar, the executive director of UA Ruhr.
"We outlined the nature of the student innovation challenges we orchestrate for corporate partners like Kao within the framework of 1819," Sargent said. "This led to a groundbreaking alliance among UC, Kao and UA Ruhr, resulting in the conception of an inventive pilot program. The primary objective was to reimagine a Guhl community through student engagement and global collaboration in the digital sphere."
Comprising three distinguished German universities — Bochum, TU Dortmund and Duisburg-Essen — UA Ruhr is Germany's largest academic hub, fostering collaborations between academia and the worldwide private sector.
Kao presented students with a two-week challenge: enhance the Guhl community in Germany by devising a concept that cultivates genuine connections and active engagement between consumers and the brand. From each institution, a cohort of 12 students was selected to participate. Individuals from UC and TU Dortmund were split into six teams of three or four students per team.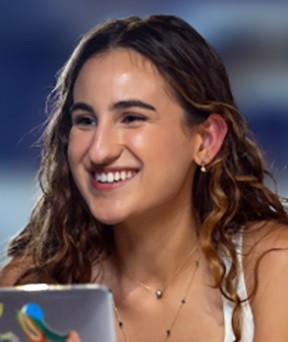 "The project included creating a German name for the Guhl community, identifying asocial platform where the group could connect and designing the user experience," said Stricker. "We wanted students to think about creative ways to reach and recruit consumers to be a part of a Guhl digital community."
The submissions contained PowerPoint presentations along with interactive wireframes that demonstrated the user interface/user experience (UI/UX) of the proposed Guhl community journey. As the challenge concluded, each student team conducted a virtual presentation before a panel of Kao judges.
Among the panelists evaluating the challenge was Lisa Kirchmann, community manager for digital marketing at the Guhl brand.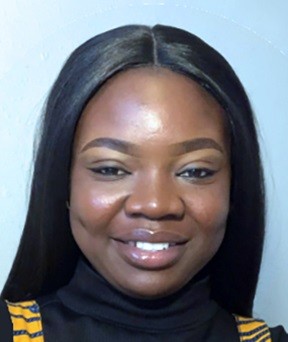 "The outcomes from this global teamwork were truly remarkable. However, the winning team's professionalism secured them the audience choice award and convinced us with their distinctive idea that exuded simplicity, engagement and a seamless alignment with our brand positioning," Kirchmann said.
Participants received a certificate of completion and prizes were awarded to each team member in the top three positions: $300 for first place, $200 for second and $100 for the audience choice award.
The winning team included Yasmine Shaban, University of Cincinnati, industrial design; Lily Botsyoe, University of Cincinnati, information technology; and  Julius Kiso, TU Dortmund, applied computer science.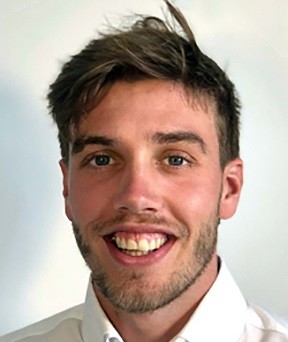 "The challenge mirrored the dynamics of real-world scenarios where we collaborate with teams spread across the globe. This unique opportunity allowed student innovators to gain insights into each other's distinct thought processes," Stricker said.
This was the first of a series of joint student engagements the company plans for the two institutions.
"As stated in our corporate philosophy, the Kao Way, we want to think from the Genba," Kirchmann said. "This is Japanese and means "from the real place." These university collaborations are a great opportunity for us to engage with the students as part of the target group we want to attract. We also want to be bold and do things differently. The students tend to think without limitations and with a fresh mind. The Guhl brand is well positioned to incorporate the concepts that have evolved from the student project in future marketing campaigns."
Featured photo at top: Students collaborate on a laptop. Photo/Andrew Higley/UC Marketing + Brand

Become a Bearcat
Whether you're a first-generation student or from a family of Bearcats, UC is proud to support you at every step along your journey. We want to make sure you succeed — and feel right at home.
Further action is required to make this image accessible
One of the below criteria must be satisfied:
Add image alt tag

OR

Mark image as decorative
The image will not display on the live site until the issue above is resolved.
Further action is required to make this image accessible
One of the below criteria must be satisfied:
Add image alt tag

OR

Mark image as decorative
The image will not display on the live site until the issue above is resolved.
2
It's game on for esports in Cincinnati
August 17, 2022
When the University of Cincinnati's Esports Innovation Lab opens Aug. 18, it will be more than just a space for competitive online gaming.
3
Image generator tools can boost brand appeal within minutes
May 12, 2023
Your promising new business is off and running. But, how do you let the world know what it can do without spending a fortune on brand designers? New AI image generator programs are changing the trajectory of business success — young and old — like never before.