WCPO 9 News: Second chance inspires finance pro to pursue medical dreams at UC Clermont
Life-changing accident led to course change for student
WCPO 9 News recently featured UC Clermont student Spencer Singh, who shared how a motorcycle accident changed his course from a rising finance career to an aspiring neurosurgeon.
The accident left Singh with multiple fractures of his spine, sternum, clavicle and shoulder. Through a months-long rehabilitation process, Singh was inspired by the neurosurgeons who saved his life — and reconsidered his own path.
"I've always been around health care and realized I wanted to work with my hands, not sit behind a desk," said Singh, whose father is a practicing obstetrician-gynecologist, and mother a former emergency responder.  "After my accident, I wanted to help others the way I'd been helped."
Singh left banking in January 2022 with plans to return to college to earn the necessary pre-requisites he needed to apply to medical school. A 2014 Turpin High School graduate who wanted to move closer to home, fortunately Singh didn't need to look too far — the University of Cincinnati Clermont College in Batavia offered exactly the type of personalized environment he was looking for as a second-time student.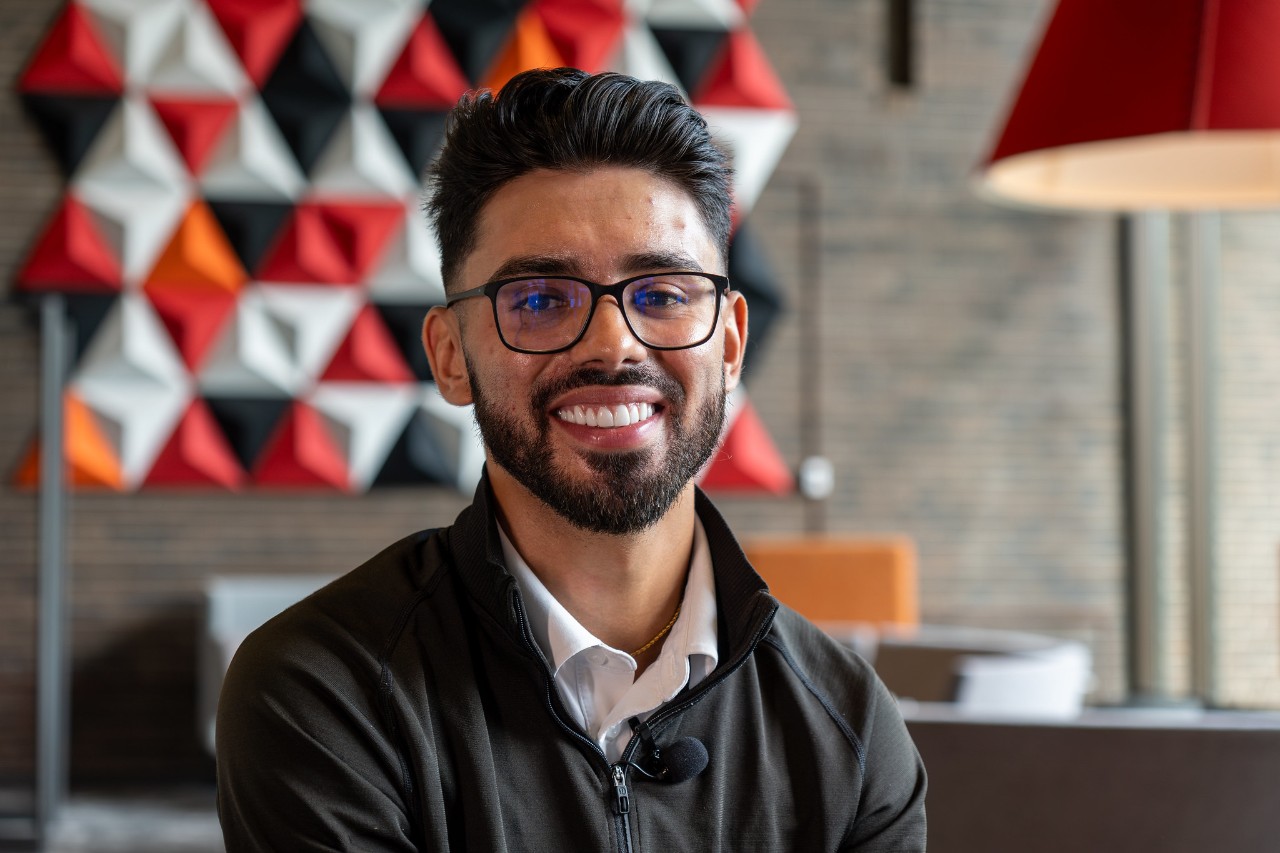 This December, Singh will add a Pre-Health Sciences: Pre-Medicine associate degree from UC Clermont to his previously earned bachelor's degree in finance from Miami University. He then plans to study for and take the Medical College Admission Test next June, with the goal of becoming a neurosurgeon.
Singh is already gaining experience and building relationships in the field through work with mentors Rani Nasser, MD, and Charles Prestigiacomo, MD, both faculty members in UC's College of Medicine Department of Neurosurgery.
"I feel like I'm ready for the next step," said Singh. "I want to give my future patients second chances at life, like I've had."

Watch and read the full story from WCPO 9 News.
Read more about Singh's journey.
Featured image at top: UC Clermont pre-medicine student Spencer Singh on the college's campus. Photos/Danny Kidd
Become a Bearcat
Whether you're a first-generation student or from a family of Bearcats, UC is proud to support you at every step along your journey. We want to make sure you succeed — and feel right at home.
1
Journal-News: UC studies art, pet robot therapy
February 7, 2022
The Journal-News featured the research of Dr. Soma Sengupta, Dr. Claudia Rebola and Dr. Meera Rastogi, who have developed an art therapy app and pet robot study to see how the interventions can affect the mental health of patients with vestibular schwannomas.