Aerospace engineer studying electric aircraft battery health
Jon Ander Martin turned his childhood interest of airplanes into a career
After earning his bachelor's in mechanical engineering from the University of the Basque Country (EHU) in his home country of Spain, graduate student Jon Ander Martin came to the University of Cincinnati through a dual degree partnership between the two universities. Inspired by a lifelong fascination with aviation, he earned his master's in aerospace engineering and continued at UC for his Ph.D. program.
His research project focuses on battery health management of Unmanned Aerial Vehicles for space exploration. He works under the guidance of Kelly Cohen, professor of aerospace engineering, and was selected as Graduate Student Engineer of the Month by the College of Engineering and Applied Science. 
How did you end up choosing UC?
I got my bachelor's degree at the University of Basque Country (EHU) in Spain, but I have always been interested in studying in the U.S. The University of Cincinnati has a dual degree program with EHU, which allowed me to get a master's degree from each university at the same time. I later got the opportunity to continue my research and pursue a doctoral degree at UC's College of Engineering and Applied Science (CEAS). This was a great chance to further develop my work with the help of some of the best guidance I could possibly get. 
Why did you choose your field of study?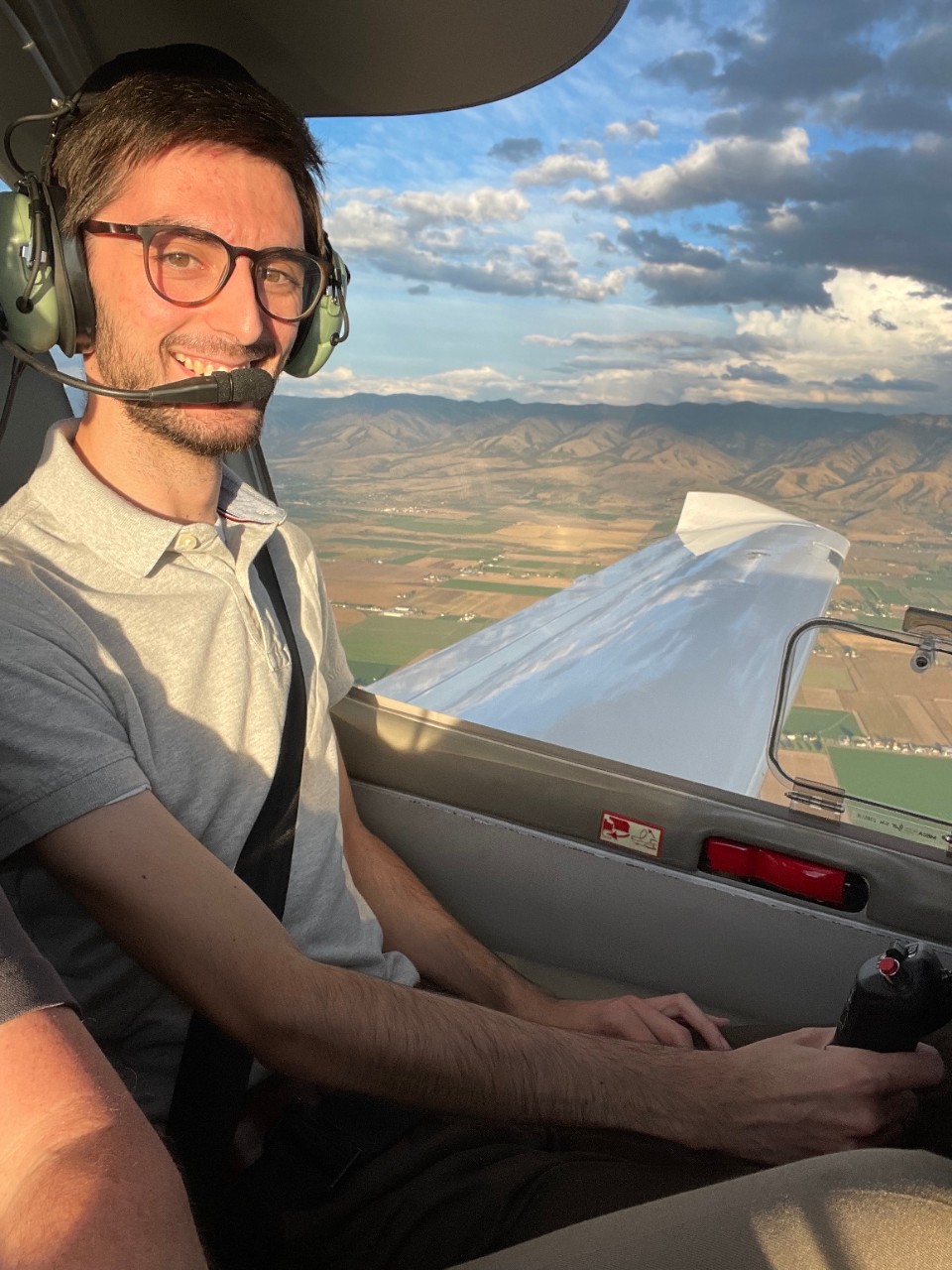 When I was 10 years old, I saw an old version of the Microsoft Flight Simulator in a store. I asked my dad to buy it for me, but he said that I was too young and that piloting a plane was difficult. That sounded like a challenge to me. After some weeks of bargaining with my dad, I ended up getting a copy of the game. The more I learned about planes and how they work, the more I enjoyed it. That's when my passion for aviation started. 
I started saying that in the future I wanted my career to be related to aviation. I wasn't sure exactly what I wanted to be; I just wanted to have a job where I could be close to planes. Once I got to high school, I had several physics and math teachers who inspired me. From then on, it was clear that my path forward would be aerospace engineering, and I wanted to make an impact in the future of aviation. 
Describe your research work. What problems do you hope to solve?
My research is focused on predicting the performance of propulsion batteries applied to electric aircraft. In the area of transportation, hybrid and fully electric cars are gaining importance because climate change is an issue that needs to be addressed. Planes, helicopters and multicopters should follow shortly to help us reduce the emissions in the aviation industry. 
What are some impactful experiences you had while at UC?
College sports had a big impact on me when I arrived at UC. I grew up in Spain, where college sports don't exist. It was awesome to see that a university campus in the middle of the city could have a huge stadium, basketball arena, etc. I love going to cheer for the Bearcats football team!
Do you have any other hobbies or involvements you'd like to share?
I like to fly RC planes. It's something that I have always wanted to do but never had a good chance to start. Luckily, my lab colleagues and friends provided the perfect introduction by giving me training lessons. I also enjoy stargazing. I have been a volunteer at the Cincinnati Observatory, where I worked with some amazing and enthusiastic people that taught me a lot about our observatory and the universe. 
I graduated in August 2023 and got a job with a start-up company in Utah. There, I will be applying the knowledge I obtained during graduate school and continue working on the development of electric powered aircraft. 
Featured Image at top: Jon Ander Martin's research quadcopter. Photo/provided. 
1
Engineering students showcase capstone projects at CEAS Expo
May 6, 2022
Graduating engineering undergraduates from the University of Cincinnati's College of Engineering and Applied Science gathered for the inaugural CEAS Expo in April to showcase their senior capstone projects to more than 500 attendees, including faculty, staff, alumni and industry representatives. The event, organized by the college and CEAS Tribunal student government, was held in downtown Cincinnati at the Duke Energy Convention Center.