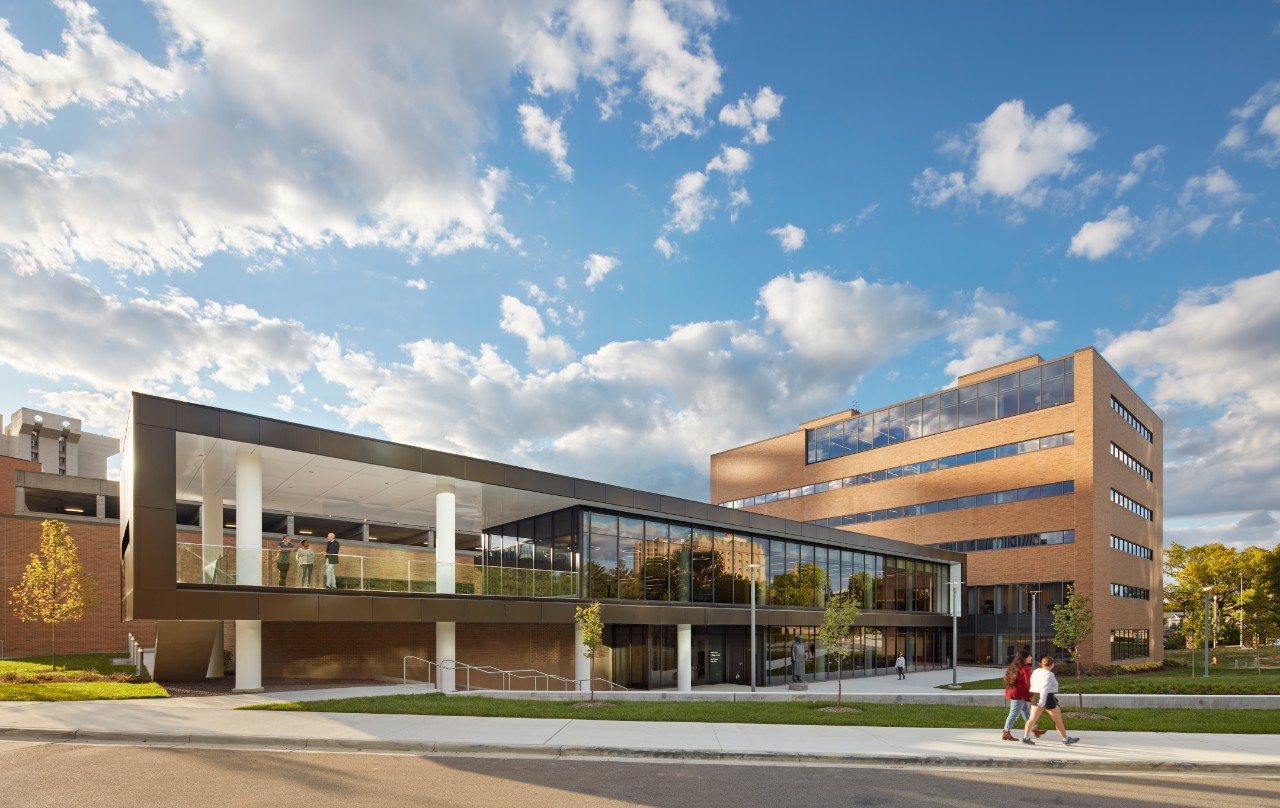 Achieving a lifelong goal: One student's shift to law school
Andrea Wujek Beck, '25, was well established in her life and career when the COVID-19 pandemic hit. She was married, the mother of two young children, and Studio Director of Global Women's at Nike Inc. in Portland, Oregon, where she managed a team of more than 50 people. On her resume, even her college experiences glittered. She played Division 1 basketball for the University of Portland, and during a summer internship she helped execute a tour for LeBron James.
But as happened with so many people during the pandemic, Beck's outlook shifted. She wanted to pursue a road not taken. "Law school was always something I wanted to do," she says, "but it wasn't until the pandemic that I really thought I should reconsider."
While exploring her options, Beck was drawn to UC by the Ohio Innocence Project (OIP), which has secured the release of 42 wrongfully convicted Ohioans since its founding in 2003. 
"The Ohio Innocence Project really interested me," Beck says. "I wanted to find out more. And the more I found out about UC, the more I fell in love with it. And so, with the encouragement and support of my husband, we decided to move across the country so I could go to school here. There are always hard things about going to graduate school and deciding to move across the country with a family, but those hard things aside, the school experience has been really incredible."

One of Beck's children likes to explain it this way: "You're going to school so you can learn how to help people."
To the donors who have funded her scholarship, Beck says, "Thank you for making this opportunity possible for me and for my family."

Beck spent the summer of 2023 performing public-interest work as one of OIP's student fellows. "A lot of our work is investigation into the current cases that we are assigned," she explains. "You really have to dive into these cases to understand them and what the potential avenues for an innocence claim could be. You also take classes to make sure you're doing things correctly, considering all the possible avenues, and then also understanding things like DNA and how that actually can be used in wrongful convictions."
Beck credits her College of Law Scholarship with enabling her to be "a student mom as opposed to a working mom" while striving toward a public-interest career in Innocence work, immigration law or legal aid.
"Public-interest work is not always well-paid work," she says. "Unfortunately, some of the most needed work in the legal field is at times poorly compensated. But this work is what I came to law school to do. So I had to think what would be the right mix of debt, lost income, being a parent, and starting a new career. And for that I'm really grateful to UC. It has allowed me to do those things and not take on such a substantial amount of debt that I can't actually do the work I want to do after I graduate. There were some great schools that I got into, and I thought, 'Well, I'm going to have to go work for a corporate law firm so I can pay off this debt,' which is not why I got into this work. I was very fortunate to have that scholarship to help convince me that this is the path I want."
Featured image at top: Exterior of College Law. Photo/provided.
1
Uplifting stories help #UCtheGood
July 16, 2020
UC Marketing + Communications gathers recent uplifting stories to help the community focus on the good during coronavirus pandemic.
2
Just in: UC tops 50,000 students
August 21, 2023
The University of Cincinnati is anticipating a record fall enrollment with a projected 50,500 students. The growth represents a 5.39% increase and reflects the university's core values around academic excellence, access and inclusion, and affordability.
3
UC Day of Giving a success
April 28, 2021
University of Cincinnati Day of Giving's 24-hour challenge was a tremendous success this year, raising $2,219,197 with 3,232 gifts. The fourth annual UC Day of Giving raised its most money to date with alumni, donors, students, faculty and staff joining together to support UC and UC Health.