UC welcomes record 12,000 graduate students for fall
Most grad students in UC history pursue advanced degrees
The University of Cincinnati welcomed more than 12,000 graduate students this fall, setting a new enrollment record. 
The city of Cincinnati and the University of Cincinnati are growing at a rapid pace, and the university's Graduate College and programs are playing a huge part in that progress.
Graduate programs are a central driver of forward thinking that fosters groundbreaking research, innovation and professional development. From the arts and humanities to engineering and sciences, UC's scope of graduate programs offers intellectual rigor and collaboration to which more students than ever aspire.
The presence of 12,000 graduate and professional graduate students enrolled at UC is a testament to the university's exceptional faculty and academic programs. This is our largest enrollment in history.
Graduate enrollment has increased by nearly 7% since last fall. Meanwhile, international enrollment has increased to more than 3,300 graduate students total.  We also saw our highest enrollment for domestic students of color.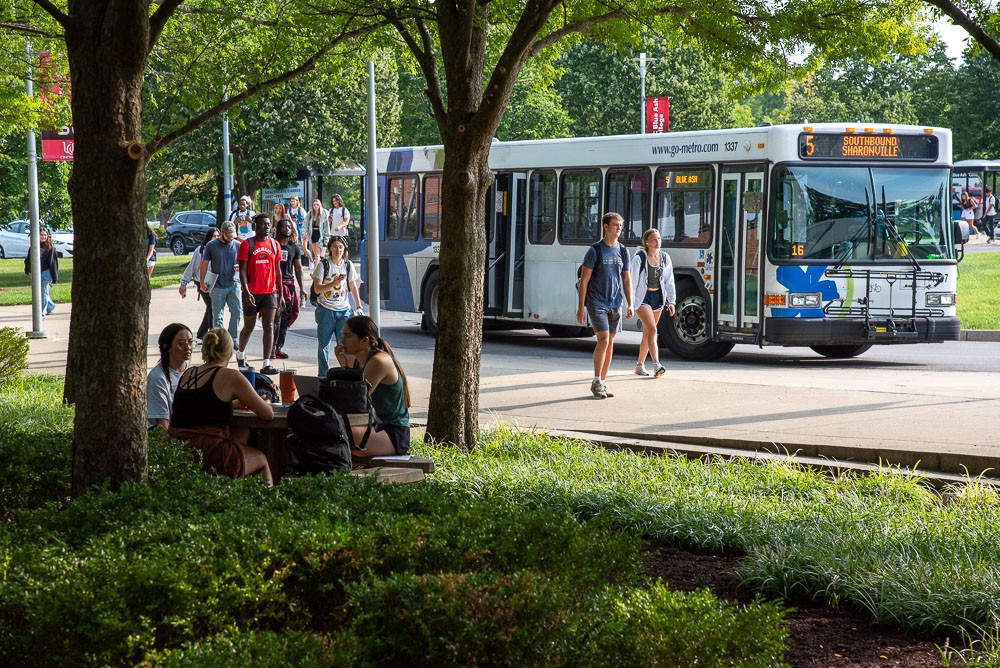 UC's graduate programs rank highly in the latest U.S. News & World Report's Best Graduate Schools.

Among them are programs in the College of Medicine, the College of Nursing, the College of Engineering and Applied Science, the Carl H. Lindner College of Business, the College of Law, and the College of Education, Criminal Justice, and Human Services.
As renowned experts in their respective fields, UC's faculty members serve as mentors and advocates, guiding graduate students through their journey toward academic success. Their expertise and dedication to instruction and inquiry provide graduate students with the direction and support necessary to excel in their studies, develop professionally, and contribute to society.
Graduate education continues to grow at UC.
Rose Marie Ward, Dean of UC Graduate College
"Graduate education continues to grow at UC. The Graduate College is committed to supporting a student-centered graduate education experience that helps students connect and thrive," says Rose Marie Ward, Ph.D., dean of the Graduate College and vice provost for academic programs. "Come find your graduate home from among our 400+ graduate programs and certificates."
UC prides itself on the slogan Next Lives Here, the driving force of the university's strategic plan and vision. The education provided at the university prepares future leaders. UC doesn't wait for change to happen; it is the change. Next Lives Here at UC to create innovation for an evolving world. Students go on to be pillars of the community. The university is dedicated to pushing limits and challenging minds by providing the space and opportunity for people from diverse backgrounds to connect, imagine and discover.  
UC recognizes education extends beyond the classroom. Many graduate students actively lend their knowledge and skills to address collective challenges for the public, through service projects, outreach programs and working with local businesses and organizations.
The university especially takes pride in co-ops that have enriched their lives. The university invented cooperative education in 1906. The institution is now pioneering new models of learning and working. In 2018 - 2019, UC students participated in 7,500 full-time co-op placements in 30 countries and across 43. UC's graduate students represent the university's commitment to effective and positive partnerships.  
By emphasizing practical skills and professional advancement, UC equips graduates with the tools they need to excel in their chosen fields and continues to draw a dynamic and inclusive student body. It remains a shining example of academic achievement, research excellence, and community engagement. UC is paving the way for a brighter, more promising future where intellect and invention converge to light the way. 
Featured image at top: UC's Graduate College set a record for enrollment in 2023. Photo/ Andrew Higley/UC Marketing + Brand
1
UC's 2021 graduates prepare to celebrate
December 6, 2021
The University of Cincinnati will celebrate fall commencement for 2,284 graduates on Friday, Dec. 10, in two ceremonies at Fifth Third Arena. UC will host its doctoral hooding and master's degree recognition ceremony at 9 a.m. followed by the undergraduate commencement at 2 p.m. Doors to the arena open 90 minutes before the ceremonies.
2
President Pinto's 2021 year-in-review message
December 17, 2021
University of Cincinnati President Neville G. Pinto looks back on a historic year that brought students, faculty, staff and the community back together like never before.