Next Innovation Scholars immerse themselves in Silicon Valley culture
UC alumni serve as guides, mentors during weeklong trip
At the University of Cincinnati, the educational journey is not just about acquiring knowledge — it's about immersion. For students in the NEXT Innovation Scholars (NIS) program, that immersive approach took the form of a trip to Silicon Valley in California this fall.
Designed to spark their inner innovators, the trip gave a select group of NIS students a deep dive into some of the world's most influential companies.

As Aaron Bradley, director of NIS, stated, "A big focus of this trip was building up our scholars' innovation toolkit and professional skills, allowing them to meet and learn from successful industry professionals who could give them advice and build their networks."
From high-tech headquarters to vineyards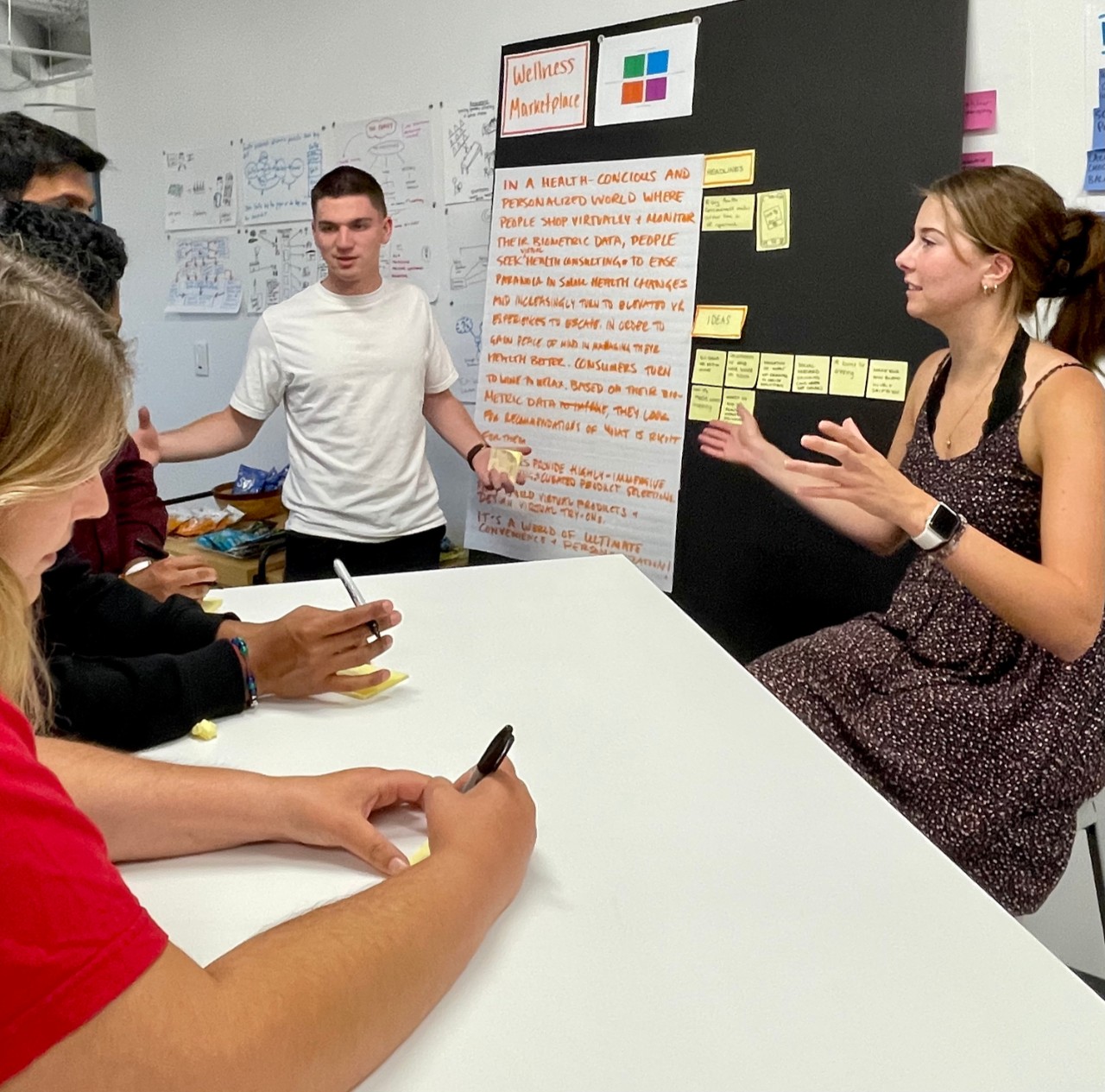 The scholars visited several renowned Bay Area companies, including IDEO, a global innovation firm founded in Palo Alto. Co-founder Dennis Boyle, who was pivotal as a mentor and adviser to Bradley during the development of the NEXT Innovation Scholars program, guided students. They explored IDEO's innovative culture and heard inspiring stories, like designing the first computer mouse for Apple.
"IDEO's work and approach to design have greatly influenced my teaching and pursuit of innovation projects throughout my career. Incredibly, we've been fortunate enough to gain insights directly from Dennis in the development of NIS, and watching our students get the opportunity to learn directly from someone with his lifetime of leadership in innovation is powerful," said Bradley.
The comprehensive itinerary featured a visit to EJ Gallo Winery, a 90-year-old family winery in Modesto, whose leaders had commissioned a proprietary project by the scholars. The winery has a collaborative relationship with UC hiring a number of co-op students throughout the years. This led to additional opportunities such as the current one where students unveiled their future-focused concepts before an audience of more than 30 members from EJ Gallo's Innovation and Consumer Insights division. 
As the week drew to a close, Jump Associates, a world-renowned industry visionary, hosted NIS students for a two-day training program. Scholars explored multiple scenarios for dissecting complex business situations and crafted proactive what-comes-next roadmaps that anticipate underlying shifts in market forces well in advance.
A big focus of this trip was building up our scholars' innovation toolkit and professional skills, allowing them to meet and learn from successful industry professionals who could give them advice and build their networks.
Aaron Bradley Director, UC Next Innovation Scholars Program
Mutually beneficial collaboration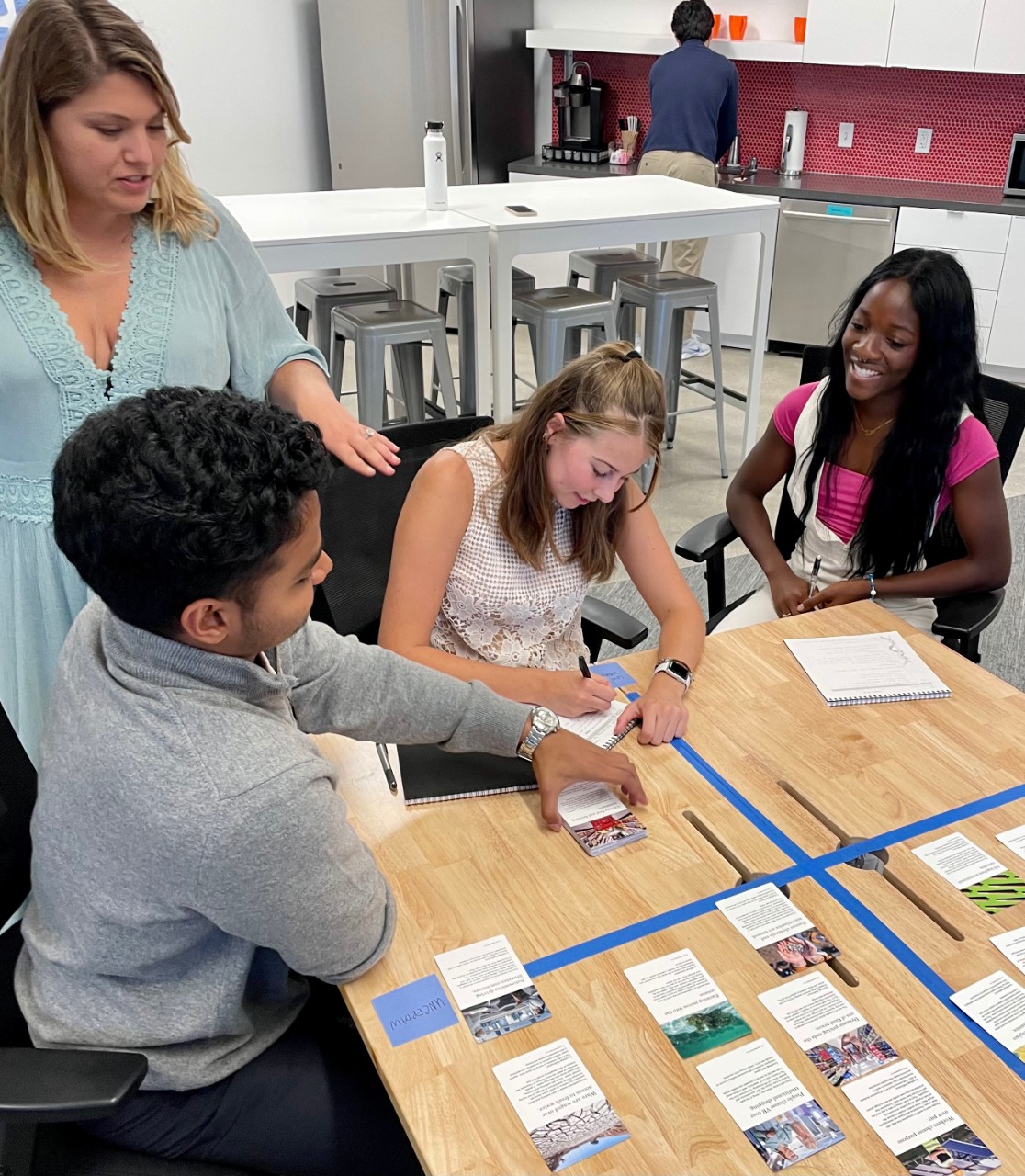 For NIS student Caroline Berger, the trip to California was her first to the West Coast.
"My top highlights definitely include presenting our research on the future of wine to E&J Gallo, getting to spend the afternoon at IDEO and participating in the strategic foresight training at Jump Associates," she said.
She added that the trip taught her new skills to apply while affirming her passion for research and human-centered design.
Akashdeep Khanikor, a physics major in the NIS program, said, "We met some incredible people from different backgrounds excelling at different things and a different pace. It made me appreciate how the level and standard of work required of NIS, in many ways, exceeds industry standards, and the key aspect of the program is allowing the students to take center stage." 
Bradley echoed the enthusiasm of the scholars, saying that the trip inspired and motivated students by exposing them to new environments and industry innovators.
"At NIS, we firmly believe that innovation is a team effort, and having trusted collaborators is key to success in this field. Sometimes, there's a direct connection to a company we're partnering with for a project; sometimes, it's about developing mentoring or advising relationships. The common thread for us is that collaboration should be mutually beneficial and relational, not transactional," Bradley said.
The epicenter of technological innovation
Nestled within the UC 1819 Innovation Hub, the NEXT Innovation Scholars program is a signature scholarship initiative. Engineered to elevate traditional discipline-based degree programs, NIS takes an interdisciplinary approach, cultivating forward-thinking problem-solvers to drive innovation in a complex world.
Silicon Valley spans the southern end of the San Francisco Bay area down to San Jose, bound by the Santa Cruz Mountains to the west and the Diablo Range to the east. Rooted in entrepreneurship and research, it's considered to be the global epicenter of technological innovation.
The valley's reputation has attracted a number of UC alumni, including venture capitalists, entrepreneurs and patent-holding inventors, some of whom served as tour guides and mentors throughout the week.
NIS students, spanning diverse majors such as design, engineering, computer science, physics, business and medical sciences, listened to their stories and discovered the diverse career paths available in innovation.
Featured image at top: NEXT Innovation Scholars students and staff during a California trip. Photos/provided
Become a Bearcat
Whether you're a first-generation student or from a family of Bearcats, UC is proud to support you at every step along your journey. We want to make sure you succeed — and feel right at home.
1
UC's $10.6 billion impact
May 9, 2023
The University of Cincinnati delivers a significant economic boost to the region and state of Ohio thanks to alumni impact, operations and research spending, student demand for goods and services, launch of startup companies and more.
2
UC students recognized as top innovators
October 27, 2023
University of Cincinnati students and UC alumni have been recognized for their entrepreneurial spirit by Cincy Inno and Dayton Inno as part of lists that honor innovators age 25 and younger.
3
UC student says 'game on' in Bioré challenge
February 21, 2023
University of Cincinnati student Yale Miller applied his acquired knowledge to tackle a real-world challenge for global brand Bioré, a facial care brand in the Kao USA portfolio. A computer science major, Miller is working toward his Bachelor of Science degree in 2026.