Regional media: UC celebrates opening of the Portman Center for Policy Solutions
Speakers call for bipartisan dialogue, collaboration
The University of Cincinnati celebrated the opening of the Portman Center for Policy Solutions on Monday, Oct. 23. The new center, housed within UC's School of Public and International Affairs, will make its physical home in the new Clifton Court Hall.
The theme of the morning's event, with politicians, university leaders and students in attendance, was bipartisanship, civility, and open and inclusive dialogue. 
"For the young people here, thinking about a political career, keeping your head down and actually forcing the compromises between other people to get to a result is also a lost art," said Senator Rob Portman, the center's namesake. "It's not just about you being civil and you showing respect for others and you being bipartisan. It's about being willing to go out of your comfort zone and help bring people together to solve problems."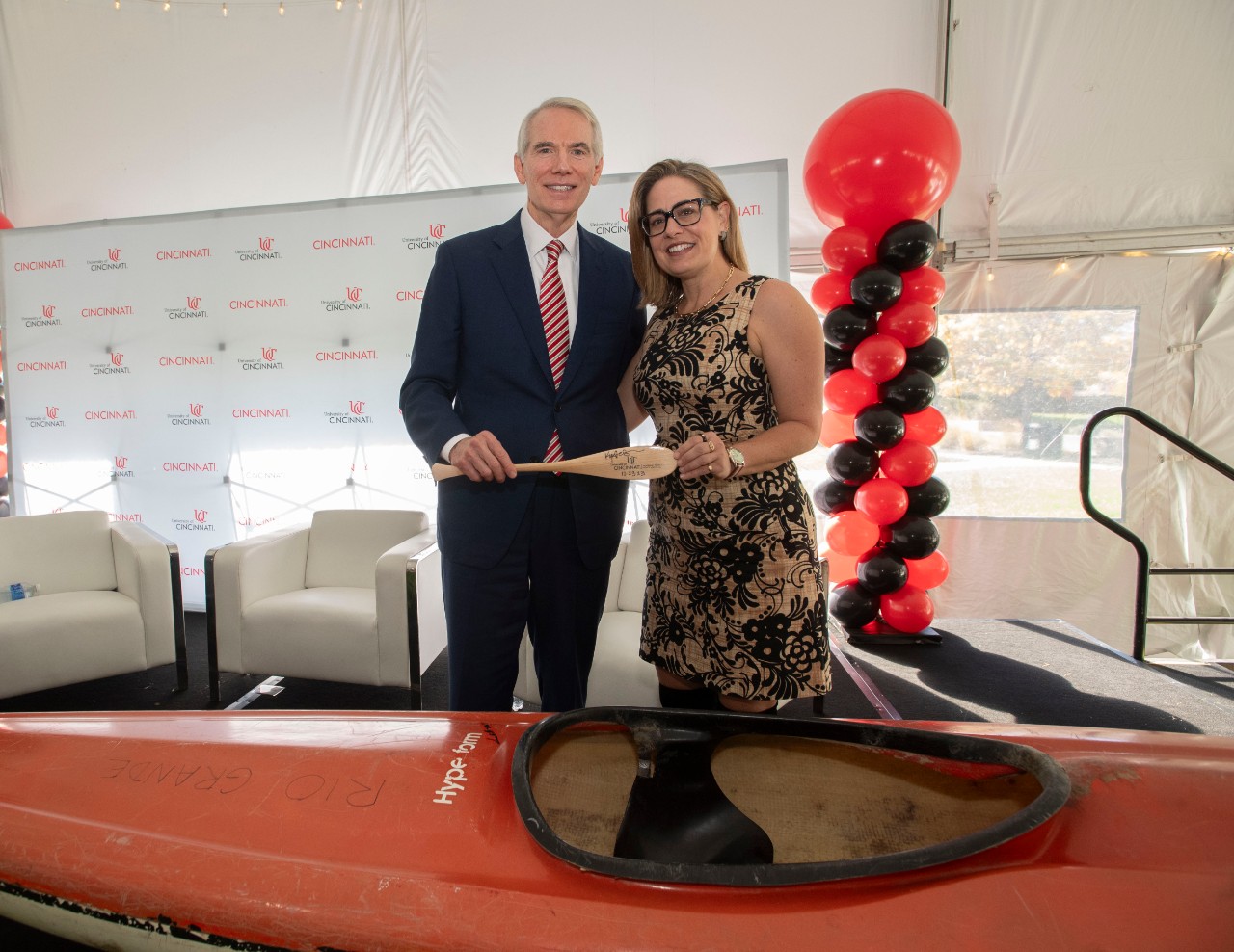 Senator Portman engaged in a bipartisan Q&A with Arizona Senator Kyrsten Sinema. They discussed their joint work on the Infrastructure Investment and Jobs Act and its results for their constituents.
Senator Sinema echoed Portman's thoughts on how crucial collaboration is to the nation. 
"Unfortunately, we're in a place in our country right now where our willingness to compromise is perceived as weakness," she said. "But a willingness to compromise is the strongest position that you can go into a situation with, because it means that you are dedicated to an outcome and that outcome will return results for the people that you serve much, much greater than giving a self-righteous speech on TikTok or Instagram."
The opening applications for the inaugural Portman Fellows were announced. The fellows will have access to opportunities and learning experiences that will engage them as citizen-leaders committed to the democratic process.
The goal of the Center's programming and the support for its Portman Fellows will lead to the development of practical and effective policy solutions.
News coverage of the event includes:
Featured image at top: Ribbon cutting celebrating the Portman Center for Policy Solutions. Photo/Joe Fuqua for the UC Foundation.