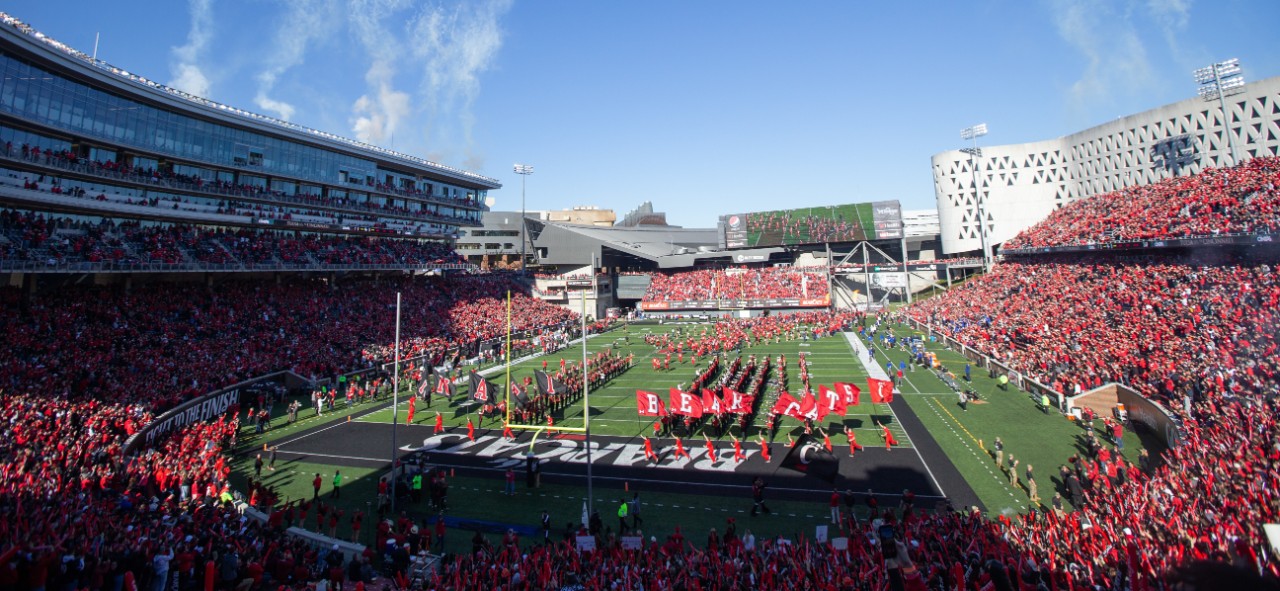 UC alumni make 'Big' return for Homecoming
The University of Cincinnati celebrates first Big 12 Homecoming weekend Oct. 13-14
The University of Cincinnati community will unite Oct. 13-14 for its first Homecoming weekend as a member of the Big 12 Conference. With a "Down the Drive" theme derived from UC's signature cheer, the festive occasion will honor treasured traditions and the ongoing relationship between alumni and students.
The University of Cincinnati Alumni Association's annual Homecoming activities will take place on the Uptown Campus on Friday and Saturday, Oct. 13-14.
As UC's first Homecoming in the Big 12 era, all of the occasion's pageantry will be on display, highlighted by the UC Alumni Homecoming Kickoff Party on Friday evening, followed by Saturday's Homecoming parade and the game between the Cincinnati Bearcats and visiting Iowa State Cyclones in historic Nippert Stadium. Kickoff is at noon with the game televised on FS1. Tickets are sold out through UC Athletics — Nippert Stadium's 15th consecutive sellout. Tickets are available through SeatGeek, UC's official Fan-to-Fan Ticket Marketplace.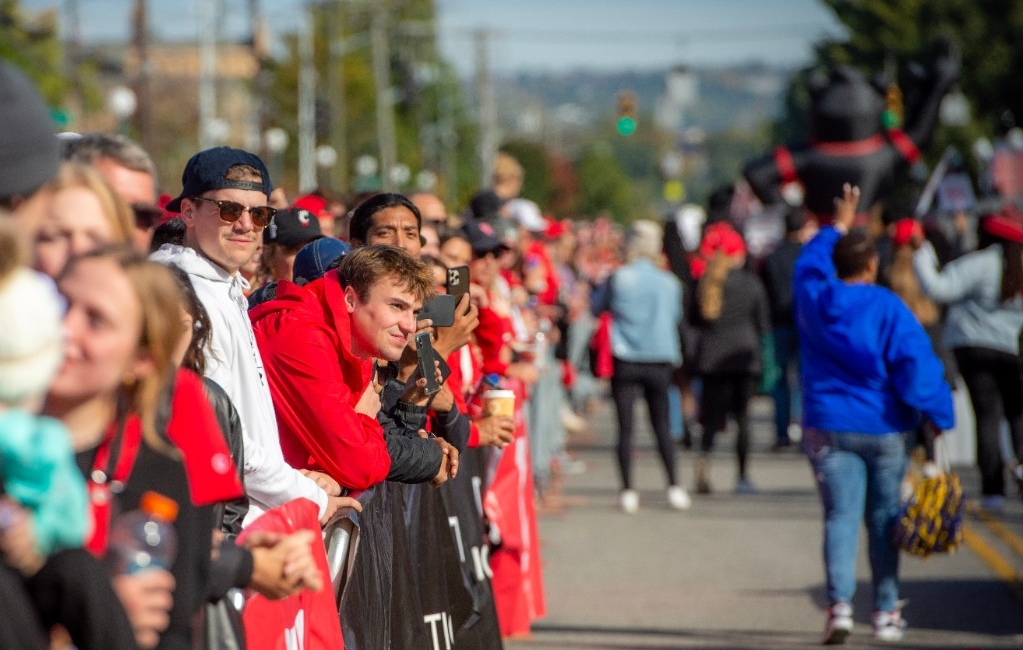 As always, the parade will be a Homecoming focal point, traveling down Clifton Avenue beginning at 8 a.m. This year's edition will feature 65 parade entries with generations of onlookers and well-wishers from the UC family lining the route.
The parade will highlight the 2023 Homecoming theme "Down the Drive," which is the university's signature cheer at athletics events. The parade grand marshal will be Bearcats women's basketball coach Katrina Merriweather, A&S '01, CECH '02.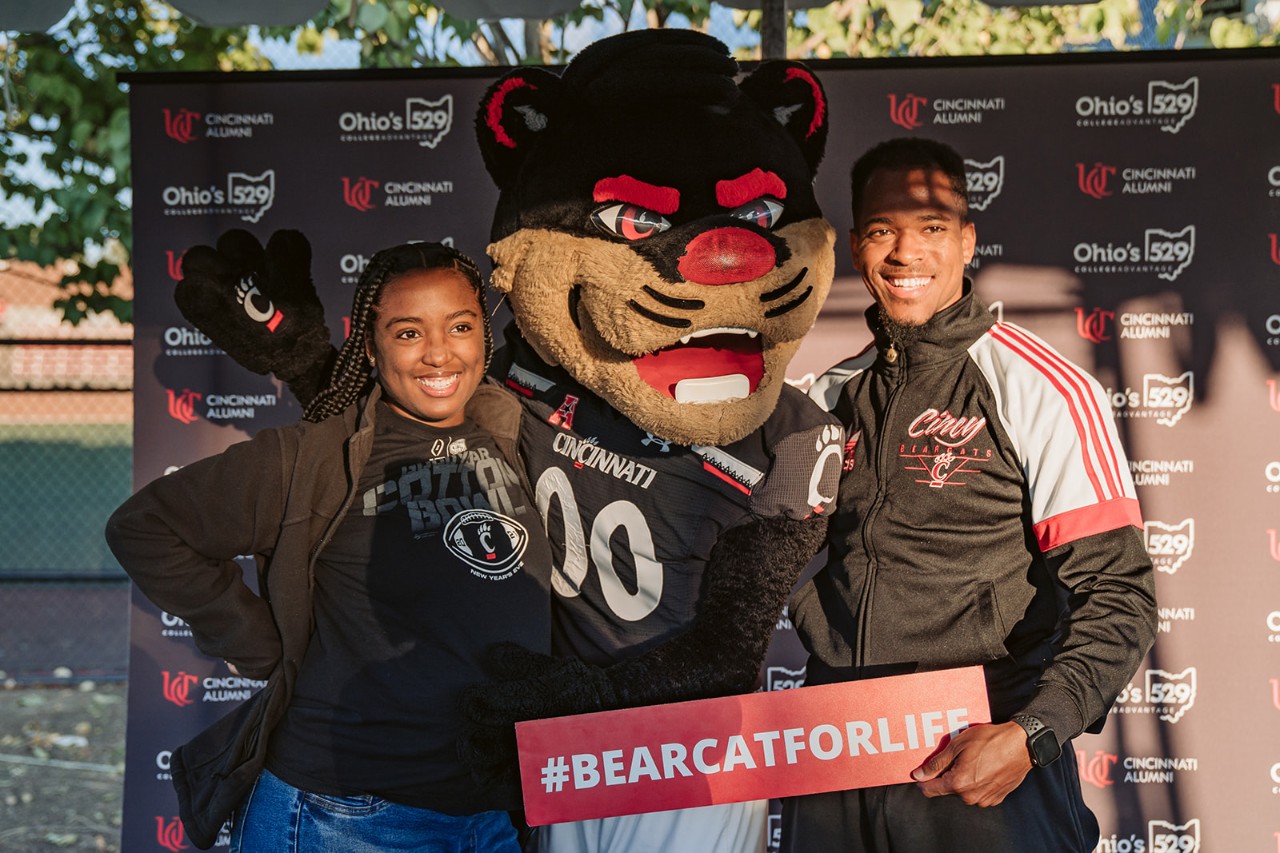 While the UC–Iowa State football game and parade are the cornerstones of Homecoming, a full slate of activities throughout the week will provide alumni, students and friends with many opportunities to enjoy the occasion.
On Friday night, Oct. 13, the UC Alumni Association will host its annual Homecoming Kickoff Party from 6-8 p.m. This year's event will take place on Sheakley Lawn in Varsity Village just off Corry Boulevard.
Voice of the Bearcats Dan Hoard will emcee while Bearcats Head Coach Scott Satterfield, Director of Athletics John Cunningham and Chief Alumni Officer Jennifer Heisey will greet alumni and fans. Music will be provided by DJ ETrayn, with special appearances from the Bearcat mascot and UC cheerleaders. 
On Saturday, Oct. 14, pregame festivities will occur all around campus and the surrounding neighborhood, including notably at The Grid tailgate area on Campus Green and Sigma Sigma Commons, which will open at 7 a.m. The football team's traditional Catwalk to the stadium will pass through The Grid at approximately 9:30 a.m. UC fans are asked to wear red.
"One of the greatest experiences you'll find on the UC campus is being in Nippert Stadium when our student section is doing 'Down the Drive,'" said Heisey. "More than 6,000 students move and sing as one, their youthful exuberance and sheer joy in simply being Bearcats on full display. As we inevitably and quickly join in, we all feel connected — students, alumni, players on the field, and all the Bearcats who have come before us and done the same. I hope you're able to join us for the full Homecoming experience during our inaugural Big 12 football season."
A full list of more than a dozen events is available on the UC Homecoming website. The schedule includes activities staged by the UC Alumni Association, college and special interest alumni networks, student groups and UC Athletics. Highlights include:
Featured image at the top: Historic Nippert Stadium on gameday. Photo/provided.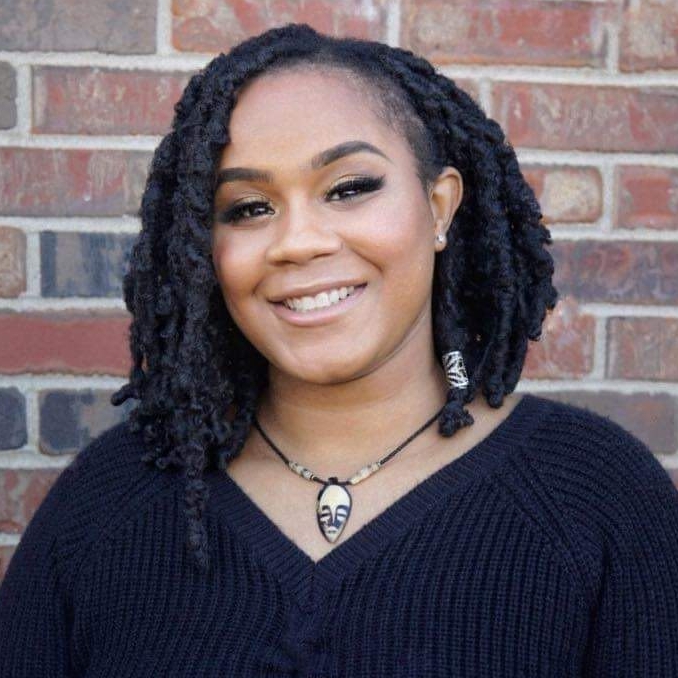 Sam Speyer
Program Director of Alumni & Donor Experience, Cincinnati & Campus Engagement
1
UC student athlete alum spends career paying it forward
June 3, 2021
Maggie McKinley-Maric, A&S '00, was running hurdles for the University of Cincinnati track and field team when life placed different types of hurdles in her path. She was a rising sophomore when her mother was diagnosed with breast cancer. And she was a gay woman striving to find her way in a pre-enlightened world while sometimes feeling that she and her gay friends were "part of a secret society."
2
UC's Olympic poetry in motion
July 22, 2021
Five former University of Cincinnati athletes and one current second-year student prepare to compete in the 2021 Tokyo Olympics in July and August, representing four nations in five athletic competitions. Former Bearcats include Annette Echikunwoke, hammer throw (Nigeria); Vanessa Gilles, women's soccer (Canada); Nate Fish, baseball (Israel); Jordan Thompson, volleyball (U.S.) and Lewis Johnson (NBC Sports TV broadcaster). Lawrence Sapp, second-year UC student will compete in the Paralympic swim competition in late August.