Lindner Dean Marianne Lewis receives Thinkers50 Breakthrough Idea Award
Honor given to Lewis for co-authoring innovative problem-solving book
Marianne Lewis, PhD, dean and professor of management at the Carl H. Lindner College of Business, has been recognized with the Thinkers50 2023 Breakthrough Idea Award.
Lewis was honored along with Wendy K. Smith, Dana J. Johnson Professor of Management and faculty director of the Women's Leadership Initiative at the University of Delaware's Lerner College of Business and Economics. Lewis and Smith are the co-authors of "Both/And Thinking: Embracing Creative Tensions to Solve Your Toughest Problems," which was released in August 2022.
Thinkers50 is the preeminent resource in the field of management thinking for identifying, ranking and sharing leading management ideas. Per Thinkers50, the Breakthrough Idea Award commemorates a "Eureka moment in management. It is given to a radical idea, which has the potential to change the way we think about business forever."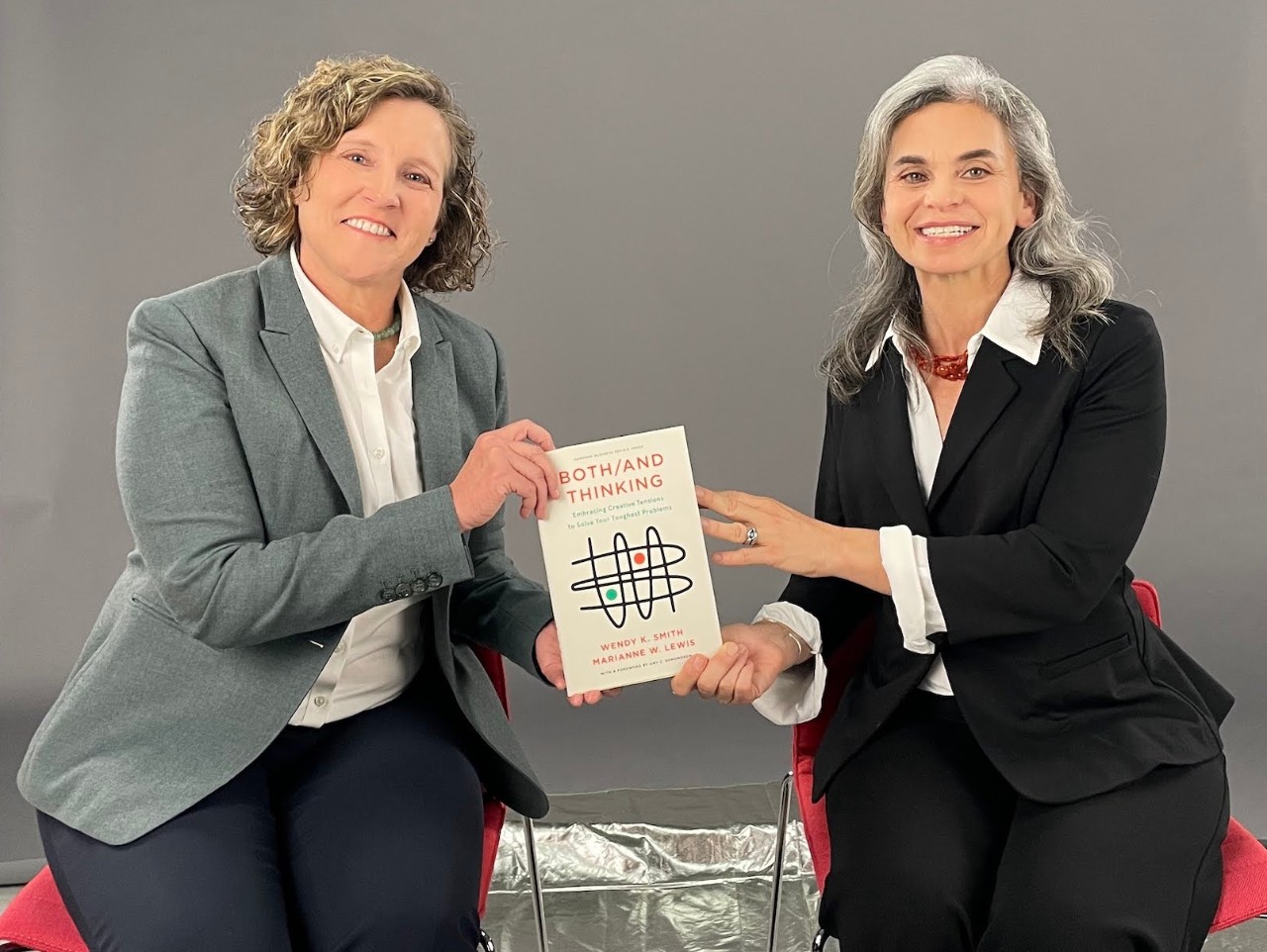 The award is dedicated to the memory of C.K. Prahalad, an internationally renowned management consultant and thinker, and the former Paul and Ruth McCracken Distinguished University Professor of Corporate Strategy at the University of Michigan's Stephen M. Ross School of Business. 
"It is deeply humbling to receive this award, particularly given the inspiring nominees in this category and its namesake, C.K. Prahalad," Lewis said. "I'm grateful for teaming with Wendy, and the extraordinary opportunities enabled by 'Both/And Thinking,' as we're working with and learning from international organizations, scholars and leaders to push our ideas further."
Thinkers50 noted that in "Both/And Thinking," Lewis and Smith "demonstrate how to cope and thrive with multiple knotted tensions at the same time and provide an actionable framework for transforming those tensions into opportunities for growth and innovation. Drawing on more than 20 years of pioneering research, they show how we can employ 'both/and thinking' to make more creative, flexible and impactful decisions."
For her work on "Both/And Thinking," Lewis has been the subject of a Cincinnati Business Courier cover story and has been featured in various podcasts, newsletters and articles throughout the business world.
Featured image at top: Lindner Dean Marianne Lewis' co-written book "Both/And Thinking: Embracing Creative Tensions to Solve Your Toughest Problems" was released in August 2022. Photo/Gavin Vargas.
Impact Lives Here
The University of Cincinnati is leading public urban universities into a new era of innovation and impact. Our faculty, staff and students are saving lives, changing outcomes and bending the future in our city's direction. Next Lives Here.
2
Op-Ed: Adopt a 'both/and' approach to create policies that sustain over time
July 14, 2022
Lindner College of Business Dean and Professor of Management Marianne Lewis, PhD, writes for MarketWatch: "We find ourselves, yet again, in a polarized political fight with the battlegrounds in Congress, in the boardrooms, on the streets, on social media and, for some of us, at our kitchen tables."