Lindner first-year students pilot co-op requirement
'Trailblazer Scholars' comprise inaugural universal co-op cohort
The onset of the 2023-24 academic year at the Carl H. Lindner College of Business ushered in the first phase of the college's universal co-op program rollout. Beginning with the current fall semester, universal co-op became a voluntary, opt-in requirement for traditional, first-year students.
In a reflection of the students' hunger to explore career options, and build their skills, resumes and networks, 267 first-year students opted into Lindner's universal co-op requirement. This cohort, referred to as "Trailblazer Scholars," will complete a minimum of two paid, professional experiences before they graduate.
Orientation for Trailblazer Scholars took place in late October, where students heard from Jaime Windeler, PhD, associate dean, undergraduate programs and student experience; Sandra English, assistant dean, Lindner Career Services; and Keith Sun, director of experiential learning, Lindner Career Services. Students also mingled with fellow Trailblazer Scholars through group activities.
Windeler praised the Trailblazer Scholars for "taking a chance on something new."
"Different students face different challenges and have different needs. Universal co-op puts the onus on us to get you prepared but also puts the onus on you to take advantage of the resources available to you."
All 13 of Lindner's undergraduate major programs are represented in the cohort, plus business undecided students. Trailblazer Scholars indicated they were seeking a wide range of answers to what their co-op goals and career aspirations were, from gaining experience in professional settings and learning about various business disciplines to wanting to maximize the number of co-ops they complete and cultivate change in their future workplace.
Being confused is OK. Be curious and be eager to learn and someone will be there to help you grow.
Matthew Jessup BBA '92, retired office managing partner, Grant Thornton
Trailblazer Scholars are backed by Career Services, which has helped Lindner students log more than 6,200 co-op placements and earn more than $57 million over the last five academic years. Students work with career coaches to develop strategies to obtain part- or full-time co-ops, learn about co-op options through course study and connect with potential co-op employers through a variety of means, including the Handshake job portal, employer touchpoint and tabling sessions at Lindner; career fairs and more.
Other student resources include access to LinkedIn's Learning Library (when accessed through Canopy); Big Interview, a free platform that allows for practice interviews, access to field-tailored interview playbooks and more; and Interstride, a platform for international students seeking co-op and job opportunities, and American students searching for overseas job opportunities.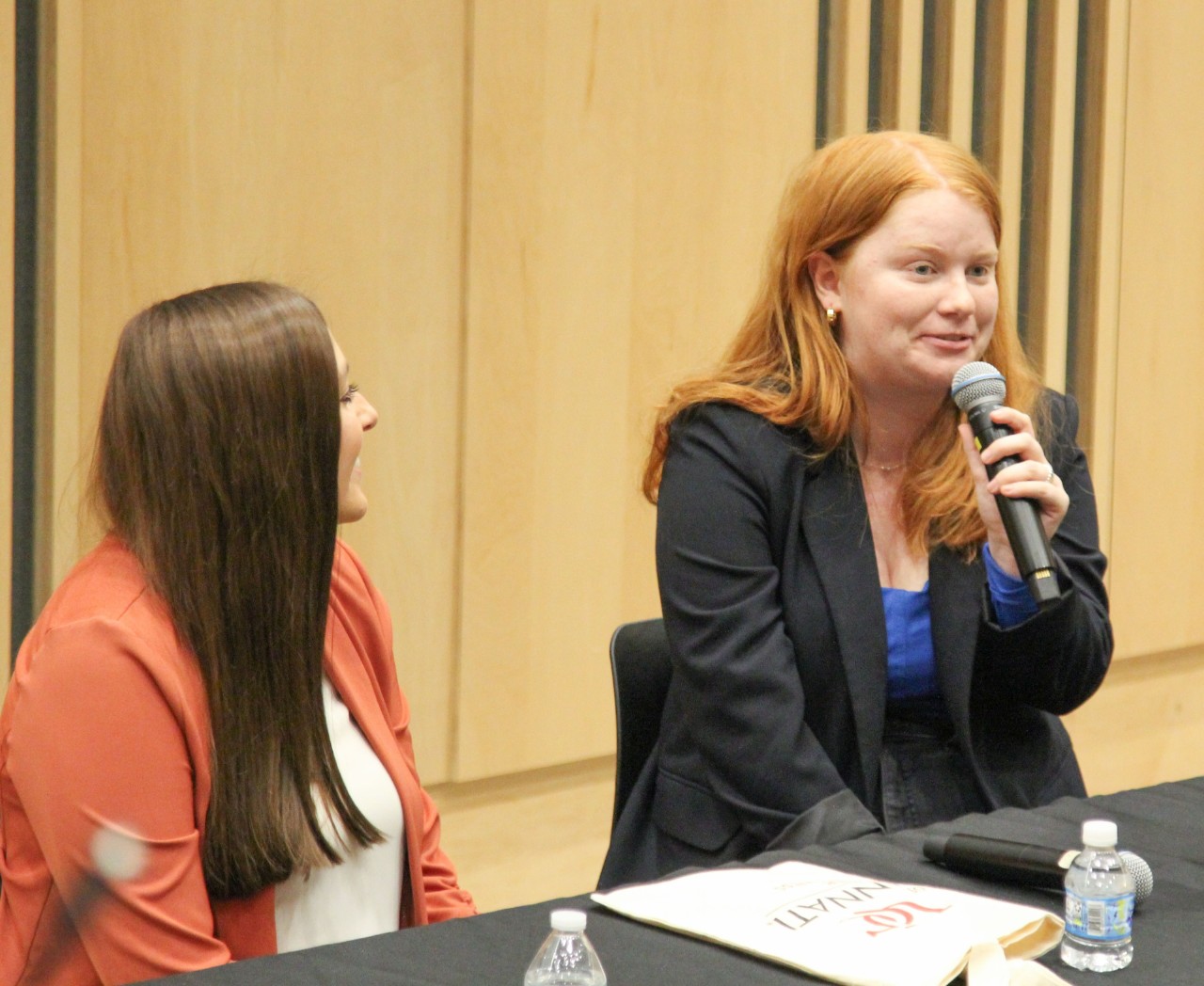 A trio of Lindner graduates relayed the importance of their co-op experience(s) during the Trailblazer Scholars VIP Alumni Panel on Nov. 15:
Matthew Jessup, BBA '92, retired office managing partner, Grant Thornton

Maura Horton, BBA '23, associate account executive, Icon Commerce

Kelly Trame, BBA '15, advisory manager, internal audit and enterprise risk, KPMG
Jessup, Horton and Trame discussed their methods for finding a co-op, offered general advice for first-year students and recalled common questions asked during a co-op or job interview. The panelists also conveyed takeaways from their first co-op experience.
"Being confused is OK," Jessup said. "Be curious and be eager to learn and someone will be there to help you grow."
Trame added: "It's a trial run for you and them. They want to coach you and build you up."
Horton noted the importance of interview etiquette and implored students to utilize Career Services' resources. 
"Following up after interviews is valued by employers," she said. "You have a great support system at Lindner. Talk with your career coach and your PACE leader."
Featured image at top: Lindner first-year students during the Trailblazer Scholars VIP Alumni Panel. Photos/Danielle Lawrence.
Linking top, diverse talent with top employers
Together with faculty, staff, industry professionals and UC alumni, Lindner Career Services enhances the professional acumen of Lindner students and fosters mutually beneficial relationships with employers. Get to know Career Services by connecting with a career coach or exploring the many resources available for students and employers.
1
Lindner honors 2022-23 student award winners
April 4, 2023
The Carl H. Lindner College of Business held its Student Awards reception in Lindner Hall on April 3 to recognize its standout future business problem solvers for the 2022-23 academic year.
3
Lindner to launch universal co-op program
May 23, 2023
Beginning in fall 2023, the Carl H. Lindner College of Business will roll out a new universal co-op program. Once implemented through a phased approach, all undergraduate students will be required to complete a baseline of two co-ops, with the minimum number of experiences needed depending on the students' specific circumstances.