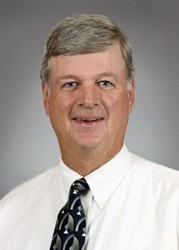 Ten Years of Teaching Talent: UC's College of Business Celebrates the Lindner Honors-PLUS Program
The Carl H. Lindner Honors-PLUS program will mark a decade at the University of Cincinnati College of Business (CoB). Ten years into this exemplary program, CoB faculty and staff take time to celebrate the successes of the past, highlight the accomplishments of program alumni, and thank the generous donors who make the program possible. The CoB Carl H. Lindner Honors-PLUS Program 10th Anniversary Celebration is Thursday, Nov. 8, 2007, at 6 p.m. in the Great Hall of the Tangeman University Center.
The Lindner Honors-PLUS program was developed through the vision of CoB's Norm Baker, with the generous support of Carl Lindner, the Procter and Gamble Company and Cintas. In addition to these seed funds, the program has received generous support from other area industries and individuals.
Lindner Honors-PLUS is an educational experience at the College of Business designed for highly motivated individuals with superior academic ability and demonstrated leadership skills. The program's goal is to graduate successful business professionals with the potential to become future business leaders. "PLUS" stands for Promise as a business professional; Leadership in school and community activities; Understanding of the global marketplace and diverse cultures; and Success through talent, commitment, dedication and effort.

Baker, a University Professor and Provost Emeritus, saw the program as being a defined and self-contained partnership between the college, individuals and businesses. The goals of the program are to integrate the resources of the College of Business, the University Honors Scholar Program and the business community of the Greater Cincinnati Metropolitan Area to offer the area's students a leadership development program and connection with the Cincinnati area. The demanding curriculum, including mandatory co-op experience, positions graduates of the Lindner Honors-PLUS program ready for immediate productive employment in and service to the business community. More than three-fourths — 80 percent — of the students come from the Cincinnati area, and 80 percent of the program's graduates start their careers in the Cincinnati area.
All students admitted to the Lindner Honors-PLUS Program receive merit scholarships sufficient to cover all in-state academic and general fees. As with other University Honors students, students are chosen based on test scores, grade point average and class ranking. In addition, Lindner Honors-PLUS criteria seek to attract students whose academic measures place them in the top 10 percent nationally, whose extracurricular activities indicate excellent leadership potential, and who are motivated to become business and community leaders.
Their leadership shines through even before graduation.
"Each year our students lead many prominent campus organizations," says Jeri B. Ricketts, director of the Carl H. Lindner Honors-PLUS Program and an associate professor of accounting. "If you look at the membership of Student Government, Student Alumni Council, Undergraduate Funding Board, Student Activities Board, etc., you'll find many Lindner Honors-PLUS students. Also, about a quarter to a third of our students are in the Greek system, and many lead their fraternities and sororities or hold office in inter-fraternity or Pan-Hellenic councils."
The success of the Lindner Honors-PLUS program paved the way for other programs as well. It enabled the establishment of the Business Scholars program in the College of Business, for example. Students who are accepted as a Business Scholar can transfer into the Lindner Honors-PLUS program.
Many other institutes of higher education are emulating the Lindner Honors-PLUS program and grabbing its alumni. For example, Michigan State University approached Ricketts to learn how they could set up such a program.
"They told me they had not seen another program as good as ours," Ricketts says. The highly ranked MBA program at the University of Rochester's Simon Graduate School of Business has also assured Ricketts and McIntosh that their doors are open for any Lindner Honors-PLUS alum.
The rankings reinforce this reputation. For many years, BusinessWeek magazine has ranked MBA programs. In March 2007, they rated undergraduate programs for only the second year — and UC's College of Business made the cut, coming in at No. 79. BusinessWeek surveyed colleges across the United States on such things as programs, enrollment, test scores and alumni starting salaries. They surveyed current students as well as corporate recruiters. The students' input carried the most weight of any other single category of measurement. And UCstudents had some great things to say.
Every student who mentioned the Carl H. Lindner Honors-PLUS program exuded appreciation for it:
"The Lindner Honors-PLUS Business Program is what attracted me to the University of Cincinnati," wrote one student. "It's an outstanding program designed for highly motivated business students and gives them opportunities not seen in other universities, such as internship and co-op work experience, an international trip to learn about the global market with company visits, and a professional network in the business world. Graduating from this program will give me an advantage in the professional world."
"The Honors-PLUS students derive a personal benefit as well as providing a benefit to the local and global community," says Will McIntosh, dean of the College of Business. "The key goals of the College of Business secure and sustain the Lindner Honors-PLUS program for the future."
The CoB Carl H. Lindner Honors-PLUS Program 10th Anniversary Celebration is Thursday, Nov. 8, 2007, at 6 p.m. The reception begins at 6:30 p.m., with dinner and program to follow in UC's Great Hall in Tangeman University Center. For more information, contact Sherry Hetzer at 513-556-7014 or sherry.hetzer@uc.edu.
Read more about Carl H. Lindner Honors-PLUS.
Award-Winning Lindner Honors-PLUS Students Are the Faces of UC
When BusinessWeek Surveyed UC College of Business Undergrads, They Raved About Lindner Honors-PLUS
3/23/2007  BusinessWeek Ranks UC in Top 100
In its latest ranking, BusinessWeek has ranked UC's College of Business among the best.

1
What is UC's 4 + 1 program?
December 4, 2023
You may be a UC student thinking about taking your education to the next level — UC's College of Arts and Sciences has a pathway to help you do just that. A&S has no fewer than 15 five-year programs — from biological sciences to Spanish to psychology — where you can earn both your bachelor's and master's degrees in just five years, versus the traditional six-year track. The Bachelors and Master's 4 + 1 Program is designed to increase your marketability and deepen your understanding of the subject matter. And in an increasingly competitive job market, you may want to investigate an additional year of study.
2
UC graduate program showcase Nov. 16
Event: November 16, 2023 10:00 AM
UC students, faculty and staff and alumni are invited to Bearcats Beyond Bachelors, an event designed to showcase graduate programs at UC. The event is 10 a.m.-2 p.m., Thursday, Nov. 16, in TUC and will explore over 350 graduate degrees, certificates and professional programs across various disciplines.
3
Chronicle of Higher Education: More international students...
October 17, 2023
UC's Jon Weller speaks with the Chronicle of Higher Education for a story about growth in new student visas. India has overtaken China as the largest source of international students in the United States. At UC, India also continues the largest share of international students on campus.
Debug
Query for this