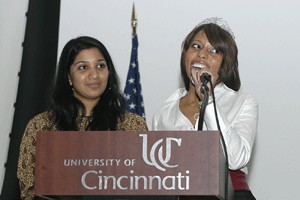 AACRC Celebrates Successful Journeys of UC Students With Annual Ushindi Weekend
Sponsored by the University of Cincinnati African American Cultural and Research Center (
),
Ushindi Weekend
celebrates the achievements of students from the
program and the
, and also recognizes other students who have demonstrated leadership on and off campus. "Ushindi," which is Swahili for "victory," is held toward the end of each academic school year.
Ushindi Weekend takes place at UC this year April 23–25, 2010.
Transitions is a first-year experience program that uses a "Rites of Passage" approach to obtain higher retention and graduation rates for African-American students. The program helps students adjust to college and provides workshops, peer-mentoring and other social and academic activities to ensure that all participants are successful.
2010 Ushindi Weekend Activities:
5–7 p.m., Friday, April 23: Ushindi Cook-out Sigma Sigma Commons
3–3:45 p.m., Saturday, April 24: Ushindi Reception, 6th Floor Steger Student Life Center
4–5 p.m., Saturday, April 24: Ushindi Awards Ceremony, Tangeman University Center (TUC), MainStreet Cinema
4 p.m., Sunday, April 25: AACRC Choir Spring Concert, TUC Great Hall
The keynote speaker for the Saturday Ushindi Awards Ceremony is
UC alumna Martina Jones
(2008). Jones has traveled and lived abroad and has worked to increase the numbers of students of color who study abroad. While a student at UC, she was an active AACRC student, was chosen Miss Kuamka, and was a member of the Lambda Society and ADVANCE.
More about the African American Cultural and Research Center Choir concert Sunday, April 25, 2010, at 4 p.m. in the TUC Great Hall. The concert will be the closing event to the AACRC Ushindi weekend celebration, as the choir will blend and display powerful songs that will express messages of hope, love, encouragement, thanksgiving and praise. Connecting with the Ushindi theme of "Strengthening Our Legacy," the concert theme, "The Music of our Legacy: The Music that Strengthens Us" will offer added excitement as the AACRC culminates a weekend of cultural programming and celebration.
Bottled water and canned goods will be accepted at the door in lieu of a ticket charge. Contributions will be given to Matthew 25 Ministries to assist in their Haiti relief efforts.
Tickets may be obtained at the African American Cultural and Research Center, Ethnic Programs and Services or from any AACRC choir member. For more information, call 513-556-1177 or visit the
.
1
Clean Earth Rovers cofounders named to Forbes 30 Under 30 list
November 30, 2023
A pair of graduates of the University of Cincinnati's Venture Lab program were recognized as being among the top entrepreneurs in North America as part of the 2024 Forbes 30 Under 30 list. Clean Earth Rovers cofounders Michael Arens and David Constantine were named to the 13th annual Forbes 30 Under 30 list in the energy category.
2
CNN Business: Best Buy's simple strategy for beating shoplifting
November 30, 2023
The Best Buy approach to thwart shoplifting is to increase staffing. It's a move that UC criminologist John Eck says, in a CNN Business article, that makes perfect sense. It's also a different approach at a time when most retailers are reducing staff.
3
UC Learning Lab inspires College of Medicine to SIT
November 29, 2023
In a convergence of academic integration, the University of Cincinnati's renowned colleges — Design, Architecture, Art, and Planning, Lindner College of Business, College of Engineering and Applied Sciences and College of Medicine — recently joined forces at the 1819 Innovation Hub for an ideation session that exemplifies the institution's commitment to interdisciplinary collaboration.
Debug
Query for this