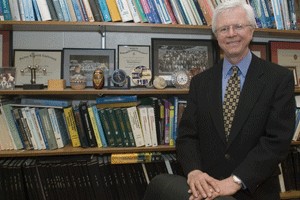 Ohio Third Frontier Awards Million-Dollar Grant to YSI-UC Team
The Ohio Third Frontier Commission has approved a $1,127,873 award to
, Riehl Engineering and the University of Cincinnati for their "Advanced Modified Carbon Nanotube-Based Nutrient Sensor" project.
University of Cincinnati Distinguished Research Professor William Heineman, in the McMicken College of Arts & Sciences,
, is officially part of the million-dollar team.
The project will produce an advanced nutrient sensor to enable critical monitoring of environmental waters for nitrate, which is a major pollutant associated with wastewaters and agricultural runoffs. Sensors are devices used to collect information about an environment, either remotely or by being located in the area being studied.
"The carbon nanotube-based sensor will be able to measure the nitrate in an extremely fast, sensitive way," explains Heineman. "The sensor will be a superior method of providing environmental quality control."
Nitrate is a chemical compound commonly found in fertilizers and formed by microbes that break down nitrogen-bearing plant residues in the soil. Storm water runoff washes these nitrates into streams and rivers. Nitrate, being a nutrient, feeds algae and other plants in the water. Too much nitrate causes growth surges, thus choking out the fish and other animals.
Nitrates that might be entering a community's drinking water must be monitored by industries as mandated by several requirements and regulations, such as National Pollutant Discharge Elimination System permits under the Clean Water Act, the Safe Drinking Water Act, and the Emergency Planning and Community Right to Know Act. Up until now, such monitoring has been cumbersome, with sensors being approximately the size of a 45-gallon can and weighing about 80 pounds.
Thanks to the work of the team, the new sensors that are currently in development will be about one-third the size of a pencil, and will fit in a "smart probe" that is about the size of a AA flashlight. The team believes that this sensor will encourage many more industries — and perhaps even individuals — to monitor their runoff.
"Once you
can
do it, people
will
do it more," says Kevin Schlueter, YSI's program manager for the project. "A lot of companies have been asking for something like this."
As part of the project, a Raman microscope worth more than a quarter of a million dollars will be purchased for the UC Sensor Instrumentation Laboratory. One UC graduate student will also be funded to work on this project.
"There will be a dual benefit," explains Heineman. "YSI will be able to use the instrument and my students and I will be able to use it as well."
There is a definite positive synergy to the project, Heineman notes.
"YSI wants products — I want projects for my PhD students. My job is to generate relevant research projects so that the students can learn how to do research. This grant enables them to help develop a sensor they wouldn't have ordinarily have had access to," he says. "An added benefit is the opportunity for my students to learn about industry by 'rubbing elbows' with YSI scientists working on this project."
UC chemistry has played a large role in the development of this particular product.
YSI's Schlueter earned his PhD in Chemistry at UC while studying under Brian Halsall and he did his post-doctoral research under Heineman and Halsall. YSI Biosensor Technologies Director Jay Johnson is also a PhD graduate of UC's Chemistry Department and a former student of Heineman's.
Ed King, Vice President of Research for YSI, did not go to UC, but he is another Ohio product, having graduated from Ohio Northern University.
"This is a good Ohio story," King says. "Through the Third Frontier Grants, we're proliferating goodwill and jobs throughout Ohio."
Besides being of benefit to the communities of Ohio, the
Ohio Third Frontier Grants
also support education and further business development in Ohio. Ohio's Third Frontier program helped in the
formation of about 14,000 direct and indirect jobs in the state in 2009
and nearly 55,000 direct and indirect jobs since the program's inception in 2002.
About the Third Frontier Sensors Program
The Ohio Third Frontier Sensors Program accelerates the development and growth of the sensors industry and its supply chain in Ohio. It is helping those organizations with near-term specific commercial objectives with respect to products, processes or services commercialize new products; commercialize manufacturing processes or technologies; adapt or modify existing components or systems that can reduce the cost and improve the functionality of sensors; address technical and commercial barriers or demonstrate market readiness.
1
Finding an unexpected passion at UC
September 27, 2023
Lane Bokros '25, grew up in a household that showcased what intelligence and a strong work ethic can do. Today, Bokros is following in the family tradition of success, but with a difference: He is a first-generation college student who aspires to post-graduate education and a career in medicine.
2
UC presents lecture on liberal arts featuring Michael W. Twitty
Event: October 10, 2023 7:30 PM
The University of Cincinnati welcomes Michael W. Twitty, award-winning author of "The Cooking Gene: A Journey Through African American Culinary History in the Old South," for a presentation next month. Twitty will share his views on the value of liberal arts study at a time when headlines show the discipline may be in decline. Titled "What's It Got to Do With Me? The Importance of the Humanities to Contemporary American Life," the event will be held Tuesday, October 10 at 7:30 p.m. at UC's Probasco Auditorium, 2839 Clifton Ave. Presented by UC's College of Arts and Sciences, and sponsored by Taft Research Center, The Jewish Foundation of Cincinnati, and a host of other supporters, the event is free and open to the public.
3
PAC brings special events to UC
September 25, 2023
Find fun, free things to do on campus. UC's Programs and Activities Council (PAC), a student-run organization responsible for special events and concerts and bringing speakers and comedians to campus, offers activities for student engagement throughout the year.
Debug
Query for this