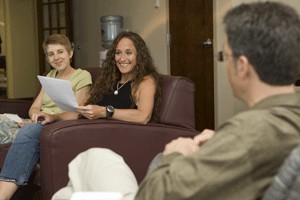 2010 George Rieveschl Award for Creative and/or Scholarly Works: Jana Evans Braziel
Jana Evans Braziel's contributions to the University of Cincinnati are as multifaceted as she is herself. She's an associate professor of English and comparative literature and — since fall 2008 — the faculty chair of the
Charles Phelps Taft Research Center
.
Russel Durst, head of the Department of English and Comparative Literature, notes that Braziel is the most productive faculty member in the department.
"Since arriving at UC in 2003, she has published three edited collections and four single-authored books on Caribbean and African diasporic literature with respected academic presses," he wrote in his letter of nomination for the Rieveschl Award. "She is one of a small cadre of scholars working at the highest levels to redefine her field of Caribbean and African diasporic literature."
Braziel became interested in Caribbean diasporic topics during graduate school when she was living near Boston and travelled frequently to Montréal and New York City. There, she frequently came in contact with Haitian women and other women from the Caribbean. In doing so, she first began to learn about Haitian diasporic literature in particular and then Caribbean writers in general.
Jennifer DeVere Brody, professor of African American Studies and Women's Studies at Duke University, calls Braziel one of the very best scholars currently working in diaspora and Caribbean studies, citing Braziel's knowledge of the Kreyol language.
"Prof. Braziel is an exceptionally industrious scholar whose work fulfills genuine need in the field of Caribbean literacy and cultural studies," Brody wrote in her letter of support for the Rieveschl award.
Braziel was an English major at the University of Georgia, graduating cum laude with a German minor, later earning her MA in comparative literature at Georgia. While completing her doctorate in comparative literature at the University of Massachusetts–Amherst, she also earned a graduate certificate in women's studies.
When she became aware of the opening in American ethnic literatures at the University of Cincinnati, she was drawn by the opportunity to move it beyond its U.S.-based literatures.
"I heard about the opening late 2002 and interviewed in 2003," she says. "Cincinnati had a reputation and was experiencing the NAACP boycott because of the 2001 riots and many other race-related issues were going on. It might have been a deterrent, but I decided it was a good place to hold a critical discussion about race."
Seven years later, she says that has "proven to be true."
Braziel says that she does not back away from the tough discussions, as they are the most important and most exciting. While some people might be surprised at what seems like overt racism here, Braziel has another take on it.
"I think in a way it's a kind of rawness here," she explains. "Perhaps things get cloaked in the northeast. Everything's too 'PC.' In the southeast, they're too ashamed."
No matter how one looks at it, she says that here in Cincinnati, her classroom discussions are "never irrelevant."
"The college has allowed me to balance an active research and teaching schedule," she explains. "As a function of my administrative duties as Chair of the Taft Research Center, I teach only two courses a year, at both undergraduate and graduate levels. I am also affiliated with the departments of Africana Studies and Women's, Gender, and Sexuality Studies."
She also recently initiated a new course in the humanities looking at children's rights in the contexts of Brazil, Sierra Leone and Haiti.
"Prof. Braziel is a fine cultural critic who writes with verve and clarity," wrote Brody. "I characterize her as a scholar whose wide-ranging interests are matched by the depth of her intellect."
A prolific writer, Braziel's newest work is "Duvalier's Ghosts: Race, Diaspora, and U.S. Imperialism in Haitian Literature," which has just been released by University of Florida Press. It is already garnering significant attention.
"The main contribution of the book to the field of Caribbean and Haitian cultural and diasporic studies is that it is such a focused and convincing argument for seeing the local situation of Haiti in the late 20th century as a microcosmic instance of the larger hemispheric question of globalization and the role of transnational forces in producing dramatic political and cultural change," wrote Ramón Saldívar, Hoagland Professor of Humanities & Sciences in the Departments of English and Comparative Literature at Stanford University. "I know of no other work that covers this ground with as much concentration, nor indeed any other work which mines so beautifully what is substantially new territory in cultural studies in order to bring to light the importance of Haitian artists and their works of fiction, music, and film in understanding the new transnational forces that global economies have brought to the fore."
Colin Dayan, Robert Penn Warren Professor in the Humanities at Vanderbilt University, wrote that she was "startled by the work of a writer and teacher whose work [she] had not fully known." After reading her published works, as well as "Duvalier's Ghosts," Dayan wrote, "Braziel's range is remarkable, and the amount published since her doctorate in 2000 is impressive.
"Not only does her work redefine what we mean by interdisciplinarity, but it also reclaims for the 21st century our approach to the Caribbean," Dayan continued. "There are few scholars of contemporary literature — and even fewer as young as she — who not only keep close to the texts they write about, but attend so cautiously to their philosophical, historical and even political exigencies."
She concluded, "I can recommend no scholar more highly."
"Braziel has written well not only about Danticat, Duvalier, Raoul Peck, The Fugees [and] Janis Joplin, in addition to the voiceless, the absented and unrepresented. In short, she is a scholar of great range and political engagement," wrote Brody. "She is a superb and extremely productive scholar with whom I would like to have been colleagues: surely, you are lucky to have her on your faculty."
Jana and her husband (who will be starting a tenure-track faculty position at the University of Alabama-Birmingham in August) find time to train for running this year's Flying Pig half-marathon, despite having full lives and three children: Maddie is graduating from Walnut Hills High School this year and attending Mount Holyoke College in the fall; Dylan is an upcoming senior at WHHS; and Jessi will be graduating from the UC College of Business next winter.
Braziel loves to garden and hike. An avid runner, she has completed three marathons: Columbus, Chicago and Big Sur. In fact, she will be running the half-marathon of the Flying Pig just the weekend before the Faculty Awards Ceremony.
She will be taking a sabbatical in the fall to work on her next book, which will be a monograph of literary scholarship on Caribbean literature and environmentalism.
"I'm looking at writers from Antigua, Trinidad, St. Lucia and Martinique," she says. "Oceanscapes and landscapes of the Caribbean." She hopes to have it completed by December 2011.
She is clearly focused on what she says should be expected of a well-rounded university community member: teaching, research and service. "I take that very seriously," she says. "It's a life-long responsibility."
1
WVXU: Tech CEOs talk AI with lawmakers
September 22, 2023
Professor Richard Harknett is a guest speaker on WVXU's Cincinnati Edition on the topic of AI and the need, or lack thereof, for government regulations. Professor Harknett is the head of UC's School of Public and International Affairs and is an often sought out media resource on technology, cybersecurity and governmental affairs.
3
Clifton Court Hall grand opening garners detailed media coverage
September 20, 2023
The University of Cincinnati celebrated the opening of Clifton Court Hall on Tuesday, Sept. 19, with a ribbon cutting, attended by approximately 200 administrators, faculty, staff and students. The event was covered by multiple media outlets.
Debug
Query for this