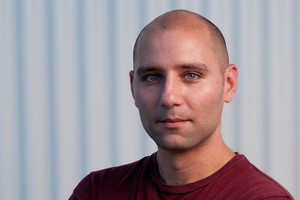 English Professor Earns Fulbright to Study Samaritans
Jim Ridolfo, assistant professor in the
Department of English & Comparative Literature
in the University of Cincinnati's McMicken College of Arts & Sciences, is the recipient of a 2011-2012 Middle East and North Africa Regional Research Fulbright. One of only two faculty in the nation to receive this award for next year, Ridolfo will spend seven months in the West Bank and Israel on his project, "Letting Go of the Text: Changing Samaritan Attitudes Toward the Circulation of their Pentateuch."
The Samaritans, a 720-member religious community split between the Palestinian West Bank and Holon, Israel, have a similar Torah to that of Jewish people but with a number of key theological differences. In the past four years, elders in their community have expressed the need to digitize their sacred texts—a 180-degree turn from protectionist attitudes in past centuries.
Ridolfo, a rhetorical scholar, has been working on a digital archive project for the Samaritan community since 2007 and earned funding from the National Endowment for the Humanities with Michigan State professor William Hart-Davidson on the project in 2008. Since coming to UC, he has continued to digitize these works in partnership with Hebrew Union College-Jewish Institute of Religion. But his Fulbright, he says, will help him dive into a question that has been popping up since he started archiving their Pentateuch: Why now?
"As I was working on building a digital archive tailored to their specific cultural needs, I started to realize through my conversations with Samaritan elders that something significant was happening," Ridolfo says. "The Samaritans once limited the distribution of their holy texts to the point where 17th-century European scholars resorted to trickery to steal their texts; however, today many Samaritans support the digitization and public distribution of their texts. I plan to investigate this shift in greater detail."
Next January through August, Ridolfo will travel between the West Bank and Israel to talk with community leaders and others about the historical context between Samaritans and the outside world. He plans to gather oral histories and conduct archival research in Samaritan archives on Mt. Gerizim and Holon, as well as the National Library in Jerusalem.
"In January 1920, National Geographic did a special issue and said that Samaritans would be extinct by the end of the 20th century. By the end of World War I, their population was down to below 130 people," Ridolfo explains. "While the population today is now above 700, National Geographic has yet to reconsider their prediction."
To survive as a people today, he says, Samaritan elders such as Benyamim Tsedaka feel the need to educate the world about their community.
"While my research is important for the intersections of rhetorical studies and the digital humanities, my hope is that this project will also benefit the Samaritan people too," Ridolfo says. "As one of the smallest ethnic and religious minorities in the region, their history, liturgical languages and traditions have a unique story to tell. I think this story will be interesting to scholars of rhetoric and the region alike."